Delivery and packaging
The plain box arrived on the stated day, and once again, the dildos were all packed securely inside.
Inside there were all four sizes of The Boogeyman dildo. Each one was wrapped in sealed clear plastic film, adorned with a John Thomas Toys gold sticker. I prefer minimal packaging, and these dildos don't need more.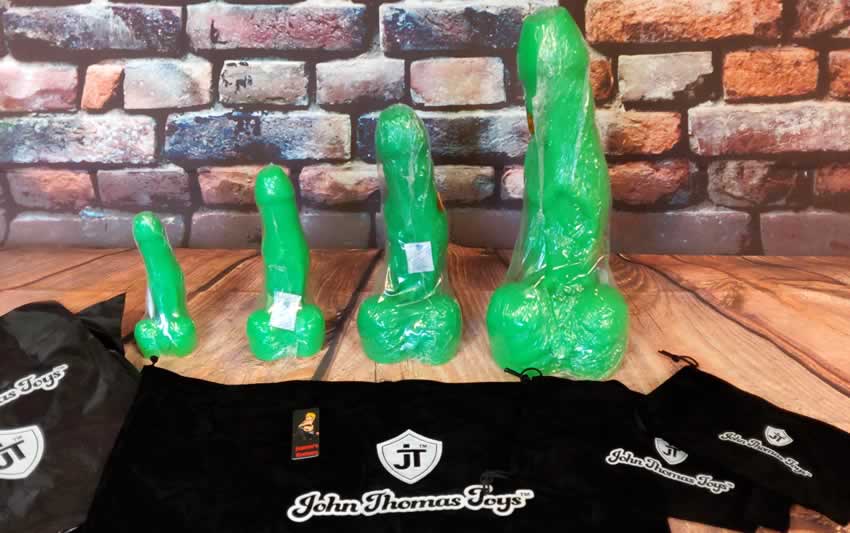 John Thomas Toys dildos come in very minimal packaging which is good for the environment
You also get a faux velvet storage bag, inside a small black plastic reusable carrier bag. Both bags have white branding, which stands out well on the black background. The inside of the faux velvet storage bags is lined, so there is no lint or fluff to stick to your dildo.
Materials and design
John Thomas Toys The Boogeyman dildos are made from a high-grade platinum cure silicone. I often comment that silicone is my go-to material for insertable sex toys. This is because it's body-safe, non-porous, and both latex and phthalate-free. This is very important for insertable sex toys.
Are silicone sex toys worth the little extra cost? In my opinion, yes they are, not only for the above reasons but also because they are stain-resistant and also very durable.
Silicone is also a material that if looked after properly can last you for a very long time. It is so easy to clean; you can even put silicone dildos in the dishwasher.
I always recommend using a good water-based lube with a silicone sex toy, as it helps maintain the toy for longer. Let's face it, lube makes everything feel better.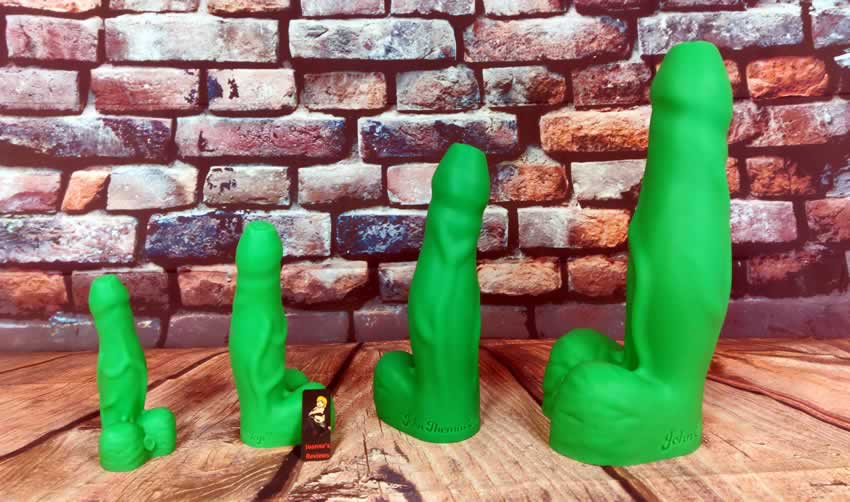 The difference in sizes between the small and XL is staggering, so ther's something for everyone
Okay, so what do I think of the design? The very first thing I noticed was the bright green colour. John Thomas Toys realise that the colour may put a few people off, so this design is available in another colour too. The designer of this dildo has done an excellent job making a unique dildo with some nice features.
It's not often I've seen a dildo with the foreskin still covering most of the head (uncut). The Boogeyman's glans is just peeking out from under the foreskin in this design and I love the look of that.
The slightly bulbous head then leads to a somewhat thinner section of the shaft. The shaft then bulges out which, will give you a lovely full feeling. The Boogeyman boasts some fantastic looking veins along the shaft. These stand out nicely, and they had me looking forward to how they would feel once I have tried it. Having now used it, let's just say more than a few times I can attest that they feel great.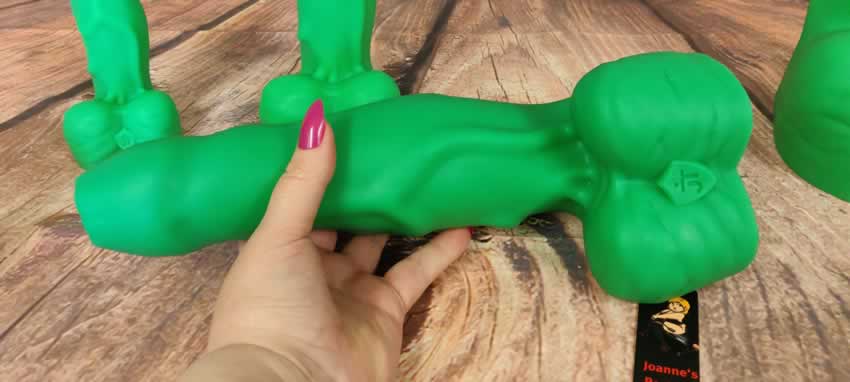 The girth and veins on The Boogeyman feel amazing
The beauty of the uncut foreskin does mean that if you want to enjoy this dildo anally, you will find it slides in easier than a cut design. You will still feel that delightful stretch and slight pop, as the head enters fully though.
Personally, I prefer the cut style as I like the bulge of the glans and the stimulation that provides. But I have enjoyed trying The Boogeyman.
The Boogeyman features an impressive set of balls on him. These feel great smacking against you if you can take the length. They also make a good handhold.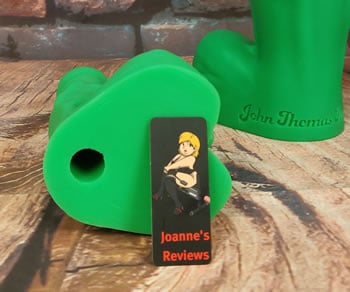 The bottom of the dildo features the John Thomas Toys branding, which I think looks great on these dildos.
In the base of the dildo is a vac-u-loc compatible hole, so that you can enjoy the dildo in a variety of ways. They work well with strap-ons, suction cups and of course, my favourite - fucking machines.
John Thomas Toys offer a choice of two hardness ratings, my favourite is the medium. This is because you still get the slight squishiness but without it being too floppy if you want to enjoy it on a machine or strap on. But if you like a softer blend, you can always select the soft version. So with four sizes to choose from and two hardness ratings you really have great options to choose from.
| * | SMALL | MEDIUM | LARGE | X LARGE |
| --- | --- | --- | --- | --- |
| Length: | 7"/17.78cm | 9"/22.86cm | 12"/30.48cm | 16"/40.64cm |
| Base Height: | 1.5"/3.81cm | 2.2"/5.58cm | 2.8"/7.11cm | 3.8"/9.65cm |
| Circumference top of shaft): | 4"/10.14cm | 5.5"/13.97cm | 7.2"/18.28cm | 9.2"/23.36cm |
| Circumference (middle of shaft): | 5.2"/13.2cm | 6.8"/17.27cm | 7.5"/19.05cm | 12"/30.48cm |
| Circumference (base): | 9"/22.86cm | 11.4"/28.95cm | 15.2"/38.6cm | 20.2"/51.3cm |
| Max Insertable Length: | 5.5"/13.97cm | 7.4"/18.8cm | 9.6"/24.4cm | 13"/33.02cm |
| Weight: | 0.26kg/0.57lbs (*variable) | 0.57kg /1.26lbs (*variable) | 1.38kg/3.05lbs (*variable) | 3.31kg/7.29lbs (*variable) |
| Price: | £69.99 | £99.99 | £169.99 | £229.99 |
Performance
I have played with The Boogeyman for a while now. So I can now comment on how it feels in play. I can undoubtedly confirm that these dildos feel great. I thoroughly enjoyed my playtime with The Boogeyman.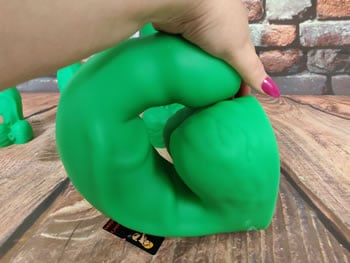 While the uncut dildo does not give me the glans ridge that I enjoy, that does not mean that the head did not give me some great sensations. The slight bulge gives me that lovely stretch as it gets pushed inside, and rubs the inside walls of my vagina deliciously.
My favourite feature of this John Thomas Toys Dildo is definitely the veins. There are not lots of smaller ones, but several large pronounced veins that run down and across the shaft.
With the medium firmness, these veins are reasonably rigid, with just enough squish to make them comfortable in use. The veins feel incredible against my tight walls.
The widening of the shaft further down is really enjoyable, as I feel it stretch me further, making me feel incredibly full.
I feel all these features every time it is pushed in and pulled out, leading to a gratifying experience. The balls give me something substantial to hold onto, making it easy to use.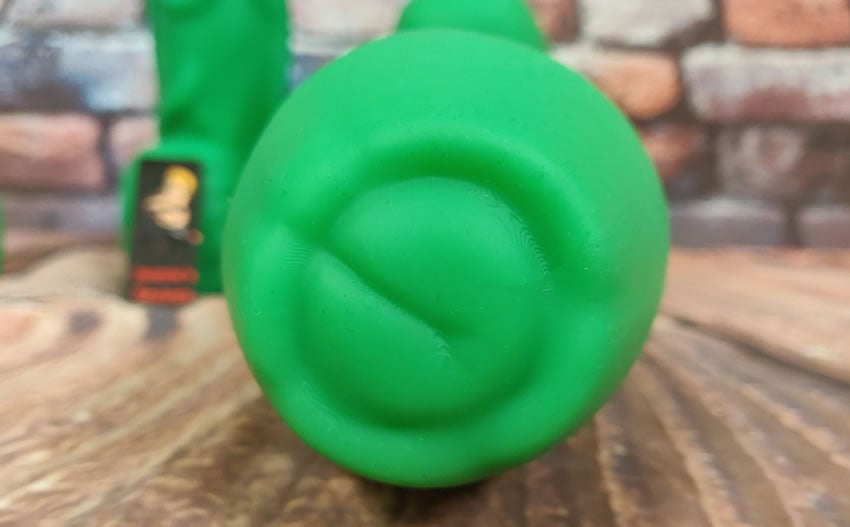 I don't think I will ever tire of admiring this uncut beast of a dildo
Don't forget that you can enjoy temperature play with silicone insertable sex toys. If you have not tried it yet, I highly recommend giving it a try.
It also feels fantastic on a fucking machine. But you may need to anchor the legs to stop it from tipping, especially if you are using one of the larger ones. I also enjoyed some fun time in the shower by using a vac-u-lock suction cup (not included).
The Boogeyman is not a scary dildo, well unless you fancy tackling the XL. It is another fantastic design and one that I warmed to the more that I used it.
Lock your doors and spread your legs, The Boogeyman is about! Check out Joanne's review of this fantastic uncut silicone dildo from @JohnThomasToys.
Click to Tweet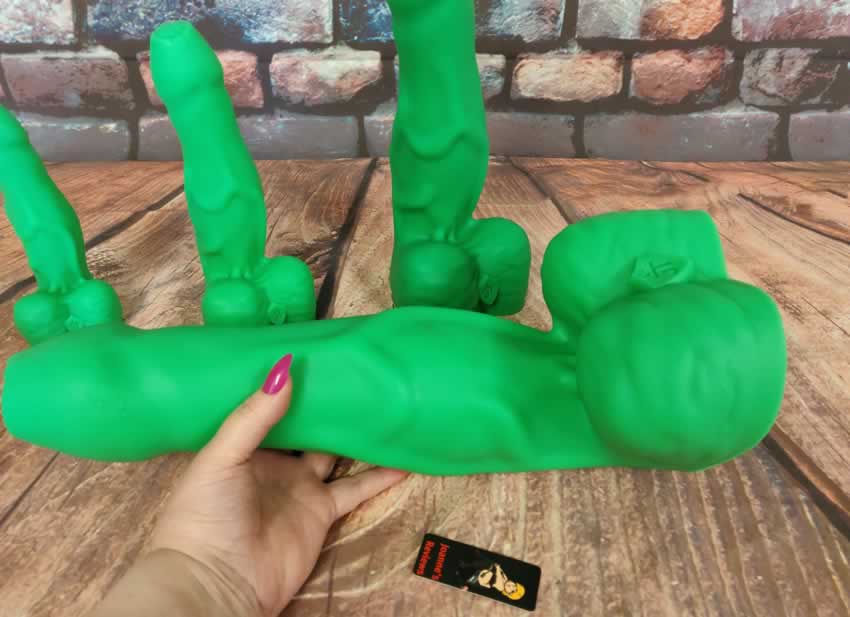 If you want a challenge then give the XL a go
Key Features
Key features:
100% body-safe platinum cure silicone
Four sizes available
Two hardness ratings
Hole in the base for vac-u-lock attachment
Free - Velvet feel drawstring storage bag
Bright Green, but another colour option is available with a fusion design
Uncut design with beautiful veins
I would recommend it to:
Anyone who prefers an uncut dildo
Anyone who wants a vac-u-lock compatible dildo
Anyone who wants a smoother dildo
I wouldn't recommend it to:
Anyone who wants a cut version
Anyone who wants much more ridges
Anyone who wants a standard dildo
---
Check Out The Video Review On Youtube
---
Final Thoughts
I am not someone who gets put off by the colour of a toy, in my view, my vagina doesn't care, and in some ways, I quite like the bright green. But there is another colour available if you prefer.
Even though The Boogeyman does not have a multitude of ridges and bumps, the features do stand out well enough on their own. The designer has made an enjoyable dildo, that is unlikely to scare those that fancy trying a fantasy dildo for the first time, but do not want to stray too far.
The Boogeyman has been given space in my goodies box of delights, and is more than welcome to visit me anytime soon :-)
With the fact that this dildo is uncut does make cleaning simple, just ensure that you have removed any vag-goo from the pronounced veins, and leave it to thoroughly dry. Once dry, put it in its storage bag ready for next time.
I was sent these four The Boogeyman Dildos by John Thomas Toys and I would like to thank them for giving me the opportunity to review it for them.
Joanne's rating
Where Can I Get One From?

Grab one of these exceptional body-safe silicone dildos direct from John Thomas Toys with prices starting at £69.99, and at the time of publication they are having a 50% off sale so grab one before it sells out.
Check them out and don't forget to tell them that Joanne says "Hi".
---


If you enjoyed reading this review then check out my other reviews of John Thomas Toys products:
Silicone Dildos
---
Disclosure
This review does not contain affiliate links, for more information about affiliate links check out my disclosure page.