Delivery and packaging
I wasn't home for the delivery of this batch of dildos and so sub'r' took care of them for me. So this section of the review is by her.
She did an unboxing video for me, which was so nice of her as she gets very nervous in front of the camera. I loved watching that from my hospital bed LOL.
Hi, sub 'r' here and I was delighted when I got to step in for Joanne to help with this review. I love John Thomas Toys works of art. This time I got to open the box after it was delivered and so I asked Stunt Cock if he would help me do an unboxing video which is a first for us.
John Thomas Toys sent us all four sizes of The Barbarian together with their storage bags, a suction cup vac-u-lock adaptor and they included a bottle of J-Jelly lube too - woohoo!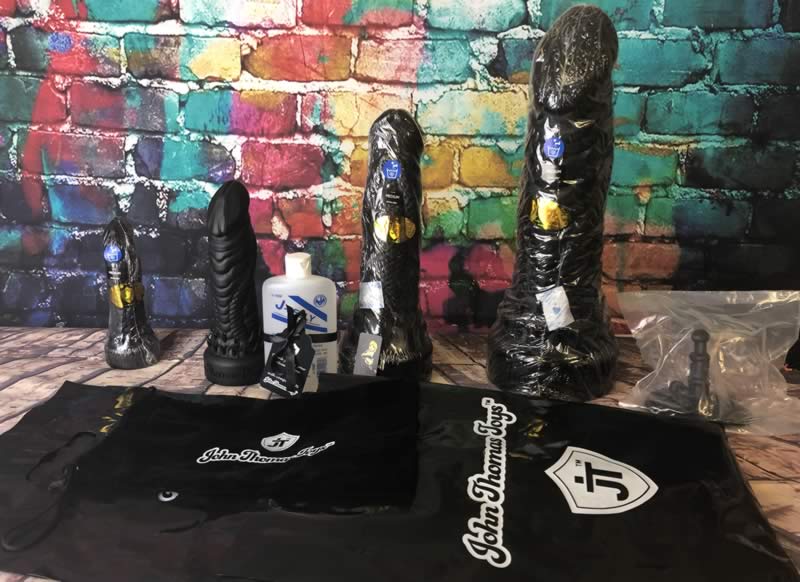 All four Barbarian dildos arae quite a sight
They arrived in a regular, plain cardboard box which was very well sealed with half a roll of tape lol. I love how seriously John Thomas Toys take their customer's privacy. They never put anything on the outside of the box to allude to its contents, there is no need to give the postman a shock lol.
It arrived in double-quick time too, and I could hardly contain my excitement for the unboxing.
---
Check Out The Unboxing Video On Youtube
---
Inside the box, there was lots of paper packaging to keep the dildos secure while they were in transit. Each of the four dildos was shrink-wrapped in clear plastic and was adorned with a gold John Thomas Toys sticker. This holographic sticker gives you peace of mind that your dildo was stored and shipped in pristine condition, but as always I recommend washing your dildo before use. More importantly, it lets you know you have a genuine toy.
Inside the box, there is also a John Thomas Toys own brand suction cup vac-u-lock style adaptor which is included free of charge when you order a dildo. It means that you can get the most out of your toy. I love nothing more than enjoying my toy in the shower, and with the suction cup, it makes that much easier.

The FREE suction cup adaptor is a great addition that allows you more play opportunities
I love how minimal John Thomas Toys packaging is, and in my opinion, they don't need any more as their dildos are impressive enough on their own. Less packaging is also better for the environment.
Materials and design
Joanne here again (thank you sub'r'). The Barbarian, like all of John Thomas Toys dildos, is made out of 100% platinum cure silicone. As you know, I love my insertable toys to be made out of silicone, and I have excellent reasons for this.
Firstly, silicone is non-porous, which means the surface can't harbour harmful bacteria, unlike cheaper materials. It's also both latex and phthalate-free which like I have said before is very important for an insertable sex toy.
If those are not enough reasons why silicone is the best choice when it comes to sex toys, silicone is also stain-resistant and also very strong and durable too.
All of John Thomas Toys dildos are poured into copper moulds to be formed into their amazing dildos. Copper moulds are a more expensive manufacturing process, but it does ensure that every dildo comes out looking the same as the first one made. Quality matters when you are investing in something to give you pleasure for years to come.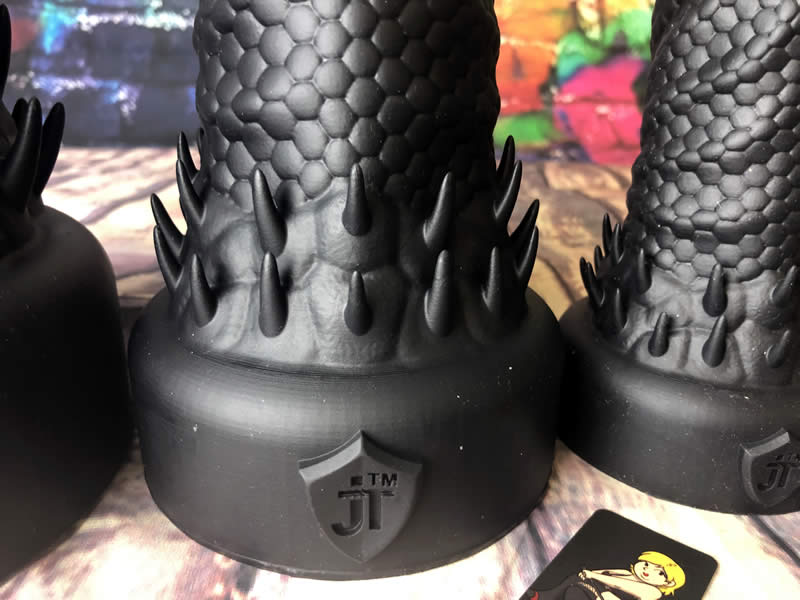 This is a dildo with some incredible features and textures
The Barbarian comes in four different sizes, small to extra-large (or as we call it a trip to A&E LOL). It's also available in two different firmness ratings which are soft and medium. At the moment it can be bought in black or red but knowing John Thomas Toys there will be more colour options made available soon.
The Barbarian like all John Thomas Toys creations comes with velvet drawstring toy bag to keep your dildo dust and lint-free. Each of the bags is sized to fit its corresponding size of dildo very well. The drawstring keeps your Barbarian safe until your next play session. The faux-velvet bags have a white JTT logo on the front. These bags now come in their own small plastic carrier bag which is also branded with the John Thomas Toys logo.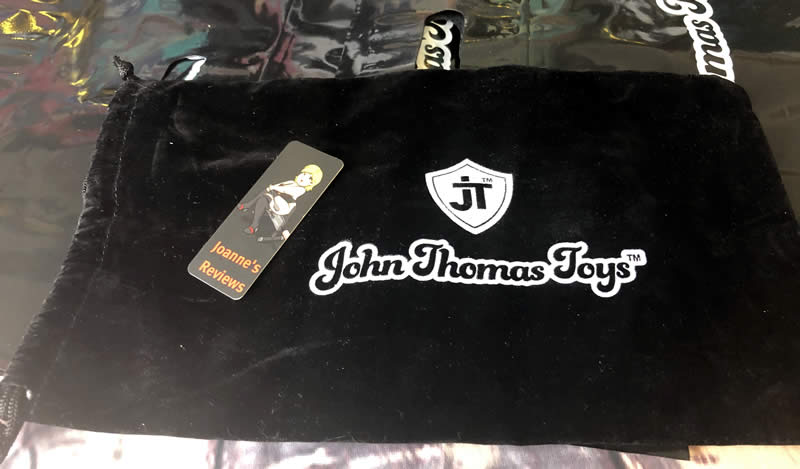 I love the draw string faux-velvet storage bags that you get with JTT dildos
John Thomas Toys have so much faith in their toys and materials that they offer a lifetime warranty on all of their toys and products.
Because the Barbarian is made out of silicone, you can clean it by simply popping it in the dishwasher. Just make sure you take it out before someone sees it though. Or if you are not lazy, you can just clean it by giving it a scrub in hot soapy water or even using anti-bacterial wipes or sex toy cleaner.
I can't say this enough, double-check the size chart before you order your toys. Let's just say that John Thomas Toys are very generous in their proportions and they are immensely proud of that, even mentioning it on their website. They provide so many measurements on their product listings, so there really is no excuse for getting something that "doesn't fit".

Check those dimensions well as these toys can stretch more than just your imagination
| * | SMALL | MEDIUM | LARGE | X LARGE |
| --- | --- | --- | --- | --- |
| Length: | 7"/17.78cm | 9"/22.86cm | 12"/30.48cm | 16"/40.64cm |
| Base Height: | 1"/2,54cm | 1.2"/3.04cm | 1.8"/4.57cm | 2.4"/6.09cm |
| Circumference top of shaft): | 5"/12,7cm | 6.4"/16.25cm | 8.5"/21.59cm | 11"/27.94cm |
| Circumference (middle of shaft): | 5"/12.7cm | 6.5"/16.51cm | 8.5"/21.59cm | 11.4"/28.95cm |
| Circumference (base): | 8"/20.32cm | 10.4"/26.41cm | 13.8"/35.05cm | 18.5"/46.99cm |
| Max Insertable Length: | 6.4"/16.25cm | 7.8"/19.81cm | 10.2"/25.9cm | 14"/35.66cm |
| Weight: | 0.25kg/0.55lbs (*variable) | 0.55kg /1.21lbs (*variable) | 1.34kg/2.95lbs (*variable) | 3.21kg/7.06lbs (*variable) |
| Price: | £69.99 | £99.99 | £169.99 | £229.99 |
This is a fantasy dildo with so many good features from the large glans to the ridges, muscles and the snakeskin finish. Its background story on the JTT website is very good, if not a bit sad. The Barbarian is a lonely beast, enjoying nothing more than destroying holes.
It looks incredible, but how does it feel? Read on to find out how much we enjoyed playing with it.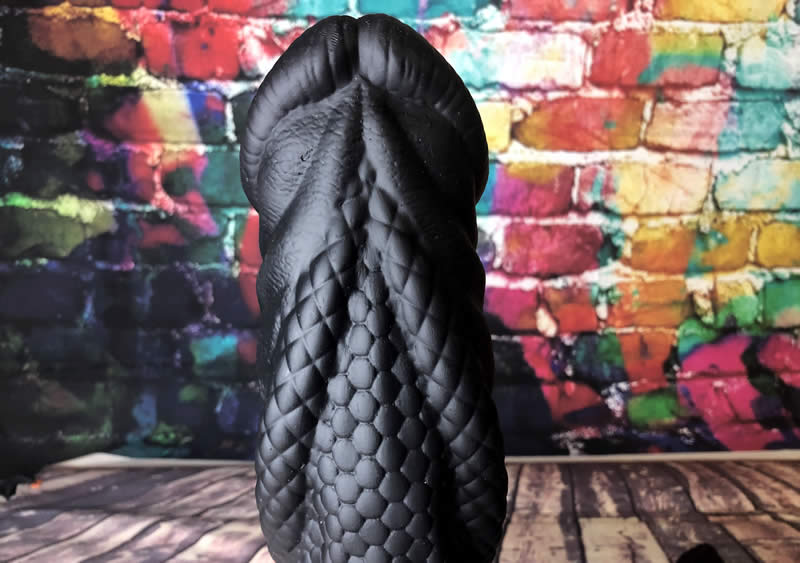 The details and textures on this dildo are amazing
Performance
The first and most fantastic feature on The Barbarian is its surface textures. They feel sublime when you thrust it in and out. The raised muscles and the snakeskin surface really do work well together creating a myriad of sensations that really get me going.
I can confirm that sub'r' felt the same way about this toy, both of us just can't get over just how good the textures on this toy feel.
The Barbarian is a toy that has some give when you squeeze it, and as such, it feels incredible when you clamp down on it as you orgasm. The silicone is a little draggy, and that adds to the sensations that the textures provide. The snakeskin pattern does an excellent job of holding lube on the surface of the toy. Make sure you take care when cleaning it though.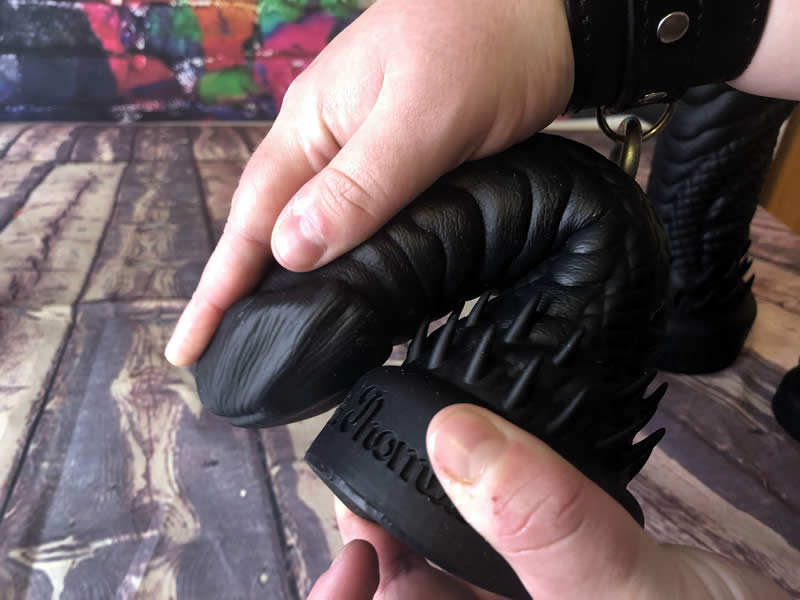 The blend of silicone used on the Barbarian is very flexible while being relatively firm
I love the shape of the glans, the prominent ridge feels fantastic against my g-spot when it is thrusting back and forth. On a fucking machine, this is enough to make my toes curl, and it has to be felt to be appreciated.
The spikes around the base are flexible, and if you can take the toy deep enough, they feel fantastic against your clitoris.
The ridges along the upper side of the shaft also feel incredible, and if you bend the dildo as you thrust with it, they glide over your clitoris, providing even more stimulation.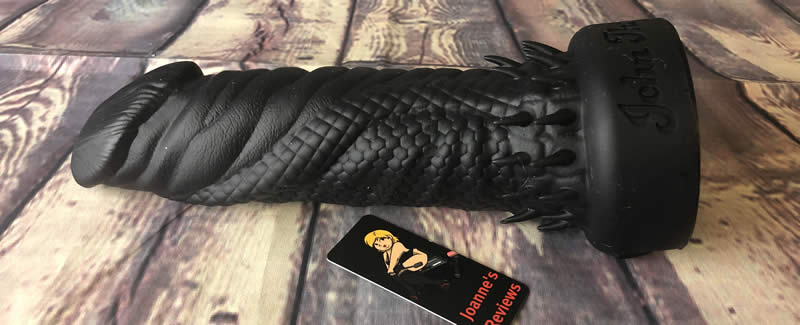 The Barbarian is so much fun to use
Anally, these toys also feel incredible. The tapered tip helps with insertion and the ridges, and skin surface feels amazing against your sphincter. We even tried it with some double penetration, and that comes highly recommended for that filled to the brim feeling you only get when two holes are filled completely.
The Barbarian is a toy that is suitable for all genders, the fantasy element is something I love in my toys. Why settle for something generic when you can have bells and whistles, or in this case spikes and snakeskin.
The Barbarian is coming to destroy your holes! Bring it on. Check out Joanne's review of this fantasy silicone dildo from @JohnThomasToys.
Click to Tweet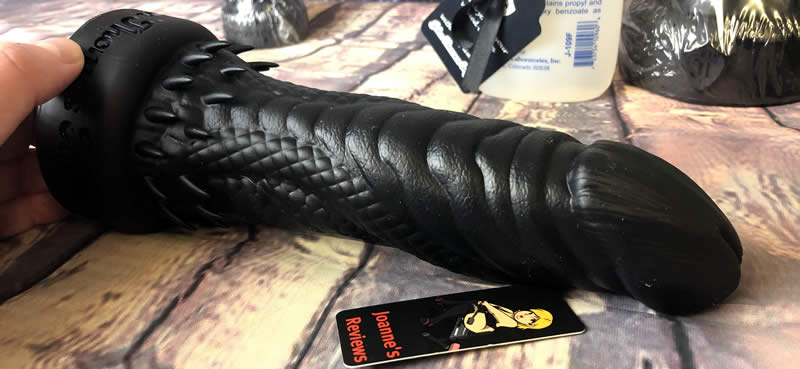 The Barbarian is a dildo that I can highly recommend and I have had so much fun reviewing it
Key Features
Key features:
100% body-safe platinum cure silicone
Four sizes available
Two hardness ratings
Hole in the base for vac-u-lock attachment
Free - Velvet feel drawstring storage bag
Lifetime warranty
Free vac-u-lock compatible suction cup adaptor
I would recommend it to:
Anyone who prefers lots of texture on their dildos
Anyone who wants a vac-u-lock compatible dildo
Anyone who wants a fantasy dildo
I wouldn't recommend it to:
Anyone who wants a standard dildo
---
Check Out The Video Review On Youtube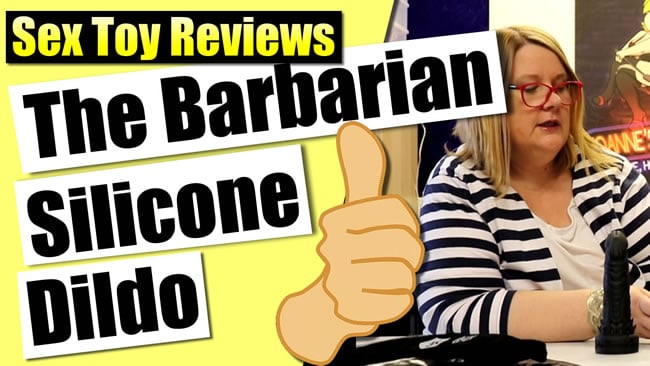 ---
Final Thoughts
I honestly believe that The Barbarian is the best design that John Thomas Toys have asked us to review. It ticks all of the boxes, it is body-safe, has sublime surface textures and looks so good.
In use it just blew us away, the combination of the silicone blend and the design makes it glide while also providing lots of stimulation.
I love the changes in girth and all of the textures along the shaft. It is a dildo that I think I will never tire of and is up there with the best toys I have reviewed.
This one is a keeper, and with the lifetime guarantee that you get with John Thomas Toys, it is an excellent investment for your pleasure.
I was sent these four The Barbarian Dildos by John Thomas Toys and I would like to thank them for giving me the opportunity to review them.
Joanne's rating
Where Can I Get One From?

Grab one of these extraterrestrial body-safe silicone dildos direct from John Thomas Toys with prices starting at £69.99, and at the time of publication they are having a 50% off sale so grab one before it sells out.
Check them out, and don't forget to tell them that Joanne says "Hi".
---


If you enjoyed reading this review then check out my other reviews of John Thomas Toys products:
Silicone Dildos
---
Disclosure
This review does not contain affiliate links, for more information about affiliate links check out my disclosure page.