Delivery and packaging
Once again, John Thomas Toys delivered this package of silicone goodness under plain wrapper. They arrived in a very non-descript cardboard box by courier on a 24-hour service which is fantastic.
The outside of the box carried no indication of the sexual thrills that lay within.
Each of the four Anal Probes was hygienically sealed inside a faux-velvet drawstring bag inside a layer of bubble wrap. I also received a tube of lube too, which is perfect as you are going to need lots of lube with these bad boys.

The Anal Probe Dildos arrived well packaged under plain cover, sealed and in their storage bags
Material and design
The material that a sex toy is made out of is incredibly important, and there are some horrible ones out there. I'm happy to report though that John Thomas Toys only use 100% platinum cure silicone in their range of dildos and butt plugs.
That is fantastic news as you can rely on them to send you a body-safe sex toy that is non-porous and also both latex and phthalate-free. That means their toys are easy to clean and safe to use. Looked after they will last you many, many years providing pleasure long into the future.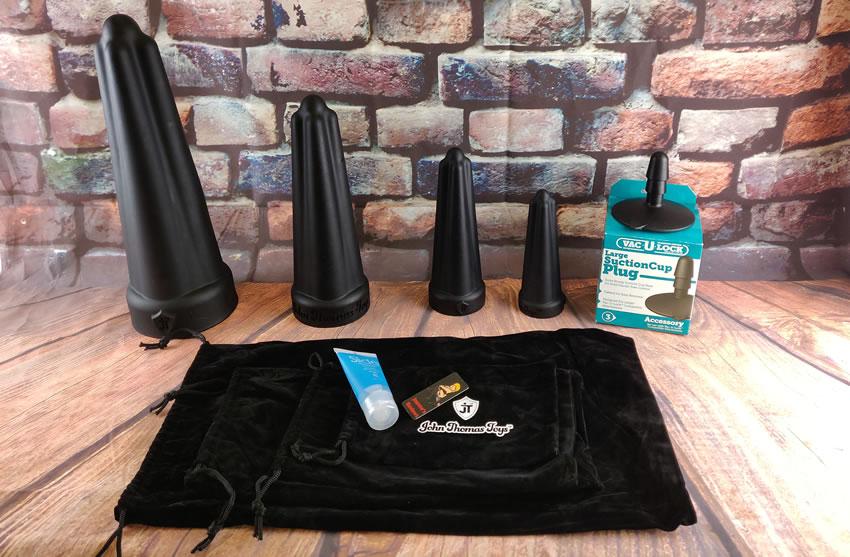 With four sizes to choose from there is something to cater for everyone's abilities
On the subject of cleaning, it's essential, especially with anal sex toys to clean them properly. Luckily you have lots of options for cleaning your Anal Probe.
You can wash it in warm soapy water and then use an anti-bacterial sex toy cleaner or even anti-bacterial soap. All silicone dildos can be boiled to sterilise them or even cleaned in a dishwasher on a sterilise cycle.
Note: Just remember to remove it from your dishwasher before your Mother-in-law visits and thinks emptying the dishwasher is a very helpful thing to do. That's a long embarrassing story best left for another day, I think.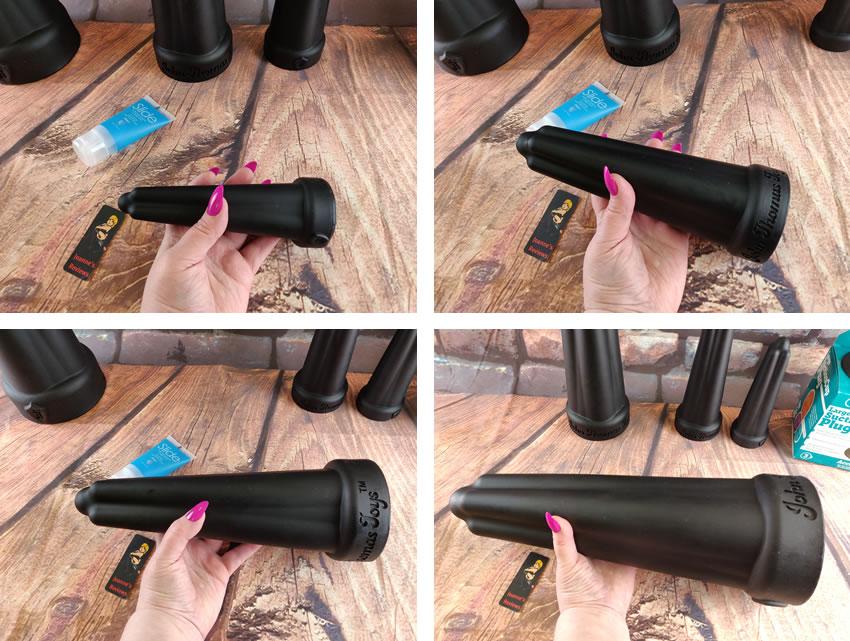 The four sizes offer lots of choice based on your tastes and desires
All John Thomas Toys dildos and plugs are hand cast in copper moulds, this ensures a high quality casting time and time again.
Now the design of the Anal Probe is unusual, to say the least. Imagine five long and thin cones squished together at the top and you will have the design in your head.
The centre cone is more extended, and so it makes this tip easier to insert while the other four create almost a cross shape that your anus or vagina has to dilate to take.
This unusual shape makes insertion fun and more of a challenge than other sex toys. One fantastic feature of the Anal Probe is that once inserted it can be twisted back and forth to really produce some very pleasant sensations. The tapered shaft stretches and opens you the more you squeeze inside, and that is why it is such an effective anal trainer. The gentle taper stretching you gradually.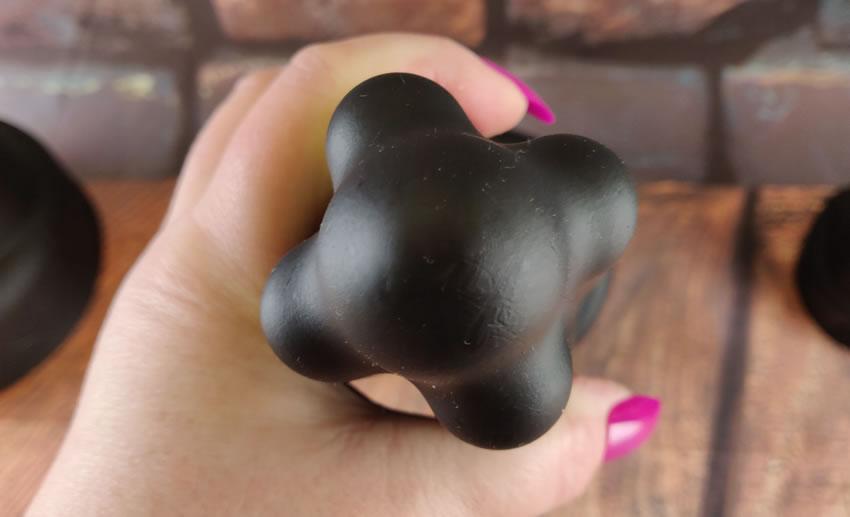 The tip of the Anal Probe is unusual and provides a unique sensation when iserted
With four sizes to choose from, you can find one that you can enjoy but will also test you, forcing you to stretch yourself to take more and more.
| * | SMALL | MEDIUM | LARGE | X LARGE |
| --- | --- | --- | --- | --- |
| Length: | 7"/17.78cm | 9"/22.86cm | 12"/30.48cm | 16"/40.64cm |
| Base Height: | 0.9"/2.29cm | 1.1"/2.79cm | 1.5"/3.8cm | 2.2"/5.58cm |
| Circumference (top of shaft): | 4.5"/11.43cm | 5.5"/13.97cm | 7.5"/19.00cm | 9.5"/24.13cm |
| Circumference (middle of shaft): | 5.5"/13.97cm | 7"/17.78cm | 9.5"/24.10cm | 12"/30.48cm |
| Circumference (bottom of shaft): | 6.5"/16.51cm | 8.5"/21.59cm | 11.2"/28.40cm | 14.5"/36.83cm |
| Circumference (base): | 8.6"/21.84cm | 9.9"/25.15cm | 13.2"/33.50cm | 17.5"/44.45cm |
| Max Insertable Length: | 6.1"/15.49cm | 8"/20.32cm | 10.5"/26.70cm | 14"/35.56cm |
| Weight: | 0.25kg/0.54lbs (*variable) | 0.55kg /1.2lbs (*variable) | 1.35kg/2.97lbs (*variable) | 3.20kg/7.05lbs (*variable) |
| Price: | £69.99/£79.99 | £99.99/£109.99 | £149.99/£159.99 | £219.99/£229.99 |
They are also available in two hardness ratings, "Supersoft Medium" and "Supersoft Firm". As their name suggests, the silicone is nice and soft with some squish when you squeeze them. The difference between the Medium and Firm is how flexible they are. My preference is the Firm but sub'r' prefers the Soft blend.
I used the medium and large ones vaginally and loved them. The shape is fun to insert, and for an otherwise smooth dildo, the four ridges provide lots of stimulation especially when twisted.
The broad base carries the John Thomas Toys logo and the name around its periphery. Extra care is needed when cleaning this area as it can be a vag-goo and lube trap, so make sure you get into all the nooks and crannies.
The base features a vac-u-lock compatible hole. So you can use these probes with fucking machines (I can attest that using them this way is fantastic), on a strap-on harness or with any other vac-u-lock adaptor.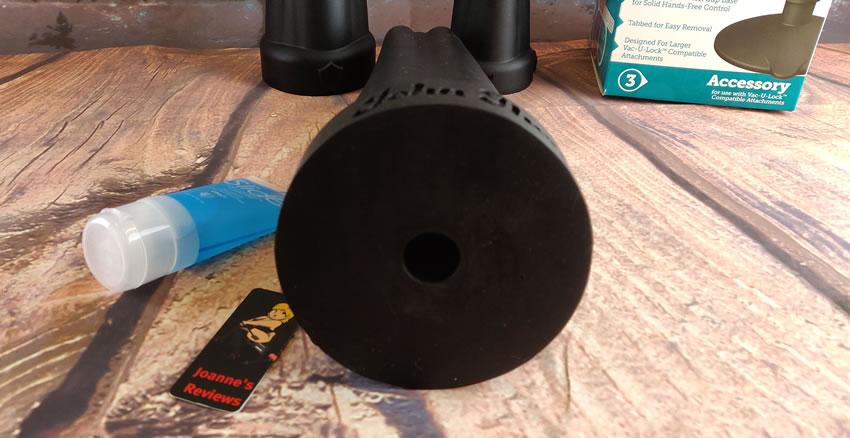 The base of the Anal Probe features a vac-u-lock compatible hole that gives you lots of play options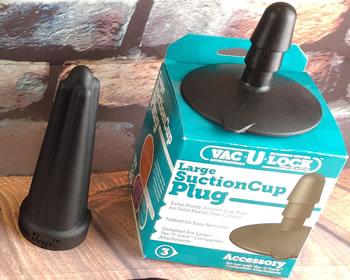 You get a free suction cup adaptor with this and other John Thomas Toys, and that allows you to firmly fix them to any smooth surface. So bath or shower time fun is a distinct possibility and a great way to spice up your pampering sessions.
The included suction cup adaptor is powerful. I suggest putting some vac-u-lock release powder (or corn starch) inside the hole before fitting the adaptor as it makes it much easier to remove after use.
As well as the adaptor you get a branded faux-velvet drawstring storage bag, and that is brilliant. Silicone tends to be a dust and lint magnet, so wash your toy and ensure it is thoroughly dry before placing it into the bag until your next play session. It's a great way to look after your sex toys, and it also keeps them out of sight too.
Performance
As you can no doubt imagine, as a self-confessed size-queen, I really enjoyed the challenge of trying each one in turn. Relishing the stretching that ensues when you take large sex toys like these.
I recommend using a high-quality water-based lube such as Sliquid H2O or Secret Play Natural. You are going to need lots of lube when you play with these toys.
They are designed to test you, each one opens you more and more, and the feeling of being totally full is sublime.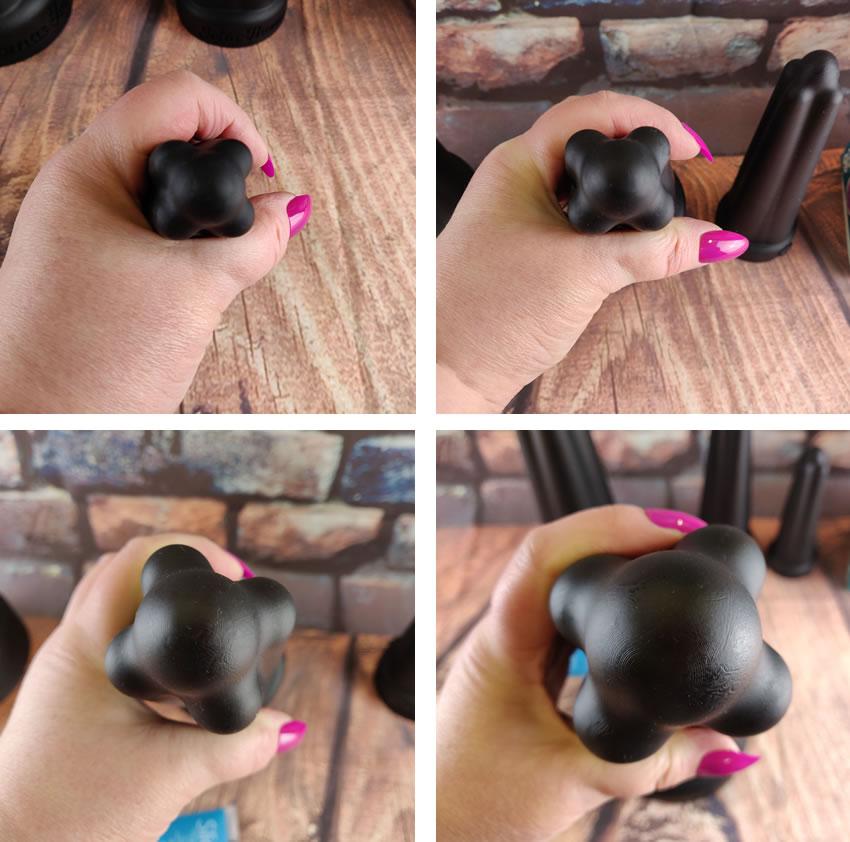 The four different sizes offer a wide range of circumference challenges
I used them vaginally and had a fantastic time with them, even using them on my fucking machines. The sensation of being repeatedly penetrated and stretched over and over again brought me off quickly and easily.
I used the small one on the lovely sub'r' first vaginally and then in her ass. The sight of it disappearing into her was mesmerising. The sounds coming out of her when we used a fucking machine on her ass were almost animal.
Her orgasms on the fucking machine while having her backside pounded were shuddering and primaeval. She really enjoyed having it used on a fucking machine, and I can understand why.
I also made her ride it anally with it stuck to the floor using the suction cup, and that was also lots of fun.
You will find the tip opens you nicely as you insert it. Then you come up against the four ridges that cause you to have to build up some pressure to get it to dilate your hole before it slides further in. That feels delightful, but it's the stretching feeling that you get as you take more and more than really does it for me.
I love a challenge, and if I had to sum up the Anal Probe in one word, that would be it, a "challenge". It's up to you if you decide to take up that challenge yourself. If you do, then pay particular attention to the sizes before you order and then enjoy the challenge of getting it all inside you.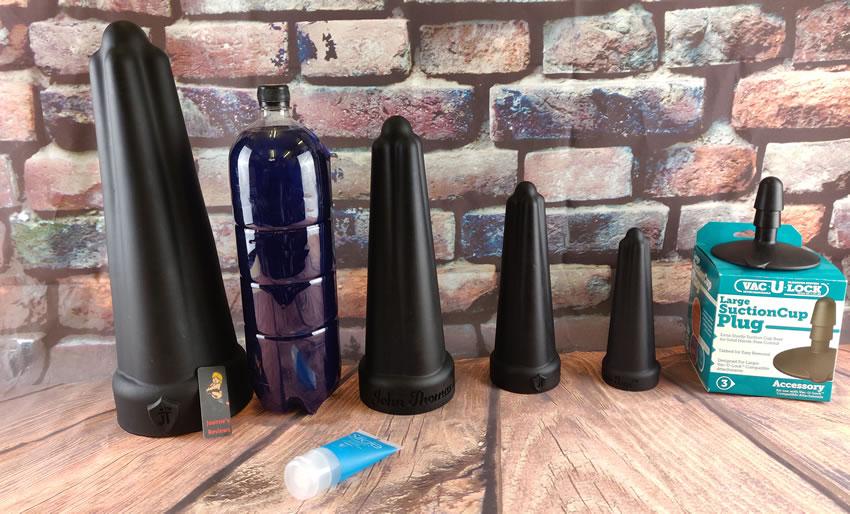 The Extra Large and Large are eye wateringly huge but if you enjoy a challenge then you will love them
If anal training is your thing then check out the Anal Probe from @JohnThomasToys, especially if you relish a back passage challenge.
Click to Tweet
[mx_youtuber type="video" id="7W5sB01ydDA" theme="flipcards"]
Key Features
Key features:
100% body-safe platinum cure silicone
Four sizes available
Unique shape makes it fun to insert
Hole in the base for a vac-u-lock attachment
Perfect for anal training and good fun vaginally too
FREE - Suction cup vac-u-lock adaptor
FREE - Velvet feel drawstring storage bag
I would recommend it to:
Anyone looking for a dildo/trainer that is fun to insert
Anyone looking for a body-safe silicone dildo/trainer
Anyone looking for a vac-u-lock system compatible dildo/trainer
Anyone looking for a dildo/anal trainer with an unusual shape
I wouldn't recommend it to:
Anyone looking for a phallic shaped dildo
Final Thoughts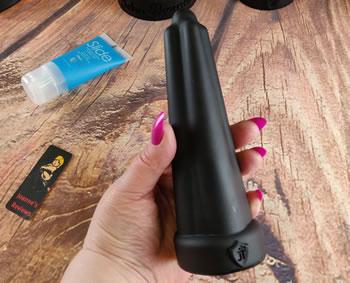 Once again, John Thomas Toys have come up with a unique creation that fills more than just a gap in the market. The unique shape of this one is a challenge while also being extremely functional too.
Both sub'r' and I enjoyed getting to know them, and while they are designed for anal training, they work equally as well in a nicely lubed up vagina too.
The fact that you get a storage bag and a free suction cup vac-u-lock adaptor makes it a bargain with the starting price of only £69.99 for the small. As silicone is much more expensive than cheaper non body-safe materials, you get good value for money at John Thomas Toys.
I have no problem with giving the Anal Probe a strong recommendation, especially for people wanting to provide themselves with a challenge.
I was sent this set of four Anal Probe Dildos by John Thomas Toys to review and I would like to thank them for giving me the opportunity to review it for them.
Joanne's rating
Where Can I Get One From?

Grab one of these fantastic anal training dildos from John Thomas Toys, with prices ranging from £69.99 for the small and running up to £219.99 for the eye watering extra large. These are anal training dildos that definitely do their job and they are also lots of fun to use vaginally too.
Check them out and don't forget to tell them that Joanne says "Hi".
---


If you enjoyed reading this review then check out my other reviews of John Thomas Toys products:
Silicone Dildos
---
Disclosure
This review does not contain affiliate links, for more information about affiliate links check out my disclosure page.