Delivery & Packaging
Delivery is always quick when I am waiting for something from John Thomas Toys, this delivery was no different. The hefty box arrived swiftly and safely, well-sealed and in a plain strong cardboard box.
This box was heavier than usual as it contained all four sizes of two dildo designs. I always feel sorry for the post person when they place the box on my doorstep (even more so than usual when this one arrived).
Knowing how much the box must weigh, I even needed to get a family member to lift the box into the house for me.
There is nothing on the package to suggest as to what the contents may be. The box is strong enough to easily hold the weight securely, and the packing tape keeps it tightly closed. That is until I take out my scissors :-).

All four MASTER dildo make quite a sight to behold. The colours look fantastic.
The contents were well packaged, and each dildo was covered in a thick heat-sealed film. The film has two stickers placed on it. One is the holographic John Thomas Toys logo, and the other is to remind you to wash your dildo before use.
You also get a vac-u-lock compatible suction cup adaptor that comes sealed in plastic. The storage bags arrive in a branded carrier bag.
---
Check Out My Unboxing Video On Youtube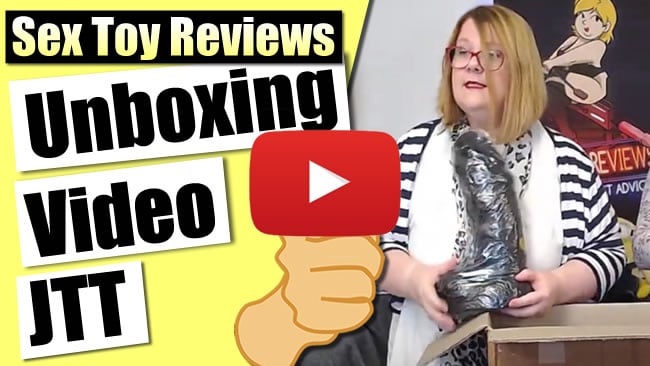 ---
Materials and design
John Thomas Toys only use medical-grade platinum silicone, so you can be sure that the materials used are of the highest quality. Silicone is my preferred sextoy material as it's body-safe, non-porous also it is phthalate, latex and rubber free. As I am used to with John Thomas Toys dildos, the silicone has some delicious drag on its surface when you run a finger over it.

The MASTER dildo is a simple design but it has some nicely detailed features.
They use copper moulds to make their products, you may ask why I am mentioning this? The main reason is that this method is a lot more expensive than other options. The reason they do this is that the moulds produce very high quality and detailed dildos. You can also have faith that even if you buy the 1000th model out of that mould, it will have precisely the same bumps, ridges etc. that the first one had.
The colour of the ones I was sent is a beautiful mix of greens. Using a hand pouring technique called fusion, this enables a unique colour mix for each individual dildo. It also gives a really lovely colour finish, on each Master dildo. You may think that a blend of greens can not really look great, but they really do. I think the colour combination looks almost like a Melon and given its size that suits it well.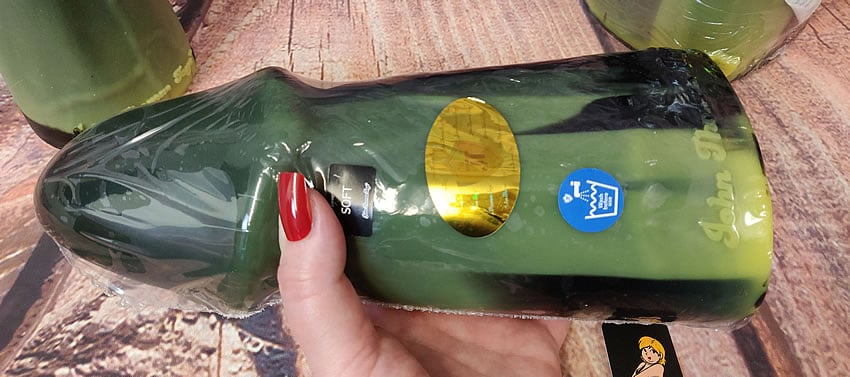 The packaging of the MASTER dildo is simple but very effective.
It is also available in black and there are four sizes to tempt you, each of which are satisfying a challenge.
Master's design looks relatively simple, but it has been beautifully crafted and planned out well. The head is gently angled and features a slightly pointed glans. The angle and shape aids with the initial penetration. As Master is an uncut design dildo, you will find that lovely deep ridge under the glans. Master is smooth with just a few pronounced large veins along the shaft for added sensation. The shaft slowly expands the further down you go, so it will give you a lovely full feeling. It is this feeling of being stretched wider and wider that I like the most with MASTER.
| * | SMALL | MEDIUM | LARGE | X LARGE |
| --- | --- | --- | --- | --- |
| Length: | 8"/20.3cm | 10"/15.4cm | 12"/30.5cm | 14"/24.3cm |
| Circumference (top of penis head): | 5"/12.7cm | 6.8"/16.7cm | 7.5"/19cm | 9.5"/24.3cm |
| Circumference (bottom penis head): | 8.5"/21.5cm | 10.5"/26.7cm | 13"/33cm | 15"/38.3cm |
| Circumference (middle of shaft): | 8.5"/21.5cm | 10.5"/26.7cm | 13"/33cm | 15"/38.3cm |
| Circumference (bottom of shaft): | 9.8"/25.2cm | 12.4"/31.6cm | 15"/38cm | 17"/43.4cm |
| Max Insertable Length: | 7.5"/19.05cm | 9"/22.86cm | 10.5"/26.7cm | 12"/30.5cm |
| Weight: | 0.7kg (*variable) | 1.4kg (*variable) | 2.4kg(*variable) | 3.8kg (*variable) |
| Price: | £79.99 | £119.99 | £199.99 | £259.99 |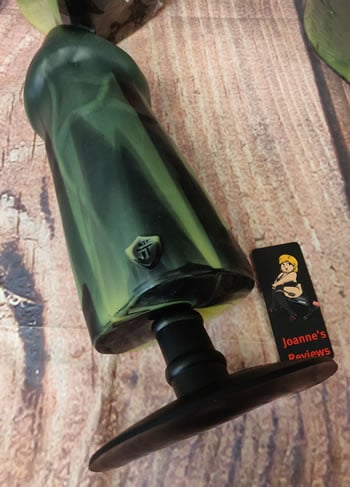 Along the bottom of the shaft, the John Thomas Toys branding stands out well, adding a great finishing touch to MASTER. There is also a vac-u-lock compatible hole in the base, giving you a few options on how to play.
With every dildo from John Thomas Toys you get one of their own design of vac-u-lock compatible suction cups. These have been designed in two sizes, and you will receive the one that is suitable for the size dildo you purchase. These adaptors help to keep the dildo in place and make it reasonably easy to remove at the end of play. I still recommend using cornflour or some vac-u-powder, as it makes it much easier to remove the dildo.
Of course, we cannot forget the storage bags that are another great addition. The brand is printed in white with the John Thomas Toys logo on the black faux velvet background. This makes the branding stand out beautifully. There is a range of sizes, you will receive one the will fit the size of the dildo purchased.
I really like these bags because they not only look great, but they are also well made and use good quality fabric. The fabric is strong enough to easily hold the weight of the dildo, and the seams are well stitched too. No annoying fraying ends that keep catching when you put your dildo away.

The storage bags for the MASTER dildo are strong and very good quality.
Performance
The first thing to remember is to use a good water-based lube with this silicone dildo, something like Sliquid H2O. The glans' tip glides in smoothly when lubed up, but as it widens, I found it needed a little more pressure. I really enjoy the slight stretch that it gives as the head goes in.
Then you get the slight pop as the whole of the glans slide fully inside you. That is a feeling I always enjoy. As you sink more of the shaft inside, you get to enjoy the slight stretch from the widening shaft. Because of this widening, you could also use this dildo as a stretcher.
As you move the shaft, you will also feel the pronounced veins. These add wonderful additional sensations as it moves in and out. My favourite is to remove nearly the entire length, before sliding it back in again. So that I can enjoy the feel of the glans entering me over and over again.
Master does not have balls attached to it so you can enjoy as much of the shaft as you can physically take.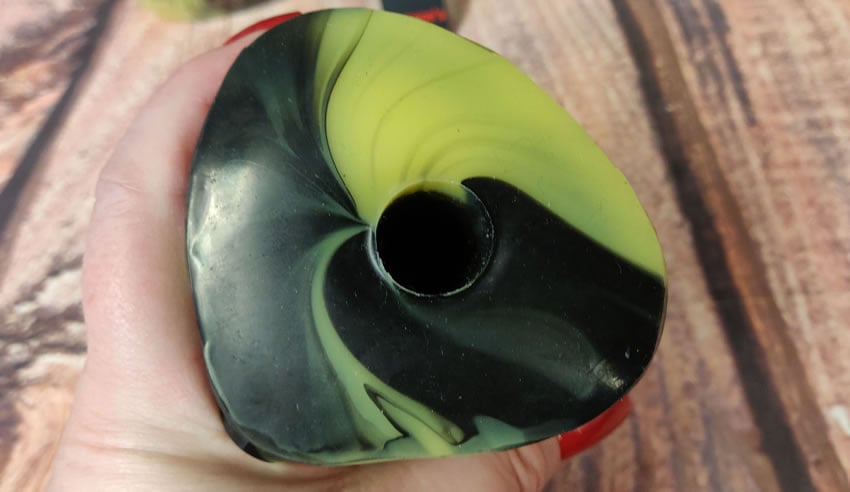 The vac-u-lock hole in the base of this dildo gives you lots of ways to use it.
I like to use some dildos with a fucking machine, and this one works really well. Once I have found the right depth for me, I can vary the speed to change the sensations. I may start off slow, but then it's fun to speed things up, before playing with the speed to prolong the pleasure. Of course, if you do not have a machine, you can use the vac-u-lock compatible suction cup supplied or if you have one, a strap-on harness.
Cleaning is easy, just place the whole dildo in warm soapy water, or you can even place it in the dishwasher. Ensure that no vag-goo is left under the glans before leaving to dry. It is essential to check that the dildo is completely dry before placing it in the storage bag until next time.
If you enjoy the feeling of being incredibly full and stretching, then check out Joanne's review of the MASTER from @JohnThomasToys.
Click to Tweet
---
Check Out The Video Review On Youtube
---
Key Features
Key features:
Available in four sizes.
Available in two colours.
Widening shaft.
Large glans.
Vac-u-lock compatible.
Available in two hardness ratings
I would recommend it to:
Anyone who wants a good quality silicone dildo.
Anyone who likes stretchers.
Anyone who wants a vac-u-lock compatible dildo.
Anyone who likes wider dildos.
I wouldn't recommend it to:
Anyone not into larger dildos.

The MASTER dildo is a sizequeens wet dream of a dildo, I love the stretch it provides.
Final Thoughts
I really enjoyed my time in the bedroom with Master, and in the bathroom too.
Master is ideal if you enjoy large glans, smoother style dildos that will also give you a slight stretch. He is super easy to clean, and I love the colours.
This is a relatively simple-looking dildo, but if you do not enjoy dildos with tons of features, this could be ideal for you.
Master has a reasonably smooth shaft, but the large glans give stimulation that helps you enjoy this dildo. This would also work well as a stretcher and will provide you with a wonderful full feeling.
I was sent these MASTER dildos by John Thomas Toys and I would like to thank them for giving me the opportunity to review it for them.
Joanne's rating

Grab one of these amazing body-safe silicone stretcher dildos direct from John Thomas Toys with prices starting at £79.99. At the time of publishing this review, John Thomas Toys are gaving an amazing Winter sale with up to 70% off their wares, so grab a bargain before they are gone.
Check them out and don't forget to tell them that Joanne says "Hi".
---


If you enjoyed reading this review then check out my other reviews of John Thomas Toys products:
Silicone Dildos
---
Disclosure
This review does not contain affiliate links, for more information about affiliate links check out my disclosure page.