Delivery & Packaging
John Thomas Toys have always ensured that packages sent to me are under plain label. The boxes are always sturdy, well-sealed and most importantly of all, they are discreet.
There is nothing outside the box to let anyone know it contains anything raunchy. So my postie never knows just how much silicone cock is packed inside. I should say tentacle this time, though.
I love the fact that the packaging is paper, so much better than plastic. Please do not get me started on packing peanuts.
Each tentacle is covered in a heat-sealed clear plastic, with a small silica gel pouch inside. This keeps the dildo clean and dust-free before it arrives with you. It also allows you to clearly see the whole dildo before opening the packaging. John Thomas Toys also place stickers onto the plastic cover. These let you know the firmness rating and remind you that you need to wash it thoroughly before its first use.
That is something that I recommend that you do with any new toy to ensure any release agents are washed away before using it for the first time.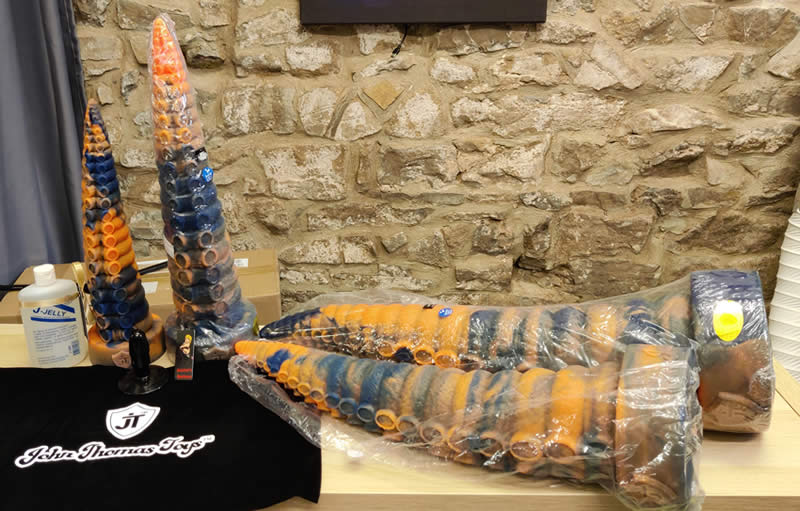 Kraken's Tentacle is a body-safe silicone stretcher and depth trainer, and even the small is huge.
---
Check Out My Unboxing Video On Youtube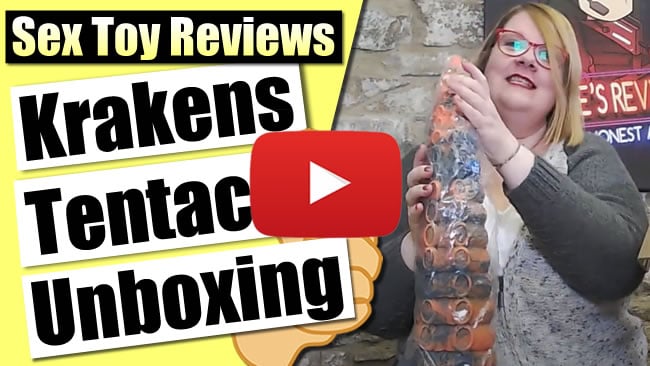 ---
Materials and design
The imagination of the designers at John Thomas Toys always amazes me. They are still producing some great new ideas, and Kraken's Tentacle is another fantastic example.
If you enjoy lots of stimulation, stretching and/or depth play, you might want to consider one of these tentacles.
The whole length has deep ridges, then there are the two rows of suckers. It's as if the designer put together a stack of bagels and added suckers on one side. Just one look at this dildo, and you know you are going to feel every ridge.
The suckers are nicely pronounced, changing in size and depth as you move along the length. They do add some extra unique sensations when using the Kraken's Tentacle.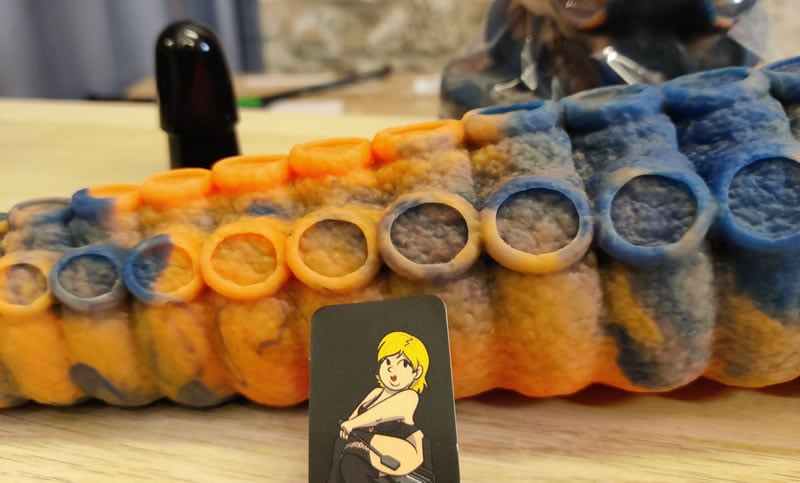 The suction cup and skin surface textures are sublime, creating some incredible sensations in use.
The entire tentacle is covered in a mottled texture, which adds extra sensations to the whole dildo. It also helps to keep lube in place.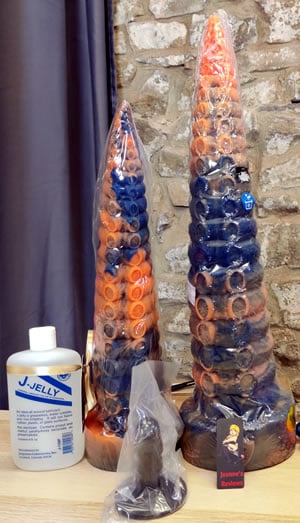 The tentacles I received are the soft firmness rating. You have a choice of two ratings when you buy. With a selection of soft or medium firmness, you also get a choice of four sizes. The soft rating gives a lovely slight squish whilst still maintaining its shape. This feels amazing as you clamp down on it during orgasm. It also comes in four colour choices to give you even more options.
These tentacles are relatively long in design, so you can enjoy depth play if you can take the girth; these are a very nice challenge indeed.
The base has the John Thomas Toys logo on the side, and underneath is a vac-u-lock compatible hole. I would say, though, that I doubt this would be suitable for a fucking machine due to the weight and length. However, you can still enjoy using a Kraken's Tentacle by hand, with the suction cup or with a strap on.
You can always be assured of the quality when buying from John Thomas Toys®. They offer a no quibble replacement Life Time Warranty with their products; terms & conditions apply.
Kraken's Tentacle is made from platinum cure medical grade silicone. This is important because silicone is more robust than some other materials, but it is also body-safe. Silicone is also non-porous, latex, rubber and phthalate free making it hypo-allergenic. It is definitely my go-to material for insertables.
Using copper moulds, JTT ensures that every dildo produced in that mould will have precisely the same features as before. This is a more expensive manufacturing process, but JTT wants to ensure its quality is second to none.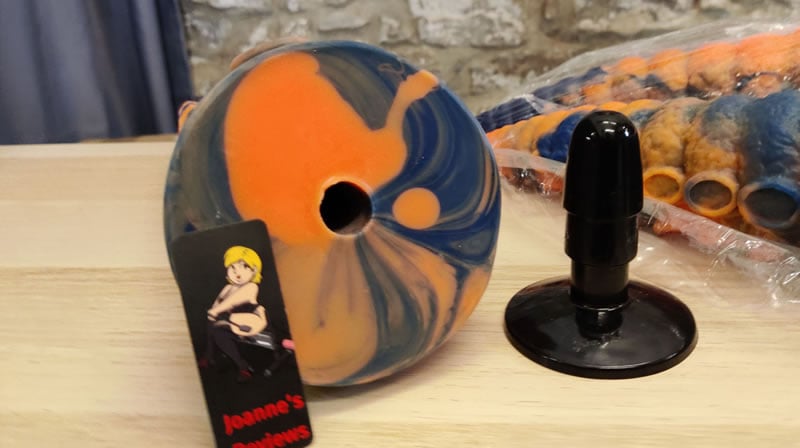 The suction cup adaptor makes it easy to firmly hold the dildo in place for riding.
You will receive a free JTT design vac-u-lock compatible suction cup and a faux velvet storage bag.
The vac-u-lock suction cups I received are a new JTT design. The base is a lot smaller in diameter. However, I found them just as strong. I just needed to experiment on the best way to get the best suction.
The faux velvet storage bags are also slightly different. The ones provided are longer than the original design. You do need the extra length with one of these tentacles. I really like the storage bags; they look fantastic with the JTT logo and wording printed in white on the black faux velvet. These bags give you a stylish way to keep dust and fluff off your toy in-between play sessions.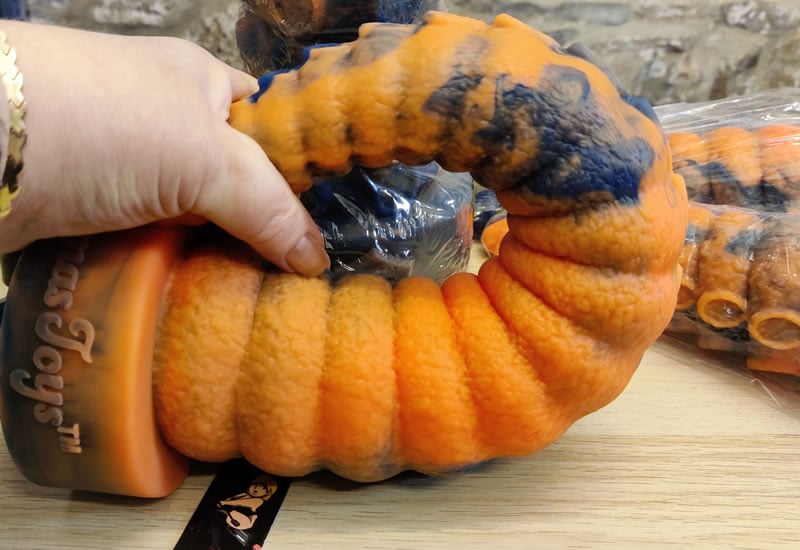 The flexibility of this blend of silicone makes it perfect for anal depth play and training.
| * | SMALL | MEDIUM | LARGE | X LARGE |
| --- | --- | --- | --- | --- |
| Length: | 16"/41cm | 20"/51cm | 25"/64cm | 30"/75cm |
| Circumference (top of shaft): | 5.3"/13.5cm | 5.7"/14.5cm | 6.3"/16cm | 8.2"/21cm |
| Circumference (middle of shaft): | 8.1"/20.5cm | 9.8"/25cm | 11.8"/30cm | 15.3"/39cm |
| Circumference (bottom of shaft): | 9.8"/25cm | 11.8"/30cm | 14.5"/37cm | 17.2"/44cm |
| Circumference (base): | 14.1"/36cm | 17.5"/44.5cm | 20.8"/53cm | 24.4"/62cm |
| Max Insertable Length: | 14.5"/36.83cm | 18"/45.72cm | 22.7"/57.65cm | 27.3"/69.34cm |
| Weight: | 1.425kg (*variable) | 2.8kg (*variable) | 4.79kg(*variable) | 7.42kg (*variable) |
| Price: | £189 | £299 | £369 | £449 |
Performance
I was looking forward to the challenge of how far I could ride a Kraken's Tentacle. I knew there was no way I could take the entire length of even the small size one.
I decided to play with the small size, as I felt I would be able to take more of the length than the larger sizes.
With lots of water-based lube on hand, I was ready to play.
The feel as I squeeze each bump inside is utter bliss, and I really enjoy the additional feeling of the suckers. Plus, the mottled texture feels fantastic. It stretches me open more and more as I take in the length, and that is something I will never tire of.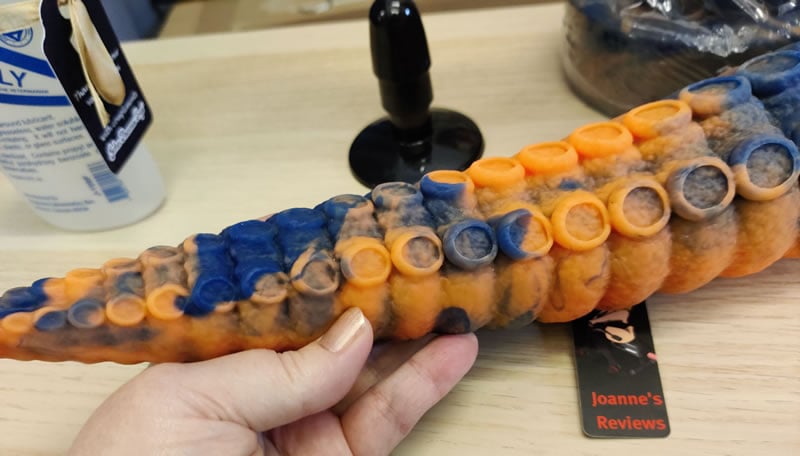 It's easy to see why I enjoyed the textures and girth of this dildo so much.
By angling the tentacle just right, I could enjoy the feel of running the suckers over my clit on every movement of the tentacle. By adding a slight twist, I found it gave some fantastic sensations.
Although I could not even take half the length, I will take off my glasses to anyone who can. Of course, if you enjoy anal, you will be most likely be able to take more of the length.
If you have a dishwasher, cleaning after play is very simple. Unfortunately, I only have handwashing as an option at the moment. Ensuring each and every sucker is cleaned thoroughly takes a little longer. After washing, simply air dry, ensuring it is completely dry before putting it away in the storage bag.
---
Check Out My Video Review On Youtube
---
Check out Joanne's review of the Krakens Tentacle dildo from @JohnThomasToys.
Click to Tweet
Key Features
Key features:
100% Platinum cure silicone.
Fantasy dildo.
Four sizes and colours to choose from.
Two firmness ratings to choose from.
Mottled skin.
Suckers along the entire length.
Increasing in size ridges as you move down the length.
I would recommend it to:
Anyone who loves larger insertables.
Anyone looking for a fantasy dildo with plenty of texture.
Anyone looking for a body-safe dildo/trainer.
I wouldn't recommend it to:
Anyone not into fantasy sex toys.
Anyone wanting something small.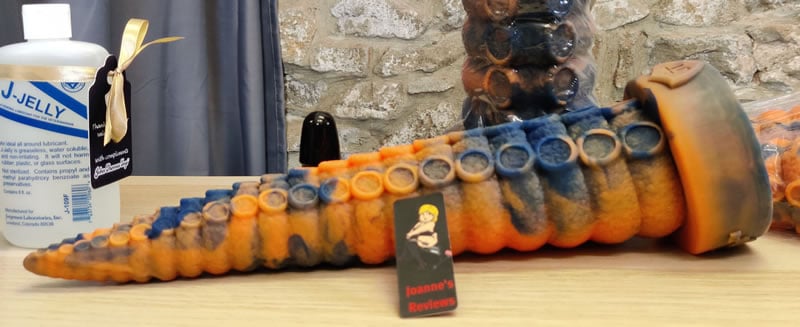 The Kraken's Tentacle is another stunnign design from John Thomas Toys that stretches more than just your imagination.
Final Thoughts
I had a great time playing with my Kraken's Tentacle; the sensations are out of this world. The whole tentacle is designed to give sensations galore. Which it certainly does for me.
It is another fantastic design that will appeal to lovers of fantasy dildos and especially the size queens out there. Although not cheap, these dildos are awesome, and they are ideal for depth and stretching play.
The length and girth provide a significant challenge, both vaginally and anally.
If you enjoy a challenge and sensation galore, then I don't think you would need to look further than Kraken's Tentacle.
I was sent the Kraken's Tentacle by John Thomas Toys and I would like to thank them for giving me the opportunity to review it for them.
Joanne's rating
Where Can I Get One From?

Grab one of these fantastic fantasy silicone dildo/stretchers and see for yourself why I love its surface textures so much. These are the heaviest dildos that I have had the pleasure of enjoying and you get a lot of silicone with this beast of a dildo. With a sale on at the time of this reviews publication act quickly to grab a bargain.
Check out the four colours over at John Thomas Toys, and don't forget to tell them that Joanne says "Hi".
---


If you enjoyed reading this review then check out my other reviews of John Thomas Toys products:
Silicone Dildos
---
Disclosure
This review does not contain affiliate links, for more information about affiliate links check out my disclosure page.