---
Delivery & Packaging
John Thomas Toys always dispatch the dildos in discreet packaging, and the boxes are well packaged to stop the heavy dildos from moving around in transit.
The packaging is as eco-friendly as possible. The packaging is brown paper, and the dildos come packaged in a thin but strong clear heat sealed film. The film is not recyclable but is minimal packaging to protect the dildos. I do appreciate the consideration used in the materials. I also love the John Thomas Toys holographic stickers on the dildo packaging that show you it's a genuine article.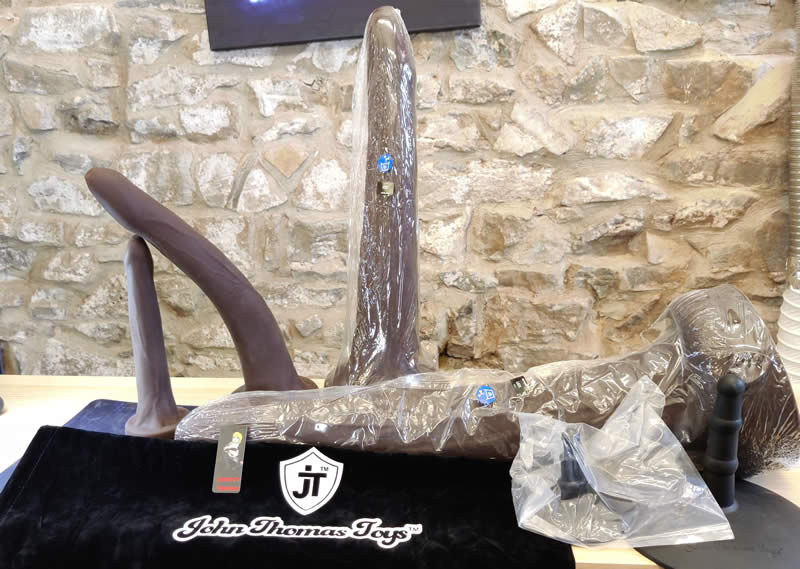 I was sent all four sizes of the Henry, note the minimalistic packaging.
Check Out My Unboxing Video On Youtube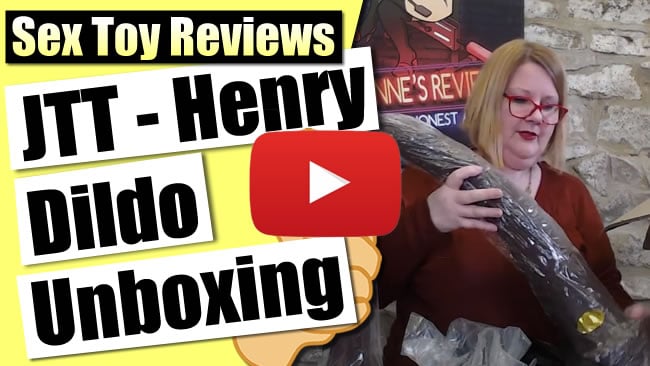 ---
Materials and design
John Thomas Toys uses a medical-grade grade silicone in their vast range of dildos, and it is a fantastic blend with just the right amount of surface drag for me.
Silicone is my go-to material for insertable sex toys. It's body-safe, and by that, I mean non-porous as well as being latex and phthalate-free.
You may not realise the importance of using non-porous insertable toys, but if you use a porous material for an insertable, then there is no way of cleaning it effectively. You don't want to have bacteria growing in the surface material of a sex toy.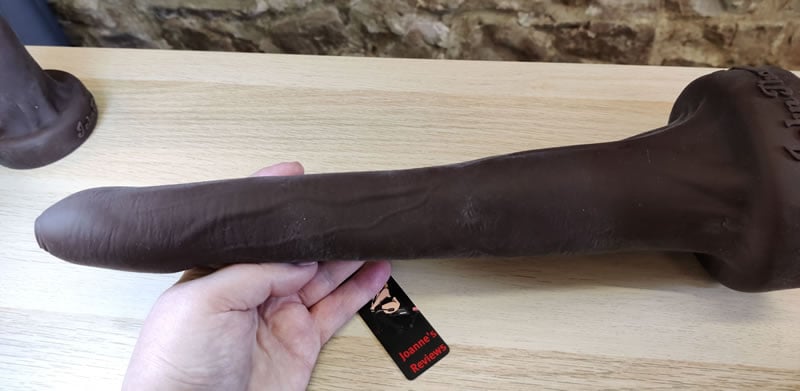 Henry has a prety uniform shaft that widens as you get closer to the base, this makes it easy to slide deeper and deeper.
With John Thomas Toys silicone dildos, this is something you don't need to worry about. They are so easy to wash after use too, I use warm soapy water using an anti-bacterial soap. Then I leave them to air dry thoroughly before storing them in the amazing storage bags JTT provides with all their dildos.
I recommend using a good water-based lube with any silicone toy; my favourites are Sliquid H2O and J Jelly.
The storage bags are made from faux-velvet. They are branded with white print, which stands out beautifully against the black faux-velvet. The material is thick and robust, so it will keep your dildo clean of dust and hair. With four different sizes available, you will receive the right size to fit your purchase.
Henry has a vac-u-lock compatible hole in its base. John Thomas Toys have really tried to think of everything. They not only send a free storage bag with your purchase, but you will also receive a free suction cup adaptor.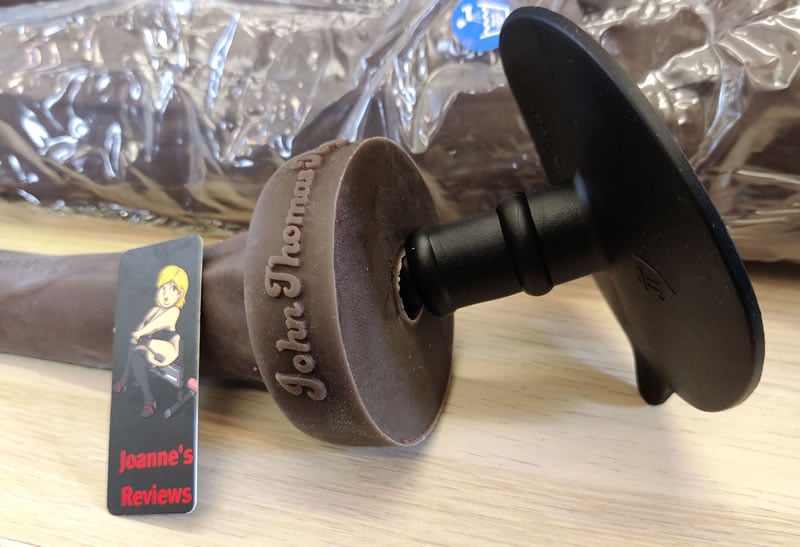 Henry comes with a free vac-u-lock compatible suction cup dildo that works very well indeed.
The suction cup adaptor is John Thomas Toys design, and I like their take on the adaptor. Mainly because the ridges are rounded, so it is less likely to rip your toy on removal. So you have options on how you play. Do you use the suction cup, a strap on or a fucking machine, or simply a hand? The choice is yours.
Henry is not designed as a standard dildo, though, as it is a depth training toy.
There is a story behind this design that I loved, and I want to quote what John Thomas Toys have published.
Henry Marshall from Spixworth can be found stocking the shelves in the Long Water branch of Sainsbury's right here in Norwich, he submitted over a dozen pics of his manhood and has hounded us to make a copy of his hot beef injection before Christmas.

Even though this masterpiece is not a mould from Henry's cock and only a 3D replica, it is practically identical in every detail, we hope you like it Henry? Your manhood is impressive to say the least - now you're immortalised.

John Thomas Toys
If you are wanting to do some anal depth training, then this could be ideal.
Henry features a straight shaft with a slightly enlarged head. Although the shaft does not have many ribs and ridges, it does have a few nice veins to enjoy.
With four sizes to choose from and two firmness ratings, there is a good chance that you can find the right blend for you. Henry is available in two colour choices too.
I was sent the four sizes in the soft option, which makes them slightly squishy when squeezed. They are also nicely flexible, which makes them more comfortable to use anally.
As Henry is designed for depth training, he must be soft enough to comfortably take deep inside. Especially when you are looking at the length of the larger sizes.

The emphasis with henry is anal depth play and not lots of girth although the larger ones are girthy too.
The slightly flared head makes for easy insertion and will help ensure it does not pop out before you want it to.
| * | SMALL | MEDIUM | LARGE | X LARGE |
| --- | --- | --- | --- | --- |
| Length: | 9.6"/24.5cm | 15"/39cm | 20"/50.8cm | 24.4"/67.97cm |
| Circumference (middle of head): | 3.5"/9cm | 4.9"/12.5cm | 6.7"/17cm | 8.3"/21cm |
| Circumference (middle of shaft): | 4.3"/11cm | 5.9"/15cm | 8.3"/21cm | 9.8"/25cm |
| Circumference (lower shaft): | 5.3"/13.5cm | 8.3"/21cm | 12.2"/31cm | 13.4"/34cm |
| Circumference (base): | 9.6"/24.5cm | 14.5"/37cm | 19.7"/50cm | 24.4"/62cm |
| Max Insertable Length: | 9"/22.5cm | 13.7"/34.79cm | 18.3"/46.48cm | 22.4"/56.89cm |
| Weight: | 0.31kg (*variable) | 1.08kg (*variable) | 2.63kg(*variable) | 5.1kg (*variable) |
| Price: | £69.99 | £114.99 | £199.99 | £269.99 |
Performance
With my trusty bottle of water-based lube to hand, my small-sized Henry all washed and ready to go, I was prepared to take the plunge.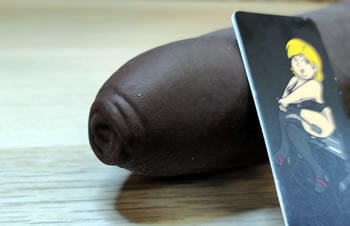 Getting into a comfortable position on my bed allowing me ease of movement while working the length inside. But first, covering the head and some of the length in lube.
I found the shape of Henry's head allowed easy insertion. It was then just the case of slowly pushing more of the length inside.
The almost straight shaft helps to enable easy deep penetration. I really enjoy the feel of this blend of silicone, the slight drag increases the sensations as you move it, and I love that.
I tend to find some hip wriggling to help guide in Henry does help. The feeling of taking inch after inch feels fantastic.
The vein textures are enough to add lots of pleasurable sensation as you work more and more inside. Once fully inserted, I relished the feeling of being full and the satisfaction of knowing I took it all - Yay for me!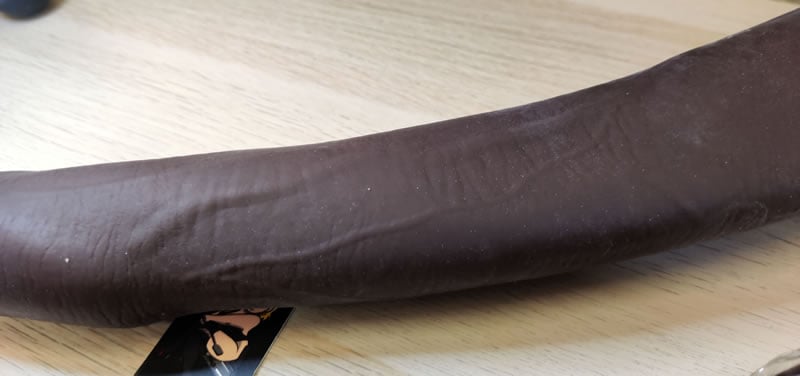 The vein detailing is subtle but enjoyable and is the skin textures and the foreskin detailing.
I got myself off using my fingers on that occasion, and coming hard with so much silicone inside me was a real treat. I can see how some people really take anal depth play so seriously. If you are one of those kinksters, then Henry will be right up your street, and by "street", you know exactly what I mean.
Once you have finished playing, it is easy to clean Henry for the next time. Just ensure that you get all the tiny grooves in the tip cleaned thoroughly.
One nice thing to try out with Henry is some temperature play. Try leaving him on cold or warm water for a while before you play to experience some intense sensations.
If you like your anal play to be deep and very filling then check out Joanne's review of Henry from @JohnThomasToys.
Click to Tweet
---
Check Out My Video Review On Youtube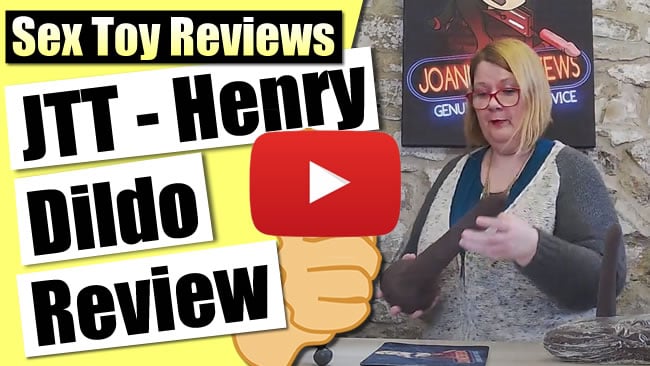 ---
Key Features
Key features:
100% Medical grade silicone.
Tapered tip for easy insertion.
Two colour options to choose from.
Four sizes to choose from.
Two firmness options.
Lifetime warranty.
Vac-u-lock compatible.
Comes with a storage bag and suction cup adaptor.
I would recommend it to:
Anyone who likes silicone dildos.
Anyone who likes depth play.
Anyone looking for a dildo in body-safe materials.
Anyone who likes a challenge.
I wouldn't recommend it to:
Anyone who wants a dildo with lots of textures.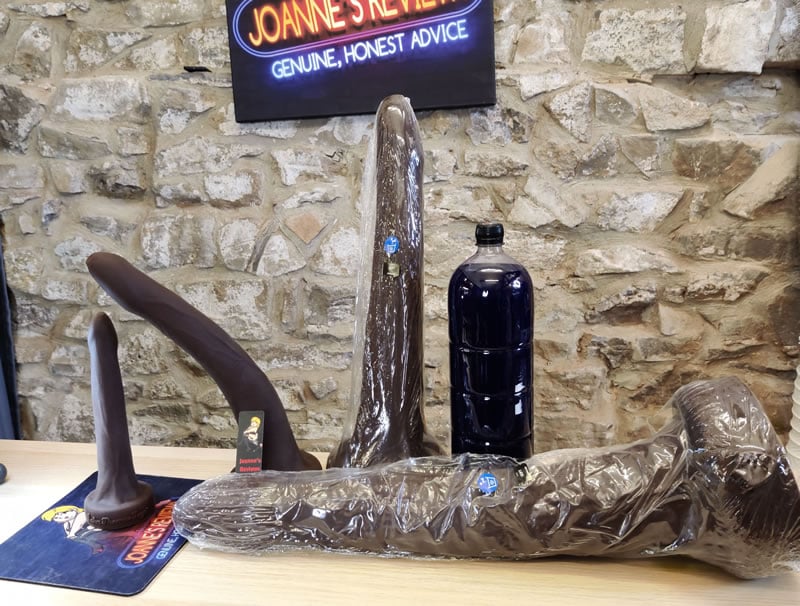 This soft drinks bottle just highlights the immense scale of the large and extra large Henry dildos.
Final Thoughts
If you are reasonably new to anal play, then the small-sized Henry is a good one to start with. The small head and straight shaft are a great starting point.
As you become more experienced, you can step up the challenge by trying the larger sizes. I know I will never be trying the large or the x-large sizes. But if you can take them, then I would take my hat off to you. If I wore one :-)
The fact that Henry can be used with a strap-on, fucking machine etc., gives you so much choice on how you want to play.
With a choice of four sizes and two colours, plus the two firmness options, you can find the right one for you to play with.
I was sent these four Henry dildos by John Thomas Toys and I would like to thank them for giving me the opportunity to review it for them.
Joanne's rating
Where Can I Get One From?

Grab a HENRY depth training dildo from John Thomas Toys with prices starting at just £69.99 you can't go wrong. Unlike his vacuum cleaner namesake, HENRY definitely doesn't suck, he's fantastic.
Check them out and don't forget to tell them that Joanne says "Hi".
---


If you enjoyed reading this review then check out my other reviews of John Thomas Toys products:
Silicone Dildos
---
Disclosure
This review does not contain affiliate links, for more information about affiliate links check out my disclosure page.