Delivery & Packaging
Godzillaz arrived quickly and safely, packed inside a plain cardboard box, which was taped securely. John Thomas Toys take your privacy seriously, and they prove this with the plain packaging used.
I'm lucky enough to have received all four sizes of Godzillaz, which means that the large box needs to be strong and secure. I never worry that the boxes are not strong enough to hold the weight though.
Each dildo is wrapped in a heat-sealed clear wrap; while minimalistic, it does save on waste. There is no need for anything more as you are also provided with a good quality storage bag. I appreciate the least amount of packaging waste possible.


I received all four sizes to review as well as vac-u-lock adaptors and storage bags.
You also receive a free faux velvet storage bag with every dildo purchased from John Thomas Toys. These bags come in four different sizes, and you will receive the right size for the Godzillaz dildo you have purchased.
Also enclosed in the box is a vac-u-lock compatible suction cup. These come in two sizes and are designed by John Thomas Toys.
Everything arrived with minimal packaging and packed together with paper to keep everything from moving around in transit.
Materials and design
John Thomas Toys has used high-quality medical-grade silicone. This is a really great choice for any insertable toy. It's not only body-safe, but it's also non-porous, phthalate, latex and rubber free. Who does not want a body-safe material that is also more robust than other materials?
As long as you look after silicone properly, it will last for years.
One important thing to remember with silicone sex toys is to use a good quality water-based lube. My personal favourites are Sliquid H2O or Astroglide Gel. If you are playing with a partner and oral sex is on the cards, I recommend a water-based flavoured lube like Jo H2O Candy Shop.
Godzillaz dildo looks like I would imagine the famous film star with a similar names cock may look. Although, thankfully, these are a lot smaller than a real one would be.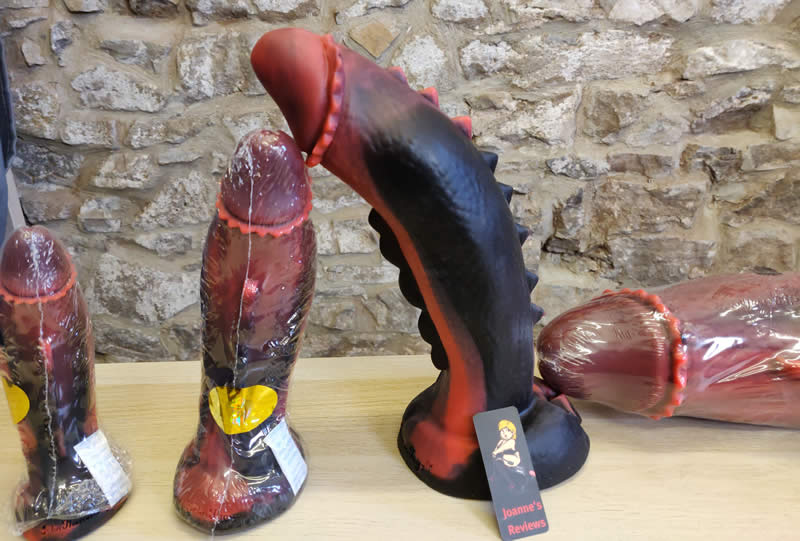 The textures and girth of this dildo are amazing.
A quote from the John Thomas Toys website "It took nearly two days for our designers to 3D create. The detailing far surpasses the majority of dildos available & will give you a new experience in pleasure."
Looking at the masterpiece that Godzillaz is, I can really believe that it took designers so long to design him. They really have got everything right with this gorgeous dildo.
The frills around the glans look amazing, then you take in the rest of this monster. My eyes were then drawn to the spines running down the shaft's underside, they look delicious. Then the more prominent, softer frill running over the upper side of the shaft. The shaft itself bulges out from just under the glans to nearly the base, designed to really fill you up. On a closer look, you can see some nice veins running along the shaft, and the designers have even covered Godzillaz with scales.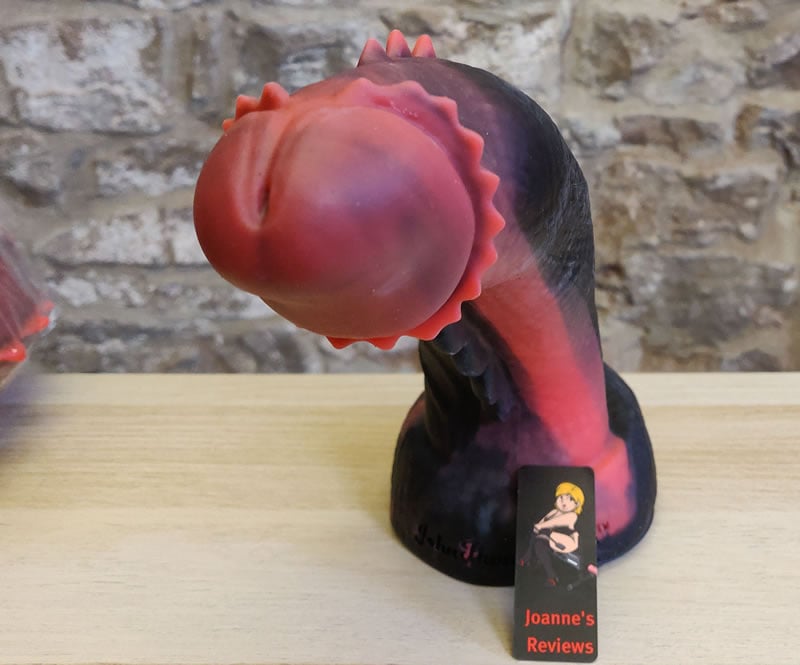 The textures around the glans and on the shaft may look intimidating but they feel amazing.
All those spikes may look intimidating, but they are just the right mix of firm and soft. Firm enough to not totally flatten against the pressure of your walls but soft enough to make them extremely enjoyable.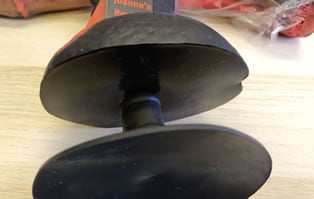 The designers have really gone all out on this deadly predator. I, for one, couldn't wait to be able to take a ride on this monster ;-)
The whole effect is finished with the John Thomas Toys logo near the base, and not to forget the vac-u-lock compatible hole.
This is the type of dildo that makes me glad that John Thomas Toys use copper moulds in the manufacture. This is because the process ensures that every dildo produced in that mould will have precisely the same features as the ones before it. This means that everyone will get to enjoy the same spines and frills, no matter when you buy a Godzillaz dildo.
One thing that is unique is the colour. This is due to the hand pouring technique called Fusion that John Thomas Toys use. This technique creates unique colour blends that look great.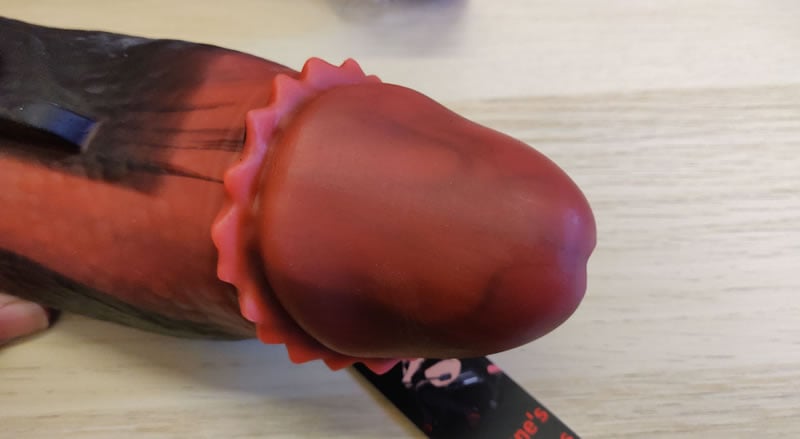 The colours will be different on every Godzillaz dildo due to the Fusion pouring method.
The black faux velvet storage bag you get is excellent; the white printed branding on one side really stands out. The material used is thick and strong enough to easily support the weight of the silicone dildo. It will help protect your dildo from dust and hair. There is a size to fit each dildo and plenty of room.
| * | SMALL | MEDIUM | LARGE | X LARGE |
| --- | --- | --- | --- | --- |
| Length: | 7.5"/19.05cm | 9.7"/24.63cm | 13"/33.02cm | 18"/45.72cm |
| Circumference (top of shaft): | 5.5"/13.97cm | 7.0"/17.78cm | 8.5"/21.59cm | 10.5"/26.67cm |
| Circumference (middle of shaft): | 6.0"/15.24cm | 7.4"/19.81cm | 9.2/23.36cm | 12.5"/31.75cm |
| Circumference (bottom of shaft): | 5.0"/12.70cm | 6.2"/15.74cm | 8.4"/21.33cm | 10.8"/27.43cm |
| Circumference (base): | 8"/20.32cm | 11"/27.94cm | 15"/38.10cm | 20"/50.80cm |
| Max Insertable Length: | 6.34"/16.25cm | 8"/20.32cm | 11"/27.94cm | 14.5"/36.83cm |
| Weight: | 0.25kg (*variable) | 0.56kg (*variable) | 1.25kg(*variable) | 3.00kg (*variable) |
| Price: | £69.99 | £99.99 | £169.99 | £229.99 |
You will also receive a John Thomas Toys vac-u-lock compatible suction cup. I really like their own design as the ridges on the shaft are smoother than other designs. This means that although they keep the dildo in place, it does not rip the dildo when removing it. I still recommend using cornstarch inside the hole in the base of the dildo before inserting the suction cup.
With two firmness options and four sizes, there is a lot of choices. I was sent the soft version. The only downside for me was that the dildo is top-heavy. This was only a problem for me when I tried to take the photos for my review as the largest would not stay standing, and the others kept falling over.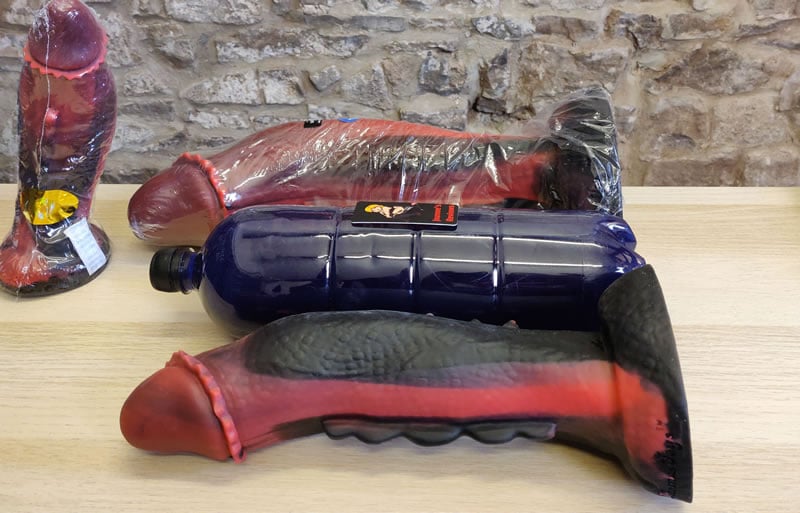 The large and extra large Godzillaz dildos are staggering in their girth.
Performance
I was very eager to put these to good use and was unsure which size to use first. I decided to try the large but found that the wide girth was just a little too much for me. So I downsized to the medium. To be honest, it certainly did not feel like I had actually decided to go with the smaller dildo.
The frill of spikes around the glans feels fantastic as you insert it inside you. The spikes are all firm enough to enjoy but soft enough to not add any pain to the sensations.
On pushing more of Godzillaz inside, I feel the shaft widening's girth, filling me up nicely. The spikes and the frills were adding different sensations to the dildo. John Thomas Toys really have designed a great dildo. The sensations caused by all the spikes and frills are indeed toe-curling. Add a slight twist motion, and you create a whole new feel to this dildo.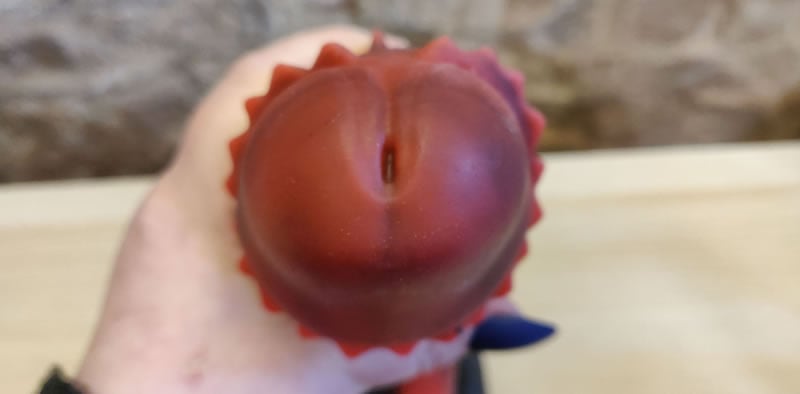 The frills around the glans feel great as you insert it.
It did not take long with Godzillaz to come to an orgasm, but I just could not stop at the first one. It felt just too good to stop playing with this spikey guy.
Even though I was sent the soft version, it is not a squishy type of soft. The dildo has enough firmness to maintain its shape inside you, but with a bit of give to make it comfortable to insert.
The softness does make this dildo slightly floppy when attached to a machine or vac-u-lock compatible attachment. This only causes a slight issue when first inserting, but once you guide it inside your pussy, it holds up really well. That is as long as you do not remove the entire dildo each time you withdraw it.
Once playtime is over, it is effortless to clean. I tend to prefer washing mine in a sink full of hot soapy water. I then rinse it off before leaving it to air dry. Just ensure that you have run your fingers over all the spikes and frills. So that you do not leave anything unwanted behind. Do not forget you can also place it in a dishwasher to clean it, just ensure that Godzillaz is fully dry before you put him away.
Once Godzillaz is dry, simply place it in the storage bag and put it away, ready for the next session.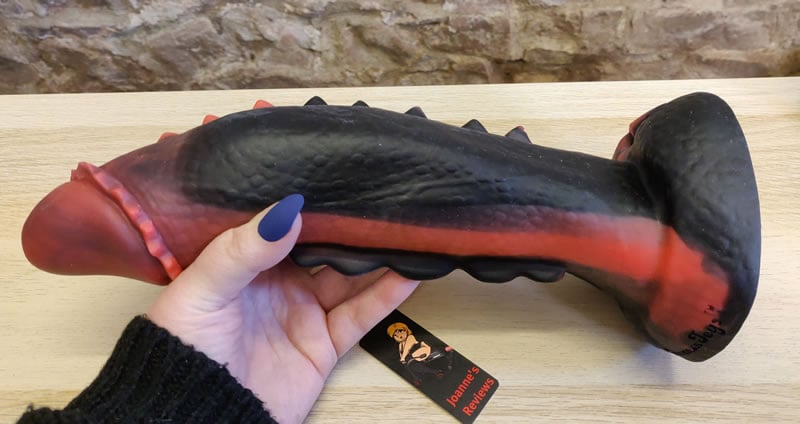 The spines and ridges on the shaft are what makes this dildo feel so good, they are soft but provide lots of stimulation.
Conclusion
This is another beautifully designed dildo by John Thomas Toys. If you enjoy a dildo with lots of texture, then give Godzillaz some serious consideration.
Godzilla is lots of fun to play with, well designed and beautifully made. I love the colours caused by the hand pouring technique called fusion.
One piece of advice is to check out the measurements on John Thomas Toys website before you buy. This will avoid disappointment when it arrives. I would have been gutted if I received one that was too large for me. Although I would enjoy the challenge to take more.
If you like your dildos large and fantasy based with lots of texture, then check out Joanne's review of the Godzillaz Silicone Dildo from @JohnThomasToys.
Click to Tweet
---
Check Out My Video Review On Youtube
---
Key Features
Key features:
100% Medical grade silicone.
Lots of well defined textures.
Intense girth as you insert more and more.
Four sizes to choose from.
Two firmness options.
Lifetime warranty.
Vac-u-lock compatible.
Comes with a storage bag and suction cup adaptor.
I would recommend it to:
Anyone who likes fantasy dildos.
Anyone who likes lots of stimulation.
Anyone looking for a dildo in body-safe materials.
Anyone who likes a challenge.
I wouldn't recommend it to:
Anyone who wants a realistic human dildos.
Anyone not looking for lots of texture on their dildos.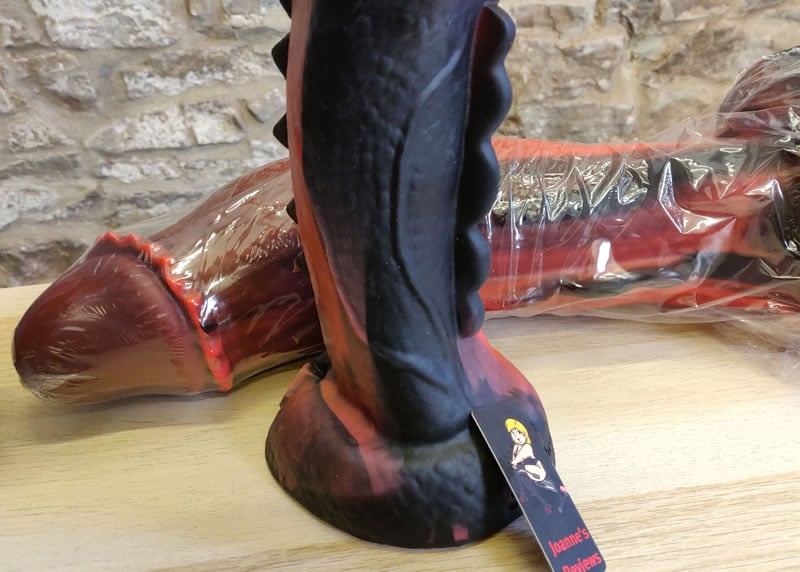 The textures on the Godzillaz dildo are delightful and feel fantastic.
Final Thoughts
John Thomas Toys have outdone themselves with Godzillaz. A glorious looking and, more importantly, feeling dildo. Sensations galore for those who are brave enough to take a ride on his wild side.
My main problem now is that I will need to buy a much bigger toy box ;-)
I was sent the Godzillaz Dildos by John Thomas Toys and I would like to thank them for giving me the opportunity to review it for them.
Joanne's rating
Where Can I Get One From?

Grab one of these amazing body-safe fantasy dildos from John Thomas Toys with prices starting at just £69.99 and start your hole stuffing adventure.
Check them out and don't forget to tell them that Joanne says "Hi".
---


If you enjoyed reading this review then check out my other reviews of John Thomas Toys products:
Silicone Dildos
---
Disclosure
This review does not contain affiliate links, for more information about affiliate links check out my disclosure page.