Delivery & Packaging
I really appreciate the plain packaging used, so that the poor postie has no idea what is inside the large, weighty box. Which is probably a good job, as I'm not totally sure what I would say if the postie saw the contents. Luckily even with the contents' weight, the box they are dispatched in is strong and tightly sealed.
John Thomas Toys dildos are packaged in a strong film wrap, with a branded sticker, to remind you where it has come from. The beauty of these dildos is you really do not need any fancy packaging, which saves on waste. All you need to do is see the dildo in front of you and to know that it is pure medical-grade silicone.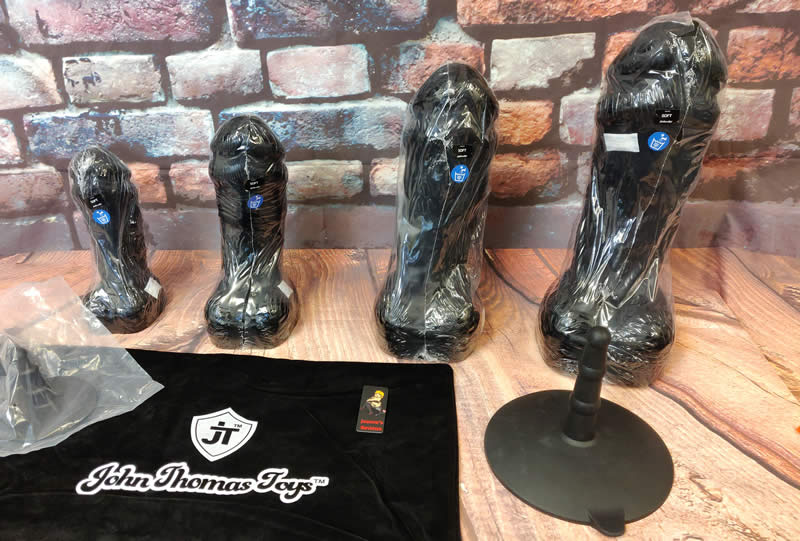 I am lucky to have received all four sizes of the Essex Geezer dildo.
You also receive a storage pouch in a branded reusable carrier bag, together with a vac-u-lock compatible suction cup. Both of which are a suitable size for the toy you have ordered.
Materials and design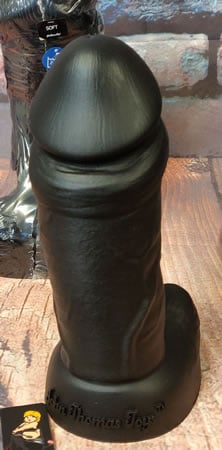 John Thomas Toys use only medical-grade platinum silicone to make all their toys. They do not scrimp during the manufacturing process either as they use copper moulds to make their toys.
This is more expensive than the methods used by some other manufacturers. It does ensure that every toy that comes out of that mould will have precisely the same features though. The only difference may be the colour, the Essex Geezer is available in two colours, black and flesh tone.
Medical-grade silicone is the go-to material for a lot of people now, due to its body-safe properties. You know that what you are inserting into your body is not only body-safe and non-porous but is also phthalate, latex and rubber free.
Silicone is also more robust than lots of other materials, and you can even boil wash it to clean it if you want to.
It is always best to use a water-based lube to ensure that you can enjoy your toy for years to come. The only slightly negative point with silicone (and it is a minor one) is that it tends to be a fluff and dust magnet. Still, as long as you wash the toy thoroughly before each use, this shouldn't be a problem.
The artists at John Thomas Toys do a fantastic job of providing a vast array of styles for you to choose from, each one is unique in its own way. Essex Geezer is undoubtedly one to look at if you like realistic style dildos. This one is most definitely larger than most real cocks and will take your breath away.
| * | SMALL | MEDIUM | LARGE | X LARGE |
| --- | --- | --- | --- | --- |
| Length: | 9"/23cm | 11"/28cm | 12.8"/32.7cm | 15.5"/37cm |
| Base Height: | 1.9"/4.8cm | 2.4"/6cm | 2.8"/7cm | 3.2"/8.3cm |
| Circumference (foreskin): | 8.6"/21.8cm | 10.7"/27.8cm | 12.5"/31.8cm | 14.5"/37cm |
| Circumference (middle of shaft): | 7.9"/20.2cm | 9.8"/24.7cm | 11.5"/29.3cm | 13.5"/34cm |
| Circumference (base): | 14"/35.5cm | 17"/43cm | 20.5"/52cm | 23.5"/58.7cm |
| Max Insertable Length: | 7.1"/18.03cm | 8.6"/21.86cm | 10"/25.4cm | 11.3"/28.7cm |
| Weight: | 1.0kg (*variable) | 1.8kg (*variable) | 3.0kg(*variable) | 4.6kg (*variable) |
| Price: | £99.99 | £149.99 | £214.99 | £279.99 |
This is another beautiful creation from John Thomas Toys, the wide shaft and well-defined glans are certainly a thing of beauty. Add to that the thick veins and the big bump of the pulled back foreskin, and you are on to a winner. The branding also adds to the whole look of this dildo.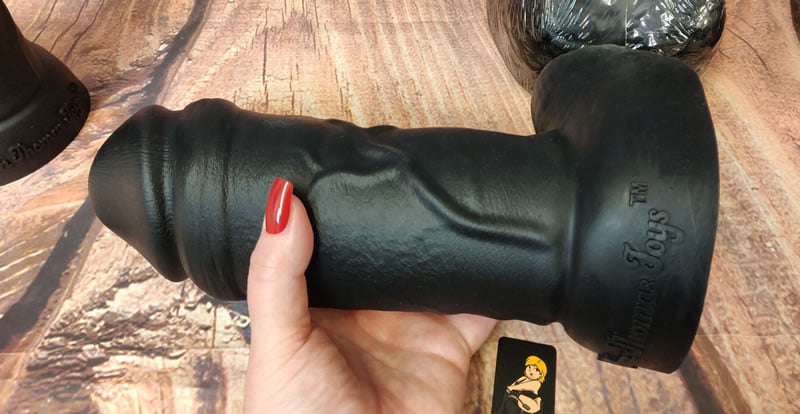 The Essex Geezer dildo is deliciously thick and the details on the folded back foreskin are sublime.
I just love this quote from the JTT website -"Whether you love TOWIE or just fancy a bit of rough from Essex? this Geezer from Brentwood will sort you out!"
The silicone blend used has a slight drag to it, but this is not a negative in my opinion, as I find that I enjoy the extra sensation this causes.
Don't forget you get more than just a high-quality dildo. You also receive a strong vac-u-lock compatible suction cup plus a faux velvet style branded storage bag.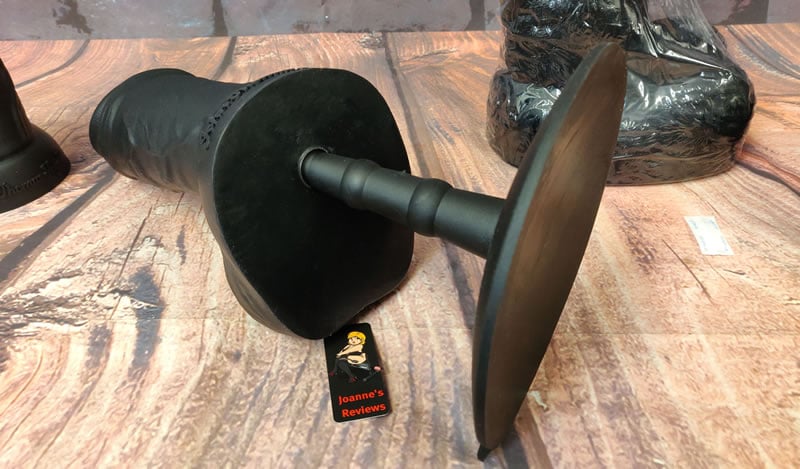 The vac-u-lock compatible suction cup adaptor that comes with the Essex Geezer works very well.
The suction cup is a John Thomas Toys design. I find that the larger size works exceptionally well for, the heavier dildos. I also appreciate the nodules that hold the toy in place. They hold the dildo well and make it reasonably easy to remove the toy from once you have finished play.
The black faux velvet style branded storage bag not only looks great but also fits your dildo with some room to spare. It is made with a good quality sturdy fabric with strong seams, so it will not fall apart on you quickly. The white branding stands out really well on the black fabric.
Performance
A fun fact about silicone is that you can enjoy temperature play. If you have never tried it before, I recommend you give it a try. You only need to place the dildo in either warm or cool water, then have a play, just do not get the temperature up to high or to low. This style of play is extremely enjoyable, and I can highly recommend it.
The option of four different sizes is excellent and allows you to find the best fit for you. However, if you are uncomfortable using a very thick dildo, I suggest checking out a different design. Even the small Essex Geezer is actually quite large in width. If you are unsure, check the full measurements out on the John Thomas Toys website.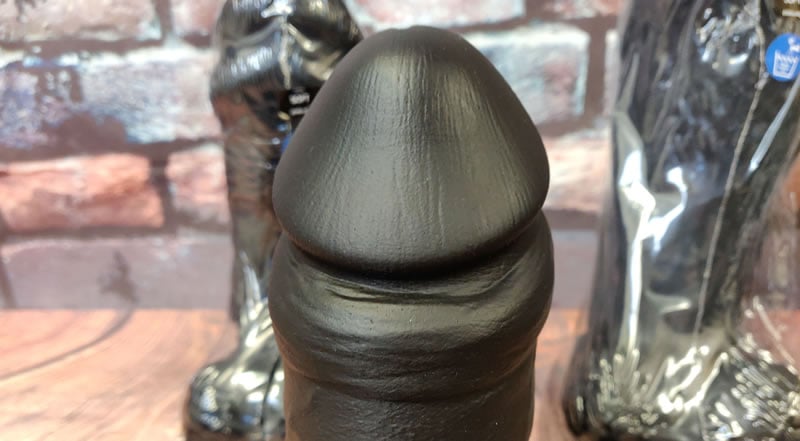 The glans and pulled back foreskin of this dildo are delicious girthy and feel great when you insert it and thrust with this dildo.
The wide glans does make penetration interesting if not a little challenging (something I relish). As it's wide and relatively flat, you may need to ensure you are lubed and warmed up before attempting to push it in. My go-to water-based lube is Sliquid H2O.
I really enjoy the feel of being stretched open wider and wider, followed by the feeling of my entrance closing slightly as I almost feel the pop of the glans being wholly enclosed inside me. As you insert it, the added girth around the foreskin also gives lots of additional stretch.
Essex Geezer has a very wide shaft, even though the glans is large, the shaft is slightly larger so you should feel deliciously full and stretched. Of course, you will also feel the delicious stretch as you go to pull this dildo out again.
The slight drag of the silicone blend together with the large veins feel great as you thrust Essex Geezer in and out. The large balls are great to hold onto, and if you can take the whole length, they add to the sensations as they hit against your body.

The blend of silicone is delightful, having some squish (is that a word) yet still being firm so every texture is felt.
With the vac-u-lock compatible hole in the base, you also have alternative options. You can choose to use the suction cup supplied, which holds well on a clean flat surface like tiles. Or you could decide to use a fucking machine or maybe even strap-on, the choice is all yours.
Essex Geezer works brilliantly with temperature play. Personally, I like to cool it slightly at the start of play. But you can also choose to warm it, just remember not to go extreme on the temperature. I do not think anyone wants to go to A & E and explain how they burnt their pussy or ass.
Cleaning is simple, the only area you will need to double-check is under the glans. You really do not want to risk leaving any vag-goo there. You have the option of cleaning this big guy in hot soapy water or even the dishwasher. You can even boil wash him if you prefer. Although you would need a seriously large pot to be able to boil wash Essex Geezer. Of course, if you use the dishwasher, make sure you remove it before another family member decides to help unload the dishwasher.
Conclusion
Essex Geezer is a chunky dildo to have fun with. Even the small is larger than most standard-sized dildos from other manufacturers.
If you want that stretched full feeling of a beautifully crafted quality silicone dildo, do check John Thomas Toys website. Essex Geezer is a dildo to enjoy with a wide shaft and glans to fill you. This realistic dildo is simple but oh so effective.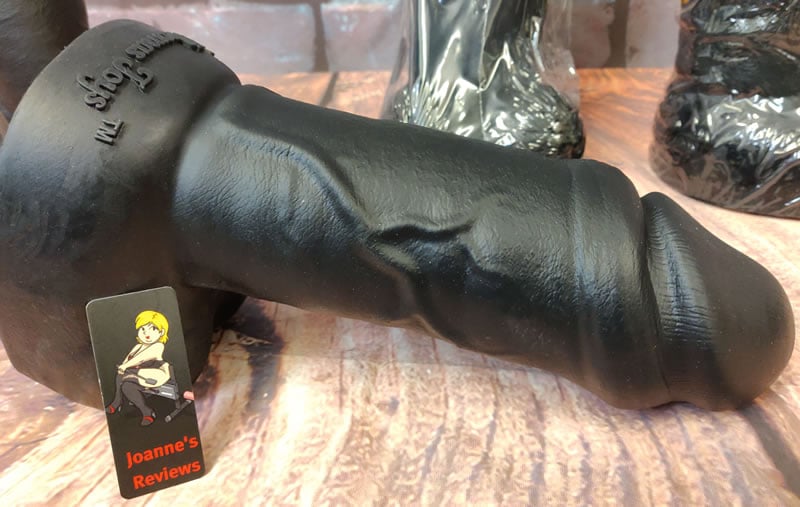 The Essex Geezer is another nice girthy design from John Thomas Toys.
Check out Joanne's review of the @JohnThomasToys Essex Geezer silicone dildo, he's a diamond geezer.
Click to Tweet
---
Check Out The Video Review On Youtube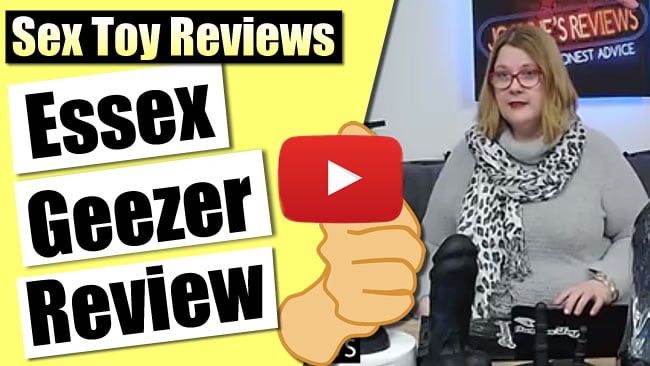 ---
Key Features
Key features:
Available in four sizes.
Available in two colours.
Wide shaft.
Large glans.
Vac-u-lock compatible.
Available in two hardness ratings
I would recommend it to:
Anyone who wants a good quality silicone dildo.
Anyone who likes realistic dildos.
Anyone who wants a vac-u-lock compatible dildo.
Anyone who likes wider dildos.
I wouldn't recommend it to:
Anyone not into larger dildos.
Final Thoughts
Another beautifully designed dildo made with high-quality medical-grade silicone from John Thomas Toys. With a choice of four different sizes and two firmness options, you have quite a selection to choose from.
Essex Geezer is a chap that you will want more than a one night stand with. I can understand why Essex girls always seem to have a smile on their faces now.
With the John Thomas Toys lifetime warranty (terms and conditions apply), you can trust that the dildo you receive will be good quality and will last well. If you treat silicone correctly, it can last you safely for a long time.
Essex Geezer is another excellent design and a worthy addition to the John Thomas Toys range of dildos and stretchers.
I was sent these Essex Geezer dildos by John Thomas Toys and I would like to thank them for giving me the opportunity to review it for them.
Joanne's rating

Grab one of these amazing body-safe silicone dildos direct from John Thomas Toys with prices starting at £99.99. At the time of publishing this review, John Thomas Toys are gaving an amazing Winter sale so grab a bargain before they are gone.
Check them out and don't forget to tell them that Joanne says "Hi".
---


If you enjoyed reading this review then check out my other reviews of John Thomas Toys products:
Silicone Dildos
---
Disclosure
This review does not contain affiliate links, for more information about affiliate links check out my disclosure page.