Delivery & Packaging
John Thomas Toys never keep me waiting long for a delivery, and this time was no exception. Having said that does not mean that I was not on tenterhooks waiting for them to arrive. Mainly because I had no idea what I would be receiving.
When the boxes were delivered, I was so tempted to just dive right in so that I could see what Donkey Dong looked like. Unfortunately, I needed to wait to do the unboxing video, so I had a slight delay.
With my studio all set up, I was ready to open the first box. I guessed that the dildo I opened was the Donkey Dong from the shape.
Donkey Dong looks a little like you would expect, apart from the colour. I was lucky enough to receive all four sizes of the dildo, but I was surprised by the length of this design.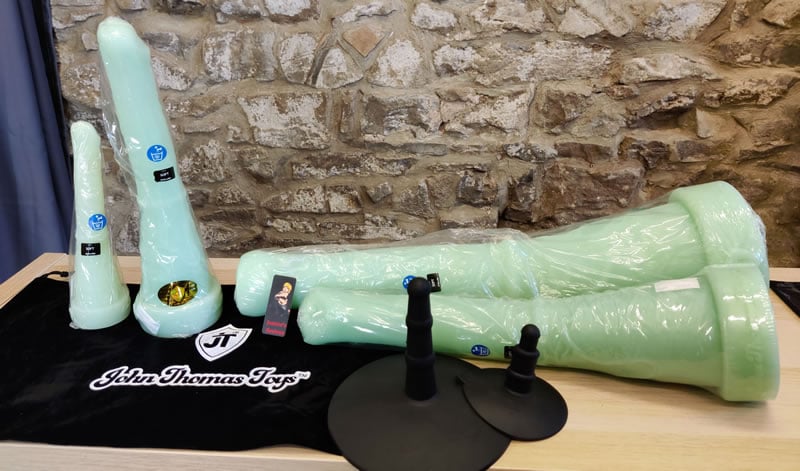 I received all four sizes of the glow in the dark variant of this depth trainer.
John Thomas Toys always dispatch the dildos in discreet packaging, and the boxes are well packaged to stop the heavy dildos from moving around in transit.
The packaging is as eco-friendly as possible. The packaging is brown paper, and the dildos come packaged in a thin but strong clear heat sealed film. The film is not recyclable but is minimal packaging to protect the dildos.
---
Check Out My Unboxing Video On Youtube
---
Materials and design
John Thomas Toys use a medical-grade grade silicone in their delectable (or should that be "de-dicktable") creations, and that is for good reasons.
Silicone is my go-to material for insertable sex toys. It is body-safe, and by that, I mean non-porous as well as being latex and phthalate-free. You should always choose non-porous insertable sex toys as if you don't, then there is no way of cleaning it effectively, or you can even have bacteria growing in the surface material of the toy.
Luckily you needn't worry about that with anything from John Thomas Toys, and these dildos are so easy to clean because of it. I generally just wash mine in warm soapy (anti-bac, of course) water, and then I let them dry before storing them away in the fantastic storage bags that come with JTT dildos and stretchers.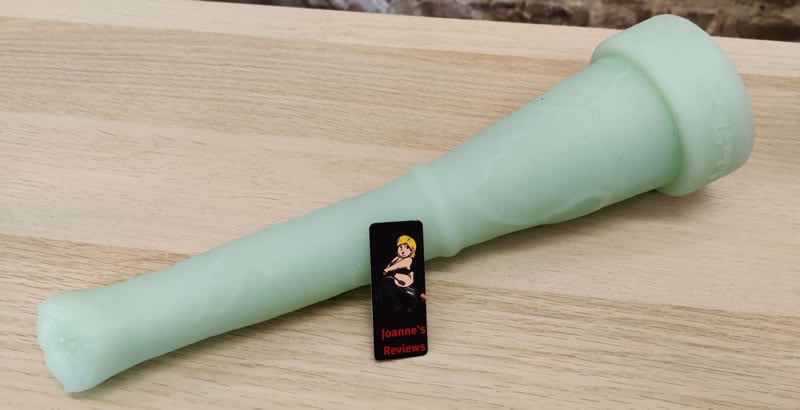 The medium is the perfect balance of girth and length for me, it is very well proportioned.
These bags, made from faux-velvet, are lined to prevent any lint from sticking to your newly washed dildo. The black and white branding looks great, and with four different sizes of bag available, you'll get one for free that fits your new best friend perfectly.
One last thing before I get into the nitty-gritty about Donkey Dong, and that is it comes with a vac-u-lock compatible hole in the base. That means you can mount one on a strap on, a fucking machine or the free suction cup adaptor that comes with this mega-dong.
Donkey Dong is available in four sizes and two hardness ratings - Soft (shore rating A-15) or Medium (shore rating A-20). There are even four colour options available, and this one is the glow in the dark one. This gives lots of choices when you consider the range of options and sizes.


Even the small is a challenge for some depth wise.
John Thomas Toys are the only manufacturer that I know of that use copper moulds when creating their dildos. That is a much more expensive option, but it ensures fantastic quality. The level of detailing is impressive, and every dildo out of the mould will be as detailed as the first.
Donkey Dong, as his name suggests, is a fantasy dildo that is very anatomically correct. The level of detail in the flared head (more on that later) and the veins down the shaft is brilliant.
This is another depth trainer from JTT. As such, the focus of this design is on its length and not so much the girth. Don't get me wrong, it is a well-proportioned beast, but unlike other offerings from JTT, this one has one thing in mind - depth play.
That said, definitely make sure you read the dimensions of these dildos on the JTT website. His toys are larger than life, and if you go for a large without checking its dimensions, you may be in for a surprise (or treat if you can take it).
| * | SMALL | MEDIUM | LARGE | X LARGE |
| --- | --- | --- | --- | --- |
| Length: | 9.6"/24.5cm | 15"/39cm | 20"/50.8cm | 24.4"/67.97cm |
| Circumference (middle of head): | 3.54"/9cm | 5.51"/14cm | 7.08"/18cm | 9.05"/23cm |
| Circumference (middle of shaft): | 4.33"/11cm | 6.29"/16cm | 8.66"/22cm | 10.63"/27cm |
| Circumference (lower shaft): | 6.29"/16cm | 9.84"/25cm | 12.99"/33cm | 16.53"/42cm |
| Circumference (base): | 8.2"/21cm | 8.2"/21cm | 16.53"/42cm | 20.86"/53cm |
| Max Insertable Length: | 9"/22.5cm | 13.7"/34.79cm | 18.3"/46.48cm | 22.4"/56.89cm |
| Weight: | 0.32kg (*variable) | 1.19kg (*variable) | 2.66kg(*variable) | 5.2kg (*variable) |
| Price: | £79.99 | £114.99 | £199.99 | £269.99 |
Performance
This is the part of the review where I let you know my thoughts on using these dildos.
This isn't my first equine focussed dildo, and one thing I love about them is the flared head. Donkey Dong didn't disappoint in this area; his flared head feels fantastic.
The extra width it has sort of helps him work his way into you. Once you take the broad head, the shape then helps guide the rest of the dildo in. I love the detail but make sure you clean it properly after use.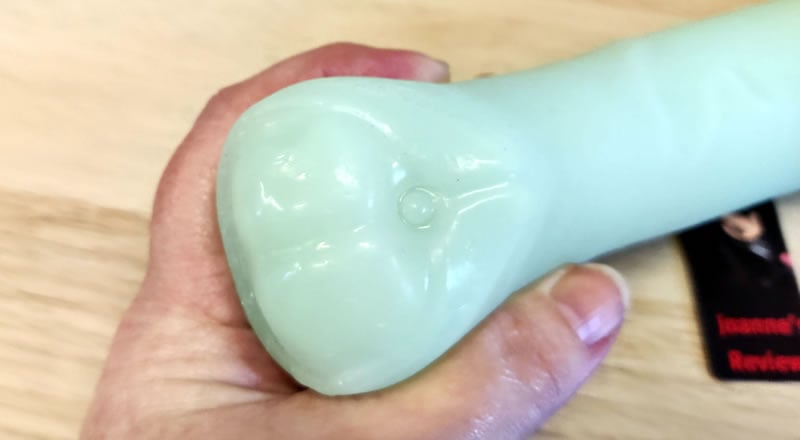 The broad anatomically correct head feel sublime as it draws more of the dildo into you.
This blend of silicone feels excellent, especially anally, where the glans coupled with the almost straight shaft enables easy deep penetration. I find some hip wriggling to help guide him in helps tremendously, and the feeling of inch after inch going in feels sublime.
The vein textures are enough to add lots of interesting sensation as you work more and more inside, and the medial ring, which is just over halfway down, is a nice challenge once you get to it.
Get past that, and you will find the shaft getting much broader, so things really start to get serious as you attempt to take more.
I stuck to the medium, and even that was a challenge for me as I tend to prefer vaginal play over anal play. Sub'r', on the other hand, really enjoyed using it, and I even gave her a treat by using the medium on my strap-on. Depth wise, I think I won the challenge, but the sight of inch after inch of glowing dildo disappearing into sub'r' is one I will never tire of.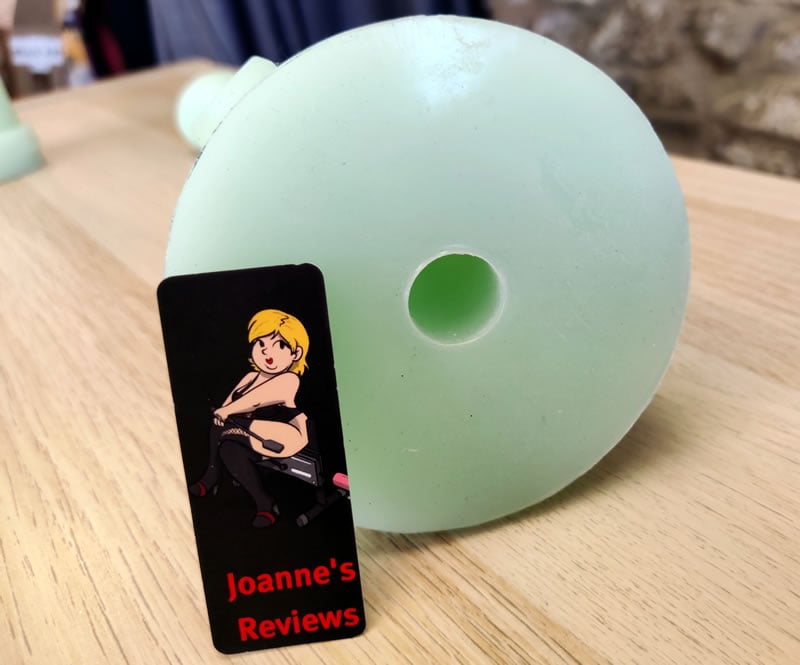 The vac-u-lock compatible hole in the base of the dildo means the included suction cup adaptor can hold this dildo upright for you.
I got the glowing version to review, and I have to say it blew me away the first time I switched the lights off and saw its lovely green glow. I don't know what the neighbours must have thought if they saw the Medium charging on my bedroom window sill LOL. The glow is a great option to go for, yes it makes for a mundane look in the day but switch off the light, and you are good to go for a delightful game of "hide the dildo".
As with all depth play sessions, make sure you use lots and lots of lube - lube is your friend when it comes to anal play, and you can't have enough of it. I always recommend good quality water-based lubes for backdoor action, and make sure you work some inside to help Donkey Dong find his way.
John Thomas Toys have a good selection of lubes on their site, and you can even get J-Lube which is a powder you mix before use. It works out as a very cost-effective option if you go through a lot of lube.

This dildo really glows well and this pic was a bugger to take - just saying.
For anyone thinking, ewww, it is an animal dildo. You are right, it is based on an animal penis, but that means you get to experience a different shape rather than a regular human cock. Think of it as a fantasy dildo, and in that regards, it is no different to all of the other non-human shaped dildos out there.
I certainly loved it, and so did sub'r', we are still trying to convince Stunt Cock to take one for the team, but he says that his back doors only swing one way. He doesn't know what he is missing.
Check out Joanne's review of the DONKEY DONG depth trainer from @JohnThomasToys.
Click to Tweet
---
Check Out My Video Review On Youtube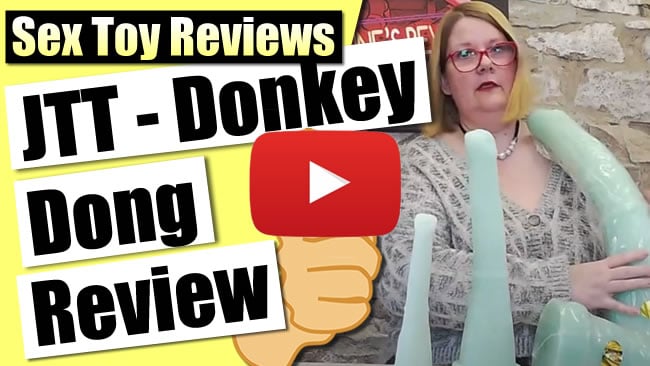 ---
Key Features
Key features:
100% Medical grade silicone.
Lots of well defined veins.
Four colour options to choose from.
Four sizes to choose from.
Two firmness options.
Lifetime warranty.
Vac-u-lock compatible.
Comes with a storage bag and suction cup adaptor.
I would recommend it to:
Anyone who likes fantasy dildos.
Anyone who likes depth play.
Anyone looking for a dildo in body-safe materials.
Anyone who likes a challenge.
I wouldn't recommend it to:
Anyone who wants a realistic human dildo.
Final Thoughts
With four colours, four sizes and two firmness ratings to choose from, there is a Donkey Dong for everyone. With its broad head and straight shaft, it is fun to work inside and once in, you can enjoy the feeling as it fills you up, inch by inch.
The widening base after the medial ring is a real challenge if you can take it that far.
The small is an easy option, with things getting more difficult and requiring more training the larger you go. If you can take the large or the eye-watering XL, I salute you.
So step away from the stereotypical; dildo shape and try something different, something kinky and experience something new. Donkey Dong is a great depth training dildo, and it leaves you wanting to try to take more next time.
I was sent these Stretcher Dildos by John Thomas Toys and I would like to thank them for giving me the opportunity to review it for them.
Joanne's rating
Where Can I Get One From?

Grab one of these fantastic body-safe fantasy depth training dildos from John Thomas Toys with prices starting at just £79.99 and take him for a "ride".
Check them out and don't forget to tell them that Joanne says "Hi".
---


If you enjoyed reading this review then check out my other reviews of John Thomas Toys products:
Silicone Dildos
---
Disclosure
This review does not contain affiliate links, for more information about affiliate links check out my disclosure page.