About John Thomas Toys
John Thomas Toys are a family run business based in Norwich in the UK. They have been in the sex toy industry since 2004 but have only recently turned their talents to the creation of a range of fantastic dildos.
They tick all the right boxes, excellent customer support, ethical business practices, body-safe materials and even same day dispatch. Looking through their range of dildos and sex toys, you can tell that a lot of thought has gone into their design.
Their website has only recently gone live, and they have hit the ground running. No doubt frantically picking and packing orders as I type this. I am delighted that they have decided to value my opinion on some of their wares.

I received all four BEASTLI dildos and their storage bags plus a suction cup vac-u-lock adpator
Delivery & Packaging
I was sent all four sizes of the Beastli Platinum Silicone Dildo together with a suction cup vac-u-lock adaptor. There is a real possibility that the weight of the box they arrived in could have done someone in the supply chain an injury, as it was super heavy, this is a lot of silicone. Still, it was very discreetly packaged, and it arrived very quickly.
They obviously take customer discretion seriously, which is another plus point. You need to be able to trust companies when you are ordering products like these online to ensure they get to you discreetly.
The Beastli dildo arrives shrink-wrapped for hygiene purposes, so that you know that no-one in the supply chain has tampered with it. This minimalistic style of packaging is also good for the environment. Each shrink wrapped dildo carries a very nice holographic sticker and a product label on the base, all very professional.
Design and materials
The first thing you notice about these dildos when you take them out of their packaging is the delightful blend of silicone that has been used on them.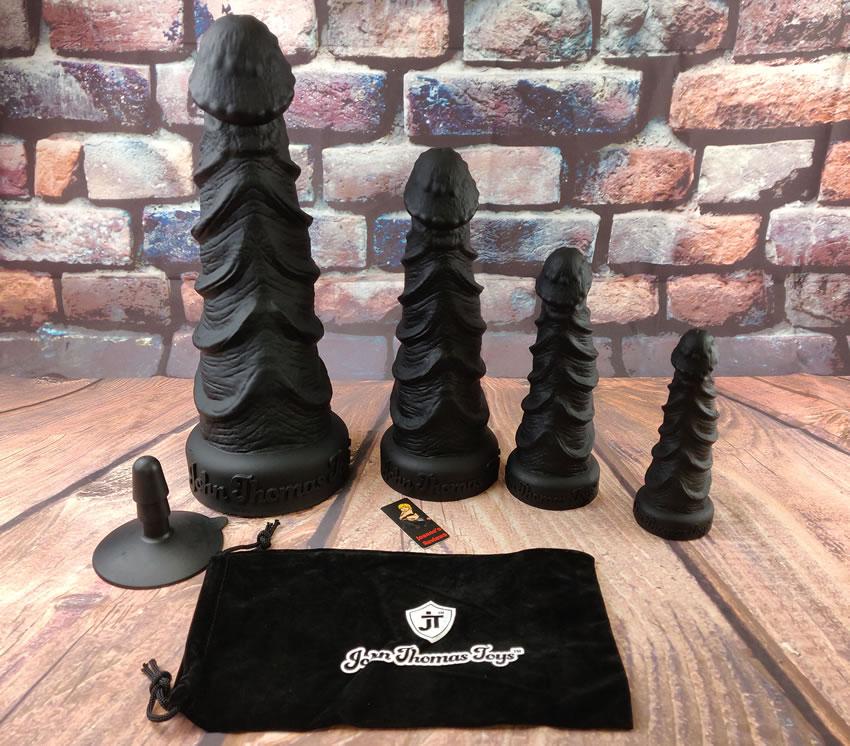 The range of sizes available for the Beastli dildos is fantastic
They are made from 100% Platinum cure silicone and the blend has a slightly draggy feeling to it and some squish when squeezed. Silicone is my go-to material for insertable sex toys as it is non-porous and free from phthalates and latex. As it is non-porous, cleaning is really straightforward, just wash in warm soapy water or use an anti-bacterial sex toy cleaner. You can even boil them or place them in the dishwasher to clean them on a sterilise cycle. Ensure the dildo is thoroughly dry before storing it away until your next play session with it.
It's available in two hardness ratings, giving you the choice of a supersoft medium or firm blend depending on how much give you want on the dildo. This is great as it means that you can choose your preference.
The Beastli was computer designed before being 3D printed. Once the originals were finished copper molds were created so each dildo would emerge from the mold with incredible levels of detail.

This is a comparison of the small compared to the extra large Beastli in my hand
The Beastli, without a doubt, is the most textured dildo that I have ever had the privilege of reviewing and of course, riding. I love strong textures on a dildo, and this one has me creaming my panties at just the thought of inserting it into my waiting foof.
If I had to sum it up in one sentence, it would be. The Beastli dildo is how I imagine the Hulks cock would look like if he were addicted to anabolic steroids. It is gargantuan, and the textures are eye-wateringly enjoyable.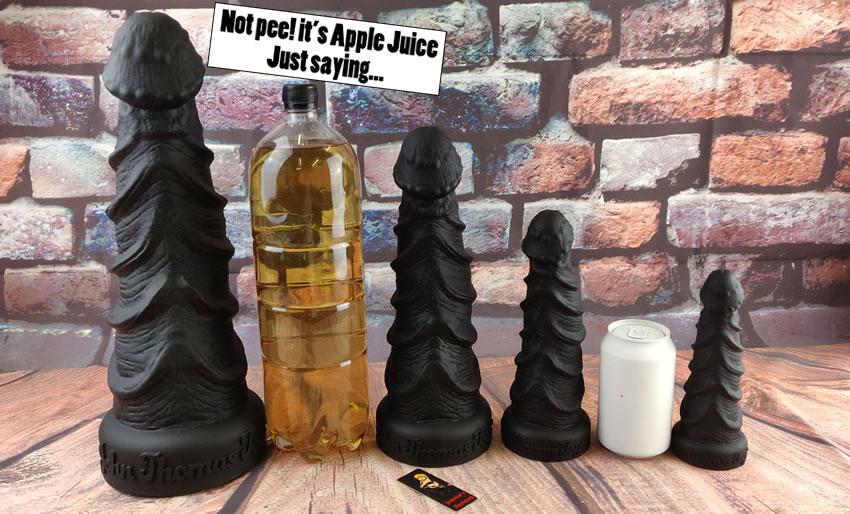 There is a huge difference in size between the small and extra large Beastli dildos
Starting at the tip, the glans is well-formed with a very lovely coronal ridge that feels amazing as it pops into you. The surface of the glans is covered in bumps that add to the stimulation as you thrust with it.
The shaft is covered in really pronounced raised detailing in the forms of ridges and its girth increases with every inch inserted. It is a dildo that tempts and teases you to insert more and more.
The base is broad and stable, and the best this about it is the vac-u-lock compatible hole in the bottom. Yes, this means you can mount these dildos on a strap-on harness or even a fucking machine for some divine Beastli pussy or ass ploughing. It is even 'O' Ring compatible as well eaning other styles of strap on harness can be used.


The hole in the base is a fantastic feature as it means you can use this dildo with any vac-u-lock harness or adaptor
The base also carries John Thomas branding that just like the textures is loud and proud. From tip to base, you can marvel at the delicious textures all along the shaft.
The Beastli is available in four eye-watering sizes, small to extra large. I made my submissive use and review the small while I focussed on the medium and large models, savouring the girth and textures.
The extra-large is just too big for me to even contemplate using. So I have decided to offer it up as a prize in a giveaway competition and so if you want to experience a size queens dream then enter the competition to win it at the bottom of this review.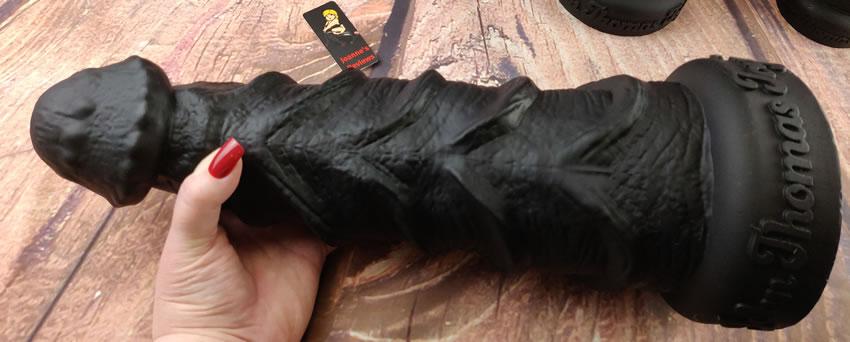 The extra large beastli dildo is way too big for me but if you fancy trying it then enter my competition to win it
Now talking of sizes, here are some critical measurements for the Beastli in its four sizes:
| * | SMALL | MEDIUM | LARGE | X LARGE |
| --- | --- | --- | --- | --- |
| Length: | 7"/17.78cm | 9"/22.86cm | 12"/30.48cm | 16"/40.64cm |
| Base Height: | 0.7"/1.77cm | 1.1"/2.79cm | 1.4"/3.55cm | 2"/5.08cm |
| Circumference (penis head): | 4"/10.16cm | 4.9"/12.44cm | 6.9"/17.52cm | 9.3"/23.62cm |
| Circumference (top of shaft): | 4.1"/10.41cm | 5"/12.7cm | 7"/17.78cm | 9.4"/23.87cm |
| Circumference (middle of shaft): | 5.7"/14.47cm | 7.4"/18.79cm | 10"/25.4cm | 12.8"/32.51cm |
| Circumference (bottom of shaft): | 6.5"/16.51cm | 8.2"/20.82cm | 11"/35.30cm | 14.6"/37.08cm |
| Circumference (base): | 8"/20.32cm/td> | 10.4"/26.41cm | 13.9"/27.94cm | 18.2"/46.22cm |
| Max Insertable Length: | 6.3"/16cm | 7.9"/20.06cm | 10.6"/26.92cm | 14"/35.56cm |
| Weight: | 0.27kg/0.59lbs (*variable) | 0.6kg /1.32lbs (*variable) | 1.4 kg/3.08lbs (*variable) | 3.4 kg/7.49lbs (*variable) |
| Price: | £69.99/£79.99 | £99.99/£109.99 | £149.99/£159.99 | £199.99/£209.99 |
I love fantasy dildos with a back story and here is the Beastli's:
Meet Beastli a shy & timid long haired beast of a creature that lives in the Romanian forest called Hoia Baciu located just outside of Cluj-Napoca.

A mythical beast but one that has reportedly been seen by many visitors & locals of the region.

Fantastic dragon like ridges, nodules & bumps throughout that will have you screaming for more, a must have for your toy collection.

John Thomas Toys
As you can see from the table above these dildos aren't cheap, but that is the price you pay for quality, size and medical-grade platinum cure silicone. The materials are around four times as expensive as cheap TPE or PVC used on cheap dildos, and it carries none of the health risks of the cheaper materials either.
When you order one of the premium silicone dildos from John Thomas Toys, they send you a genuine Doc Johnson Vac-u-lock suction cup adaptor absolutely free of charge.
This adaptor allows you to mount your dildo onto any smooth surface and it really increases your play options.
We stuck it on the showers tiled wall, and I enjoyed some very personal "me time" in the shower pushing back onto the Beastli and fucking myself with it. Having this adaptor means that you no longer have to hold onto the dildo. Yes, you can use it to firmly secure the Beastli to the floor when you ride it but why not use a wall, door or drawer to mount the dildo so that you can get down on all fours and enjoy it.
You also get a very nice black velvet effect storage bag with every John Thomas dildo, and it is very nicely branded. These draw-string bags are great for storing your dildo between uses. The inside of the bag doesn't have the same velvet coating as the outer. This helps to keep your dildo clean. I love the fact that you get a storage bag as these are top quality dildos, so it is nice to be able to store them properly.

The blend of silicone has a lot of flex in it
Performance
This is what matters, after all, you could have the best-looking dildo in the world, but if it doesn't get you off, then it has failed at its primary design goal.
Both sub'r' and I have had a lot of fun getting to know the Beastli dildos with her enjoying the small and as I like a challenge I have been using the medium and the large (that was a squeeze I can tell you).
You should definitely use a good quality water-based lube with the Beastli. I can highly recommend Sliquid Naturals H2O or Secret Play Natural as I use both myself.
I love the glans on the Beastli, as I push the dildo between my pussy lips, and it spreads them entering my vagina, the pronounced glans just feels so good.
The bumps on it and the well defined coronal ring feels fantastic as it enters me, and that always has me biting my lip. What follows is pure joy, wave after wave of pleasure is felt as each of those fantastic ridges enters me. They delightfully rub against my vaginal walls, and all that texture really turns me on.
The small dildo and the medium are fantastic for high-speed thrusting. Those ridges really get the vag-goo flowing, and I find orgasms easy to reach when thrusting the Beastli hard and fast.
The large dildo though is a different beast, it is far too large for high-speed thrusting as my arm would fall off. I prefer to ride this one, placing it on a firm surface and straddling it, lowering myself onto it. Taking inch after inch of it as I savour being stretched open by it. Riding massive dildos like this is so much fun. I can't take any of them anally, but I know that anyone who can is in for one hell of a good ride.
We fitted the small to one of our fucking machines using the hole in the base that takes Doc Johnson vac-u-lock adaptors. Being fucked by a machine at very high speeds and on a deep stroke with all the texture of the Beastli is something I can highly recommend (with lots and lots of lube). It feels incredible as it ploughs into you rubbing hard against your g-spot until you cum.
The BEASTLI silicone dildo from @JohnThomasToys is a size-queeen's and texture lovers dream come true. It has some amazing textures.
Click to Tweet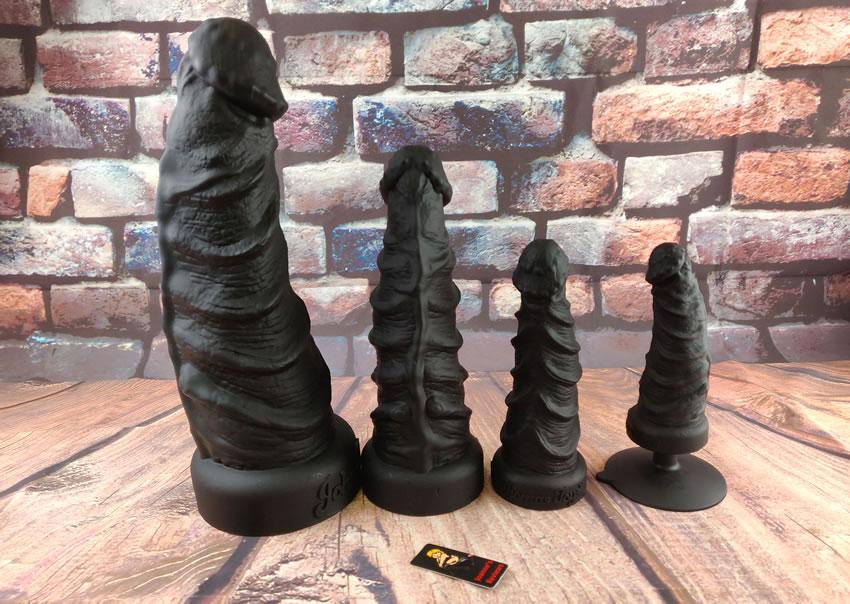 A fantastic range of sizes, you have to be impressed with the extra large and anyone who can enjoy it
---
Check Out The Video Review On Youtube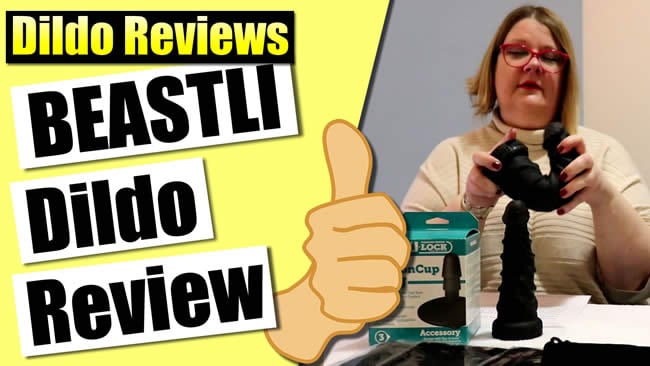 ---
Key Features
Key features:
100% Platinum cure silcone dildo
Covered in delicious textures
Hole in the base accepts vac-u-lock adaptors
Four sizes available
Two hardness choices available
FREE drawstring storage bag
FREE suction cup vac-u-lock adaptor
I would recommend it to:
Anyone looking for a body-safe dildo
Anyone looking for a dildo with pronounced textures
Anyone looking for a challenge
Anyone who loves fantasy dildos
I wouldn't recommend it to:
Anyone who doesn't like dildos with lots of textures
Anyone who doesn't like black sex toys
Final Thoughts
I can highly recommend the Beastli for anyone who delights in using dildos with lots of pronounced textures. The range of sizes means there is one to challenge everyone, that is one of the beauties of this range of dildos. They are a tight fit, and that means you can enjoy the texture even more.
Having two hardness ratings to choose from means you can tailor your dildo to your preferences. I love the black colour scheme on this dildo, it both entices and intimidates in equal quantities.
The addition of a free suction cup vac-u-lock adaptor and a storage bag is the icing on the cake. I am absolutely delighted with the Beastli and indeed John Thomas Toys in general.
If you are looking for something to stretch more than just your imagination, then I highly recommend checking them out.
I was sent these Beastli Silicone Dildos by John Thomas Toys and I would like to thank them for giving me the opportunity to review all four of them.
Joanne's rating
Where Can I Get One From?
Grab one of these incredible body-safe silicone dildos direct from John Thomas Toys in the UK, with prices starting at £69.99
Check them out and don't forget to tell them that Joanne says "Hi".
---

If you enjoyed reading this review then check out my other reviews of John Thomas Toys products:
Silicone Dildos
---
WIN AN EXTRA LARGE BEASTLI DILDO
Extra Large John Thomas Toys Beastli Dildo Giveaway
Disclosure
This review does not contain affiliate links, for more information about affiliate links check out my disclosure page.