Delivery and packaging
As usual, this package arrived from John Thomas Toys in quick time. I couldn't believe just how heavy the box was when I took it from the courier. The XL and Large both weigh a tonne so you can imagine how heavy a box of four of these silicone dildos weighs.
The plain cardboard box had no indication as to what lay within, so the courier had no idea he was transporting a big box of alien cock. It's good to know that when you order from John Thomas Toys, they take customer discretion really seriously.


These dildo come shrink wrapped with a free storage bag and a vac-u-lock suction base adaptor
The dildos come shrink-wrapped inside a faux-velvet black branded storage bag inside bubble wrap. The shrink wrap carries a lovely holographic seal to show you it is a genuine John Thomas Toys dildo. You also get a Doc Johnson Vac-u-lock suction cup adaptor for free.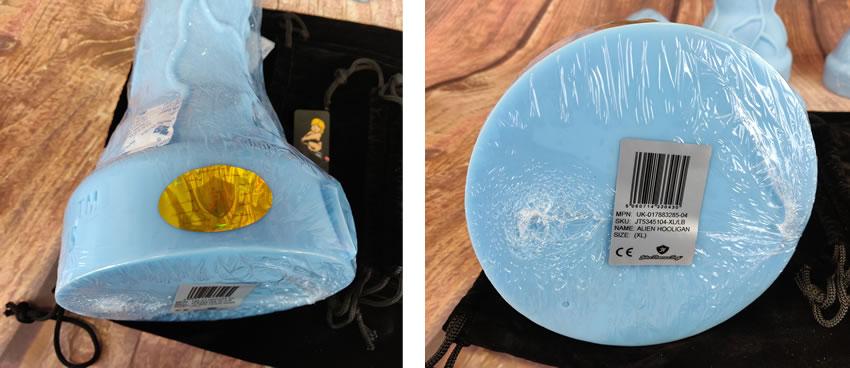 I love the little holographic logo sticker on the packaging of John Thomas Dildos
Materials and design
One thing I love about John Thomas Toys dildos is the blend of silicone that they hand pour into every mould. These dildos are made from a really soft blend, and the baby blue colour is striking, it gives the dildo an almost ethereal look.
Silicone is my go-to material for insertable sex toys, it's non-porous and also latex and phthalate-free. This makes it easy to clean, and the surface cannot harbour dangerous bacteria. Looked after, a silicone dildo will give your years and years of pleasure. Talking of cleaning, wash these dildos in warm soapy water or use an anti-bacterial sex toy cleaner on them. You can even boil them or place them in a dishwasher on a sterilise cycle.
John Thomas dildos are made by pouring their blend of 100% platinum cure silicone into a copper mould. Those copper moulds are much more expensive to produce than regular moulds. But, they ensure that the thousandth dildo ever to emerge from them is as detailed as the first.

The Alien Hooligan is covered in delicious veins on the shaft that feel sublime
Detail and texture are two words that are synonymous with John Thomas Toys dildos. All the ones I have put to the test have felt incredible and are a delight for texture lovers out there. I love the fact that so much thought has gone into the design of their sex toys. With lifelike dildos available alongside fantasy ones there is something for everyone on the John Thomas Toys website.
The Alien Hooligan Dildo to be quite frank looks like a fantasy kinky elephants trunk. I had thoughts of the dancing elephants in Disney's Fantasia is my head when I first laid my eyes upon them. Now, for me, the idea of a prehensile penis inside me squirming around is a dream come true, so this dildo really appeals to my kinky nature.
It features a broad, stable base which makes it easy to ride, the bottom also has a hole that fits any vac-u-lock attachment. The base carries branding that looks very nice but take care around this area when cleaning your dildo as it can be a bit of a vag-goo trap.

The Alien Hooligan has a vac-u-lock hole in the base and comes with a suction cup adaptor
You get a free vac-u-lock suction cup adaptor with any John Thomas Toys dildo. This has a very powerful suction making it easy to fit the dildo to any smooth surface. This makes shower time another masturbation opportunity, and it's a lot of fun in the shower, bath or anywhere with a flat smooth surface.
The shaft is covered in some stunning vein details, and the skin is nicely textured too. The tip of the dildo features a head that looks just like the end of an elephants trunk. This head is very flexible, and while it seems very wide, its ability to squish makes it relatively easy to get it inside. The shaft swells into an almost canine knot near the base, and this gives some beautiful added stretch if you can get down that far.
I recommend using a good water-based lube with this dildo and can highly recommend Sliquid H2O or Secret Play Natural.
I also love the fact that these dildos are available in such a wide range of sizes. With everything from something suitable for dildo beginners to dildos to potentially put you in A&E if you aren't prepared for their girth.


The Alien Hooligan comes in a variety of sizes to tempt all
You can get this dildo in four sizes and two blends of silicone, supersoft firm and supersoft medium. These ones are in the supersoft medium blend, and it is lovely. They have lots of squish, but the pronounced textures on the shaft still feel great as you thrust with them.
| * | SMALL | MEDIUM | LARGE | X LARGE |
| --- | --- | --- | --- | --- |
| Length: | 7.3"/18.7cm | 9.6"/24.5cm | 13.22"/33.6cm | 18"/45.8cm |
| Base Height: | 1.1"/2.79cm | 1.4"/3.55cm | 1.8"/4.57cm | 2.4"/6.09cm |
| Circumference (top of shaft): | 4"/10.16cm | 5"/12.7cm | 6.4"/16.25cm | 9"/22.86cm |
| Circumference (middle of shaft): | 4.4"/11.17cm | 5.8"/14.73cm | 8"/20.32cm | 10.5"/22.67cm |
| Circumference (bottom of shaft): | 6.8"/17.27cm | 8.8"/22.35cm | 12"/30.48cm | 15"/38.1cm |
| Circumference (base): | 8.5"/21.59cm | 11"/27.94cm | 15"/38.1cm | 20"/50.8cm |
| Max Insertable Length: | 6.5"/16.51cm | 8.5"/21.59cm | 11"/27.94cm | 14"/35.56cm |
| Weight: | 0.25kg/0.54lbs (*variable) | 0.55kg /1.2lbs (*variable) | 1.34kg/2.95lbs (*variable) | 3.22kg/7.1lbs (*variable) |
| Price: | £69.99/£79.99 | £99.99/£109.99 | £169.99/£179.99 | £229.99/£239.99 |

The range of different sizes avialble are fabulous and there is something for everyones desires and capabilities
Before I move on to just how much fun this fantasy dildo is, I have to show you a snippet from the product descriptions over at John Thomas Toys.
"Meet the bad boy from Outer this world...introducing Alien Hooligan.

With a lily flower shape penile head & balls of a dog this weird & very unusual fantasy cock will sure to get your imagination flowing.

Created by ********** aka Flak Boy who is a freelance designer who works for himself, we wanted him to work for us as part of the John Thomas™ design team, but he prefers to be a lone wolf, oh well maybe in the future.

Flak Boy's mind is wild as he creates fantasy & gothic skulls & dragons etc usually, this piece of silicone artwork shows his imagination in spades."

John Thomas Toys
I have to agree that "Flak Boy's" mind is indeed wild and this is a fantastic looking dildo. But looks aren't everything, no doubt you are more interested in how it feels in use, so read on.
Performance
The first time I used the Alien Hooligan, it was the medium, and I lubed it up, got comfortable and parted my lips to aid its insertion.
The tip went in smoothly and then by twisting it slowly, I was able to get the whole hed in much more quickly than I thought it was going to take.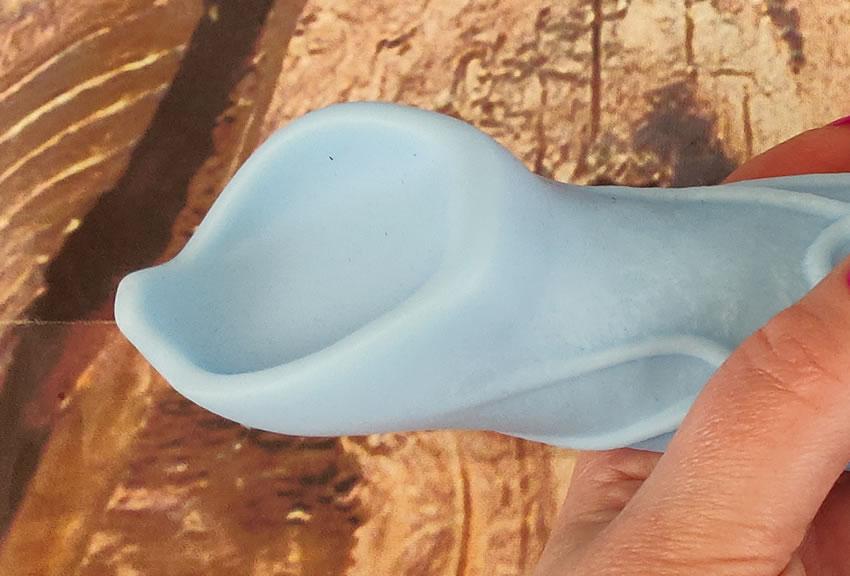 The tip of this dildo is pretty unique and it slips in easily
The shaft with all its texture was sublime as I pushed it inside, relishing all that delicious texture rubbing against my vaginal walls.
It is those textures that really do it for me. My vagina responds well to pronounced textures. While the Alien Hooligan is a dildo with lots of squish you can really feel those veins as they rub the insides of any hole it is pushed into.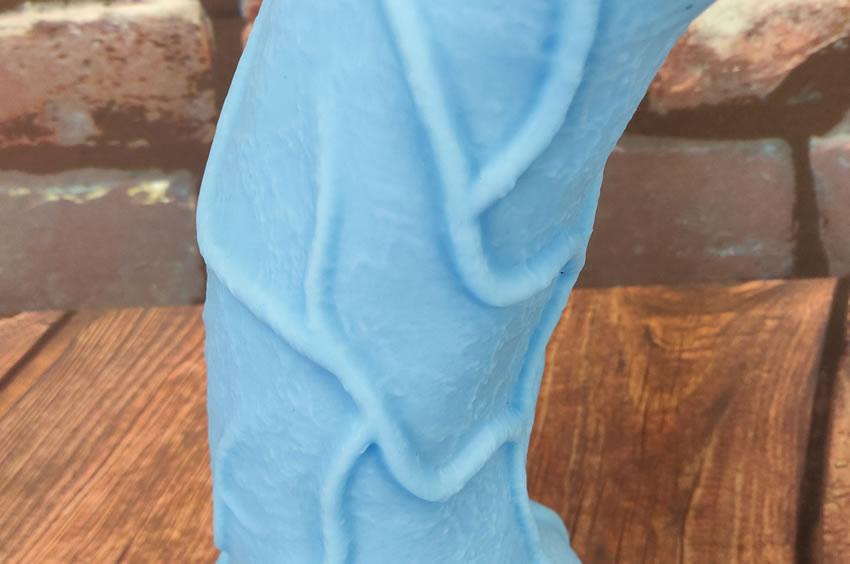 The vein detailing feels incredible as you thrust this dildo in and out
The tip felt really lovely when pressed against my cervix. Usually, dildos bump into it, and that can be uncomfortable, especially if the dildo is mounted on a fucking machine. This dildo cradles my cervix through, and it is a nice feeling as it touches it and then cups it.
The added girth near the base of the dildo provides some added stretch as you take it deeply and that feels great on the small and medium. I can't get enough of the large inside my pussy to enjoy it on that one though, and the XL is a no go LOL.

The added girth near the base gives you that extra stretch factor
The Alien Hooligan comes into its own on a fucking machine or secured firmly with the included vac-u-lock suction cup adaptor. On a fucking machine, you can just lay back and focus on the sensations that the veins and that head generate.
Using the suction cup adaptor, you can securely lock it to any smooth surface and ride this bad boy until you are thoroughly satisfied. The suction cup holds it in place very well indeed and that allows you to really get energetic riding it like there is no tomorrow.
The flexibility makes alignment easy, and it also makes it easy to hold while you thrust with it. It is when you orgasm that you can really appreciate the fantastic blend of silicone.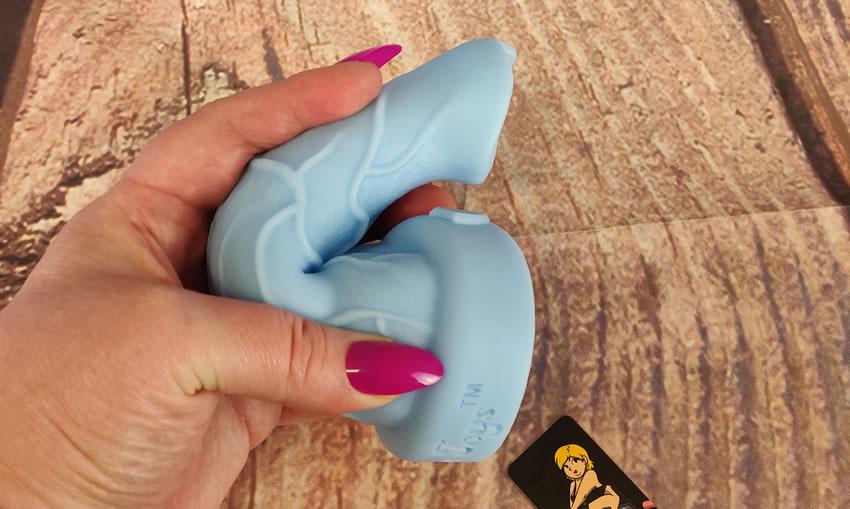 The silicone blend used has lots of squish and flexibility
I love having something to clamp down upon as I orgasm and these dildos give me just the right amount of give. I really enjoy clamping down on them hard, feeling them flex slightly deep inside me. That is a feeling I relish when I orgasm, and the Alien Hooligan really allows me to enjoy it to the full.
I made good use of the Alien Hooligan vaginally, and I used the small on my submissive anally with lots of lube. She loved the feeling of the textured veins as it was thrust in and out of her. If you enjoy anal penetration, then the Alien Hooligan is going to appeal to you as those shaft details do provide lots of intense stimulation.
The Alien Hooligan fantasy silicone dildo from @JohnThomasToys is covered in delicious textures that feel fantastic.
Click to Tweet
Key Features
Key features:
100% body-safe platinum cure silicone
Four sizes available
Two hardness ratings
Unusual shaped glans
Nice vein detailing on the long shaft
Hole in the base for a vac-u-lock attachment
FREE - Suction cup vac-u-lock adaptor
FREE - Velvet feel drawstring storage bag
I would recommend it to:
Anyone looking for a dildo that is fun to insert
Anyone looking for a body-safe silicone dildo
Anyone looking for a vac-u-lock system compatible dildo
Anyone who likes fantasy dildos
Anyone no matter what size they like, as with four sizes there is something for everyone
I wouldn't recommend it to:
Anyone who doesn't like fantasy dildos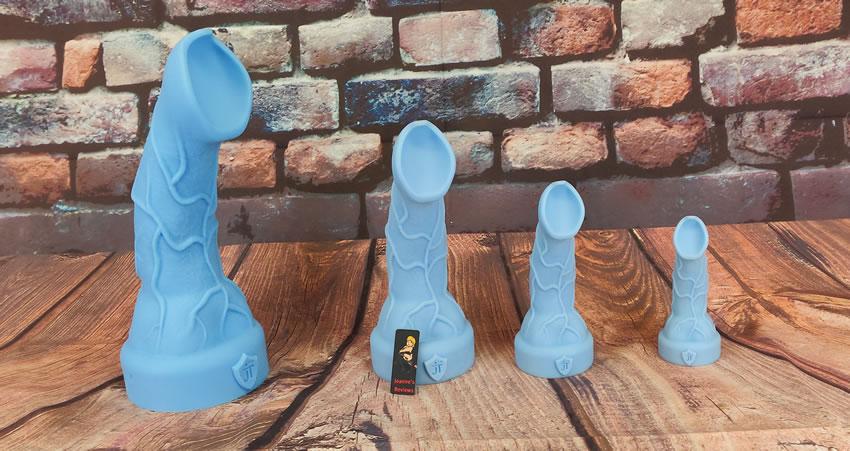 The Alien Hooligan dildo is a fantastic dildo for anyone, with lots of texture and four sizes to choose from
Final Thoughts
Once again I have really enjoyed reviewing another fantastic dildo from John Thomas Toys, the Alien Hooligan has lots of character and some exciting features.
Fantasy dildos are fantastic, phallic dildos can be so bland, often all looking pretty much the same with slight variations in proportions. Fantasy dildos, on the other hand, allow designers to really go to town on textures and features producing designs that satisfy and inspire all sorts of naughty thoughts.
The Alien Hooligan does satisfy, I have had many delicious orgasms clamping down on them, squeezing them as orgasms rip through my body. I relish the textures on the shaft. The vac-u-lock compatible hole in the base allows me to get creative with fucking machines, strap-on harnesses or just the included vac-u-lock suction cup adaptor.
John Thomas Toys are fantastic quality, with so many designs to choose from. Their site is well worth a visit so you can give one of their amazing products a forever home.
I have no hesitation at all of giving the Alien Hooligan a big thumbs up from me and sub'r' too.
I was sent these Alien Hooligan Dildos by John Thomas Toys and I would like to thank them for giving me the opportunity to review it for them.
Joanne's rating
Where Can I Get One From?

Grab one of these fantastic silicone dildos from John Thomas Toys and at the time of publication they are running a 60% off sale so you can get one at a bargain price.
Check them out and don't forget to tell them that Joanne says "Hi".
---


If you enjoyed reading this review then check out my other reviews of John Thomas Toys products:
Silicone Dildos
---
Disclosure
This review does not contain affiliate links, for more information about affiliate links check out my disclosure page.