Delivery & Packaging
Much to my relief, the box filled with this stretcher's four sizes was as usual plain and non-descript. This means that I didn't have to worry about the post person knowing what the contents are. The boxes are also well sealed to ensure their contents are kept private.
On opening the box, I was delighted to find all four size options for my appraisal (I filmed the unboxing on my youtube channel). There was also a storage bag for each dildo and two John Thomas Toys vac-u-lock compatible suction cup holders. All padded out nicely with paper wrapping.
Each dildo/stretcher comes sealed in heat-sealed wrap finished with a John Thomas Toys logo sticker. I prefer the minimal packaging used as I don't think they need more than this.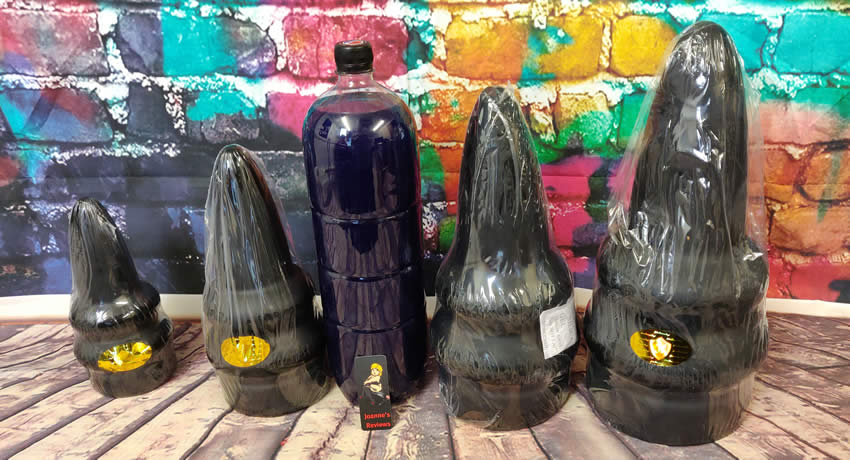 As you can see The Challenge certainly lives up to its name, even the small is a handfull.
You will also receive a branded faux velvet storage bag inside a black plastic carrier bag. The bag is sized to fit the toy you have purchased. I really like the effect of the black faux velvet with the white branding, it looks fabulous. The material is nice and thick with well-stitched seams, making them strong enough to easily keep your toy safe.
You also get a free John Thomas Toys vac-u-lock compatible suction cup holder in a sealed bag.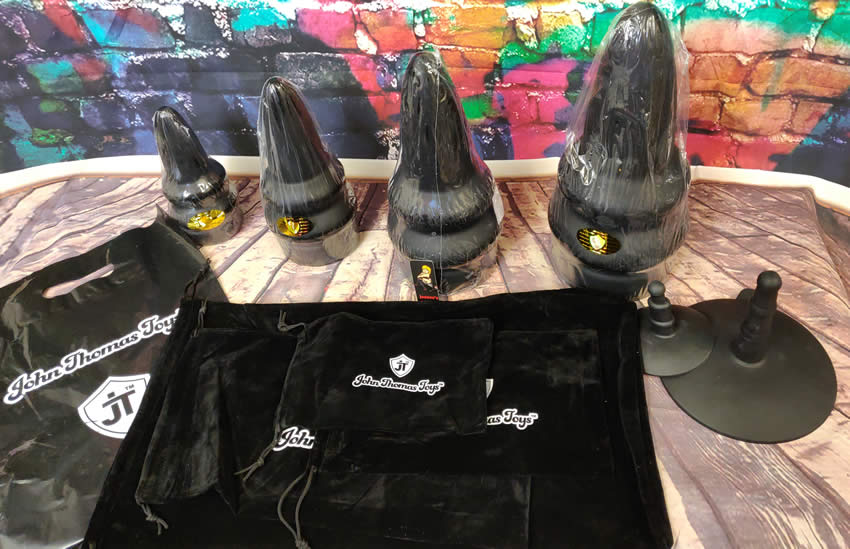 I love the storage bags and vac-u-lock compatible suction cup adaptors that John Thomas Toys send out with their hole fillers.
---
Check Out My Unboxing Video On Youtube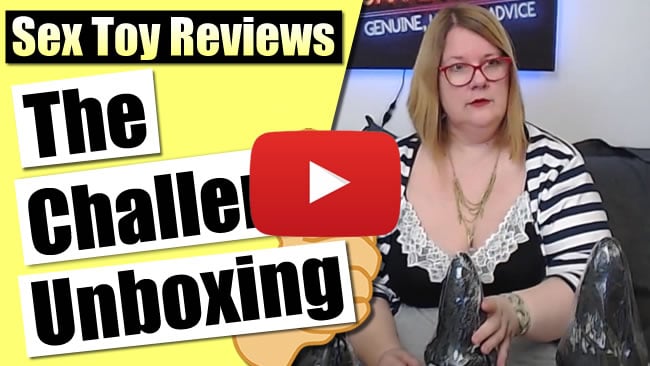 ---
Materials and design
The suction cup vac-u-lock compatible adaptor supplied has been designed by John Thomas Toys. The ridges are rounded enough to hold your toy in place.
These ridges make it easier to remove without damaging your dildo. They are much better than the sharper ridges other designs have. I do still advise using cornstarch in the vac-u-lock hole to aid removal though.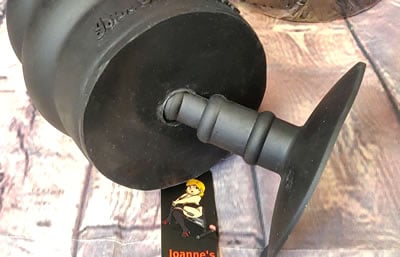 There are two sizes, and you'll be sent the best one for the dildo you have purchased. The suction cup provides a firm grip on a clean, smooth surface like tiles.
The Challenge has been made using 100% medical grade silicone, so you know you are buying quality. John Thomas Toys are proud to say they use copper moulds in their production. This is a much more expensive manufacturing process than other companies use. But it ensures that every dildo made in that mould will have precisely the same features as the first.
Silicone is my go-to material for insertable toys. This is because it is body-safe, non-porous, phthalate, latex and rubber free. Silicone is also more robust than other materials. As long as you look after it properly, it will last for years.
You can wash The Challenge in warm soapy water, boil it or even put it in the dishwasher. If you enjoy temperature play, you can do enjoy that with silicone.
I advise using a good quality water-based lube with silicone toys. My personal favourites are Sliquid H2O or Secret Play Natural. If you are playing with a partner and oral sex is on the cards, then I recommend a water-based flavoured lube like H2O Candy Shop.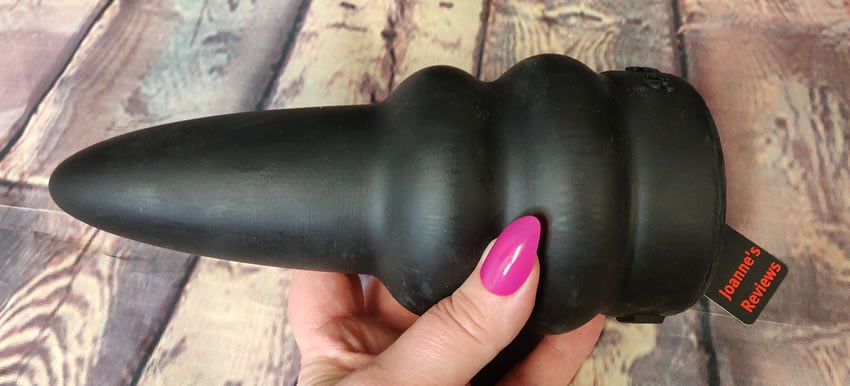 The double rings around the lower half of The Challenge definitely live up to its name, they are so much fun though.
The Challenge is an excellent name for this stretcher. It looks a little like the ring toss you may have played at the fair. Featuring a slightly pointed shaft with two fat rings, one around the middle and one towards the base. With four sizes and two hardness ratings there is something for you no matter your taste.
| * | SMALL | MEDIUM | LARGE | X LARGE |
| --- | --- | --- | --- | --- |
| Length: | 8"/20.32cm | 10"/25.4cm | 11.8"/29.97cm | 13.8"/35.05cm |
| Circumference (middle of top shaft): | 6"/15.24cm | 7.4"/15.79cm | 9.48"/23.87cm | 10.3"/26.16cm |
| Circumference (middle of top tyre): | 10"/25.4cm | 12.5"/31.75cm | 15"/37.1cm | 17.8"/45.21cm |
| Circumference (middle of bottom tyre): | 11.2"/28.44cm | 14.2"/36.06cm | 17.2"/43.68cm | 20"/50.8cm |
| Circumference (base): | 10.2"/25.9cm | 12.9"/32.76cm | 15.5"/39.37cm | 18"/45.72cm |
| Max Insertable Length: | 7"/17.78cm | 8.7"/22.09m | 10.3"/26.16cm | 12"/30.48cm |
| Weight: | 0.65kg (*variable) | 1.39kg (*variable) | 2.39kg(*variable) | 3.79kg (*variable) |
| Price: | £84.99 | £114.99 | £189.99 | £259.99 |
The large rings give you a challenge to see if you can take them both. The two rings add some serious width to this stretcher. There is a small gap between the two of them to make it even more challenging.
John Thomas Toys have produced another impressive looking stretcher, that will give you the stretch you are looking for.
I really like the storage bags supplied, the faux black velvet looks fantastic with the white printed John Thomas Toys branding. The material is quite thick and robust, with good seams. So it should keep your toy clean and safe for a long time.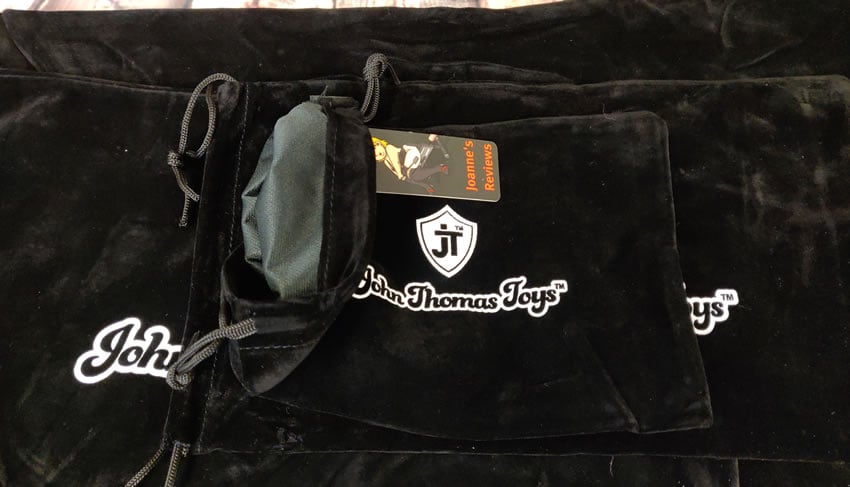 The John Thomas Toys storage bags look fantastic and are excellent quality.
Performance
After bringing the toys home to play, I washed them thoroughly and left them to air dry. The only downside with silicone is that it tends to be a bit of a dust and hair magnet. This is made even more apparent with the black coloured The Challenge. Before use, I just give it a gentle rinse when I am ready to play.
I decided to try both the small and the medium as I was unsure if the medium would be too much for me. The Challenge shape is easy to start with, but as you can guess from the name, once you reach the first ring, the width expands dramatically, and the challenge begins.
I will admit I decided to try the small size first, and I am glad I did. I found the size was still a slight challenge, but it allowed me to move The Challenge quickly to enjoy the incredible sensations. The feel of those rings moving quickly inside me had my toes curling very quickly.
I then decided to try the medium size. When I got to the first ring, I did struggle a little, but finally managed to slip it in. Once this slips in it is almost like a pop as that ridge enters fully. But then I was faced with a slightly larger second ring. With the first ring stretching my pussy, I was determined to try to take both.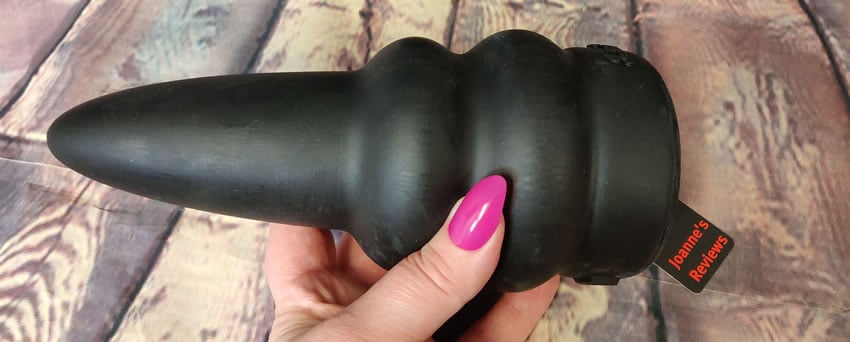 The medium is pretty damn big and almost caused me to "tap out", but I got there in the end and it was a hell of a ride.
The second ring needed a little more lube and a lot of wiggling. But once it popped in the sensation was fantastic. I enjoy the full feeling The Challenge gives, and of course, it is also a great way to stretch yourself to take larger toys.
Because of the gap between the two rings, it stretches you again even when removing this dildo. The sensations they cause on movement are toe-curling.
This stretcher from John Thomas Toys would make an excellent butt plug. The tapered tip gives easy insertion until you get to the first ring.
Cleaning is made easy if you have a dishwasher provided no one else is likely to use it whilst you are cleaning your dildos. Of course, you can also wash it in the sink or bath instead.
Once it is fully dry, simply store it in the bag provided until next time.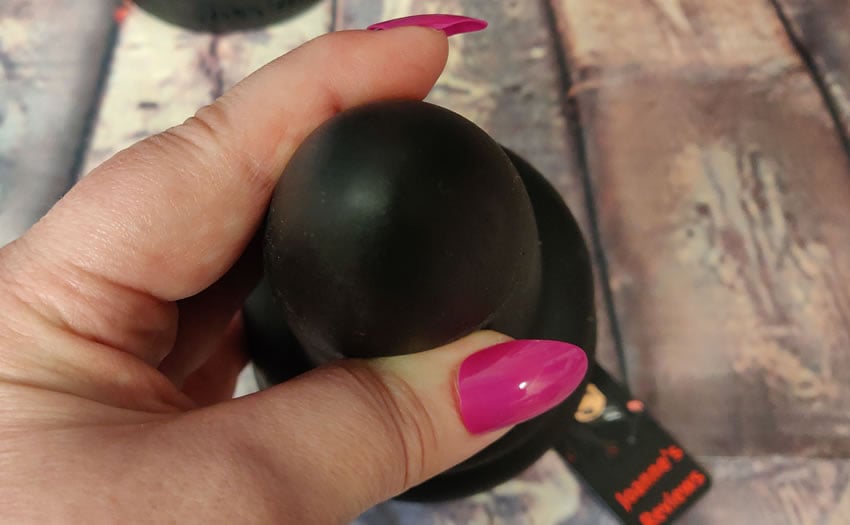 The tapered tip makes insertion easy (initially) but it leads you into a false sense of security, as when you get the the first ring THE CHALLENGE begins.
Conclusion
The Challenge is a fun stretcher, the rings give the added stretch, whilst also providing plenty of sensation.
As with all John Thomas Toys dildos check the sizes before you buy. I would not have thought that the small was the one that I would choose. Of course, if you want the fun sensations and not so much the stretching, this stretcher may still be for you, just select the right size for how you want to use it.
If you enjoy being filled to the brim and want to stretch your capabilities? Check out THE CHALLENGE from @JohnThomasToys.
Click to Tweet
Key Features
Key features:
100% Medical grade silicone.
Latex and phthalate free.
Stretcher.
Double rings with a gap for the challenge.
Tapered tip for easy insertion (to start with).
I would recommend it to:
Anyone who wants a stretcher that could challenge them.
Anyone who will enjoy the sensations of the double rings.
Anyone looking to train themselves for larger objects.
Anyone who prefers toys with lttle or no textures.
I wouldn't recommend it to:
Anyone not into stretching play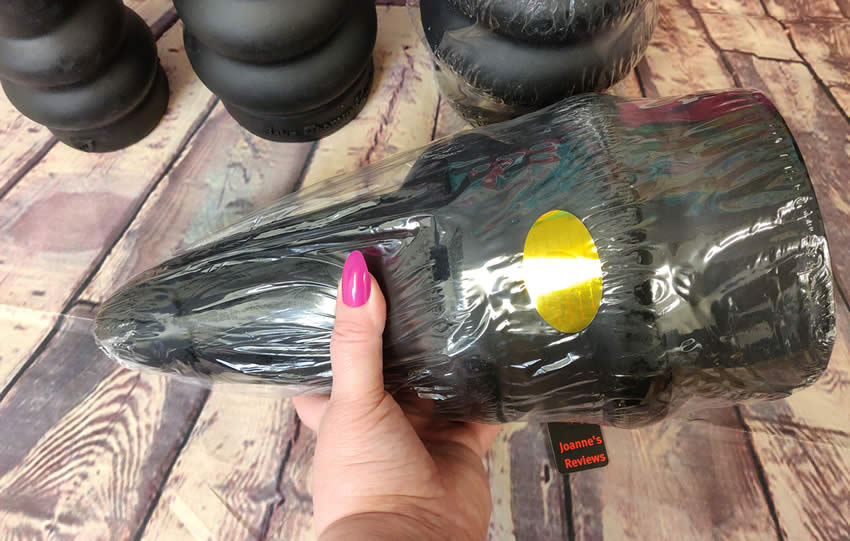 I like the no nonsense and minimalistic packaging, especially the holographic sticker from John Thomas Toys.
---
Check Out My Video Review On Youtube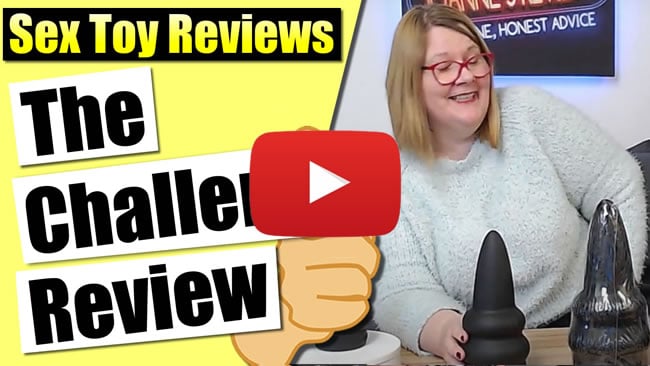 ---
Final thoughts
The Challenge from John Thomas Toys can be used as a stretcher, or as a dildo the choice is yours. I really enjoyed using it in both capacities. I did need to use different sizes than I would usually select, though, so check those size charts.
With the lifetime warranty from John Thomas Toys, you can buy in confidence.
I am always impressed by the quality of the toys from JTT, looked after, they will last a lifetime and provide endless sessions of pleasure. I just can't get enough of them.
I was sent these stretchers by John Thomas Toys and I would like to thank them for giving me the opportunity to review it for them.
Joanne's rating
Where Can I Get One From?

Grab one of these fantastic silicone stretchers aqnd get working on whichever hole you want to pleasure and stretch. I relish the feeling of being filled to the brim and these stretchers do just that so grab one while you can from John Thomas Toys.
Check them out and don't forget to tell them that Joanne says "Hi".
---


If you enjoyed reading this review then check out my other reviews of John Thomas Toys products:
Silicone Dildos
---
Disclosure
This review does not contain affiliate links, for more information about affiliate links check out my disclosure page.