Delivery and packaging
You can always rest assured that all John Thomas Toys, like the Sampson, arrive in a plain well-sealed box which was also sturdy as the Sampson is very heavy. This one didn't come straight from John Thomas Toys though, I was sent it by Little Switch Bitch. She received it for review, but it was let's just say a little larger than she was expecting.
So I stepped in to give it a thorough going over, and I am happy I had this opportunity. It arrived still sealed in its very minimal packaging. There is no need for fancy boxes as I think that Sampson speaks for its self. I love that John Thomas Toys are being so environmentally friendly. Their dildos arrive in heat shrink packaging with a holographic sticker to show you it is the genuine article. These gold John Thomas Toys stickers on the packaging are a fantastic touch.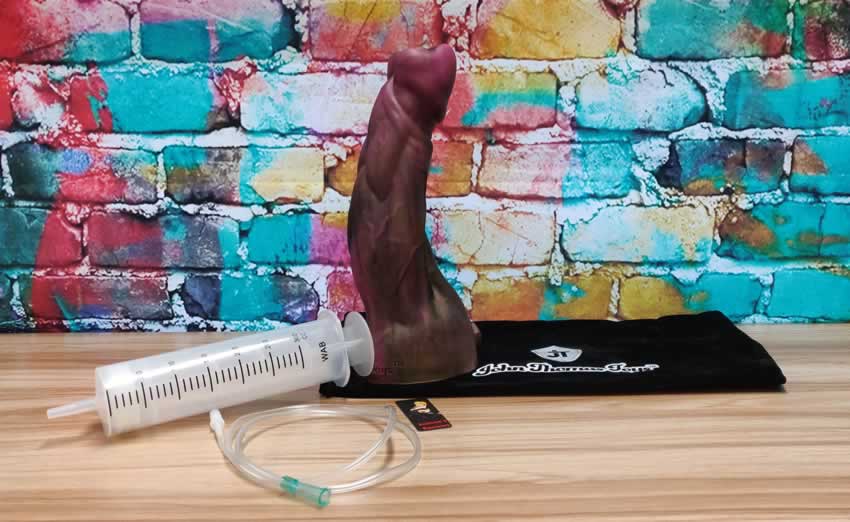 Let me introduce you to another fantastic dildo from John Thomas Toys
The Sampson, like all John Thomas Toys dildos, comes with its very own branded toy bag for storage and to keep your toy clean and lint-free. The toy bag is also lined, so you don't have to worry about Sampson getting covered in lint and fluff. The toy bag has a drawstring, so it keeps it away from prying eyes.
As Sampson has a squirting feature, he also comes with a length of medical tubing as well as a huge 300ml syringe. These are both packed in their own sterile bags and outer packaging, so you know that they are 100 per cent clean and most importantly, unused. Yes, my eyes did pop out when I saw the size of the syringe, it is massive lol.
I just want to say that John Thomas Toys dildos are a lot bigger than other dildos on the market so please keep this in mind when choosing your size, check those sizing tables before ordering.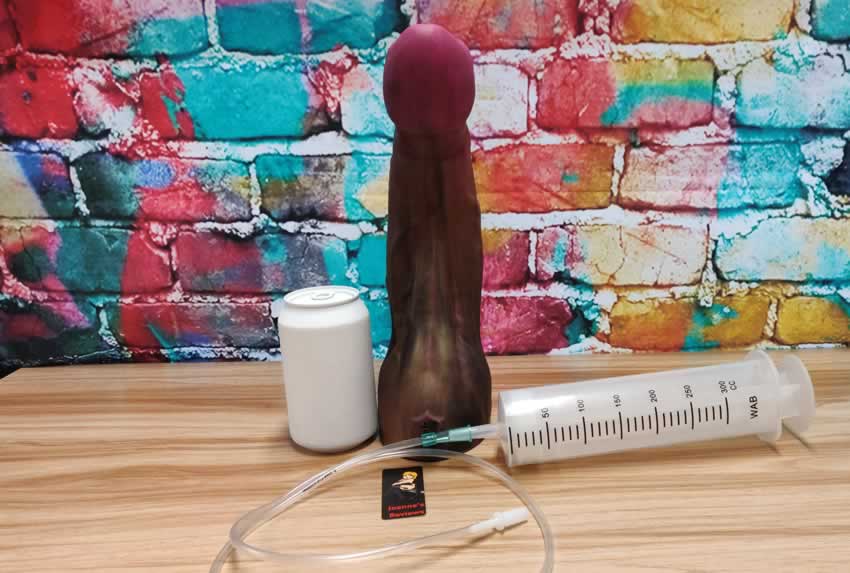 The medium Sampson dildo is a "big boy"
Materials and design
Sampson is made out of 100 per cent pure platinum cure silicone, which means that Sampson is both latex and phthalate-free. It's also non-porous, and so when you clean it, it's 100 per cent clean as bacteria cannot reside inside the surface of the material, and that is definitely good news.
During manufacture, the silicone for the dildo is poured into copper moulds. This means that every one of them is precisely the same as all of the others made using this process. That is in terms of their size and dimensions. But, and here is the good bit, each dildo looks completely different due to the "Fusion" process that they use for adding the colours.
Each and every Sampson dildo looks unique, you are basically getting a bespoke dildo when you buy one of these. I love it when sex toy companies produce bespoke sex toys as I feel that the toy has been made just for you.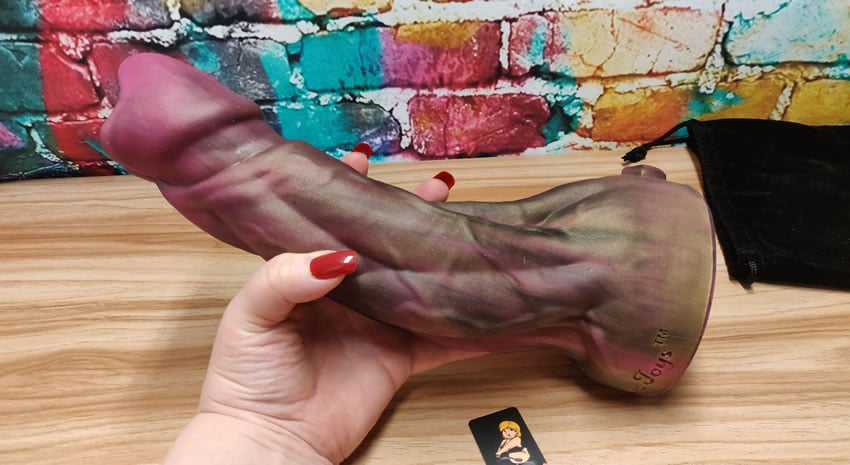 The textures on the Sampson are sublime, with lots of girth and features
Overall height: 9"/22.86cm
Overall length: 10.3"/26.10cm
Base height: 1.5"/3.81cm
Insertable length: 8"/20.32cm
Circumference (penis head): 5.8"/14.73cm
Circumference (top of shaft): 5.5"/13.97cm
Circumference (middle of shaft): 6.4"/16.25cm
Circumference (bottom of shaft): 7"/17.78cm
Circumference (base): 9.6"/24.38cm I love the texture of the silicone, which is a little draggy, but that's just how I like my silicone toys. This Sampson also has medium firmness which is my favourite too. This blend makes Sampson nice and firm but also with the right amount of flexibility and squishiness at the same time, making it easy to hold and use.
But the thing I love the most about this design is that Sampson has a cum tube, so I can give myself big cream pies whenever I want lol. I can see this feature going down really well with anyone who does webcam shows, the results of using it are spectacular.
The cum tube is long enough to make it easy to use without getting in the way at all. To use the cum tube you just have to slide one end of it into a hole in the base of the dildo, and the other end attaches to the syringe.
When you press the plunger, the pressure holds everything tightly in place and cum squirts from the end of the dildo. I have never had any leaks with Sampson which is more than can be said for me afterwards lol.
I did find the syringe a little on the large size being 300ml which can hold more than the bottle cum lube lol. But I'd prefer to have more space in it rather than too little.

The syringe is massive and it means you can really give yourself a creampie filling like never before
It was straightforward to use, just fill the syringe then prime the Sampson by slowly pressing down on the syringe's plunger until cum starts to trickle out of the end of Sampson. It's then primed and ready to give you that sticky cream pie filling.
As some of you may already know, I love cum and the thought of cum play, so the cum tube brings that fantasy to life for me. I also find it a fantastic way to apply lube exactly where and when I need it when thrusting or riding this dildo.
The only feature that I would love to see changed is that the cumtube fits into the bottom of the base. This means if you want to ride it, you need to set it on something to prevent kinking the hose. I use two books with the tube sitting between them when I ride it. I place a plastic bag over the books followed by a thick towel for the mess, and them I'm ready to ride. I would love to see toys like this with the cumtube fitting into the side instead of the base, so using it stood up or on a fucking machine would be easier.
Performance
I love nothing more than having Sampson thrust in and out of me. The textures and silicone blend feels fantastic inside my vagina. It has just the right levels of firmness to get me in the mood for more fun and play.
For a play session with Sampson, I get the cum tube connected and the syringe filled with lots of cum lube. I first press Sampsons textured tip against my clit and release some cumlube to lube me up. After I am wet and ready, I push Sampson inside where I can start rubbing the deliciously shaped glans against my Gspot. The sensations it generates can make me reach orgasm from cold very quickly. It really works well with my anatomy.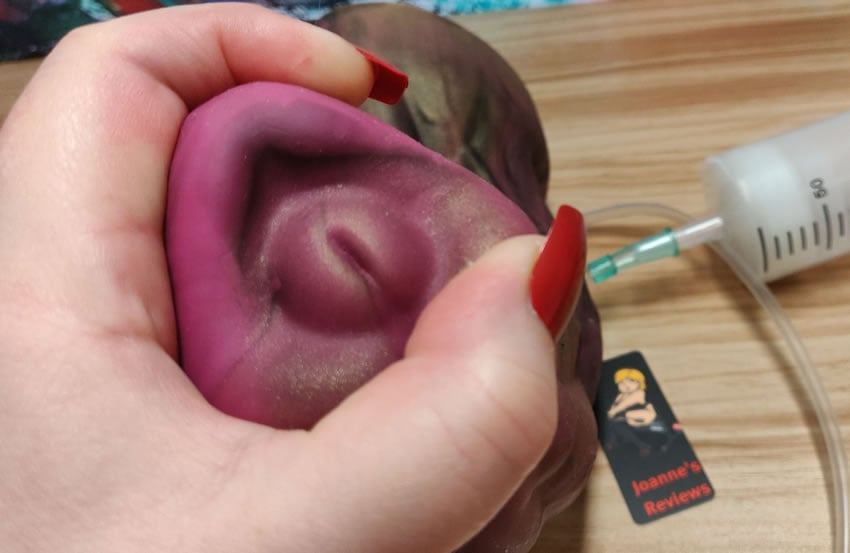 The glans on this dildo is really well formed and the meatus where the cum lube comes out seals shut when not in use
I love how full Sampson makes me feel so full, this is what I enjoy the most about big chunky toys. Sampson makes me feel very stretched open, a feeling that I adore. That stretching feeling really turns me on.
Even the medium Sampson is a big toy, so if big toys are not your thing, then Sampson may not be for you. But, if you're like me and are up for a challenge, then Sampson is a must try.
As I push more cumlube inside me as I play, I get wetter and wetter. I can feel all of the cum lube deep inside of my vagina, and the more I pushed in, more comes out as I keep on thrusting. I don't think I will ever tire of the feeling of being so full of cumlube.
The large ridges and bulges make me gasp after each one opens me as I insert it. I love how the girth of the Sampson just forces me open as I try to accommodate it all.
I definitely recommend using lots of high quilty water-based lube such as Sliquid H20 and also Secret Play Natural if you are not using some form of cumlube. This will make using Sampson a lot easier but also a lot safer as well. Not being wet enough can make it very painful to both keep inside your vagina, especially when deep thrusting with it.
As Sampson is also waterproof (obviously), I have taken Sampson into the shower with me. Let's just say after one very long shower, some of which saw me kneeling and riding it under the falling water I was one very happy submissive.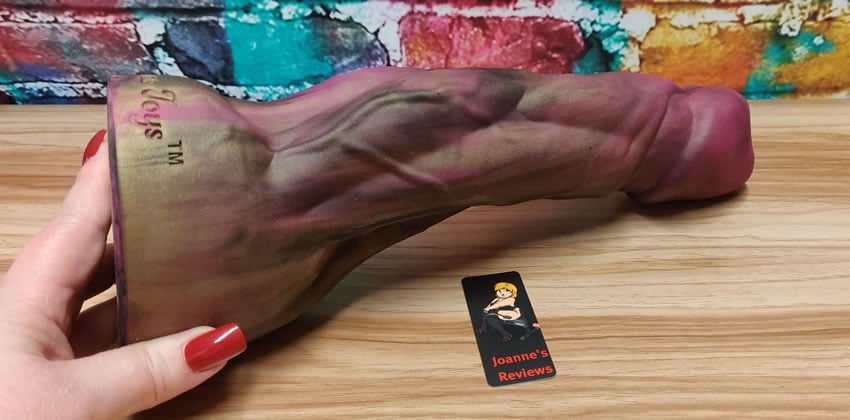 The colours on this dildo are amazing and it looks so good with all that girth and texture
Ideal for anyone who loves creampie fun and games, the Sampson from @JohThomasToys will blow you away when you press the plunger of the humungous 300ml syringe.
Click to Tweet
---
Check Out The Video Review On Youtube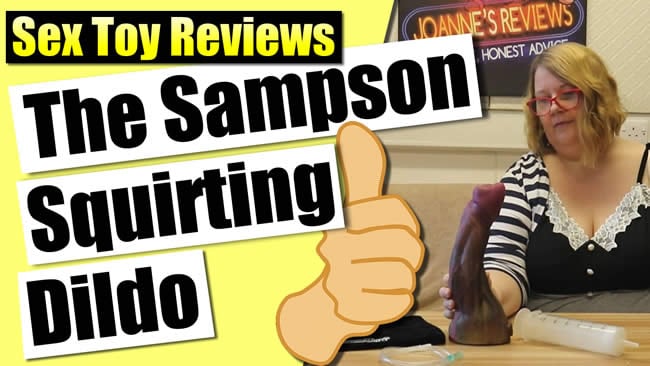 ---
Key Features
Key features:
Made from 100 per cent silicone
Cum tube/squirt/300ml
Flexible with lots of texture
Wide base and expanding girth
Comes with toy bag
Colours different on every one
Waterproof
4 sizes available
Lifetime warranty
Non-porous, latex and phthalate free
I would recommend it to:
Anyone who likes a wide girth
Anyone who likes cum play
Anyone who likes g-spot stimulation
Anyone who likes to try new things
I wouldn't recommend it to:
Anyone who does not like girthy toys
Anyone who does not like fantasy toys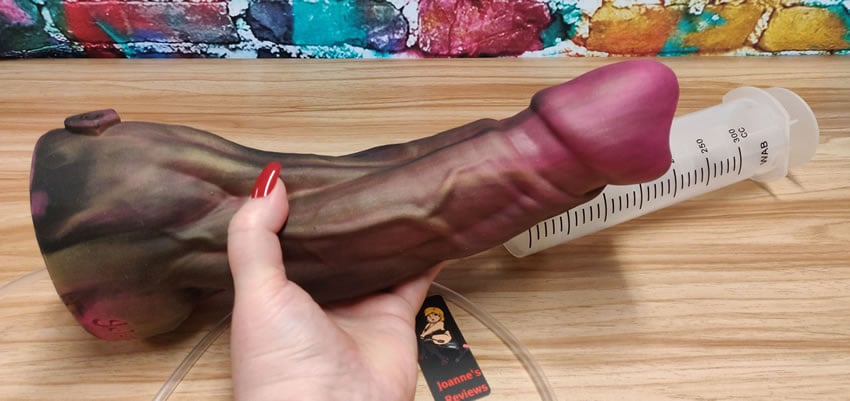 The Sampson dildo looks amazing and is a great option if you want to try somethign different
Final Thoughts
I love playing with Sampson, and I will be using him, again and again. I love how there are lots of different ways of using Sampson, especially with the cumtube delivering cum deep inside me.
I love the textures and ridges on it which felt terrific on both my g spot and my clitoris at the same time.
He will definitely be going in my bedside table with all of my other favourite sex toys. Now I need to go and buy myself a massive bottle of cumlube to really get the most out of Sampson.
I would like to thank Little Switch Bitch for sending me Sampson to review for you, and I would like to thank John Thomas Toys for creating this stunning dildo for me to enjoy. I hope you have enjoyed my review.
Where Can I Get One From?

Grab one of these fantastic kinky dildos direct from John Thomas Toys for just £119.99, at the time of publishing this review it is on sale an only £89.99.
Check them out and don't forget to tell them that Joanne says "Hi".
---


If you enjoyed reading this review then check out my other reviews of John Thomas Toys products:
Silicone Dildos
---
Disclosure
This review does not contain affiliate links, for more information about affiliate links check out my disclosure page.