Separate boxes meant they were definitely lighter than one single large box. Plus they were much easier for me to do my unboxing videos, as I wasn't completely hidden behind a large box. On second thoughts John Thomas Toys can you send me a single large box next time ;-)
This review is for IT, no not the famous clown that likes to eat children. IT is something unusual that likes tight spaces.
Delivery & Packaging
As usual, the shipping was fast and discreet. The box was completely plain with just the shipping information on the outside. I know how much dick is in the box, but the postie had no idea what he was delivering, which is precisely how it should be.
Inside the plain box were all four sizes of IT dildo. I also received two vac-u-lock compatible suction cup holders and four storage bags.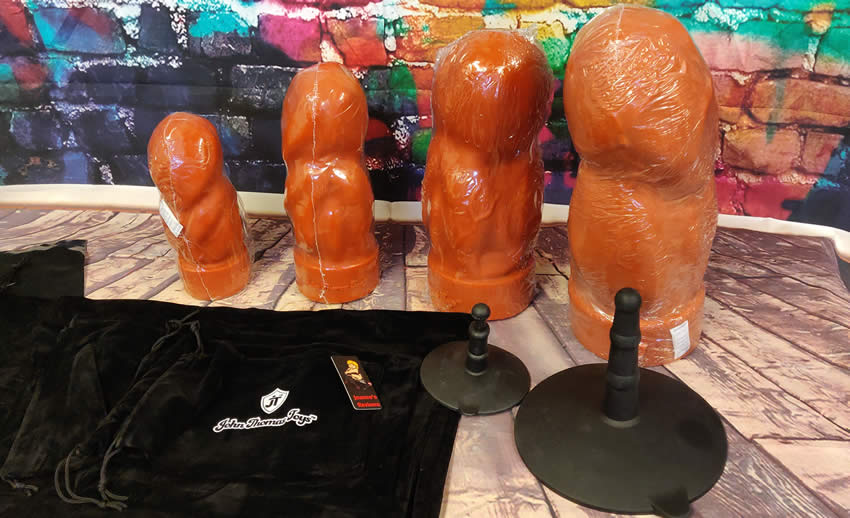 I received all four sizes of the IT stretcher to review.
The dildos arrive sealed in a heat-sealed transparent film, which keeps your dildo clean and safe while it is waiting for its forever home. I prefer this minimalistic packaging as I don't think they need more.
The contents are all held securely in place in the box by paper packaging. So you do not have to worry about the contents being thrown around inside the box.
---
Check Out My Unboxing Video On Youtube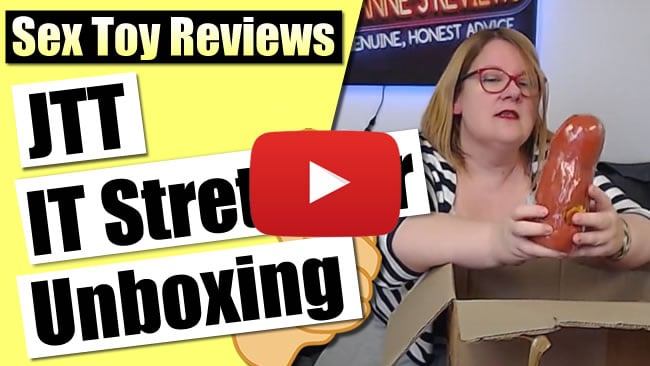 ---
Materials and design
IT is made using high-quality medical-grade silicone. Silicone is my go-to material for any insertable toys. This is because it is body-safe, non-porous, phthalate, latex and rubber free.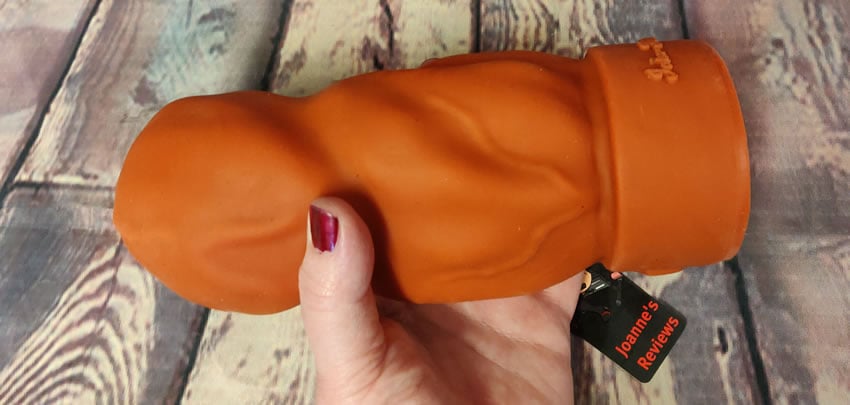 The veiny textures and changes in girth feel great when playing.
Silicone is also more robust than some other materials. If you look after it properly, you can enjoy the dildo for years. Silicone can be washed in warm soapy water, put in the dishwasher or you can even boil it (if you have a pot large enough to fit your dildo inside of course).
John Thomas Toys stand by their products and offer a fantastic Lifetime Warranty. Not many companies provide the same protection. The copper moulds that John Thomas Toys use in their manufacturing ensure that every toy out of that mould has precisely the same features as the original. IT is available in four sizes and two hardness ratings, this one is the soft and it feels amazing.
| * | SMALL | MEDIUM | LARGE | X LARGE |
| --- | --- | --- | --- | --- |
| Length: | 8"/20.32cm | 10"/25.4cm | 11.7"/29.71cm | 13.5"/34.29cm |
| Circumference (middle of head): | 9"/22.86cm | 11.4"/28.95cm | 14"/35.56cm | 16.2"/41.14cm |
| Circumference (middle of body): | 9.6"/24.38cm | 12.2"/30.98cm | 14.5"/36.83cm | 17"/43.18cm |
| Circumference (bottom of body): | 9.2"/23.36cm | 9.2"/23.36cm | 13"/33.02cm | 15"/38.1cm |
| Circumference (base): | 9"/22.86cm | 11.5"/29.21cm | 14"/35.56cm | 16.7"/41.65cm |
| Max Insertable Length: | 6.6"/16.76cm | 8.4"/21.33cm | 9.8"/24.89cm | 11.4"/28.95cm |
| Weight: | 0.84kg (*variable) | 1.63kg (*variable) | 2.78kg(*variable) | 4.41kg (*variable) |
| Price: | £84.99 | £114.99 | £184.99 | £244.99 |
IT was initially supposed to be called The Elbow. However, once the owner saw the finished product, he renamed it to IT. Once you see the pictures, you can understand why. I initially wondered how they could design a dildo that looks like an elbow. Mainly I looked at my own bent elbow and thought how on earth would that fit. But on closer inspection, you can see the muscles and veins that make up the forearm from wrist to elbow. So it is an elbow joint, just without the rest of the arm.
I did wonder about the staff member who left after designing this one though.
Although you may not think IT looks like much, it is actually full of surprising ridges, bumps and veins. The shaft is not actually straight, giving lots of great places that will bump at your internal walls.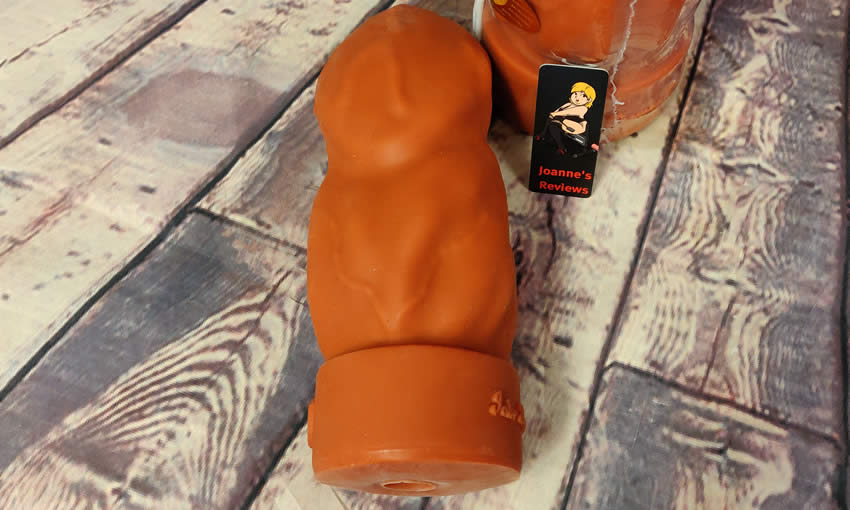 The muscles and veins give this toy some nice textures.
The most challenging part of John Thomas Toys creation is the broad flat head. We are talking some serious lube and a good warm-up (or should that be run-up) with the larger sizes. Even the small is going to need some help getting in. But I was certainly looking forward to trying.
IT has a vac-u-lock compatible hole in the base that means you can use it with more than just a hand. If you are feeling confident this would work brilliantly on a fucking machine like the Hismith. Alternatively, you will be sent a free John Thomas Toys design vac-u-lock compatible suction cup. These work exceptionally well on a flat smooth surface like tiles or the bath. Of course, you can also use IT with a strap on harness or similar item if you have one.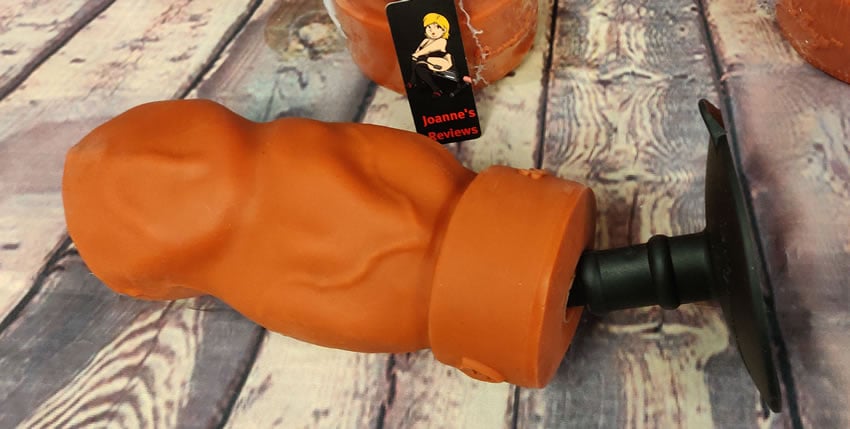 The John Thomas Toys own design of vac-u-lock compatible suction cup adaptor is fantastic.
You also receive a small branded plastic bag, inside of which is the faux velvet storage bag. I really love these bags as they look amazing with the black bag and stark white branding on the one side. The material these bags are made of is thick and strong enough to safely store your dildo and does not appear to fray as you can get with other fabrics.
Performance
Before play, it is essential to ensure that you thoroughly wash any new insertable. This ensures that any release agents used in the manufacturing process are thoroughly cleaned off the toy.
As I said previously, the broad head on IT means that I was not brave enough to try the medium size, and went with the small. Yes, Stuntcock called me a chicken, and he is right this time around. I did challenge him to try the larger size though lol.

The broad flat head is the sticking point with the IT dildo, it takes some wriggling to get it inside, but once in it feels amazing.
It is best to use a good quality water-based lube with silicone. My personal favourites are Sliquid H2O or Secret Play Natural.
Even the small was a bit of a challenge though, but with plenty of lube, IT gained entry. Once I had managed to get the head inside, I laid back and thoroughly enjoyed myself (oops sorry that should say thoroughly assessed the dildo).
As I expected the various lovely ridges, bumps and veins give fantastic stimulation. The whole dildo is stimulation heaven, it rubs my walls wonderfully as it goes in and out. Give it a little twist and my toes were curling.
Do not forget you can also enjoy temperature play with silicone dildos, just do not go to extremes. I would not want to have to explain that type of injury to the A & E staff.

Anyone who can take the XL IT stretcher dildo has my unreserved admiration and respect, it is mahoooosive.
I enjoyed my time with IT and was a little disappointed when I had to put him away after play.
Cleaning IT is simple, especially if you have a dishwasher. Unfortunately, I have to use warm soapy water in the sink, if you like the larger sizes you may need to use the bath. Just ensure that all the various ridges are cleaned of any vag-goo, before leaving it somewhere safe to air dry. It is important to never put him away when wet or damp.
Once fully dry, simply slip him into the storage bag for safety until next time. I actually label mine with a sticky label on the storage bag, to make it easy to find the one I want each time.
Conclusion
IT may not look pretty, but he has a lot to offer. I was pleasantly surprised by how much I enjoyed playing with IT.
The bulges and ridges feel fantastic when moving inside me, rubbing my walls wonderfully. The fact that IT is vac-u-lock compatible gives you so much choice on how you want to play.
Well made, easy to clean and made with an excellent quality of silicone, IT is a dildo that may look strange but certainly hits the spot.
The IT silicone dildo from @JohnThomasToys has a weird name but an even stranger look to it. Check out its glorious textures in Joanne's review of it.
Click to Tweet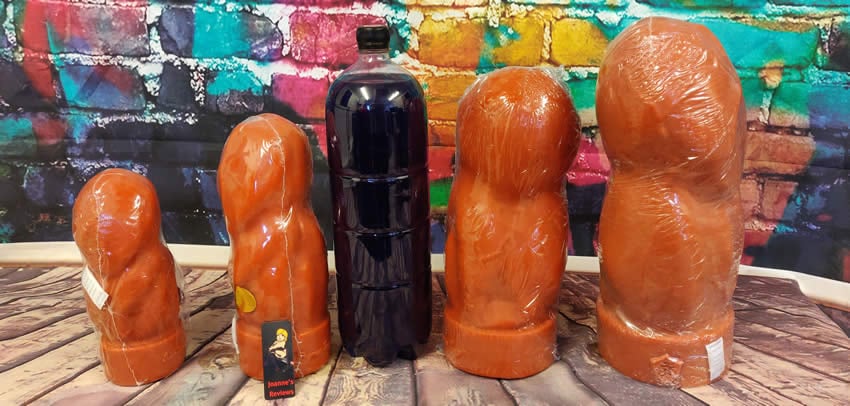 The IT dildo like the famous clown may be the stuff of nightmares for some but it will be a dream come true for some of you size-queens out there.
Key Features
Key features:
100% Medical grade silicone.
Latex and phthalate free.
Stretcher.
Some nice textures.
A unique design.
Vac-u-lock compatible hole in its base.
I would recommend it to:
Anyone who wants a stretcher that could challenge them.
Anyone who will enjoy the sensations of the surface textures.
Anyone looking to train themselves for larger objects.
I wouldn't recommend it to:
Anyone not into stretching play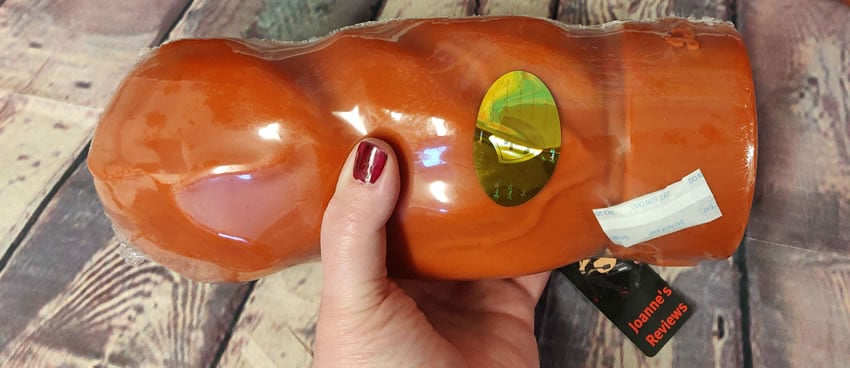 I love the minimalistic packaging that John Thomas Toys, it's good for the environment and for your pocket too.
---
Check Out My Video Review On Youtube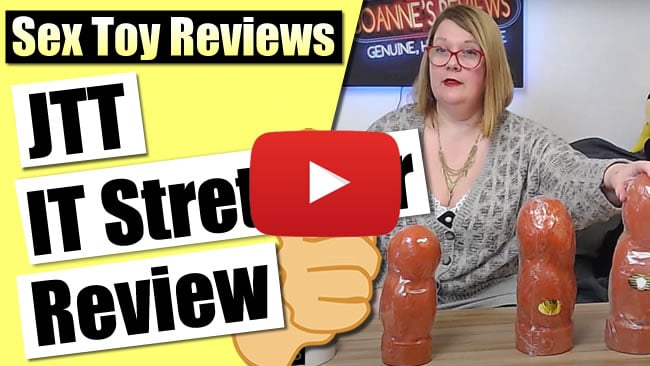 ---
Final Thoughts
IT from John Thomas Toys may look like a manufacturing mistake, but please do not disregard him because of that. There is a lot to this dildo, and it didn't disappoint, I certainly enjoyed it.
As with all John Thomas Toys, dildos check the measurements on their website before buying. They give you all the information to help you find the right size. A small in one design is not the same as a small in another.
With the broad head giving the main challenge you need to get the right size to fully enjoy this guy.
I was sent the IT dildo by John Thomas Toys and I would like to thank them for giving me the opportunity to review it for them.
Joanne's rating
Where Can I Get One From?

Grab one of these unusual but so satisfying silicone stretchers and get working on whichever hole you want to pleasure and stretch. Grab IT while you can from John Thomas Toys with prices starting at just £84.99.
Check them out and don't forget to tell them that Joanne says "Hi".
---


If you enjoyed reading this review then check out my other reviews of John Thomas Toys products:
Silicone Dildos
---
Disclosure
This review does not contain affiliate links, for more information about affiliate links check out my disclosure page.