Delivery & Packaging
As I have come to expect from John Thomas Toys, the dildos arrived in very discreet plain packaging. So it won't give the postie a heart attack, although there may be a risk of a bad back, of course. I can confirm that JTT always respects my privacy where the neighbours and the postie is concerned.
With the weight of the box, it's relaxing to know that it is secured well to ensure that it will not come open in transit.
Upon opening the box, you first see the paper packaging, which is so much nicer than plastic. Each dildo is covered in a single layer of heat-sealed transparent film to seal it in transit.

I love the colours on these four stretchers from John Thomas Toys.
This film has several stickers on it. A JTT branded logo, one showing the firmness rating; mine is the soft version of this stretcher, and last but not least, one to remind you to always wash your toy before using it.
Washing a new dildo is essential as this ensures that you clean off all the releasing agents from the mould that may still be on the silicone. To be honest, I find it good practice to always wash a new toy before use.
You will also receive a free John Thomas Toys own design of vac-u-lock compatible suction cup adaptor and a lovely branded faux velvet storage bag.
---
Check Out My Unboxing Video On Youtube
---
Materials and design
John Thomas Toys use high-quality platinum medical grade silicone. This is my preferred material for insertable dildos because it is body-safe. Silicone is also non-porous, latex, rubber and phthalate-free, making it the perfect material for insertable sex toys.
Another excellent quality of silicone is that it's much more robust than some other materials. So it will last longer than some other materials. JTT even give a lifetime guarantee with their toys which is fabulous.
Silicone is also fantastic because you can also enjoy temperature play with it. And it can be put in the dishwasher to clean it at high heat, or you can boil it to ensure it is sterilised.
The Edgware Trainer has been designed as an anal stretcher and depth trainer but can also be used vaginally. Both sub 'r' and myself decided to stick to vaginally with this one.


The John Thomas Toys branding around the base is really ncie.
The tip is easy to insert with the shape is a little like a cone (or a gnome's hat). As you go down the length of the shaft, the width expands gradually, stretching you the further you go.
There should be one that will give the stretch you are looking for with four sizes to choose from. Just check out the measurements on John Thomas Toys website.
It is difficult to see unless you have one in front of you. But there are tiny grooves down the length. These, along with the silicone texture, give enjoyable subtle sensations along with the stretch as you insert it.
I was sent the soft firmness rating, which has a nice squish, but you can choose the medium firmness if you want something firmer.
In the base is a vac-u-lock compatible hole giving you more options on how you can enjoy the stretch. You can use your hand, the free John Thomas Toys own design of vac-u-lock compatible suction cup holder. Or, if you have a strap-on or a fucking machine, you can choose one of those options.

I love how John Thomas Toys dildos and stretcher have vac-u-lock compatible holes in the base.
John Thomas Toys also provide a free branded faux velvet storage bag with each dildo. These come in four sizes, and you will be sent the correct size for the dildo you purchase. The faux velvet is a strong material with good stitching, which should last you a long time. They are ideal for keeping your dildo clean of hair and dust in-between playtimes.
With silicone dildos, it is best to use a water-based lube. I recommend a lube like J-Lube or Sliquid H2O.
John Thomas Toys use copper moulds in their manufacturing process. This ensures that you will receive the dildo in the same exact shape as the first one ever made. This is a more expensive manufacturing method, but it ensures excellent quality.
They also use a hand pouring technique called 'fusion', giving a unique colour blend option. This will depend on the colour your choose, as there are also solid colour options for Edgware Trainer. The fusion pouring process ensures that each toy will have different patterns within its colouring, which makes each one different, and I like that.
| * | SMALL | MEDIUM | LARGE | X LARGE |
| --- | --- | --- | --- | --- |
| Length: | 12"/30.48cm | 15"/38.1cm | 18"/45.72cm | 20.5"/52.07cm |
| Circumference (middle of shaft): | 7.08"/18cm | 9.03"/23cm | 11.02"/28cm | 12.2"/31cm |
| Circumference (bottom of shaft): | 9.25"/23.5cm | 11.61"/29.5cm | 13.97"/35.5cm | 16.14"/40.9cm |
| Circumference (bottom channel): | 7.28"/18.5cm | 9.25"/23.5cm | 11.02"/28cm | 12.99"/33cm |
| Max Insertable Length: | 10"/15.24cm | 11.61"/29.5cm | 16.14"/41cm | 18"/45.72cm |
| Weight: | 0.83kg (*variable) | 1.69kg (*variable) | 2.89kg(*variable) | 4.54kg (*variable) |
| Price: | £84.99 | £134.99 | £229.99 | £299.99 |

I really like the John Thomas Toys suction cup adaptors, they stick down really well to a smooth surface.
Performance
The Edgware Trainer gives a nice gradual stretch, allowing your body time to adjust with each new cm you move down the shaft.
The tip ensures easy insertion anally or vaginally. I enjoyed the fact that I could enjoy a slow stretch. Of course, you can enjoy a faster stretch just by speeding up your descent. The power is entirely in your hands (unless it is in your partners ;-) ).
The subtle texture down the shaft gives mild sensations to enjoy as you move the stretcher in and out. The focus with this toy is definitely the stretch, though, and it does that job admirably. The further you take it, the more water-based lube you may need.
You can also use this stretcher for depth training, as long as you can take the stretch simultaneously.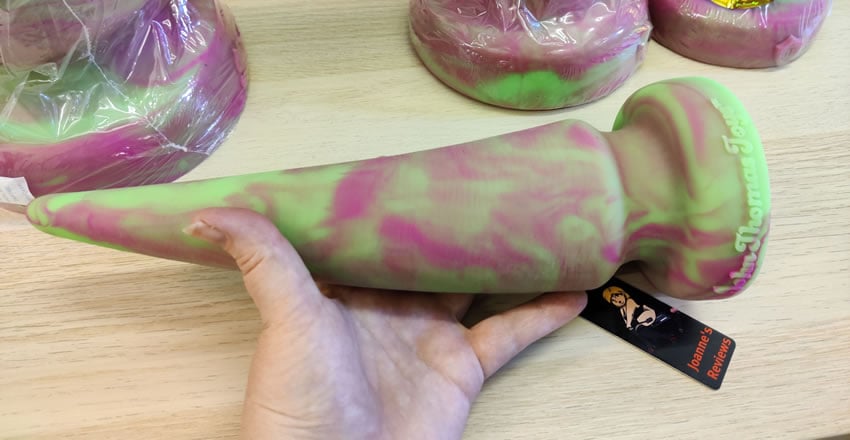 The long tapering shaft is easy to insert initially but ti quickly stretches you open as you slide more inside.
The slight squish makes a more comfortable ride for me. I enjoy the feel of my muscles clamping down on the dildo, especially during an orgasm where I love clamping down on whatever is inside my pussy.
I could not take the entire length, but if you can, it will hold in place anally once you pass the bottom ridge, sort of like a butt plug on steroids.
It's effortless to clean. I use anti-bacterial soap, but you can also pop it into the dishwasher. I like to leave mine to thoroughly air dry before placing it back in its storage bag.
---
Check Out My Video Review On Youtube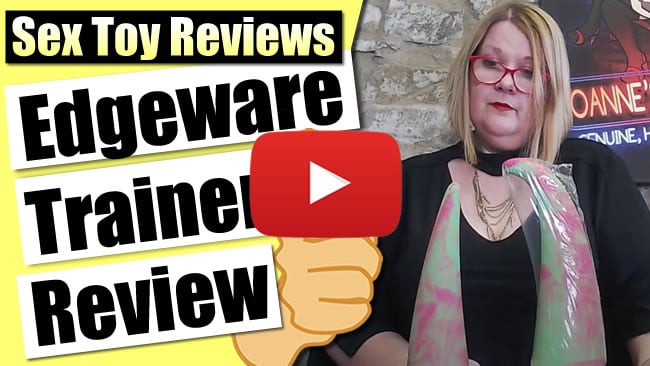 ---
The Edgware Trainer silicone anal stretcher from @JohnThomasToys is a simple yet very effective design that is a delight to use.
Click to Tweet
Key Features
Key features:
Made with high-quality medical-grade silicone.
Copper moulds are used to ensure that you will get the same features like the ones before.
Choice of different colours.
Four sizes to choose from.
Selection of two firmness ratings.
Provided with a suction cup adaptor and storage bag.
Lifetime guarantee.
I would recommend it to:
Anyone looking for a stretching challenge.
Anyone who enjoys large toys.
I wouldn't recommend it to:
Anyone not looking for a large butt plug.
Anyone not looking for a challenge.
Final Thoughts
A great stretcher and depth trainer, the shape gives an easy insertion and an excellent stretch range. The tip is nicely tapered, with the base expanding nicely for a great stretch. Its simple form belies a fun toy that will stretch more than just your imagination.
It is also straightforward to clean, ready for next time.
It really is essential that you check out the measurements on John Thomas Toys website to avoid disappointment before purchasing, though as these are big toys designed for size queens everywhere. Perfect for anal or vaginal stretching, it's a fun design that I have really enjoyed reviewing.
I was sent the Edgware Trainer by John Thomas Toys and I would like to thank them for giving me the opportunity to review it for them.
Joanne's rating
Where Can I Get One From?
Grab one of these fantastic silicone stretchers direct from John Thomas Toys with prices starting at just £84.99 and keep an eye out for their sales to save big on your new flexible friend.
Check them out and don't forget to tell them that Joanne says "Hi".
---

If you enjoyed reading this review then check out my other reviews of John Thomas Toys products:
Silicone Dildos
---
Disclosure
This review does not contain affiliate links, for more information about affiliate links check out my disclosure page.