About John Thomas Toys
Based in Norwich in the UK, John Thomas Toys is a family run business that has been in the sex toy industry since 2004. They recently turned their talents towards the creation of a range of fantastic silicone dildos.
Since their launch, they have been getting some great feedback about their excellent customer support and body-safe materials. They aim to provide a same day dispatch service if you order early in the day.
Only recently launched, their website has seen them explode onto the scene. It's great to see another UK manufacturer of quality dildos in the market place.
I'm delighted that they have asked me to review some of their range of dildos as the ones they produce are right up my street.
Delivery and packaging
Just like the delivery of the BEASTLI dildo, the Cleopatra's Candles arrived in a very discreet plain cardboard box. It carried no indication as to just how much silicone dick was held within, which is good to know. Discretion is essential when you are ordering dildos online as I am sure you will agree.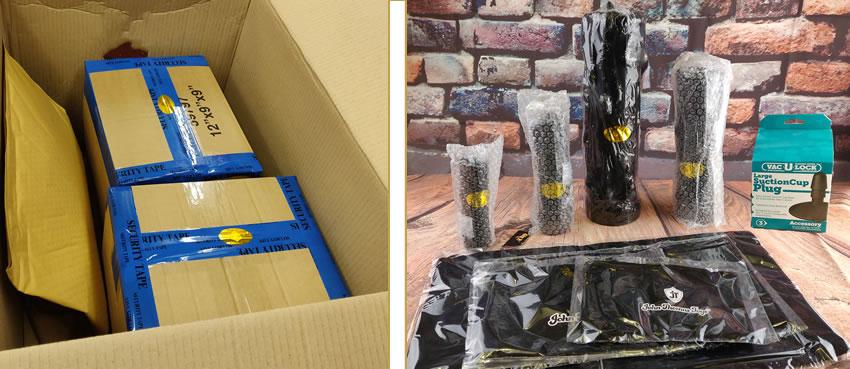 The packaging was discreet and I love the fact you get a storage bag and vac-u-lock adaptor
As all four sizes arrived together, they came in a large box. Inside this plain box, the dildos were sealed in other boxes with security tape so I could see if they had been tampered with, and this is excellent. Each dildo was shrink-wrapped too for hygiene.
You can trust John Thomas Toys to get your prize quim or ass splitter to you quickly and discreetly. This leaves you just to scratch your head wondering how you are going to get all that silicone inside you.
Design and materials
All John Thomas Toys dildos are made from 100% platinum cure silicone. This is my go-to material for insertable sex toys as it is just so tactile. It's also body-safe being non-porous as well as being both phthalate and latex-free.

The silicone used on the Cleopatra's Candle dildos is fabulous
The surface properties of the silicone mean there is a slight drag to the silicone, which is excellent for holding lube in place. It is non-porous which makes it very straightforward to clean as the surface can't harbour bacteria, unlike cheaper materials. The silicone is a bit of a dust and hair magnet though, but that is the same as with most silicone sex toys.
On the subject of cleaning, just rinse it in warm soapy water or use an anti-bacterial sex toy cleaner. You can even boil silicone dildos to sterilise them, or you can clean them in a dishwasher if it has a sterilise cycle. Just remember to remove your dildos before your mother-in-law clears the dishwasher! That was a lesson learnt the hard way and also a highly embarrassing story.
This dildo is available in two hardness ratings, giving you the choice of a supersoft medium or firm blend depending on how much give you want on the dildo. This is great as it means that you can choose your preference. Both hardness ratings are flexible, and the dildo has a little give when you squeeze it. At the moment you can only get this dildo in red but I believe a range of colours is coming soon, I love the black ones but the red look just as nice.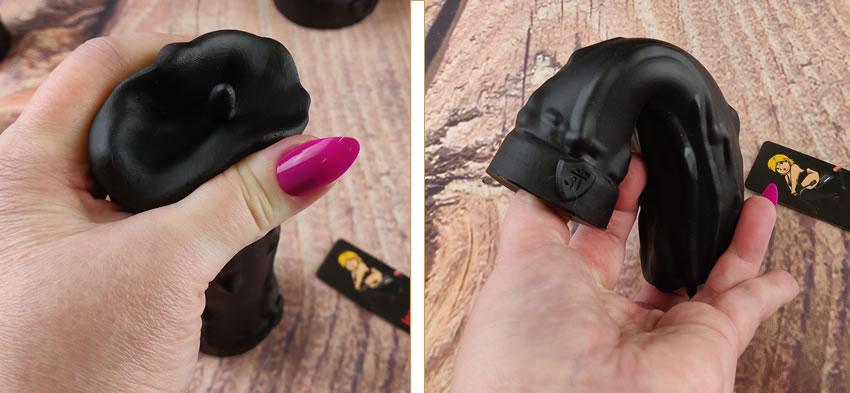 The silicone used on the Cleopatra's Candle dildos feels amazing and it is very tactile
You get a very nice black velvet effect storage bag with every John Thomas dildo, and it is very nicely branded. These draw-string bags are great for storing your dildo between uses. The inside of the bag doesn't have the same velvet coating as the outer, which helps to keep your dildo clean. I love the fact that you get a storage bag as these are top quality dildos, so it is nice to be able to store them properly.
Ok, on to the obvious question on your mind - why a candle? Well, according to the blurb on the John Thomas Toys website:
Research has suggested that 78.3% of women & 46.5% of men have used some type of candle as a masturbation aid in their lifetime. We have had so many requests to make one, so here it is...hope it lights up your sex life!

John Thomas Toys
So there you go, it's obvious. I do have to hold my hand up to masturbating with a candle once or twice in my lifetime (ok lots of times).
This is a dildo that is designed as a 3D model before being created in four sizes. The detailing is superb and John Thomas Toys use copper molds to ensure the detail and accuracy of their creations.
Each Cleopatra's Candle has a hole in the base that will accept a vac-u-lock adaptor so you can use them on a fucking machine or strap-on harness. Talking of vac-u-lock adaptors, when you order a dildo from John Thomas Toys, they send you a free suction cup vac-u-lock adaptor which is fantastic.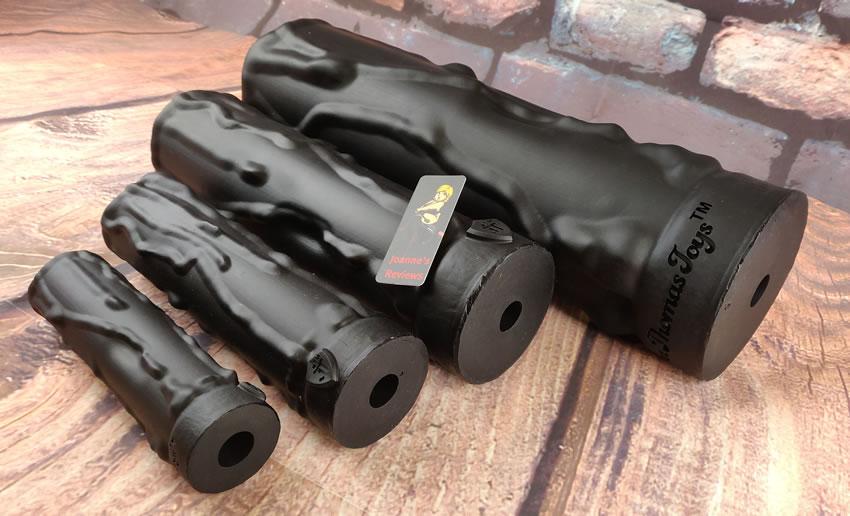 The Cleopatra's Candle dildos all have a Vac-u-lock compatible hole in the base making them great for strap-on play or fucking machine fun
Using this adaptor you can stick your dildo to any smooth surface, anyone for some kinky shower time fun? I like to stick in on a flat horizontal surface so that I can ride these dildos on all fours as that is so much fun.
Cleopatra's Candles are available in four sizes, from small to extra large.
| * | SMALL | MEDIUM | LARGE | X LARGE |
| --- | --- | --- | --- | --- |
| Length: | 7"/17.78cm | 9"/22.86cm | 12"/30.48cm | 16"/40.64cm |
| Base Height: | 7"/17.78cm | 1"/2.54cm | 1.1"/2.79cm | 1.8"/4.50cm |
| Circumference (top of shaft): | 5.6"/14.22cm | 7.2"/18.28cm | 9.6"/24.38cm | 12.9"/32.76cm |
| Circumference (middle of shaft): | 5.6"/14.22cm | 7"/17.78cm | 9.6"/24.38cm | 12.9"/32.76cm |
| Circumference (bottom of shaft): | 6"/15.24cm | 7.6"/19.30cm | 10"/25.40cm | 13.8"/35.05cm |
| Circumference (base): | 6"/15.24cm/td> | 7.8"/19.81cm | 10.2"/25.9cm | 13.8"/35.05cm |
| Max Insertable Length: | 6.3"/16cm | 8.0"/20.32cm | 10.9"/27.68cm | 14"/35.56cm |
| Weight: | 0.25kg/0.54lbs (*variable) | 0.55kg /1.2lbs (*variable) | 1.34kg/2.94lbs (*variable) | 3.22kg/7.09lbs (*variable) |
| Price: | £69.99/£79.99 | £99.99/£109.99 | £149.99/£159.99 | £199.99/£209.99 |
The range of sizes available is fantastic, and there is something for everyone from someone new to dildos to ardent size queens.
As you can see, the larger ones are not cheap, but when you look at just how much body-safe silicone is used, you can easily understand why. Silicone is around four times as expensive as cheaper TPE or PVC used on lesser dildos. It also carries none of the health risks of the more inexpensive materials either due to its non-porous nature and lack of nasty chemicals.
Starting at the top of the dildo, you get a lovely wick sticking up. This is a lot of fun to tease a nipple or clitoris. The natural concave depression in the head is actually handy for filling with lube, it then gets applied where it's needed when riding this dildo.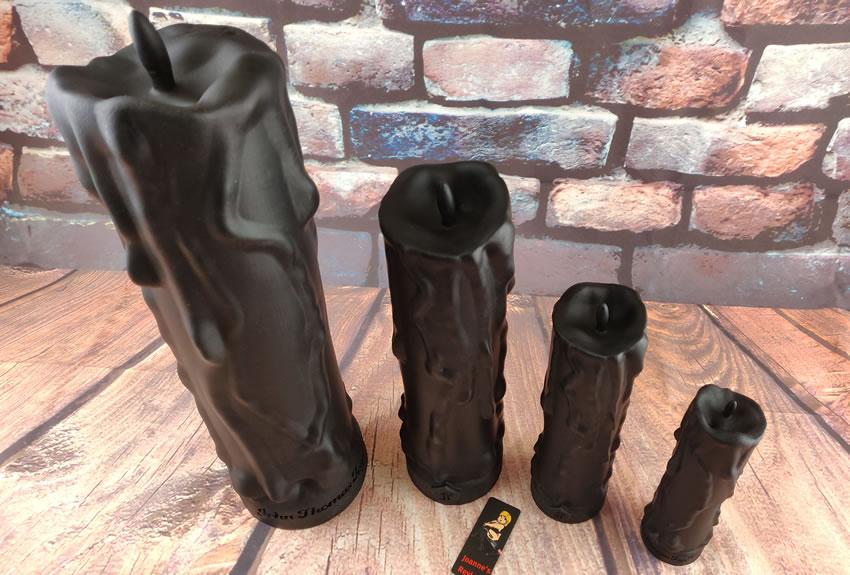 The top of these dildo has a dip that is great for holding lube, the wick is fun when used on the clitoris or nipples too
Dripping lube from the top onto your pussy or ass also feels very enjoyable, especially if you warm the lube first.
The flat nature of the head does make insertion an interesting process, especially on the bigger ones. I found that the depression in the centre of the top actually means the edges are flexible and can fold in slightly aiding insertion.
The flat head does mean that you need to think about how easy it will be for you. For me, I tried the smaller size to ensure that I wouldn't struggle. I found that as long as I ensured I was nice and wet, I could enjoy the larger sizes as well.
Running down the shaft of the dildo is very pronounced wax drips, and these provide lots of texture and stimulation when thrusting or riding this dildo. I found the wax drips to be my favourite feature by far, and I love how they feel inside me.

The textures running down the shaft of these dildos are amazing in use
Performance
I didn't think I would enjoy the Cleopatra's Candle silicone dildo as much as I did. Having now fully acquainted myself with it I can attest to just how much fun thrusting with it can be.
This is a dildo that needs lots of lube to get it inside you, and I recommend Sliquid H2O or Secret Play Natural as both are excellent water-based lubes.
I lubed up myself and left some on the end of the candle dildo and with it firmly affixed to the floor with the suction cup adaptor I got to work on it.
Lining it up with the entrance to my vagina was fun, and I had to shimmy it around a bit to get it inside. The extra lube in the tip helped a lot. The wick feels excellent if you rub your clitoris over it. I have had a lot of fun with the small, medium and the large, but the extra large is way out of my league.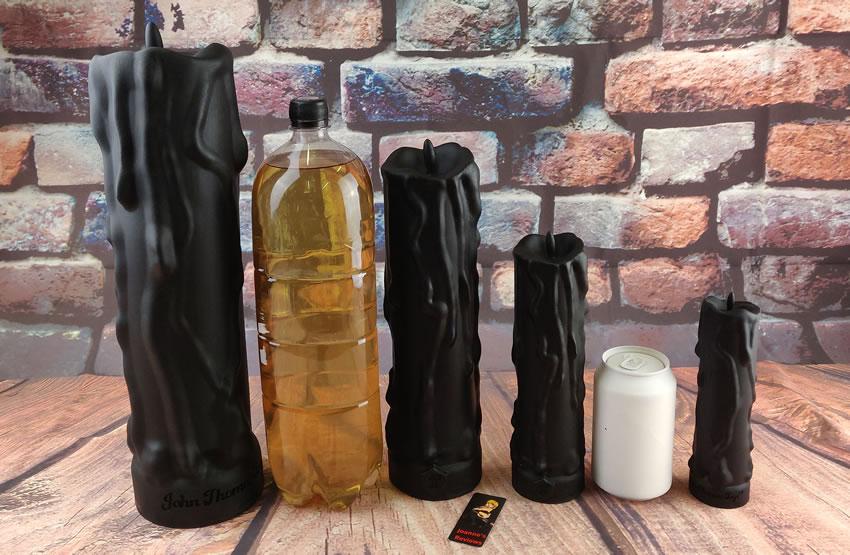 The range of sizes of these dildos caters for everyone, even the most ardent Size Queen
This is a dildo where you go from empty to full instantly, and that is a fantastic feeling I have only ever felt from the Cleopatra's Candle.
Thrusting with it or riding it feels so good as all the wax shapes on the shaft really give the insides of your vagina a thorough workout. It also drags vag-goo out like nothing else, and you are left with a very sticky looking dildo and a well-fucked pussy at the end of a session with it.
The fact that it isn't easy to insert is part of the attraction of the Cleopatra's Candle. We are all used to dildos with rounded tips that part our lips and gently open us up as we push them inside.
The Cleopatras Candle is much more fun than that, it's sort of like a Rubik's Cube for your pussy to try to solve. Wiggling back and forth getting the angle just right so it pops into you is a lot of fun, and it takes your breath away when it suddenly slides in.
This is a dildo that if you enjoy anal play could be so much fun as you try to work it inside you. I can't get enough of the way it just sort of pops inside you once everything is aligned. I can see lots of male subs whimpering as their Mistresses drive one of these candles fully home.

The small is very well sized for most people to be able to enjoy the textures and fun that comes with a blunt nosed dildo
The Cleopatra's Candle silicone dildo from @JohnThomasToys is unusual but so much fun. Let it shine a light on your masturbation activities.
Click to Tweet
---
Check Out The Video Review On Youtube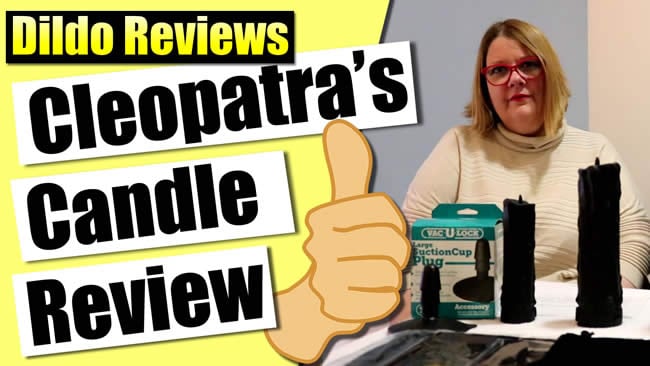 ---
Key Features
Key features:
100% Platinum cure silcone dildo
Covered in delicious textures
Hole in the base accepts vac-u-lock adaptors
Four sizes available
Two hardness choices available
FREE drawstring storage bag
FREE suction cup vac-u-lock adaptor
I would recommend it to:
Anyone looking for a body-safe dildo
Anyone looking for a dildo with pronounced textures
Anyone looking for a challenge
Anyone looking for a different sort of dildo
I wouldn't recommend it to:
Anyone who doesn't like dildos with lots of textures
Anyone who doesn't like blunt dildos
Final Thoughts
The Cleopatra's Candle is a strange dildo, one that you might have passed over at first glance, I know that I probably would have. But, having used it (a lot), I love how much fun it is to insert, and of course, all that texture on the shaft feels incredible as I thrust with it.
John Thomas Toys are big, bold and heavy. You get a lot of very high-quality platinum cure silicone in each, and they are toys that will last a lifetime. The craftsmanship is fantastic, and the whole service from ordering to delivery is seamless and very discreet.
I can highly recommend the Cleopatra's Candle to anyone who fancies trying something different. Something that will make you have to think about how to insert it, but once in it delivers some incredible filling sensations that I love.
The addition of a free suction cup vac-u-lock adaptor and a storage bag is the icing on the cake. I am absolutely delighted with the Cleopatra's Candle dildo and indeed John Thomas Toys in general.
This is an excellent dildo for riding, or for strap-on use as the textures on the shaft really do feel great against your vaginal walls. I know that anyone enjoying one anally is going to be in for one hell of a ride as well.
I was sent these Cleopatra's Candle Silicone Dildos by John Thomas Toys and I would like to thank them for giving me the opportunity to review all four of them.
Joanne's rating
Where Can I Get One From?
Grab one of these incredible body-safe silicone dildos direct from John Thomas Toys in the UK, with prices starting at £69.99
Check them out and don't forget to tell them that Joanne says "Hi".
---

If you enjoyed reading this review then check out my other reviews of John Thomas Toys products:
Silicone Dildos
---
Disclosure
This review does not contain affiliate links, for more information about affiliate links check out my disclosure page.