Delivery & Packaging
Everything I have ever received to date from John Thomas Toys has been sent securely in a plain cardboard box. As I am lucky enough to receive all four sizes of the dildo, the package is relatively large and heavy. But I can always rest assured that the postie has no idea of the fun they deliver to my door.
The box was strong and well sealed. Inside is paper packaging to help secure the contents in transit. John Thomas Toys use the minimal packaging of heat-sealed film. To be honest, I prefer the minimal packaging approach, as the dildos do not need anything fancy to showcase them, and it produces less waste.
After all, the clear wrap gives you a great look at the contents but protects the dildo as well.
You will also receive a free JTT vac-u-lock compatible suction cup and a branded storage bag.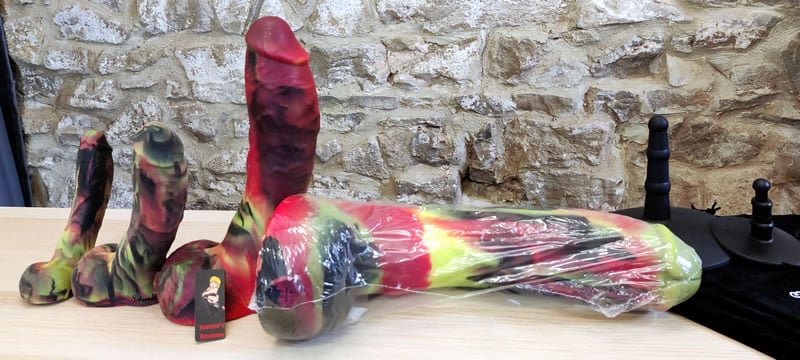 I love receiving packages from John Thomas Toys, and the colours of these took my breath away when I opened the box.
---
Check Out My Unboxing Video On Youtube
---
Materials and design
Brutus is made with the finest platinum medical grade silicone. This is important as it's a material that is body-safe as well as being non-porous, phthalate, latex, and rubber free.
I prefer silicone for my insertable toys for the above reasons, but also because you can also enjoy some temperature play. It is also more robust than some other materials on the market, so it will last a lifetime.
John Thomas Toys ensures that every dildo produced will have the same features as the previous dildo by using copper moulds. This is a more expensive manufacturing process than some other manufacturers use, but the results speak for themselves.
John Thomas Toys has found another way to make each Brutus unique, which is in the colour. Using a hand pouring technique called 'fusion' ensures that every Brutus dildo made will have its own unique colour. It is also available in three other plain colour options, but this one looks incredible.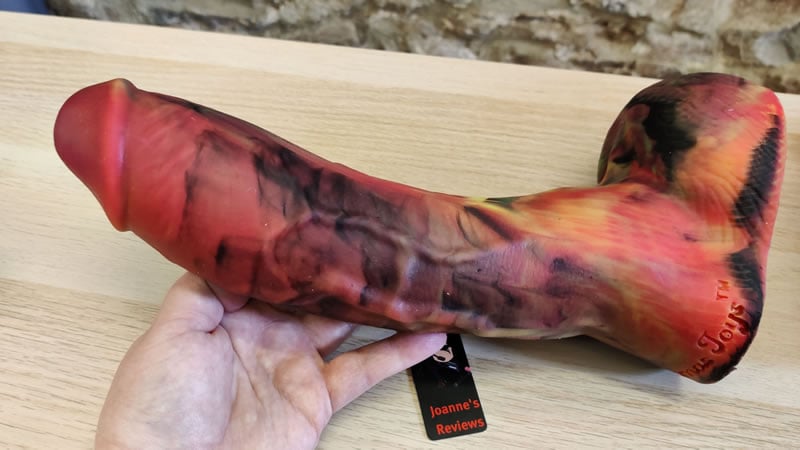 The Fusion pouring process delivers some amazing colur blends and each dildo look different.
One thing to remember when using a silicone dildo is it is best to use a water-based lube. Ones like Sliquid H2O or J Lube are great choices.
The design of Brutus is beautifully done. If you want a realistic dildo, just on a slightly bigger scale than you might find on a human, then I would say that this could be perfect for you.
Brutus has a circumcised design, with a large glans and a curved shaft it looks stunning. Brutus's curved shaft flares out just under the glans and stays at the same width down the shaft until just before the balls. At this point, the shaft bulges slightly, so if you can take the length, you get the extra stretch. The shaft also features some delightful veins. From the first look, I knew I was going to really enjoy them all.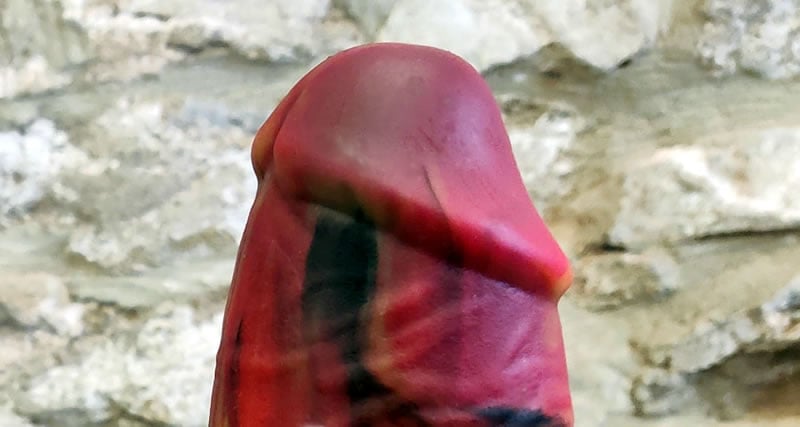 The glans on this dildo is well defined and the dildo's girth just keeps on expanding as you insert it further.
The silicone blend used gives an enjoyable slight drag and is slightly squishy under pressure. However, Brutus is flexible enough to make it comfortable to use in any position, allowing for easier insertion.
Brutus has a vac-u-lock compatible hole in the base which means that you can use the John Thomas Toys design suction cup (which is sent free with a purchase). You can also use a strap-on or a fucking machine if you do not want to simply use a hand.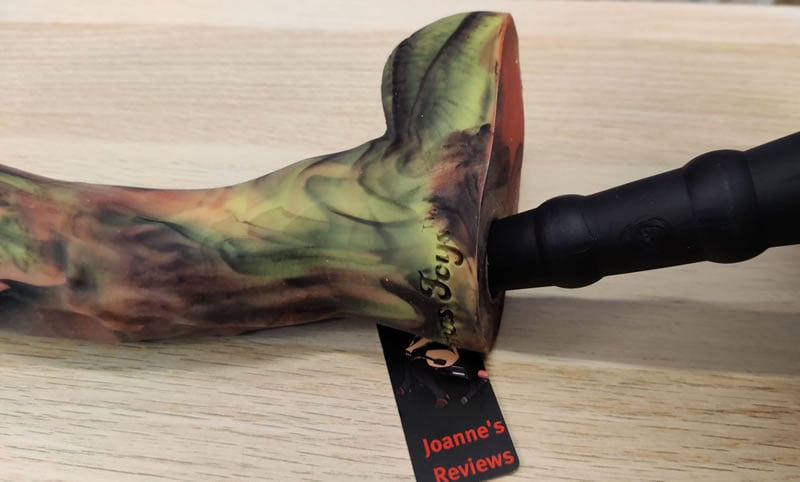 I prefer the John Thomas Toys design of vac-u-lock compatible suction cup adaptor that you get for free, they are very good.
Brutus is coloured using the hand pouring technique called fusion. This provides a unique finished colour for each dildo. However, if you want a single colour, John Thomas Toys offers a choice of colours.
John Thomas Toys have designed their own version of the vac-u-lock compatible suction cup. I like their design as the shaft has rounded nodules to hold the toy in place. I find this makes it less likely the toy will rip when removing it.
Top Tip: Put some corn starch into the hole before inserting a vac-u-lock style adaptor as it will make removal after play a much easier task.
You also receive a John Thomas Toys branded faux velvet storage bag. The black faux velvet looks fantastic with the white printed branding. The material is thick enough to easily hold the weight of even the XL sized dildo.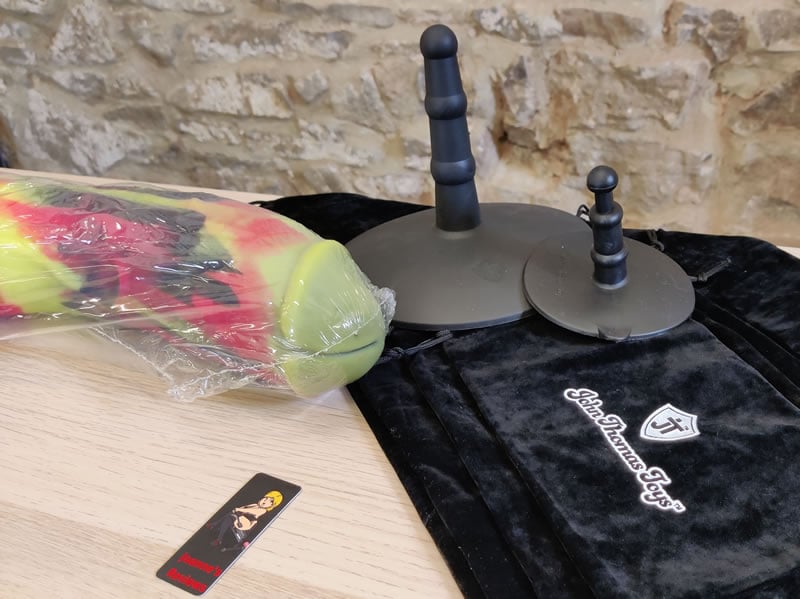 You get a free suction cup adaptor, a very nice storage bag anand peace of mind with a lifetime warranty with JTT dildos.
With four different sizes to choose from, it's not a case of one size fits all. More like there is a perfect size choice for most people.
| * | SMALL | MEDIUM | LARGE | X LARGE |
| --- | --- | --- | --- | --- |
| Length: | 7"/17.78cm | 9"/22.86cm | 12"/30.48cm | 16"/40.64cm |
| Circumference (top of shaft): | 5"/12.7cm | 6.4"/15.25cm | 8.4"/21.33cm | 11"/27.94cm |
| Circumference (middle of shaft): | 4.8"/12.19cm | 6.2"/15.40cm | 8.2"/20.82cm | 11"/27.94cm |
| Circumference (bottom of shaft): | 4.5"/11.43cm | 6.4"/16.50cm | 8.4"/21.33cm | 11.5"/29.21cm |
| Circumference (base): | 9.2"/23.36cm | 12"/30.48cm | 16.2"/41.41cm | 21.4"/54.53cm |
| Max Insertable Length: | 6.2"/15.74cm | 7.8"/19.81cm | 10"/25.40cm | 13.5"/34.29cm |
| Weight: | 0.26kg (*variable) | 0.57kg (*variable) | 1.40kg(*variable) | 3.27kg (*variable) |
| Price: | £69.99 | £99.99 | £169.99 | £229.99 |
Performance
Brutus is as enjoyable as you probably already think it would be. Although, he is an excellent example of why you should check the measurement before buying. I made the mistake of letting my pussy decide the size to try. And found that I had misjudged the girth. I thought I would try the large but found its girth just a little too much and needed to go with the easier to insert medium.
I was still stretched beautifully by this fantastic dildo. I could fully enjoy the veins on every thrust and withdrawal. The curve really brings the sensations to epic toe-curling heights.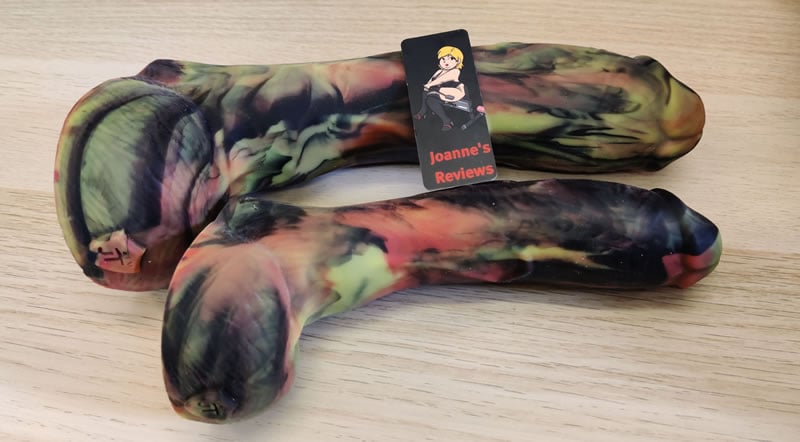 The colours on these dildos really look good, but plain ones are also available.
I love the fact that after you insert the glans, the shaft just keeps stretching you wider and wider. This feels amazing as you thrust with it or ride it on the suction cup adaptor. The veins along the shaft add some very nice texture and I can't find anything I don't like about Brutus. He is a very ncie ride.
The drag of the silicone blend feels fantastic, and the fact that Brutus is slightly flexible makes him comfortable to use. I try not to add too much water-based lube so that I can still enjoy the slight drag.
I thoroughly enjoyed playing with Brutus and look forward to having many, many more sessions with him. But, I wanted to get a second opinion on just how good it feels.
So, after strapping her to my spanking bench, sub 'r' also thoroughly enjoyed the attention of Brutus. Restrained, she just relaxed and enjoyed having her pussy completely filled by Brutus and after fitting the small to one of my fucking machines things really got nuaghty. It was not long before Brutus brought her to completion (after she asked for permission to cum, of course). Both of us like Brutus and that shaft is just amazing.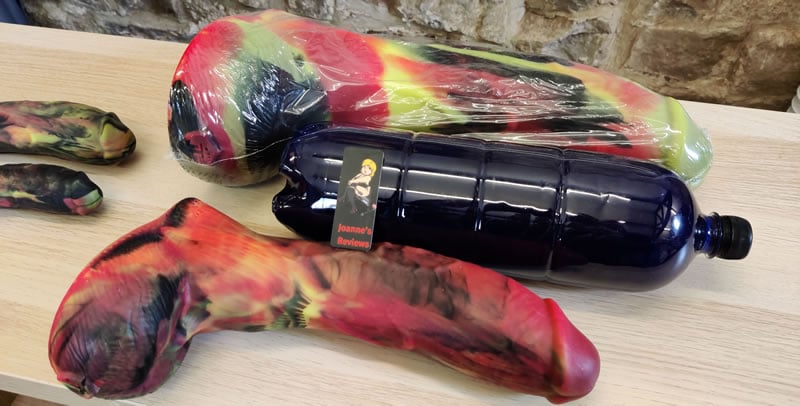 The Large and XL Brutus dilos are a Size Queens dream come true.
---
Check Out My Video Review On Youtube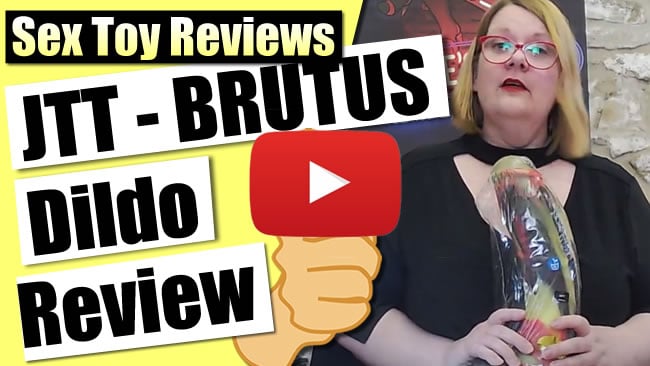 ---
Conclusion
If you are looking for a realistic and enjoyable dildo, then I highly recommend checking out Brutus. He really is a bit of a brute, but only when you want him to be.
I found Brutus to be enjoyable at whatever speed I played at. The sensations he gives ensured a very happy ending on every session I enjoyed.
The fact that he is made of high-quality silicone ensures that you can feel safe enjoying him every time.
He is straightforward to clean. I wash mine in warm soapy water, making sure I get under the glans thoroughly. You can even pop him in the dishwasher.
Do not forget you can also enjoy some temperature play with Brutus. The vac-u-lock compatible hole certainly increases the possibilities. So you have so many options on how you play.
Brutus from @JohnThomasToys, as his name suggests is a dildo that is going to give you a real seeing to. Check out Joanne's review of it.
Click to Tweet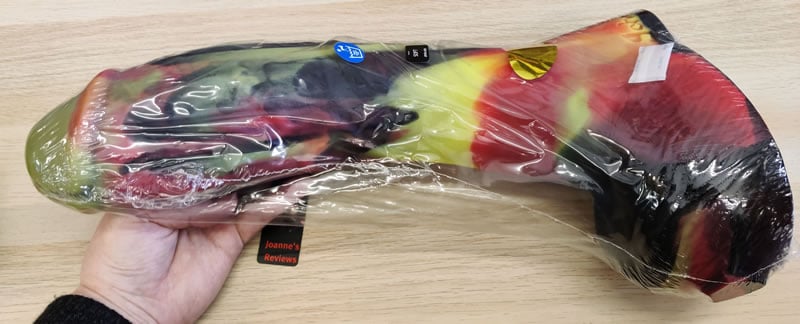 I salute anyone who can ride the XL Brutus dildo.
Key Features
Key features:
Made from high-quality medical-grade silicone.
Copper moulds used to ensure that you will get the same veins as the ones before.
Choice of different colours.
Choice of four different sizes.
Vac-u-lock compatible.
Free storage bag and vac-u-lock compatible suction cup.
Two hardness ratings.
Lifetime guarantee.
I would recommend it to:
Anyone who enjoys a realistic, foreskin free dildo.
Anyone who likes dilos with realistic curves.
Anyone who prefers high-quality silicone insertable toys.
ANyone looking for a vac-u-lock compatible dildo.
I wouldn't recommend it to:
Anyone looking for a small dildo.
Final Thoughts
I so need a bigger bedroom and toy box. I have run out of space and have had to cycle my toys around. I had great fun with Brutus, and I really do enjoy playing with my John Thomas Toys.
The fact that you have four size options, two firmness ratings and several colours to choose from, you should be able to find the perfect one for you.
I was sent these four Brutus dildo by John Thomas Toys and I would like to thank them for giving me the opportunity to review it for them.
Joanne's rating
Where Can I Get One From?

Grab one of these fantastic body safe silcone dildos from the manufacturer that is taking the net by storm, John Thomas Toys. You can grab one from only £69.99 and keep a look out for their sales where you can save a penny or two.
Check them out and don't forget to tell them that Joanne says "Hi".
---


If you enjoyed reading this review then check out my other reviews of John Thomas Toys products:
Silicone Dildos
---
Disclosure
This review does not contain affiliate links, for more information about affiliate links check out my disclosure page.