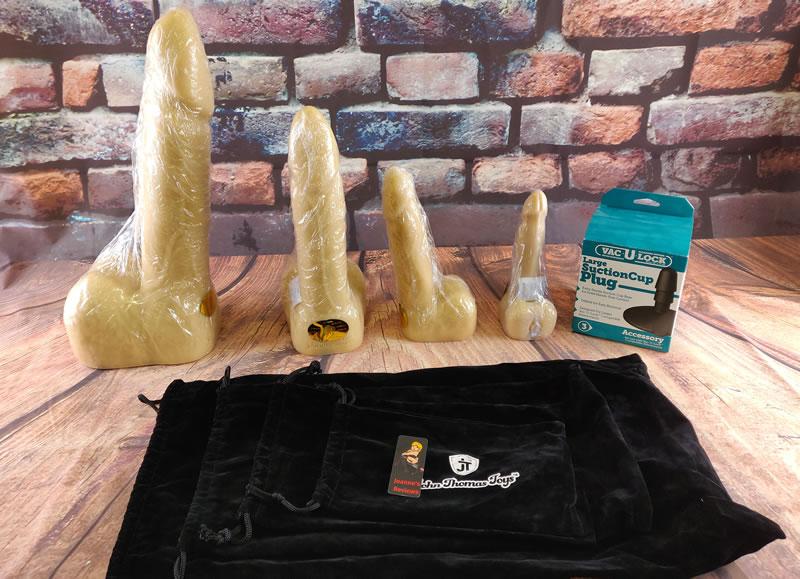 I was sent all four sizes, a suction cup vac-u-lock adaptor and four storage bags
About John Thomas Toys
John Thomas Toys are a family run business based in Norwich in the UK. They have only recently turned their talents to the creation of a range of stunning silicone dildos. They have been in the sex toy industry since 2004 though.
With fantastic products and excellent customer support, they are growing in popularity. It's easy to understand why with bonuses like a free suction cup vac-u-lock adaptor and a storage bag with every dildo purchased.
They only produce dildos and plugs in body-safe materials and even offer same day dispatch.
Their range is breathtaking, and they have a considerable range of sex toys available right from their launch date, which is commendable.
I consider myself lucky to have been singled out by them for some product reviews, and I have loved everything that they have sent me so far. So on with the review, let me tell you about the Billy Bunter Dildo.
Delivery and packaging
All of these dildos arrived under very plain cover, which is good news, especially if you live in a shared household. There was no indication as to what was inside on the outside of the box.
John Thomas Toys dildos arrive sealed in a plastic vacuum pouch for hygiene. The base of this simple packaging carries a barcode label, and each dildo has a gold holographic John Thomas Toys label to ensure its authenticity. Inside the shrink wrap, there is a silica gel sachet, it's there to absorb any moisture inside the packaging after it was sealed.


I definitely approve of the minimalistic packaging of these dildos
I like this minimalistic approach to packaging, it makes sense of dildos like these, especially the larger ones. It also means that costs can be kept down and these are passed on to the customer, so it is a win, win scenario.
You also get a branded velvet feel drawstring bag included to store your dildo between play sessions with it. You also as I mentioned earlier get a suction cup vac-u-lock dildo and that gives you so many ways to enjoy this dildo.
Design and material
One of the great things about John Thomas Toys dildos and butt plugs is that they are made from 100% Platinum Cure Silicone. This means the surface is non-porous and the material itself is body-safe, being both latex and phthalate-free. As far as I am concerned, silicone is by far the very best sex toy material on the market. It feels great and is totally hypo-allergenic. This is a blessing for any orifice you push them into and let's face it that is where these bad boys are going.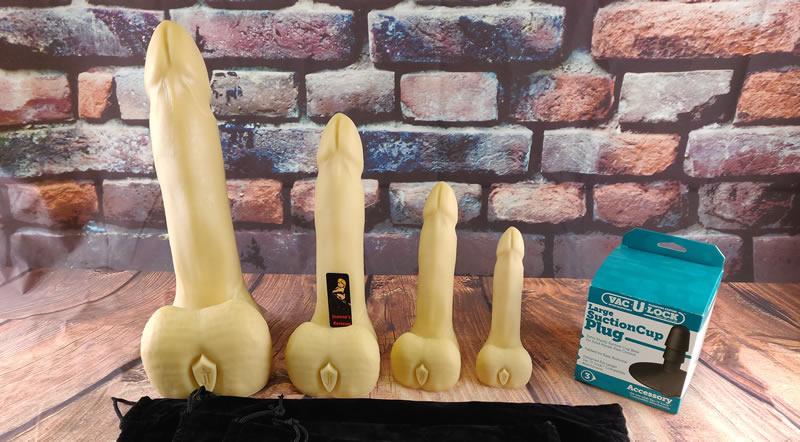 Four different sizes means everyone can enjoy this dildo design
This blend of silicone is a pale flesh colour that looks great. It also has a slight draggy texture to it which means you get lots of stimulation when thrusting with it and lube sticks to the surface well. Medical grade silicone is much more expensive than cheaper materials such as TPE or PVC, but it is also safer and will last you much longer too.
Each dildo is hand-poured with care, and John Thomas Toys use copper moulds, so each and every dildo carries lots of detail.
As it is non-porous, it is so easy to clean, and you needn't worry about lingering smells if you like to use them anally. Just wash with warm soapy water at the end of a play session. You can even sterilise a silicone dildo in the dishwasher or even by boiling it. Make sure it is thoroughly dry though, before placing it into the storage bag.
Talking of the storage bags, I love these ones, there is plenty of room in them, and they come in four sizes. The outer surface is a faux velvet that carries the John Thomas Toys logo while the inside is coated to prevent lint from sticking to your dildo.

The four different bags are the perfect size for each dildo, there is even room for another toy in there
As with all silicone dildos, this one can be a dust and lint magnet though. This is why having a storage bag is so nice, clean your dildo, dry it and then securely store it out of sight until you next decide to play with it.
The Billy Bunter features a long shaft with an almost conical glans on the end. This tapered tip makes even anal insertion a straightforward process as it slowly opens you up as you push it home.
The shaft carries some beautiful vein details that provide extra stimulation as you thrust. The base of the dildo features a vac-u-lock hole for the included suction cup adaptor. You can, of course, opt to fit this dildo to a fucking machine or strap-on harness for lots of kinky fun.

The veins on the shaft look and feel great, this one is the medium size
One feature I love is the meaty pair of testicles at the base of the Billy Bunter. These feel fantastic slapping against you as you thrust away, and they also help to keep it stable if you are riding it.
The front of the balls carry the John Thomas logo, the brand name is also embossed around the base of the shaft. Pay particular attention to this area when you clean the dildo as it can be a vagoo trap.

The John Thomas Toys logo and name look nice but take care when cleaning the dildo there
The Billy Bunter is available in four sizes. These ones are made from the Medium Firm blend, as of May 2020 it will also be available in Medium Soft as well.
| * | SMALL | MEDIUM | LARGE | X LARGE |
| --- | --- | --- | --- | --- |
| Length: | 7"/17.78cm | 9"/22.86cm | 12"/30.48cm | 16"/40.64cm |
| Base Height: | 2"/5.08cm | 3"/7.62cm | 3.5"/8.89cm | 4.5"/11.43cm |
| Circumference (top of shaft): | 4.2"/10.66cm | 5.5"/13.97cm | 6.5"/16.51cm | 9.5"/24.13cm |
| Circumference (middle of shaft): | 4.8"/12.19cm | 5.5"/13.97cm | 7.2"/18.28cm | 10.6"/26.92cm |
| Circumference (bottom of shaft): | 4.2"/10.66cm | 5.5"/13.97cm | 7.5"/19.05cm | 10"/25.40cm |
| Circumference (base): | 9"/22.86cm/td> | 12"/30.48cm | 15.8"/40.13cm | 21"/53.34cm |
| Max Insertable Length: | 5.8"/14.73cm | 7.5"/19.05cm | 10.0"/25.4cm | 12.5"/31.75cm |
| Weight: | 0.26kg/0.56lbs (*variable) | 0.55kg /1.2lbs (*variable) | 1.34kg/2.98lbs (*variable) | 3.23kg/7.11lbs (*variable) |
| Price: | £69.99/£79.99 | £99.99/£109.99 | £149.99/£159.99 | £219.99/£229.99 |
The small was enjoyed by my lovely submissive, and I got to grips with the medium. The Large and Extra Large are serious pieces of silicone dick, ideal for size queens and lovers of that feeling of being stretched open to your limits.
I love the advertising message for the Billy Bunter:
"Meet Billy Bunter, a rather chubby fellow who would steal all your sweets & conkers from your school locker!
A very nice shaped sturdy, muscular shaft with a slight curvature to it, making an ideal toy for anal play."

John Thomas Toys
I recommend using a good quality water-based lube with this dildo, I can highly recommend Sliquid H2O or Secret Play Natural.
That is what it is made of and its design features, but you are probably more interested in just how good it feels in use, so read on.
Performance
With four sizes to choose from, there is something for everyone no matter your ability or desires. The XL is a behemoth capable of satisfying any size queen while the small is modest and great for most people.
These dildos are surprisingly flexible and also heavy. The silicone is firm with a small amount of give when squeezed, and that feels nice inside you as you clamp down on it mid-orgasm. This blend of silicone allows you to fold the small almost in half, the larger ones are more rigid though.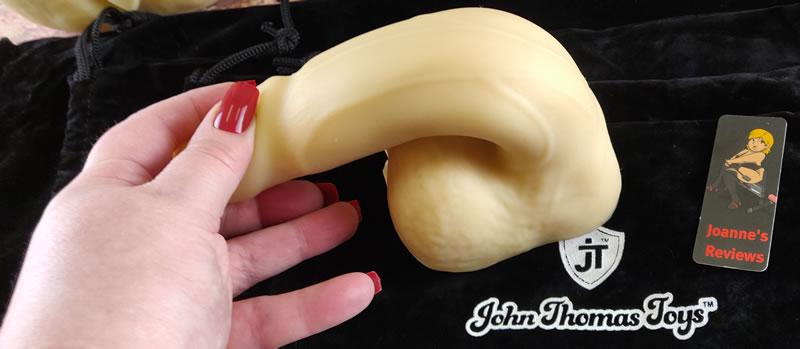 This is a really nice blend of silicone with lots of flexibility and a fair amount of squish
The large glans which is nicely tapered, allowing for easy insertion, and great stimulation too. The angle of the head not only makes insertion into a wet pussy easy, but it also makes it easy to take anally.
This dildo gives great stimulation and girth for very enjoyable penetration. The long shaft length makes it ideal for those of us who enjoy being filled completely.
In use, I found thrusting with it or riding it very easy and comfortable too. The shaft textures feel great, and the coronal ridge on the glans felt really nice rubbing against my g-spot.
The testicles feel very nice slapping against my pussy lips or clitoris when using it and thrusting hard. That is something I love about penetrative sex, and this dildo feels so good that way.

The four different sizes meand that anyone can enjoy this dildo design
The silicone with its slight draggy feel is perfect for penetrative fun. It provides just the right level of friction for me to really enjoy rapid thrusting. Orgasms while using the Billy Bunter are very hard and pleasing. I just can't get enough of that feeling when I clamp down on it mid-orgasm. The blend of silicone allows it to compress slightly under pressure delivering an incredible sensation.
The suction cup base made using it in the shower easy, and that makes a shower so much more fun. The strong suction cup base allows you to mount this dildo to any smooth surface. Your imagination is your only limit with how you can enjoy it.
Check out the Billy Bunter silicone vac-u-lock compatible dildo from @JohnThomasToys, it's an an ideal toy for anal or vaginal play.
Click to Tweet
[mx_youtuber type="video" id="JBBEFNnCIZU" theme="flipcards"]
Key Features
Key features:
100% body-safe platinum cure silicone
Four sizes available
Two hardness rating
Nicely tapered glans for easy insertion
Nice vein detailing on the long shaft
Hole in the base for a vac-u-lock attachment
FREE - Suction cup vac-u-lock adaptor
FREE - Velvet feel drawstring storage bag
I would recommend it to:
Anyone looking for a dildo that is easy to insert
Anyone looking for a body-safe silicone dildo
Anyone looking for a vac-u-lock system compatible dildo
Anyone who likes dildos with balls
Anyone no matter what size they like, as with four sizes there is something for everyone
I wouldn't recommend it to:
Anyone who doesn't like phallic dildos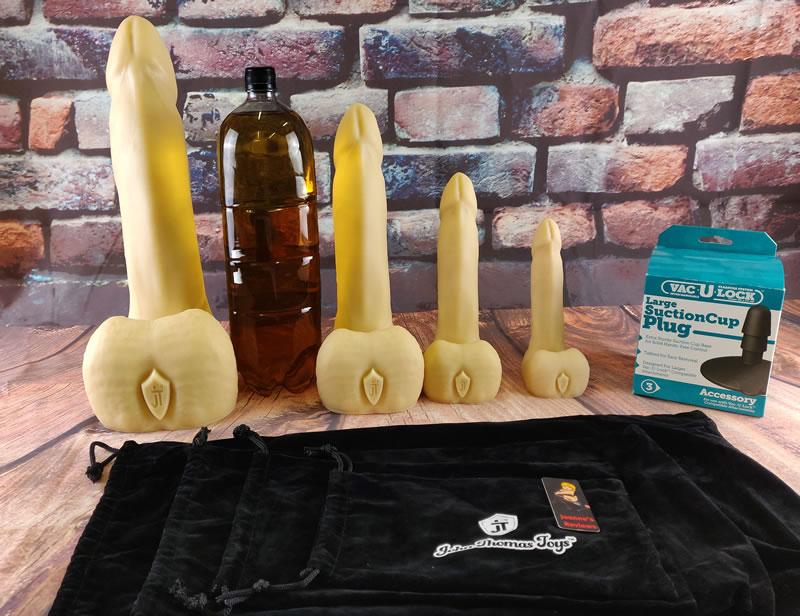 The four sizes mean that everyone from beginners to dildo fun to Size Queens can enjoy the Billy Bunter
Final Thoughts
The smallest one is great for beginners, and the largest is excellent for size queens. If you like deep penetration, then the Billy Bunter is definitely a dildo to strongly consider as they have a lovely long shaft.
The thing I love most about John Thomas Toys is that you really do get excellent quality dildos made with premium quality silicone.
They are dildos that will last a lifetime. With so many designs and textures to choose from, there is literally something for everyone.
Once again, John Thomas Toys have come up with a winner. I have no hesitation in giving it a strong recommendation to anyone looking for their next silicone dildo.
I was sent the Billy Bunter silicone dildo by John Thomas Toys and I would like to thank them for giving me the opportunity to review it for them.
Joanne's rating
Where Can I Get One From?
Grab one of these incredible Billy Bunter body-safe silicone dildos direct from John Thomas Toys in the UK, with prices starting at £69.99
Check them out and don't forget to tell them that Joanne says "Hi".
---

If you enjoyed reading this review then check out my other reviews of John Thomas Toys products:
Silicone Dildos
---
Disclosure
This review does not contain affiliate links, for more information about affiliate links check out my disclosure page.