This competition wouldn't be possible if it wasn't for the generosity of the really nice crew over at E-Stim Systems, these are the guys that got me interested in the world of E-Stim and Electrosex and I've never looked back. They produce the most amazing products here in the UK and offer lifetime guarantees on their control boxes and electrodes. Make sure that you check out their site and don't forget to tell them that Joanne says "Hi".

The Prizes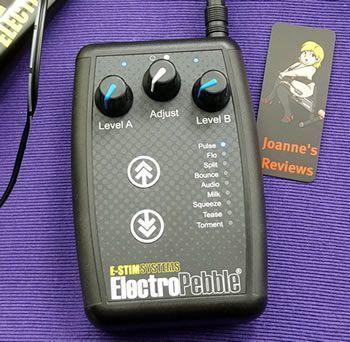 Now for those of you who follow my blog you will know that E-Stim Systems have recently launched their latest control box - The ElectroPebble and I was one of the first people able to review it (Check out my review of it HERE). I am blown away with it and its capabilities and when they offered me an extra machine for my competition it brought a tear to my eye. This really is an amazing kit, it comes boxed with cables and electrodes and it even has a battery so you are ready to play the moment that you open your prize.
To make the prize even better I have included a Flange Bi-polar Insertable Electrode (Check out my review of it HERE). It is one of my favourites which I why I opted for add one as a prize. Now this cracking collection is ideal for women, men and couples and if you are curious about the wonderful world of E-stim fun it's a great way to break the ice and jump right in or if you are a hardened E-stimmer it is a great way to get your hands on the latest control box on the market.
Good Luck Everyone xx
Click on the link below to open up the competition entry form. Remember you can enter daily to give yourself extra chances of winning these amazing prizes.
Enter My Sockingly Good 2k Followers Competition Here
Competition Rules
This competition will run from 12:00AM 9th August 2016 — 11:59PM 8th September 2016 (London).
This competition is open to the UK, US, Canada, and Europe. If in doubt about your location please contact me and I can let you know where the item can or cannot be shipped.
I am fulfilling this competition and so you will need to respond to my e-mail if you win.
You will be responsible for paying for any customs or excess costs that might occur after shipping.
After the winner is drawn you have 2 weeks to contact me and claim your prize. If you fail to do so then I'll re-draw another winner. By entering this competition you also agree to provide me with your address, so that I may ship the item to you.
I'm not accepting giveaway accounts for this competition. I will be checking to make sure that any entrants have an account that is made up of more than giveaway retweets. Please respect this.