Delivery and packaging
I love how discreet the jimmy Jane packaging is. I find this very important because anything about period's and menstrual health is still a relatively taboo subject. So a lot of young women find it every embarrassing buying pads and tampons etc. When you get a very discreet product, it's always going to be a big plus and a step in the right direction.
I also love that you can see both cups in the box without having to remove them from the box, this is ideal if you are shopping in a brick and mortar store. It also means that you can see if they are right for you, e.g. shape, size, texture and width.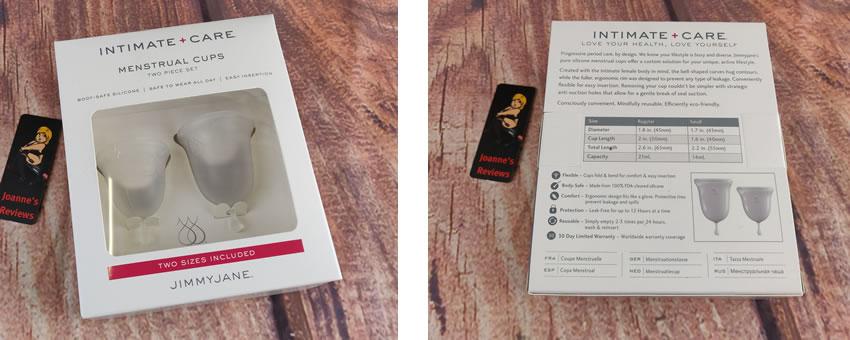 I love the packaging of the Jimmy Jane Intimate Care Menstrual Cups
I find this very important because when buying a menstrual cup I expect it to last me for years and years. So, if I buy a cup that isn't right for me, then it is just a big waste of money and time.
I also like that the box comes with lots of useful information on it telling you all about the Jimmy Jane cups and other products. But, I did find the text on the box was very small with made it very hard for me to read as I have eyesight problems. This meant I had to get someone to get me the info back to me.
I love that the Jimmy Jane Intimate Care Menstrual Cups come in sets of two with the small cup (43mm), which I would recommend for girls who are looking for their first menstrual cup. It's also ideal for women who have a very low cervix and have a light flow.
The set also comes with a regular-sized cup (55mm) for women with a higher cervix or a heavier menstrual flow like me.
I like that the Jimmy Jane cups come with an adorable but discreet bag to keep their cups in when they are not in use. It's essential that when you are not using your cups; you keep them in the bag as it keeps the dust off them and keeps them clean.

I love storage bag for the Jimmy Jane Intimate Care Menstrual Cups
For myself, I found that the small cup was way too small for my needs. This is because I have a very heavy flow so it would keep on leaking as I would fill the cup very quickly.
My review is going to be on the regular-sized cup as that is the cup that meets my needs and the one I used the most.
It gives me peace of mind knowing that these cups come with a 1-year warranty.
I often get asked the question, "Can I use my menstrual cup for contraception", and the simple answer is NO! It won't give you any protection from sexually transmitted infections or pregnancy, don't confuse it with a diaphragm.
I also would not recommend wearing any menstrual cup when you have a water infection as from my own experience this can make it a lot more uncomfortable.
Material and design
I love how flexible they are. This makes them much more comfortable to insert and also to get them to open up and to stay in place. I find that the cups mould to my shape a lot easier than most other menstrual cups. So, it pushes less on my bladder, because of this so I would recommend the Jimmy Jane cup for girls/women how are prone to getting water infections and are more sensitive down there.

I love the look of the Jimmy Jane Intimate Care Menstrual Cups, they are very "bell" like
Dimensions:
Diameter: Regular - 1.8"/45mm | Small - 1.7"/43mm)
Cup Length: Regular - 2"/50mm | Small - 1.6"/40mm)
Total Length: Regular - 2.6"/65mm | Small - 2.2"/55mm)
Capacity: Regular - 21mL | Small - 14mLThe thing I love the most about my Jimmy Jane is that it's made out of 100% FDA cleared silicone. This makes it body-safe, and there is 0% chance of getting any infection's, e.g. toxic shock syndrome (TSS) or any other health problems like you can get when using other products like tampons, for instance.
They are available in two colour options, clear or purple.
Because of this, I would recommend the Jimmy Jane cup for women who like myself suffer some long term health problems or who have low autoimmunity systems as it is one less thing to worry about.
I love that the cup has been designed to make cleaning very easy. There are lots of different options for cleaning your cup. The way I clean my cup is to sterilise it with hot water and a Milton sterilising tablet. I leave it in there overnight, so I know that all the bacteria have been killed.

The Jimmy Jane Intimate Care Menstrual are a very nice shape and the silicone is nice and soft
I also like that there are lots of ways to fold it for insertion. My favoured folds are:
U Fold - This is one I would recommend for girls/woman that are new to using menstrual cups as it's a straightforward one to use. It also makes inserting it very easy and comfortable as well.
Punch Down - I would recommend this fold for girls/woman who have a very high cervix or have problems inserting menstrual cups. It's easier to insert this one sitting down on the loo.
C Fold - The C fold is the one I use the most. When people ask me to winch one is the best to start with, I always say the C fold.
I found that I had a few problems getting my cup to open and also for it to stay open because I had a contraceptive IUD fitted. I found that it took me twice as long to insert it with an IUD as it usually does without one. So if you have an IUD, keep this in mind.
I initially found it hard to get a good grip on the bottom of my Jimmy Jane cup, the bottom section looks easy to grab but I wish it were just that little bit longer. This made it tricky to get the cup out without spilling it. So it took me a little longer than with other brands.
Performance
I find the Jimmy Jane cup very comfortable to use. This is because it has been designed to fit your bodies shape. It moulds itself to your form unlike other cups, which stay in one shape, this one moulds to you and not the other way around. This can make other cups very uncomfortable to wear for long periods of time.
As it moulds to the inner contours of your vagina, it means there is less chance of your cup leaking into your underwear. This gives me more conference for up to 12 hours at a time, Jimmy Jane recommend emptying and cleaning your cup every three to four hours though.

The Jimmy Jane Intimate Care Menstrual are very soft and they form to your body shape once inserted
I have found that even though I have a very heavy flow, I can leave my cup in for 8 hours comfortably with gives me so much more freedom. Unlike every 2 hours when I had to use tampons, where I had to change on the dot every 2 hours. If I didn't change that often I would leak all over my underwear even if it was just for 5 minutes.
I also love how the shape works for me with the Jimmy Jane cup. It gets in the right place right under my cervix easily. By getting it right under my cervix, it also helps by preventing leaks and making it more comfortable to wear.
If you like to be able to have sex when you have your cup in then, the jimmy jane cup may not be the cup for you. Because of the way it is designed you can't have vaginal sex and also wear your menstrual cup at the same time unlike other menstrual cups such as the Fun Cup by Fun Factory or the Ruby Cup by Ruby Menstrual Products.
I love the fact that I can go swimming with my cup in place and don't have to rush out to change it like you do when you are wearing tampons.
The thing I love the most about the jimmy jane cup is that I can wear it throughout the night and it will not leak on me unlike most of the other menstrual cups I have tried, even though my flow is very very heavy. This gives me confidence, and I can enjoy a good nights sleep with it fitted.
Looking to save some money, better care for the environment and use an efficiant menstrual product at the same time? Check out the @JimmyJane Intimate Care Menstrual Cups.
Click to Tweet

The two sizes of Jimmy Jane Intimate Care Menstrual Cups give you options as to how long your wear one
Key Features
Key features:
Two different sized cups and stroage bag
Made from 100% silicone
Phthalte and latex free, they are also non-porous too
Lots of easy ways to sterilisie them
1 year warranty
I would recommend it to:
Anyone looking to try out menstrual cups during their period
Anyone who wants to save lots of money over time as well as helping reduce landfill waste too
Anyone with low immune systems where the risk of TSS is a worry
Anyone looing for a simple solution to their cycle
I wouldn't recommend it to:
Anyone squeemish of the sight of menstrual fluids
Anyone with an intact hymen
Final Thoughts
I love the bell-like shape, which is very comfortable and very easy to put in and take out as well.
But I do find that these cups can be a bit difficult to get a grip of when fitted to pull them out.
It also gives me a lot of peace of maid knowing there is 0% chance of me getting TSS. If you use any other menstrual products like tampons, there is a risk of getting TSS.
Because of this, I would very much recommend the Jimmy Jane cup for girls and women who have a weaker immune system or are prone to getting ill very quickly, as this gives you a little extra peace of mind.
I was given these menstrual cups to review by Jimmy Jane and I would like to thank them for giving me the opportunity to review it for them.
sub'r's rating
Where Can I Get One From?
Grab one of these great menstrual cups sets direct from Jimmy Jane for just $29.99USD.
If you are in the UK, you can get a set from Luke & Jack for just £24.95.
Check them out and don't forget to tell them that Joanne says "Hi".
Disclosure
This review does not contain affiliate links, for more information about affiliate links check out my disclosure page.