I didn't have to wait for them to arrive in very plain packaging, I always comment on packaging as you would be surprised at how many companies don't seem to care about customer privacy or discretion by plastering website names on boxes. You can rest assured though that AdultShopIt always send products out discreetly.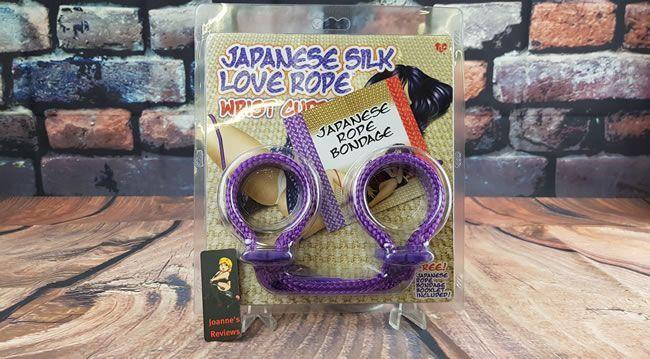 These cuffs arrive in nice retail display packaging showing them in all their glory
This set of rope cuffs arrive in a clear blister pack with a Japanese theme, inside you get the rope cuffs set together with a 16-page Japanese Rope Bondage Booklet. I found the booklet interesting with lots of facts and ideas contained within it. You certainly don't need to read it to use these cuffs as they are beautiful in their simplicity.
I was fascinated at how just one length of rope can be threaded in such a way that you can have a set of adjustable cuffs that take mere seconds to fix in place or remove.
The single length of rope is threaded through two plastic retainers in a way that they can be tightened, and they don't loosen on their own. The only thing I didn't like about these plastic bits is they have two sharp bits that are where they are snapped from the sprue during manufacture. I fixed mine with a quick going over with a nail file and that quickly sorted the problem.
The two ends of the rope are glued together within a small plastic tube, and then a piece of heat shrink tubing that is the same colour as the rope is used to cover the tube and provide a nice smooth cover for the join.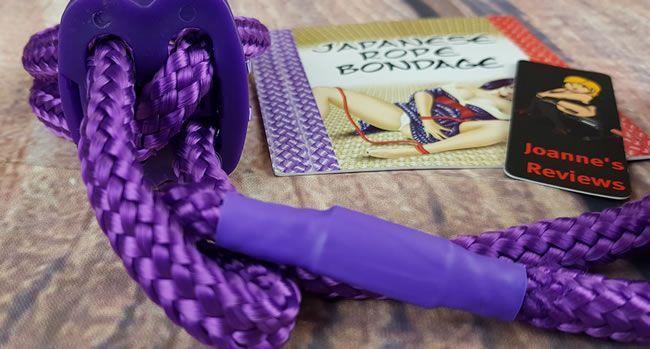 The rope joint is very well done and the way its threaded through the plastic components
The lilac coloured rope is braided and very soft and flexible, it feels delightful against my skin as the cuffs are drawn tight, and it doesn't irritate or chafe my skin.
Wearing these cuffs is very comfortable, and you can have your arms restrained in front of your body or even behind. There is a generous amount of rope, and so your wrists are kept about a 12"/30cm apart which means if you are of more significant build you can still have your wrists restrained behind your back.
I love the versatility of these cuffs and have even used them on my ankles during some play session. A pair would be handy for some tie tease play.
The rope is very strong, Stunt Cock even supported his own weight with it, so you get the benefit of a strong set of restraints that are very comfortable to wear.
The braided weave on the rope is very fine, and this gives the rope a smooth finish that looks and feels great against your skin.


The two rough bits that I filed can be seen on the right plastic component
I really like these cuffs because of their looks as well as the sensations that they provide. Throw in a blindfold, and you can have some very kinky fun.
The first time I used these cuffs we included a blindfold and ball gag into the play and I loved being blindfolded first before having these cuffs slowly fitted and tightened around my wrists. The blindfold caused the sensations on my wrists to be amplified, and it almost had me gasping as the soft rope was drawn tight across my skin.
What followed was an hour or being dominated, and I enjoyed the feeling of being bound. The way that your wrists are separated and not tied tightly together means that you still have use of your hands to an extent while being constantly reminded of your state of bondage. I was able to masturbate, use sex toys and pleasure Stunt Cock while wearing them. Always aware of the cuffs presence around my wrists though which added to the excitement.
I was then placed face down, and I had my hands tied behind my back, this is something I really enjoy. A second rope was used around my ankles, and then that was tied to the rope cuffs placing me in the hogtied position. No matter how much I struggled, the wrist cuffs didn't loosen, leaving me out of breath, aroused and helpless.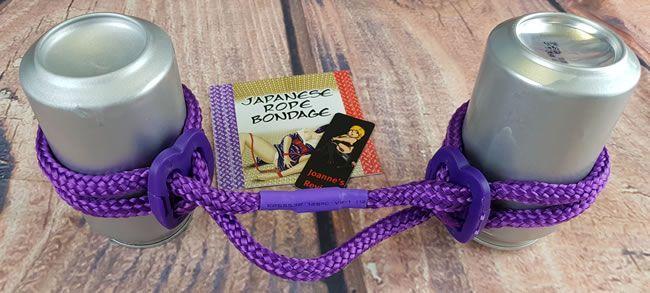 The rope cuffs fit securely around my stand in wrists
I am impressed by these cuffs and love their simplicity. They make an ideal supplementary set of restraints or a first time set for anyone starting their journey into basic BDSM play.
I have also used them to restrain sub'r', and she also enjoyed wearing them, commenting on the softness of the rope. Her preference is to wear them with her hands tied behind her back, head bowed and in the Nadu position in front of Stunt Cock.
If you are looking for a set of comfortable cuffs that are sensual, easy to fit and effective, then this set is definitely worth considering.
Recommended For
Newbies to BDSM fun and games
Anyone with sensitive skin
Anyone wanting a set of cuffs that are soft and quick to fit and remove
Check out the Japanese Rope Cuffs from @AdultShopitUK for some kinky restraint games.
Click to Tweet
Key Features
Key features:
Quick to fit and release
Soft braided lilac rope is gentle on the skin
Ideal for beginners or advanced players
Secure yet allowing the freedom to move your hands and use them

These cuffs are very comfortable while still being secure
Final Thoughts
These Japanese Silk Rope Bondage Cuffs were precisely what I thought that they would be. They are comfortable, quick to use, effective and so much fun to use. I have so many uses for them, and they are now in our BDSM play bag.
The rope is very comfortable, my favourite colour and also quite beautiful as well. The little booklet will give you some good ideas, and this is a kit that would suit beginners or for anyone more experienced with BDSM play.
I have no problem in giving them a strong recommendation, and I hope you have a lot of fun with them if you choose to get a set yourself.
I was sent the Japanese Silk Love Rope Wrist Cuffs by AdultShopIt.co.uk and I would like to thank them for giving me the opportunity to review it for them.
Joanne's rating
Where Can I Get One From?
Grab one of these Japanese Silk Love Rope Wrist Cuffs Sets from AdultShopIt.co.uk for just £24.99, check out the ankle cuffs as well. A complete set would be so much fun to play with.
Check them out and don't forget to tell them that Joanne says "Hi".
Disclosure
This review does not contain affiliate links, for more information about affiliate links check out my disclosure page.