Packaging
The Jammy came to me directly from the manufacturer, but it is going to be retailed in the UK by one of my all-time favourite retailers, Latex, Leather and Lace. In the USA you can grab one from Peepshow Toys.
They always send out products very discreetly as they value their customers right to privacy and discretion.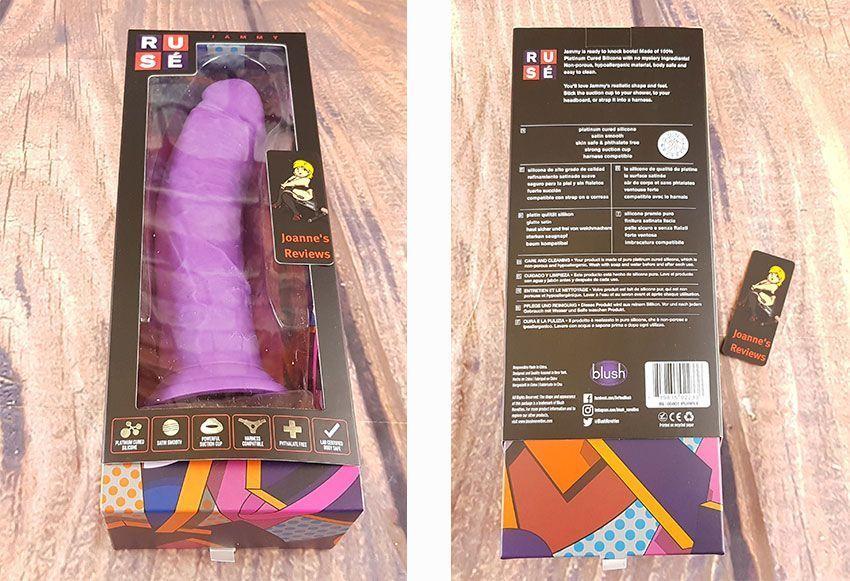 I most definitely approve of the packaging of the Blush Ruse Jammy Dildo
I love the boxes of the Ruse range of dildos from Blush, the design looks lovely. The thing I like most though is the fact that you can actually see the dildo nestled inside through a transparent window.
I like to be able to see a sex toy in its box rather than just having a picture on the box. In essence, if you can see the sex toy you know precisely how big it is rather than having to try to interpret size information on the box. Well done blush, I love the packaging, and the bright colours are fantastic.
Materials
The Jammy is made out of a lovely blend of 100% body safe silicone. The mixture is nice and soft with minimal drag. It also has a good amount of squish (is that a word). The Jammy is available in two colours, purple and black.
Silicone is my go to sex toy material, it is free from latex and phthalates while also being non-porous so bacteria can't grow within the surface material. This makes it easy to clean, and it also feels fantastic.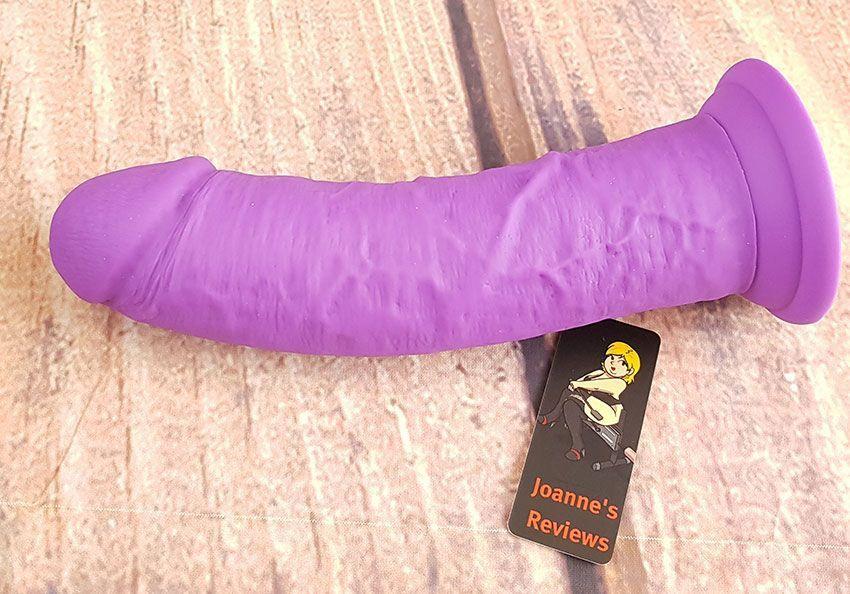 I really like the blend of silicone used on this dildo, it is soft, silky yet firm preventing any sagging
To clean after use, just wash in warm soapy water or use an anti-bacterial sex toy cleaner if you wish. The Jammy is dishwasher safe but remember to take your dildos out of the dishwasher before your mother in law being helpful and loading the dishes. That is an embarrassing story, but I did learn a valuable lesson.
Dimensions and features
The Ruse Jammy Dildo is a good size and weight for those who want something a little bigger than a starter level realistic size dildos. It is nicely proportioned but not large enough to make your eyes water at the thought.
It measures approximately 6"/15.2cm in circumference around the shaft, and that feels incredible. The Jammy is a very lovely looking realistic dildo, although the colour and base can't be called realistic (or at least not in my experience), but I like it. At 8"/20.3cm long and with 7.5"/19cm of tha length being insertable it is a dildo to be reckond with.

The Jammy is a well proportioned dildo that feels great as it stretches you opn
The suction cup base is also strap-on harness compatible which gives you lots of play opportunities with harnesses like the Aslan Leather Driver Strap On Harness.
Texture
It has an excellent weight to it, yet not too heavy to hold for long periods of use. It is solid enough to feel good in your hand. The slightly curved shape makes it easy to insert, but also adds to the sensation if you twist it while it is inside yourself.
The veins stand out enough to also add some fantastic texture and sensations without being too exaggerated. The glans also feels great on both insertion and removal as the coronal lip of the head catches.
The small meatus (urethra or pee-hole, yes I googled the name) even has a lovely sized dip that you can squirt some extra lube in.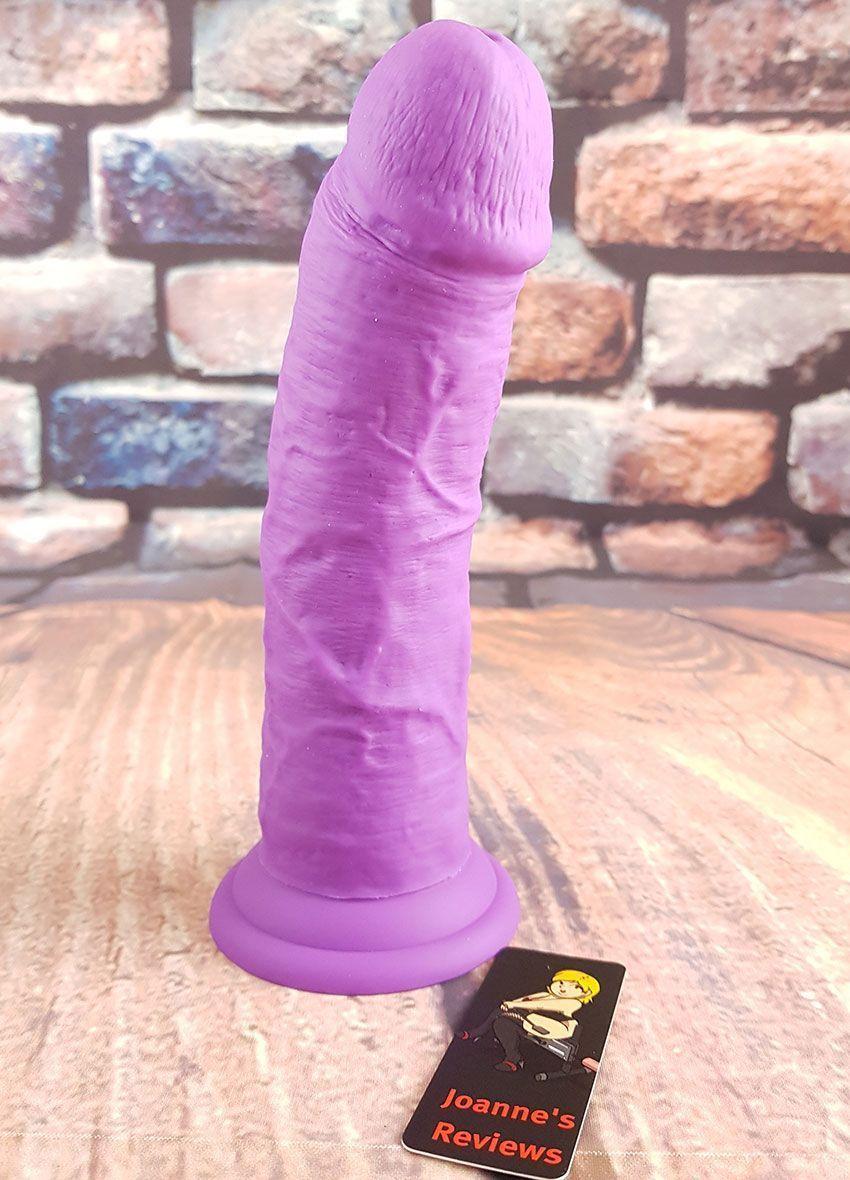 Apart from the colour, the detailing is incredibly realistic and feels great in use
The silicone is silky smooth to touch and flexible enough to make it comfortable and fun to use. But, it is still stiff enough so that it won't lose its shape. It's a reasonably solid toy, with just a little give on squeezing, really allowing your muscles to squeeze without feeling that the toy has shrunk or discomfort you may feel with a rigid hard toy. In fact, it feels incredible as you clamp down on it mid-orgasm.
Suction cup base
The suction cup is a nice size and works so well I had to break the seal to remove it from my bathroom wall so it will stay in place while you enjoy yourself.
It is also handy to hang your bath towel on after a shower, but remember to remove it if you have visitors or children, as it may take some explaining.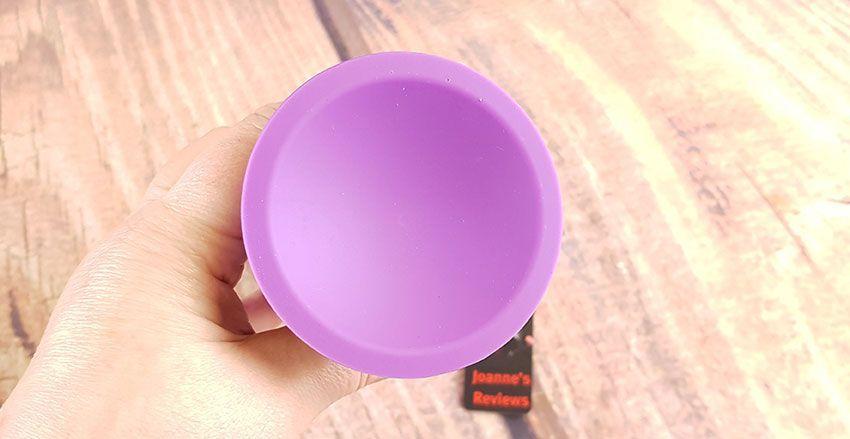 The suction cup is very strong and its design allows you to use the Jammy in a strap-on harness
It also works really well on a fucking machine with the correct adaptor plate, and as the base is quite broad, you can quickly secure it with elastic or tape etc., to help keep it in place for some very fast paced hard fun.
Performance
I recommend using a good quality water-based lube like Sliquid H2O or Secret Play Natural.
The Jammy is a lot of fun to use, I just love its girth. I relish thicker dildos as really enjoy that feeling of being opened and stretched at the same time as I push them inside my pussy.
I find the texture on its shaft to be most enjoyable, and it gives me lots of stimulation as I slide it in and out.
The Jammy is one of those dildos that is great for high-speed thrusting or for slow and lazy wanks, where you can relish every bit of the detail on the shaft as it gets you wetter and wetter as you enjoy it.
Blush dildos really hit the spot for me, and it is a combination of the fantastic blend of silicone and the delightful textures that I enjoy.

The Jammy is a delightful dildo to get to know and enjoy, it gets me off everytime I use it
In the shower, you can enjoy the suction cup base which holds it to any smooth surface very strongly.
The curved shaft feels great and applies a nice bit of pressure to my g-spot. Rotating it inside me also feels great, and I can vary the g-spot pleasure if I want to edge myself for long sessions of sticky fun. It would also be great for p-spot stimulation for guys wanting to enjoy the Jammy anally.
All in all, I am very impressed with the Jammy, it is bigger than most dildos while not being huge. It feels fantastic stretching me open, and I have had many delightful orgasms where clamping down on something so substantial really gets me off.
The Ruse Jammy silicone dildo from @Blush is a generously proportioned dildo with stunning texture, it is available from @peepshowtoyscom and is so much fun to use.
Click to Tweet
Key Features
Key features:
100% body-safe platimun cure silicone
Strong suction cup base that is also strap-on harness compatible
Great for g-spot or p-spot play
Generous proportions
Stunning surface details
Final Thoughts
The things that I liked the most about the Jammy dildo from blush are it generous proportions coupled with its luxurious silicone and surface textures.
When thrusting with it you get to enjoy all that texture and it feels sublime. As you insert it, the sensation of being stretched open so wide is also very enjoyable for me and it is a dildo that is ideal for use by hand or even mounted on a fucking machine.
I love the blend of silicone and again Blush have come up with another winning design that I am delighted to recommend to anyone looking for a larger than average dildo packed with features and texture.
I was sent the Jammy Dildo by Blush and I would like to thank them for giving me the opportunity to review it for them.
Joanne's rating
Where Can I Get One From?
Grab one of these fantastic dildos from Peepshow Toys for just $29.99 which is fantastic value for money for a body-safe silicone dildo.
Check them out and don't forget to tell them that Joanne says "Hi".
Disclosure
Disclaimer - I was sent the Jammy bu Blush to review free of charge and this has in no way affected the outcome of this review. This post contains affiliate links and if you purchase something when you follow one of these links I may receive a small commission at no cost to you. For more information check out my disclosure page.