Delivery & Packaging
As with everything I have ever received from John Thomas Toys, this bottle of lube arrived in a very plain box that carried no indication of its slippery contents.
It's good to know that John Thomas Toys (JTT) take customer discretion very seriously. You can rest assured that your order will arrive quickly and discreetly.
J-Jelly comes in a clear plastic bottle with a flip-top lid. This makes it easy to use and control the amount of lube you are dispensing.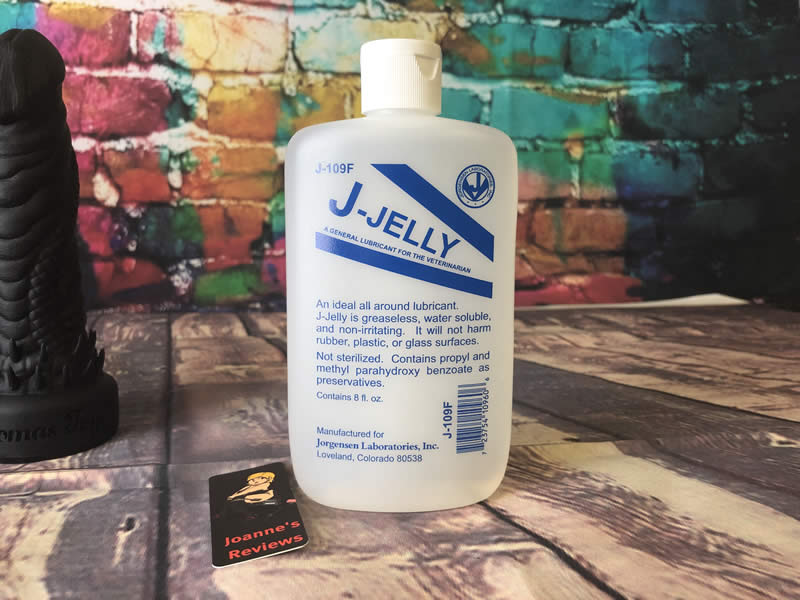 The packaging of J-Jelly is simple but effective
The lid means you can quickly close and seal the bottle once you have dispensed some. I left the bottle deliberately on its side for 24 hours, and there was no leakage at all, which is good to know as I am always knocking lube bottles over in my bedside drawer.
Ingredients and Uses
J-Jelly is a lube that was designed in the USA initially for the veterinary market. The original product J-Lube is a powder that you mix with water to form a slippery gel style lube. You can make it as thick or runny as you want.
A bottle of J-Lube mixes up about eleven litres of lube which is impressive. The only drawback being the need for a bit of preparation before you play. If you get some J-Lube, then get one of those sports water bottles to use for the lube as a mix keeps for about a week in those.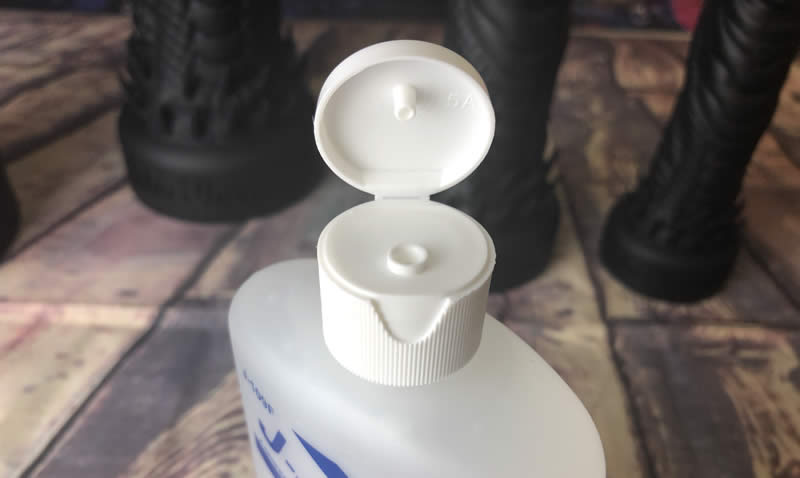 The flip top lid on the bottle of J-Jelly makes it easy a simple to dispense
A sports water bottle definitely makes mixing and use easy, and cleaning it out is also a simple task to get it ready for the next batch.
If like me, you prefer to just grab a bottle of lube and get kinky then J-Jelly is a much better option as it comes ready mixed.
So what's in it?
Product dimensions: 15,6 x 8,5 x 4 cm
Product weight: 293 gram
Product volume: 240 ml
Made in USAIngredients: Propyl, methyl para hydroxybenzoate.
It also contains water, of course. The MPB ingredient is used as a preservative and thickener. It does this job admirably giving this lube with a very nice consistency.
Performance
J-Lube and J-Jelly are often used for large toy play and even fisting play. As always, I like to do a thorough review. So with the help of my lovely submissive, the delightful sub'r' we did both of those activities. We even used it during some fucking machine play too.
The consistency of J-Jelly makes it easy to apply wherever you want it without it running everywhere making a mess. This also means you can use less, which is good for your bank balance too.

J-Jelly is deliciously thick
Once applied J-Jelly thins out nicely, creating a lovely extremely slippery coating on anything you apply it to. Dildos just glide with it, and it works well for high-speed fucking machine play too. It is safe to use on glass, metal, silicone, PVC and rubber too amking it ideal for any sort of play session.
It really comes into its own when using large toys and for fisting though. I can attest to it being extremely effective for both vaginal and also anal play too. Vaginal fisting with it felt amazing, and the consistency really works well on a gloved hand.
Now, as it is water-based, it does dry out over time. All water-based lubes do this though, and J-Jelly is comparable with other water-based lubes I've used in the past. You can either apply more or add a drop of water to your play to re-envigorate it.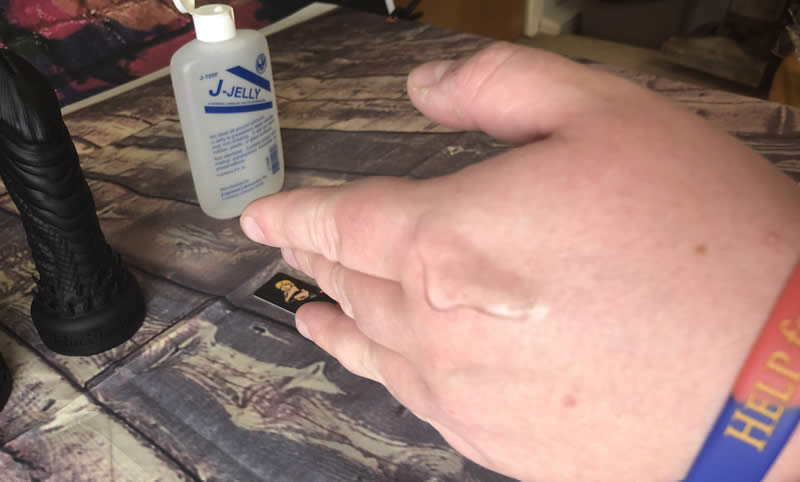 J-Jelly stays where you want it very well without running everywhere
I use one of those misting spray bottles for this. One funny thing that happened during a fucking machine session when reviewing J-Lube. Stunt Cock walked in on me as I was just spraying down a dildo that was gliding in and out of me. He snorted and said, "If you need that to cool down, you may need to slow the machine down a bit, is that smoke?"
He can be a cheeky bugger at times, LOL.
We have tried this lube with dildos, butt plugs and even just for finger play and it feels good and does exactly what it is designed to do.
Consistency wise, I love it, the fact it is a jelly is a bonus. It means it stays on your finger or toy until you start using it. I hate runny lube that drips everywhere. Once you do start using J-Jelly, you will find it thins out nicely as it warms up, creating a very slippery layer.
It does leave a slightly sticky residue after use, but that is easily cleaned up with a wet wipe. For cleaning it off your hands and toys just wash in warm soapy water, a light sprinkle of table salt instantly helps dissolve it if you want to speed things up.
This is a lube that I will continue to use, I will save it for large toy play and fisting fun with sub'r' as it is perfect for both.
If you like large toys or fisting fun and want a thick water-based lube then check out J-Jelly @JohnThomasToys.
Click to Tweet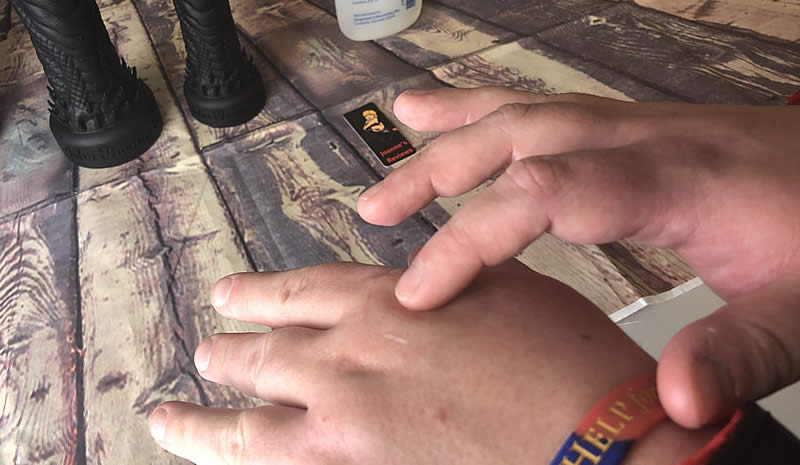 J-Jelly spreads effortlessly and provides a good thin coating that lubricates very well indeed
Key Features
Key features:
Water-based pre-mixed lube
Thick gel like consistency
Thins out quickly in use
I would recommend it to:
Anyone who likes thick lubes
Anyone looking for a water-based lube perfect for anal play or fisting fun
I wouldn't recommend it to:
Anyone who doesn't like thick lubes
Anyone sensitive to its ingredients
Final Thoughts
I really like J-Jelly, and it has me really curious to try the powdered J-Lube too. I love the idea of being able to mix my own lube (to make sure it is fresh) and to be able to achieve my own preference of consistency would be a bonus.
J-Jelly is a fantastic choice if you enjoy large toys or fisting fun, but it's also great for general use. It makes masturbation of even penetrative sex much more pleasurable.
I always recommend that people use lube as it really does make things so much better, and with J-Jelly, you have a quick and easy way to apply and use it.
I have no hesitation in recommending it to other size queens or anyone looking for an excellent thick lube.
I was sent this bottle of J-Jelly by John Thomas Toys and I would like to thank them for giving me the opportunity to review it for them.
Joanne's rating
Where Can I Get One From?
Grab one of these bottles of water-based lube for just £19.99 at John Thomas Toys in the UK and get ready to slip and slide your way to an orgasm.
Check them out and don't forget to tell them that Joanne says "Hi".
Disclosure
This review does not contain affiliate links, for more information about affiliate links check out my disclosure page.