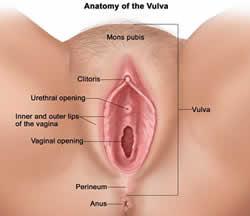 The media often calls your lady parts a vagina and that is not entirely true. Whilst the vagina is part of your lady bits, you can't see it unless your're doing some pretty impressive gymnastics or you spread your labia (pussy lips) open.
The term vagina in the media and online is often used to describe the vulva which is the external parts that you can see together with your inner and outer labia. The diagram here shows the real names for all the bits if you are not too sure about them.
All of the constituent parts of your pussy come in all sorts of different shapes and sizes, colours and textures and that again is entirely normal. Forget the shaven haven that you saw in some online porn, your Foof is and should look different to any that you've seen. We are all unique and that is to be celebrated.
Why Write This Article?
I was dismayed to learn that there are more and more products coming onto the market place that feed off womens insecurities about their own bodies. These products are designed to make us doubt our own intimate features and make us all feel that we need to decorate or make them look more appealing to others - and that is utter rubbish.
Women do not need to vagazzle their vulvas for anyone, they are already beautiful.
Click to Tweet
We now have labia highlighter and foundation as well as glitter bombs for our vaginas to make them glittery like a unicorns - what?
Not only do we not need either, but one of them is damn well dangerous (yes the glitter pills). Dr. Emmeline Peaches wrote an excellent article on the dangers of glitter bombs that's well worth reading.
However I can remember as a young women (pre internet days) after seeing some porn for the first time I decided to learn more about my own body. I got a mirror and a torch (flashlight for my American readers) and I got myself comfortable with my legs wide open.
I then used the torch and mirror to examine myself and I first noticed the way my inner labia protruded through the outer labia, they also seemed darker and rougher than my outer labia and this worried me. I spread my labia with my fingers so I could see my clitoris and it looked larger than the porn stars, much larger infact - was that a problem? My vagina was leaking fluid and it was a bit milky, the porn star had none of that, was this wrong as well? What started off as a good idea suddenly had me doubting myself and my own body.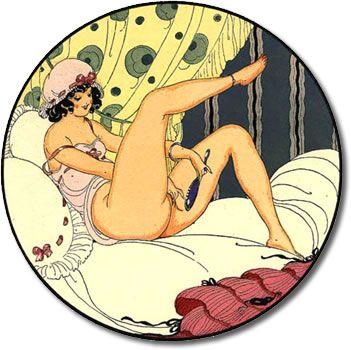 My pussy looked nothing like the young woman's in the porn film and that worried me. It worried me a lot, I started to wonder what was wrong with me. I then took a peek at some of my boyfriends porn magazines and again the models pussies looked nothing like mine. I came to the conclusion that I was abnormal down there, I had something wrong with me and it really knocked my self confidence a hell of a lot.
No woman should have to go through that! It took me a long time to get over it and to realise that whilst my bits looked different they worked in just the same way and my boyfriend got a huge kick out of playing with them as well so he must have thought that they were alright - or he was just like a dog on heat.
Eventually I came to my own conclusion that we must all be different and as everything was working as it should perhaps I wasn't abnormal after all.
The worry that this episode in my life caused me was horrendous, I was too shy to talk to a professional such as my doctor, I couldn't talk to my friends about it either I was left on my own in a deep pit of self doubt. If this article saves just one person from the same fate then I will have accomplished something.
With the dawn of the internet (god bless it) I now know that I'm entirely normal and I should have been proud of my talented lady bits all along.
So What Should My Pussy Look Like Then?
Your pussy will differ from many others but as long as it's clean and healthy then no matter what shape and size it is you can still enjoy it as it's NORMAL! I would recommend that everyone gets a mirror and a torch and gets intimate with themselves but safe in the knowledge that your bits will look different from the pictures that you have seen and that's totally normal and a huge relief.
Get comfortable and really explore yourself, it's the only way to really understand your own body and it will help you have better sex and even improve your masturbation. Open yourself up and look at your clit, urethra and vaginal opening see how they change in size and colour as you get aroused. It's only if you know your own body that you can even start to educate a partner.
If you're really adventurous you can even use a speculum on yourself so that you can see deep inside your vagina, looking at your own Cervix is quite interesting believe me.
With modern technology you can even just use your cameras phone to look at yourself down there and you can even get vibrators with cameras on the end so you can experiment and educate yourself. Check out my review of the Svakom Siime Camera Vibrator, you can even see the insides of my pussy as I orgasm - NSFW.
Jamie McCartney a British artist created the Great Wall of Vagina which is exactly what it sounds like and over 400 women have had plaster casts of their Vulva's done to create the wall and it single handedly makes my point that everyone's pussy is different. Here is a small section of it.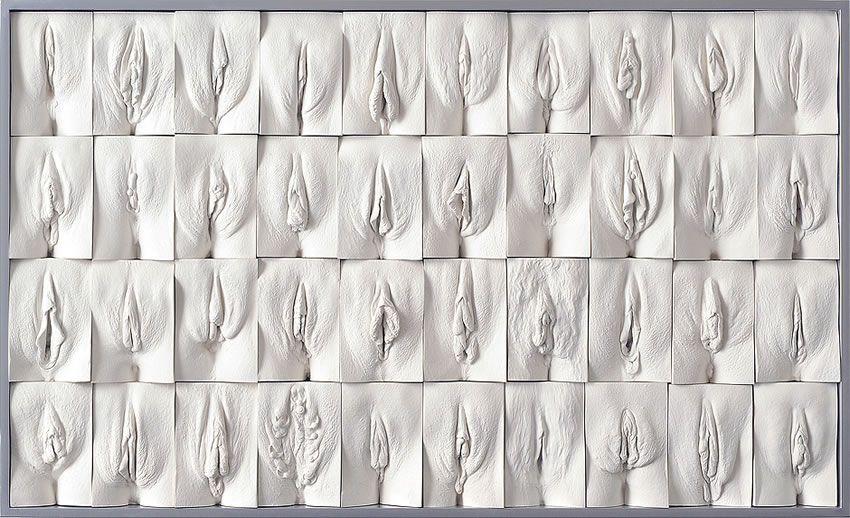 It's not vulgar, it's vulva! This isn't just sensation, it is art with a social conscience and McCartney wants people to stop, look and listen. This is about grabbing the attention, using humour and spectacle, and then educating people about what normal women really look like.

greatwallofvagina.co.uk
Oh, if anyone is curious then I'm a bit like the one on the second row down, fifth across from the left - grin.
A Healthy Pussy Is A Happy Pussy
Cleanliness is next to godliness and whilst this is true be careful when cleaning yourself down there that you don't kill off all the good bacteria, use a pH neatral soap and avoid using douches as these can severally alter the chemical balance inside you leading to a high chance of yeast infections.
Your Labia
This is the biggest part that you can see down there and it splits into two flaps at the mons pubis and these are called the labia majora. If you then spread your labia majora you will see the labia minora, mine stick out past my labia majora. We are often given the impression that both sets of labia should be a certain length or a certain colour and texture and this is not the case. More women have plastic surgery to their labia minora than any other part of their lower sex organs because of this misnomer and that really saddens me.
The labia minora stick out past the outer labia majora in about half of all women so it's 50/50 whether you are an inny or an outy. The lips can even be different sizes, colours and even textures. All of these different permutations are in fact totally normal. Oh and wrinkles are a good thing as they are a sign of elasticity and that comes in handy.
Normal: Labia's of all shapes and sizes, lengths and colours. It doesn't matter if you are an inny or an outy either.
Not Normal: Itching, burning, lumps or white blotches and discolouration should all be checked out by your doctor, they could be an indication of a problem so don't put off getting it checked out.
Your Clitoris
The clitoris or clit for short is situated around where the labia minora meet and it is covered by a flap of skin called the clitoral hood. This skin can cover it completely or even leave it exposed. Its small size belies the fact that it is actually a pretty big sex organ and most of it is internal. Your clitoris will swell as you get excited much in the way a penis gets an erection but on a smaller scale and it is packed full of nerve endings which is why it is so much fun to play with.
Clitoral hoods and clitoris's can come in all shapes and sizes so yours is again totally normal.
Normal: Short, long, small or large clitoris's.
Not Normal: Pain when you touch your clitoris which can be a sign of over stimulation due to sex or masturbation of even a build up of dead cells under the clitoral hood. Itching can be a sign of a yeast infection which should be addressed at an early stage.
Your Vagina - Yay Finally
Whilst the word Vagina is often used to describe your vulva the vaginal opening is the small opening located between your labia minora below your urethra (pee hole). You can't see much of your vagina but if you slide a finger inside you will find that it isn't smooth at all - normal. You will also find lots of bumps and ridges and these are again normal. The bumps and valleys help the vagina expand during sex and add extra stimulation to a mans penis.
Some STI's such as genital warts can cause small bumps to grow inside the vaginal opening so it's always useful to know how it should feel for you so that you can note any changes. Trust me getting to know the texture of the inside of your vagina is a great way to spend an hour of your time ;-)
You may get a discharge between your periods and this again is normal as long as it doesn't smell bad, cause itching or have a strange colour such as green - yuck. Healthy vaginal discharge is essential and normal, it is usually clear or white and can be either thick or runny.
Pain in your vagina is not normal even after sex, so if you experience this then get it checked out by a professional to put your mind at ease.
Normal: Internal bumps and ridges, white or clear discharge.
Not Normal: Foul smell and a different coloured discharge can often signify a yeast infection, get it treated early. If you develop bumps around your vaginal opening or it is itchy or sore then again see your doctor to get it looked at and to put you at ease.
Finally
Your pussy is exactly that, it's yours and it's different to everyone else's. So don't fret over its looks just enjoy it for what it is - a kick ass pleasure playground and reproductive machine.
Remember your pussy is unique and beautiful, be proud of how it looks.
Click to Tweet
Proudly Submitted To The Pussy Pride Project