About Lumberjill Leisurecrafts
Richards business has grown organically since its inception and I love the story about how he got into dildo whittling. He had originally planned to produce bespoke knives until mentioning this a trusted friend who said that she would love to make wooden dildos. This got him thinking and then he was on his way to being one of the best dick whittlers around.
His works of art have been featured in one of the final episodes of HBO's True Blood and he has been interviewed by Playboy.com
Most of his day is now spent using his talents and skills to produce some incredibly detailed eye catching and beautiful sex toys. His dildos really do stand out from the crowd and are a thing of beauty. I have no doubt that his popularity and business will grow exponentially as more people become aware of his talents and products.
Delivery
As this was a custom build it wasn't one of his off the shelf dildos which you can expect to receive in the same sort of time frame as any other online purchase. I wanted this dildo to be special and so between us we came up with the finished design. It took Richard just six weeks to produce my dildo and it is exceptional. When you see the pics you will understand why it took so long.
I was kept informed of every step in the manufacturing process with weekly e-mails and even better weekly pics showing me the progress and this certainly wetted my appetite. I cannot state how highly I rate his service for his communications and customer support are second to none.
The dildo arrived in good time once posted from the US and it was very discreetly packaged.
Features
Now here we go with the meat of this review. My dildo is made out of natural walnut which is a hardwood with beautiful colouring, you can really see the grain on this toy and the colours look amazing. The piece that was selected for my toy has amazing colouring that is rich and vibrant.
A common misconception with wooden sex toys is that you risk getting splinters from them or you shouldn't use wood as it is porous and can harbour bacteria. Both of these concerns are nonsense with toys from Lumberjill Leisurecrafts. You don't get splinters from using wooden bowls, spoons, chopping boards and the like and that it because they are well made and sanded to a very smooth surface.
The surface finish on this toy is stunning, it must have taken a lot of time to sand it so smooth and the textures carved into it must have made it even harder to do so. Lumberjill Leisurecrafts coat their dildos in between five and eight coats of a non-toxic food grade urethane varnish. Enough is applied to completely seal the toy without burying the detail, this process gets rid of any porosity.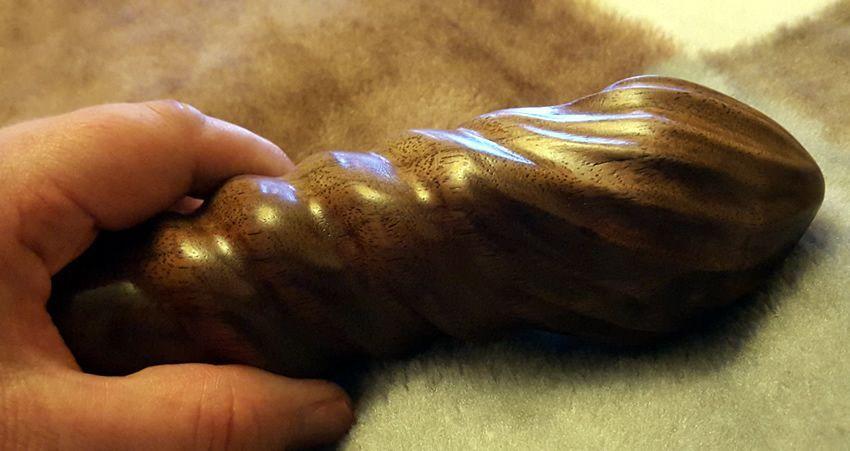 So, splinters - NO, porous toy - NO again. There really is nothing wrong with buying a wooden sex toy from a reputable manufacturer and as long as you look after it, it will last you a lifetime.
I love the fact that this is a eco-friendly sex toy - yay environmentally friendly orgasms for all. Lets look at the positives, the main ones being. There are no harmfull chemicals like parabens or phthalates are in wooden sex toys, they are eco-friendly and they have a look and feel that is unique. Wood is a warm material that is very comfortable to hold and use.
It is easy to clean just use warm water and a mild anti-bacterial soap to wash off any residue and then simply pat dry. Store it in the bag that it comes with. Do not boil, place in the dishwasher or attempt to use any bleach solution on the toy or you can damage the varnish coating.
This toy is approximately 7 inches long (17.8cm) and the shaft is 1.25 inches (3.1cm)in diameter with the ends being a wider1.75 inches (4.75cm) in diameter. It is a very nice chunky sex toy that fills me very well indeed.
One end is rounded and bulbous and this makes an ideal hand hold and the other is tapered and features a 'juicer' design with twisting channels. This twisting is carried on down the shaft and it really looks amazing. So how did it feel in use?
The bulbous end has the initial "LJ" carved into the dildo, it is quite right that an artist signs his work and this is a real work of art.
Use
I used a little Sliquid H20 water based lube on the juicer end of the toy and my pussy to get ready for what was to be an amazing session. I found it really comfortable and easy to hold onto the bulbous end of the dildo as I pressed into my pussy. It easily spread my lips open and I relished the feeling of it opening me up as I slid it in further.
The spiral grooves on the head felt incredible and I loved the texture. Once the head was in it was easier to push it in further and the spiral grooves round the shaft of the toy felt really, really nice. I soon set up a nice slow rhythm, enjoying the way that the head rubbed against my G-spot as I fucked myself with it.
I definitely didn't need to add any more lubrication as this toy literally had me frothing at the lips - so to speak. The intense feelings created by the stunning textures soon had me biting my lip and clutching at the sheets with my free hand. It didn't take me long to come and it was a really hard one. I left the dildo inside me as my orgasm subsided and then slowly slid it out.
The was the first of many sessions with it and the thing I like about it most is are the textures around the head and shaft, they feel very intense and as I like a lot of texture, this dildo is pure bliss. I can highly recommend it to anyone who loves textured toys. If you don't, then you can always opt for a smoother one.
Performance
What can I say, it gets me off easily and I'd like to think with some style. It looks stunning and has the performance to match. I have used the smooth end as well and that gives a totally different feeling especially on your G-spot whilst you still get the benefit of the spiralled shaft.
As far as it being my first wooden dildo, it certainly won't be my last. Wood is a fantastic material that feels really decadent. Cleaning it is really easy and it's now in my bedside drawer ready for action and it will be getting used again.
Key Features
Key features:
Natural eco friendly material
Very smooth sealed surface
Custom design to my own specifications
Hand made and bespoke design
Final Thoughts
I really like this sex toy and I love the ethos behind the company that makes it and I can't recommend either highly enough. If you are looking for a unique addition to your sex toy collection or want to get a present for someone that definitely stands out from the crowd then check out Lumberjill Leisurecrafts.
Recommendations
I would recommend this sex toy to:
Anyone looking for a unique sex toy that is a hand made work of art.
Anyone looking for lots of texture in their sex toys.
Anyone looking for an eco friendly dildo.
I wouldn't recommend it to anyone who:
Doesn't like lots of texture (check out his other designs for one that could suit you).
Where Can I Get One From?
You can get the Inspire Wooden Dildo from Lumberjill Leisurecrafts for £89.95, it's expensive but you do get what you pay for and this is an amazing bespoke sex toy that you would be proud to show others. The price will vary due to exchange rate fluctuations.
I bought this toy in order to review it and this review doesn't contain any affiliate links.
I would love to hear what you thought of this review. What can I do better, what did you like? Let me know in the comments form below. Thank you for taking the time to read it. Joanne xx