Packaging
The Rhino arrived packed in a very lavish retail display box that immediately put a smile on my face as I do like unboxing a well designed set of packaging to see what awaits inside. When you open the box you are greeted with the instructions and some extra packaging. Underneath all of this is the Rhino itself securely held within a foam liner that has two handy finger holes in it to help you extract the toy. You also get the USB charging lead.
Just like the packaging of the Candy that I reviewed a lot of thought has gone into this packaging and the toy is very well presented indeed.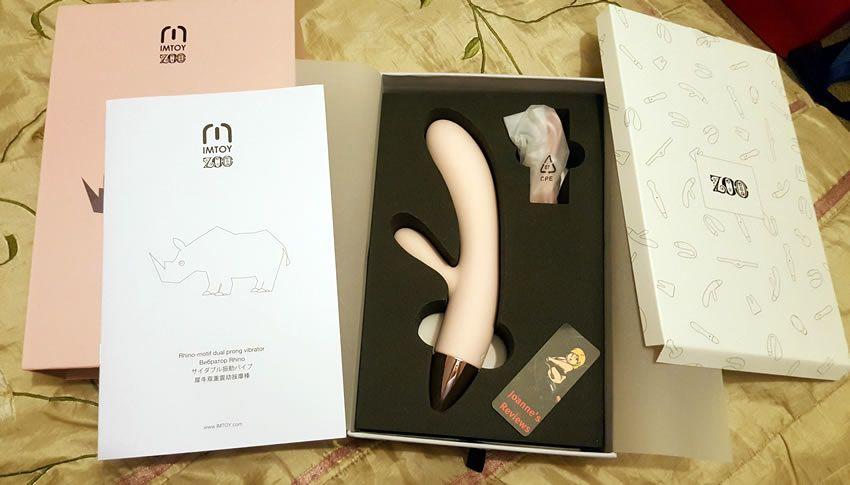 Features
The Rhino is a toy that you can either use on it's own or with an App after downloading and installing it. I highly recommend using it in both modes but you have a lot more options with the App. Just using the button on the toy you will still have 16 options to play with, and two individual motors but the App gives you so much more in terms of functionality and usability. To download the app simply scan the QR code on the toy box, you will need to adjust your phone security settings to allow downloads from unknown sources, otherwise you won't be able to download the app though.
In use this isn't as noisy as some other toys I have tested but it certainly isn't the quietest, so you will need to think of this if you need privacy from others in the house. If left under a duvet you can't hear it on the other side of my bedroom door though so that is good.
The Rhino is coated in soft Silicone making it both body safe and Phthalate free. The blend used has a lovely smooth soft texture to it which is non tacky at all, although hair and fluff will stick to it but they are easily wiped off. That being said though, it isn't a dust magnet like some other silicone toys, which is a definite plus point in my book.
Just like a lot of rechargeable sex toys these days the Rhino does not come with a power adaptor so you will need to connect the charging lead to your computer or phone charger in order to recharge the toy. I can understand why one isn't provided but I do wish that companies would include one as they don't cost the earth.
The USB charging lead ends in a magnetic connector with the two poles showing, this end of the cable is magnetic and it snaps together when aligned with the connectors on the base of the toy. It really is a neat and simple way to connect the Rhino to its charging leads without having to make a waterproof socket. A word of warning though and that is ensure the cable is flat with no twists as I had the cable and toy separate one of the poles because the cable pulled it apart. I thought that it was on charge but it wasn't, it isn't a huge problem just something to be aware of.
The toy is completely waterproof so is ideal for bathtime or shower time fun.
Use
Whilst the vibrator can be used without the App you get much more functionality if you install and use it. Just go to the IMToy website or use the QR code on the products box to obtain and install the App. You will get a screen with text in Chinese (why no English?) but click on the second line of writing to start the download. You can register on the app, but you don't need to.
Once installed fire up the App and go through the pairing process where you link the App to your Rhino and once linked you can start to experiment with it and enjoy it immensely.
If you look at the instructions on the app, it only gives information on using music and videos, so it is a guessing game with what the other options do. But this is what makes the toy more fun, you can play around with the variety of settings and options to discover what they do and find out the perfect choice for you. The variety of patterns are really good with the option of choosing up to 4 patterns to run in sync, so when you find your favourite options you really can lay back and enjoy it without having to constantly alter the controls.
The images for each pattern are clear and give you a very good idea of how each one will react. You can also add a little extra buzz by clicking the little grenade icon, which gives an extra little buzz on the clit stim at the beginning of each cycle.
There is also a rocket icon which basically puts the toy into full power, but you can't choose a pattern for this which is a little disappointing.
One feature that I really liked was the option of using the phones mic, music or videos to control the vibrations and I enjoyed this feature a lot. The music and videos need to be on your phone though.
You can even shake the phone to make it vibrate, which could be fun if someone else was in control for you. All these options work well, although the music was a little fiddly until I got my head around the controls.
In my opinion though one of the best features is that you can also draw your own vibration patterns, which I found great fun exploring. It does need to be a continuous pattern as you cannot take your finger off the screen to add any sort of space of gap as it will just delete the previous pattern as soon as you touch on the drawing screen area again. It is fun drawing your own pattern then watching and feeling it as it vibrates to your own personal design.
The screens in the App are clear and easy to understand and I have included a load for you to see at the end of this review.
The Rhino features two strong motors one in the body for G-spot stimulation and one in the toys clitoral stimulator, my senses were focussed on the clitoral vibrations and I couldn't feel much internally but that is just my body as I am very sensitive in the clitoral department. It is an easy toy to hold and use but due to its smooth features you won't get much in the way of texture stimulation as you move it. I am a texture queen though and I liked this toy so that isn't necessarily a bad point.
I have found that my favourite position for using this toy is on my side. I insert it fully then close my thighs trapping it and I can then gently thrust my hips for some amazing sensations and it leaves my hands free to operate the App.
Performance
Overall I really like this rabbit vibe, it has a lot to offer with the App and being able to make your own vibration patterns is a bonus. That is by far my favourite feature and I have lost count of how much time I have spent trying to design the vibration pattern that will change the world.
The one thing I did find that was missing for me was the option of increasing the power for the patterns as sometimes its good to be able to just increase the power when you are ready to cum to send you over the edge on a wave of pleasure.
The vibrations are fairly localised and that means that you can easily focus them where you want them without going numb.
I really love all the features this toy has but the only thing that I could think of that would make it into a really amazing toy for me would be a way of being able to increase the power for each vibration pattern.
Key Features
Key features:
Body Safe Materials
Waterproof
Magnetic Charging Connector
Ability to create your own vibration patterns
Two powerful motors
Can be used with or without the App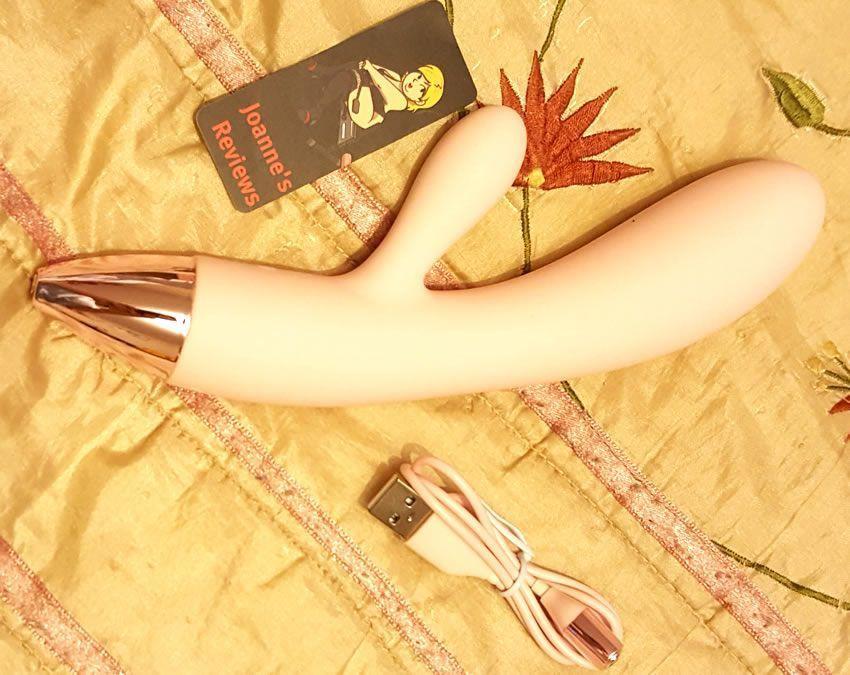 Final Thoughts
I like this rabbit style vibrator and the App is fun to use. Whilst the instructions could be better it is very simple to use so it's easy to pick up. I particularly liked the ability to design my own vibration patterns and this will really appeal to techno nerds like me.
I had no problem connecting it to my phone and it has good battery life, I like the magnetic charging system just ensure it is securely connected. Having tried and enjoyed the Rhino, I am left wondering if the rest of the range is as good Check out the full range of toys in the Zoo collection, there is even a toy just for the guys which looks like a lot of fun.
I think that it is very well priced for a body safe silicone vibrator with these features.
Recommendations
I would recommend this sex toy to:
Anyone looking for a body safe vibrator controlled by an App.
Anyone looking for a vibrator with a difference - fancy designing your own vibration patterns?
Anyone looking for two motor vibe delivery decent power levels.
I wouldn't recommend it to anyone who:
Is looking for a very quiet vibrator.
Where Can I Get One From?
You can get the IMToy Rhino from IMtoy.us for approximately £73 (prices will vary due to exchange rate fluctuations), this is great for a silicone Rabbit style vibrator that is ideal for anyone.
I was sent this toy in order to review it and this review doesn't contain any affiliate links.
I would love to hear what you thought of this review. What can I do better, what did you like? Let me know in the comments form below. Thank you for taking the time to read it. Joanne xx