Packaging
The Candy arrives in a very stylish looking box, and the container and toy looks well made and very modern, it really does look very nice indeed. It is also very discreet, so much so that I can leave the toy in its container closed on my desk in full view and no one gives it a second glance. It doesn't look out of place and unless you have one or open it you would never know what it is.
I am actually staggered at how professional the packaging is, a lot of thought and effort has gone into the whole design process and it has achieved its aim - I am very impressed. I could write an entire review on the box but that won't allow me to train my vag to Olympic levels of athletic prowess, so on with the Candy review.
Features
I was little surprised that the Candy doesn't come with a power adaptor. It's charged via USB and whilst it does come with a cable unless you have a computer or other device with a USB socket you won't be able to use the toy at all and this could be a problem for some. I used my phone charger to put it on its initial charge.
There isn't really any real instructions that come with it. It is more of a very basic picture guide with text in Chinese. However, I was made aware of this prior to the review and IMTOY have now updated their packaging which now includes the instructions in English. There is a QR code which takes you to the app download on their website which I used to download it.
It was when I started to download the App that I got a little concerned though, as I went to download it onto my phone I received these warnings from my phone:-
This application will get access to:-
Read phone status and identity
Modify or delete the contents of your SD card
Read the contents of your SD card.
Connect and disconnect from wi-fi full network access
View network connections
View Wi-Fi connections
Access Bluetooth settings
Pair with Bluetooth devices
Retrieve running apps
Draw over other apps
Allow Wi-Fi multicast reception
Control vibration
Prevent phone from sleeping
Modify system settings
Whilst I expected some of these, I was a little worried about completing the install on my phone. So I went onto the IMToy.com website and verified my product which gave me more piece of mind that it would be safe to complete the install. I also read the instruction manual online at http://www.imtoy.com/Resources/Manual/manual_candy_en.pdf
The instructions are fairly comprehensive but do have some spelling and grammar errors in them but that doesn't detract from what so far has been a very enlightening unpackaging of a sex toy.
I would also highly recommend printing out the booklet so that you can have it to hand when you want to check something out. This is what I did, as it is so much easier to check the booklet when I was trying to sort out how to charge, connect and clean the toy.
The phone download doesn't take long to install, and it's very simple to do.
The Candy itself is just 33mm in diameter making it a comfortable size for most. It has a large loop which is used to aid removal and is has a power button on its equator. It is coated in Body safe silicone which makes it hypo-allergenic and easy to clean and sterilise.
The charging base is an amazing piece of technology, it features cordless charging at one end and the Candy just sits in a recess that has a magnet to hold it safely in place. Simply screw the lid on and it will charge discreetly. Turning the charging base over reveals a glass window under which is a UV light. Sit the candy on this end and fit the lid and the UV light will effectively sterilise the toy in around 45 minutes.
Cordless charging elleviates the need for open ports on the toy which can often harbour dangerous bacteria if your cleaning regime isn't up to notch, couple this with the sterilisation function together with body safe materials and you have an amazingly safe toy to use.
The Candy is waterproof for obvious reasons so you can even train in the bath or shower and it is very, very quiet indeed the manufacturers figures for its vibration noise is a paltry 40dB.
Use
The only thing that I found a little annoying is that you have to remove the Candy after each session to let it download the data, and before you start the next lesson, as it needs to connect to the phone. I would have preferred to keep going straight onto the next lesson. That said though, it does record data each time you use it, which is then stored in the app on your phone/tablet, for you to view whenever you want to.
It does not send strong vibrations, so it isn't a sextoy that you would use to turn you on, but it is a good way of doing your kegel exercises, and recording the strength of your contractions as you squeeze the toy during the training sessions.
You can go into your record on your phone where it shows the data as a bar chart, and tells you how many calories you have burnt. You can even set a next course reminder, it does recommend a 2 hour break between each session, but you don't have to wait this long if you don't want to. Annoyingly you cannot skip any lessons, but it probably works so much better if you stick to the recommended time and lesson plan.
The instructions really do need a bit of improvement, and the "How to Use" info on the phone app is unfortunately absolutely abysmal and IMTOY should address that as quickly as they can. This is why I highly recommend downloading the pdf booklet from their website, which is really quite good. To be honest once you have worked out how to charge, connect and clean the Candy then it is easy going.
I struggled to switch the ball on as I pushed the button on the ball (which is really hard to see), but couldn't seem to get the small light at the side of the ball to come on, and ended up charging it for at least 10 hours before I could use it (not sure if that was just me or not), but this is where the instructions could be improved. It says that you place the ball inside the dome and press the button on the front of the case, and that the ball light should flash whilst charging. But it also says that you need to put the lid on, which meant I couldn't see if the light was on or not.
There is the same problem with the uv cleaning, you have no way of knowing if it has worked or not, as the glass base that you put the ball onto, before placing the lid in place, doesn't show any signs that it is working, I suppose that is the problem with the UV though.
The light at the front of the case lights up as soon as you plug the cable into the power socket, you then push the light to start the charging or cleaning process, which then makes the light lightly pulse.
You can switch the ball on to keep sending light vibrations, but this is definitely an exercise toy not something to bring yourself off with, and you really need to use this where you can easily remove it each time, so not something you can really use at work, as the lessons are only a few minutes long to begin with.
Performance
The big question is does it work. The lesson data is showing an improvement, which is a good sign, but I will have to wait until my hubby gets back from his trip to get his opinion on how well it has actually worked. I am enjoying using it and will continue to do so. It is a great way of doing your kegel exercises and keeping a record of how long you have done them for as well as your progress each time. In time I can see myself on the British vaginal ping-pong ball shooting team.
Key Features
Key features:
Body Safe Materials
Cordless Charging (of the toy itself)
Self-sterilising storage system
Records your progress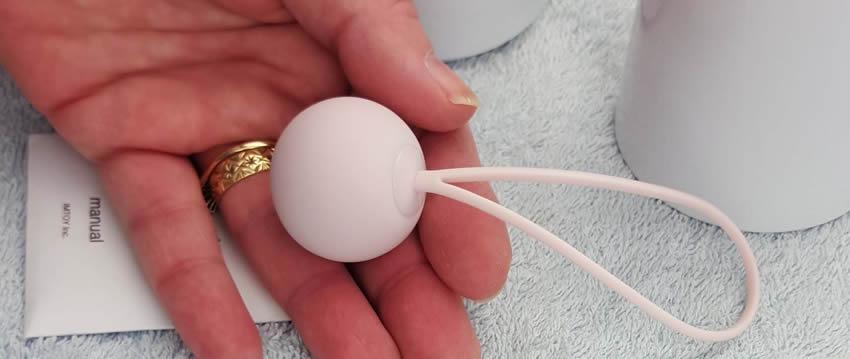 Final Thoughts
Whilst the in app instructions could use some improvement, and it would have been nice if it came with a wall charger, this is a very nice piece of technology. It is a great feeling and looking piece of exercise equipment. It's easy to clean, charge and use. It is also very nice to be able to record your progress, and it does remember which lesson you need to do next, so you don't have to.
It connects easily with my phone each time I am ready to use it again, but I did forget when I first started using it, and had to remove the ball to connect it, before reinserting it. The size of the ball isn't uncomfortable as far as I am concerned, yes it is a solid ball with a silicone coating, but I can sit up or stand with it still inserted without any discomfort. However, if you have a tight vagina and find anything other than small toys uncomfortable, this may be a little uncomfortable to use.
Considering the technology behind this very stylish item and the feel and finish of the toy and casing I think that it is very reasonably price.
Recommendations
I would recommend this sex toy to:
Anyone looking for a great way to do some kegel exercises.
Anyone looking for a quality well thought out trainer.
Anyone looking for an interactive kegel trainer.
I wouldn't recommend it to anyone who:
Isn't comfortable with toys of this size.
Where Can I Get One From?
RRP - £136
You can get the IMToy Candy from IMtoy.us for approximately £102 (prices will vary due to exchange rate fluctuations), this great little sex toys is stunning and you can actually benefit from using one.
I was sent this toy in order to review it and this review does contain affiliate links.
I would love to hear what you thought of this review. What can I do better, what did you like? Let me know in the comments form below. Thank you for taking the time to read it. Joanne xx