I'm Going To Be Reviewing Some More Mr Hankeys Toys Dildos
I can't wait to play with the XS Dragon, XS BFG and Beowulf dildos
I am squealing with anticipation as Mr Hankey is sending me three new dildos to review. I absolutely adore his creations, and my pussy has already had the pleasure of these fantastic dildos:
Mr Hankeys Toys specialise in stunningly detailed body-safe silicone dildos in sizes that will tax any size queen out there. His dildos look amazing but are a real challenge filling you to the brin like no others.
I am excited to be reviewing two dildos from his XS range. Now XS (extra small) from any other dildo manufacturer would be tiny, but Mr Hankeys XS dildos are still big and filling.
I am going to enjoy using them on sub'r', stretching her and helping her work up to the bigger Hankey's dildos.
I also have a Beowulf coming, which is much larger than the other two. That one is going to be mine to savour and enjoy. I am looking forward to some serious pussy cramming with this dildo when it arrives, and it is going to be so much fun to review.

Mr Hankeys Toys are incredible and on the large side which is something I love
So keep an eye on the site soon for our reviews of these three lovely dildos.
If you want to see the whole of the Mr Hankeys Toys dildo range click on the banner below to go to their site and feast your eyes on some seriously massive dildo and ass stuffing creations.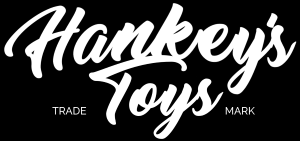 Disclosure
Disclaimer - This post contains affiliate links and if you purchase something when you follow one of these links I may receive a small commission at no cost to you. For more information check out my disclosure page.
---
---
You May Find These Articles Interesting