I'm Attending Eroticon 2018 - But I Might Need Some Help
I'm So Looking Forward To Upping My Game
I will be attending Eroticon 2018 - decision made. It took quite a bit of thought though as for me this will be a huge task, just getting there and getting around are issues due to my disabilities.
I will probably need to use my wheelchair to get about and that is something that I hate. My disabilities mean that I can't spend a long time on my feet and walking can be a real issue for me and so using my wheelchair will mean I will be experiencing the all too common feeling of in some way being inferior to everyone else. I know that is a daft thing to say but just try sitting in a wheelchair and check out the looks you get when trying to talk to people.
I am determined to go though for a number of reasons and these all revolve around this blog. I'm in awe of so many amazing men and women who put their all online in their sex related blogs for the betterment of all and I hope to meet so many of them there. I also can't wait to be educated in all things sex blogging related and to network like I have never networked before in order to allow me to grow my blog and to hopefully help others enjoy their sex lives.
The biggest problem with attending for me as with most other bloggers will be the cost. When I factor in just the costs of the tickets, then accomodation, transportation and the cost of socialising it will mean that attending will carry a large price tag.
Update 17/10/17
The incredible people at Sheets of SanFrancisco have sponsored my trip by covering my hotel room expenses - amazing people.
Luckily this cost will be spread out over the year but it will still be extremely tight for me and so I will be looking for sponsorship and partners in any form. I hope that my readers and any of the amazing companies that I have worked with in the past will be able to help me out a bit. I need to attend Eroticon 2018 and hope that I can balance the books and make it happen. So if you are in a position to be able to help me attend then please do get in touch as I would obviously be delighted to hear from you.
Eroticon Costings
After a quick calculation the event will cost me something in the region of:
Event Tickets - £197
Accomodation - Kindly covered by the amazing Sheets Of SanFrancisco.
Travel - £250
General - £150
Total - £597
Help me Get There
Please, if you can consider making a small donation to help me to cover some of these expenses - Thank you.
If you are a business then please get in touch and I can let you know how sponsoring me can really help both of us. I am more than willing to offer advertising space on my site in exchange for your kind help.
Joanne is looking for sponsors to help her get to Eroticon 2018. Can you help?
Click to Tweet
Thank You To These Amazing Companies
I would like to thank these amazing companies for their offers of help and support with getting me to Eroticon, I will forever be in their debt and it's so nice that they have reached out to me to assist me with this event:
Sheets Of SanFrancisco - A huge thank you to Mark and everyone at Sheets Of SanFrancicso for booking me into a disabled suite in the Campden Lock Holiday Inn which is literally just around the corner from the event. Woohoo, party my room everyone. I am so thankfull for their amazing help.
I will keep everyone updated as to my progress in raising the necessary funds in order to attend here on my blog. Wish me luck...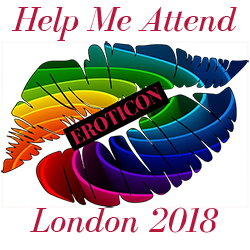 ---
---
You May Find These Articles Interesting