Yet again Meo amazed me with the speed of delivery, it beggars belief just how quickly they can get products to me here in the UK from Germany. They always arrive plainly packaged so the postie and my nosey neighbours have no idea of what a pain slut I can be at times.
The Ariadne Cat o' nine tails arrives discreetly packed in a sealed plastic pouch, and it comes with information cards attached to it stating "Meo makes you come". I can heartily agree with that statement as everything they have sent me so far has lead to deliciously intense orgasms.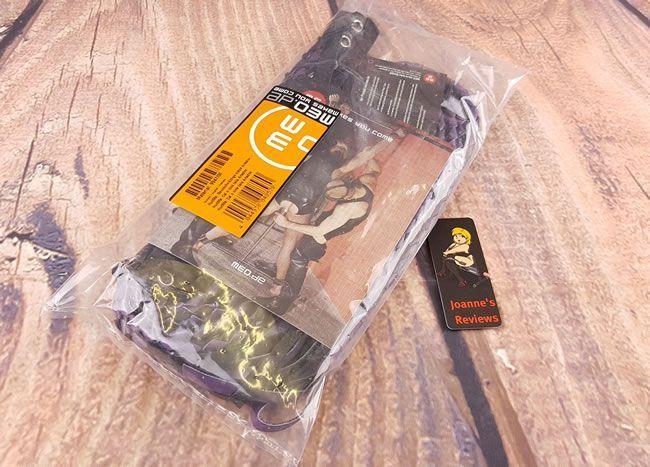 I like the no nonsense packaging from Meo.de
I was dying to get the photos over with so I could get to know this legendary impact implement, but as a professional, I had to clamp my legs together just long enough to take the photos for this review before begging to have it used on me.
Upon opening the bag, I couldn't help but take a long sniff of the lovely leather smell emanating from within. I just love the smell of leather and could feel myself getting more and more aroused as I slowly removed it from the bag.
I was surprised at how light it is, it looks really heavy, but it isn't. It is actually light and effortless to swing, it almost becomes an extension of your arm and hand in use.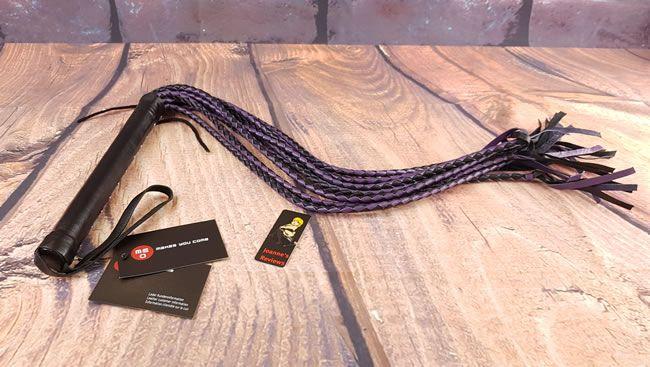 This is a very nice piece of BDSM equipment and the leather smells amazing
Construction
Before I get into the kinky, sticky bits about how good it feels in use, let me tell you a bit about its construction.
As its name suggests it has nine separate tails and each is made from four very thin and lovely strands of leather, two are black, and two are purple. These are woven to form the tails, and they end in a loose section of leather, and it is these loose leather fronds that feel so good in use. The tails look divine with their platted leather making lovely diamond patterns all along its length.
That makes 36 individual strands of leather that will make contact with your skin, and that feels great, but more on that later in the review.
The handle end sees the tails wrapped first in purple leather and then a final black leather coat is fitted and this is secured in place with a black lace running through lots of shiny metal eyelets giving it an almost corset look to one side.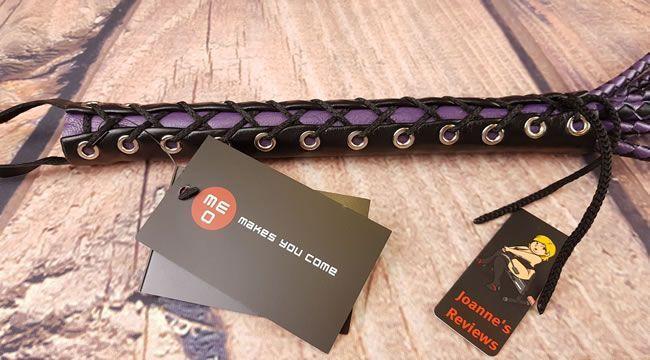 I really like the handle, the laces give good grip and a unique look
The lace and eyelets actually provide lots of grip in use, and it is very comfortable to hold in the palm of your hand. The end of the handle also has a leather loop which is useful for hanging the cat o' nine tails up at the end of a session.
Grasping the handle, I couldn't help having a swing of it myself, and it makes a lovely sound as it travels through the air. Imagining myself as some form of Dominatrix teasing a restrained and blindfolded submissive with the noises that the cat generates when swung. Doing that got me incredibly aroused, and I just had to experience the cat myself.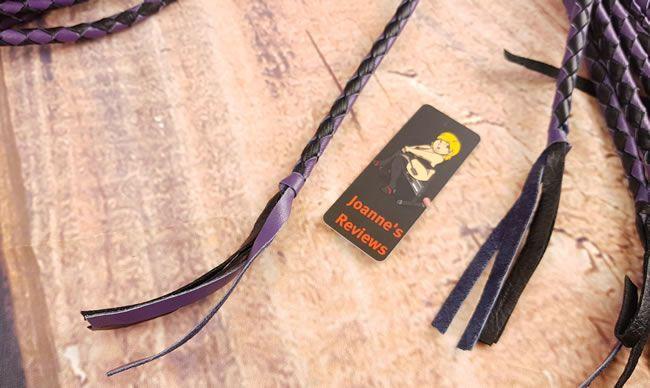 The leather fronds at the end of the tails feel very intense
Letting the cat out of the bag
I put the cat back into its bag and waiting for Stunt Cock to come home. I got hornier and hornier as time went by and I ended up naked on my knees in front of the front door as his car pulled up outside.
He was met by me knelt with my palms outstretched and the cat o' nine tails rested on the flat of my hands. As you can imagine a huge smile crept over its face as he just said: "Someone has a new impact toy that has got her very horny hasn't she?"
No argument from me there, he was spot on with his observation. He took the Ariadne Cat o' nine tails out of its bag and made a joke about the "cat being let out of the bag". I just bit my lip and waited for his order. He told me to stand and go into the dining room where he forced me to bend over the dining room table exposing my buttocks.
He left me there are went to get the Buch Dick, one of my all-time favourite impact toys from Fun factory to warm me up.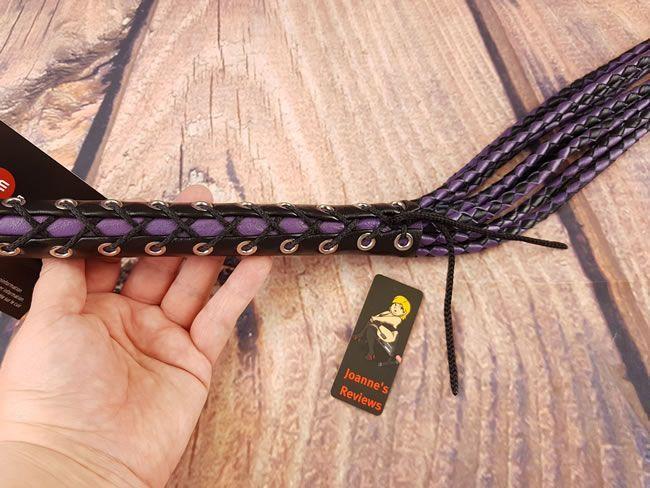 This is an incredible looking BDSM implement that feels as good as it looks
Let's just say that the next fifteen minutes were a blur of high speed and low-speed slaps and impacts on my backside that had me so wet and excited I would have done anything he told me to, I was so aroused.
Then it was time. He teased me by doing some practice swings close to my buttocks, and I gasped as I felt the air displace across my hot and rosy skin.
The first blow almost felt like a soft caress with just the tips of the fronds coming into contact with my ready backside, and I gasped.
Stunt Cock then moved slowly closer and closer until more of the soft fronds came into contact with me and the sensations got stranger and stronger. The Cat delivers stinging sensations that can be quite sharp especially if swung with some force. I have no doubt that swung hard enough it would draw blood, but that isn't our play style.
I relished every blow and was soon squirming around in front of Stunt Cock as he let the blows rain down on my exposed buttocks. He commented about the lovely lines it creates as it hits home and I just got hornier and wetter, even to the point of noticing pussy juice dribbling down the inside of one leg.

The patterns on the fronds give this cat an amazing look with the black and purple leather used
This was indeed everything that I had hoped for. I was relishing the impacts, each one harsher and more painful than the last. For anyone who doesn't know, when you receive a flogging like this, your brain releases lots of chemicals that actually turn the pain into pleasure, and I was really enjoying the pleasure that I was receiving.
Stunt Cock then put me against a wall and gently used the cat on my shoulder, and that felt incredible too. He made sure to do it very lightly, and it was almost sensual, demonstrating that the Cat can deliver stinging impacts as well as soft caresses. I was in nirvana.
He then bent me over the table and actually flogged me to an incredible orgasm, one that had him rushing to hold me up as my legs almost gave way. I loved my first session with the Cat, and it wasn't long before sub'r' got to enjoy it too, this time in a proper dungeon environment and it has the same effect on her.
The sharp painful sensations couples with softer more sensual ones soon had her very wet and aroused. She was actually forcing her backside out to meet the cat as she was enjoying it so much and she too experienced an orgasm from it that left her with legs of jelly too.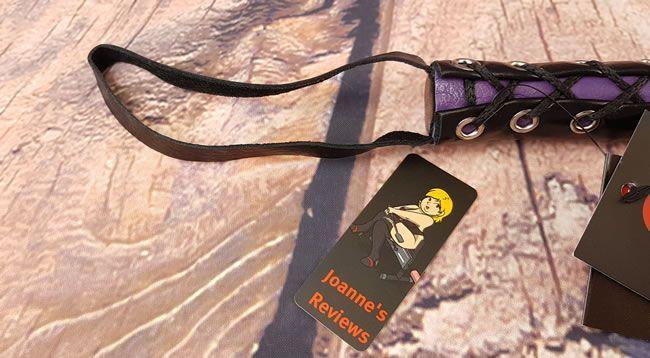 The leather loop on the handle is useful for storage and also when swinging the cat o nine tails
This is what sub'r' had to say about it:
"I loved the feeling of the fronds caressing my skin as it hit home and the sharp painful sensations that it provides feel amazing. This is a toy for use when you are nice and warmed up, and it takes things to the next level in terms of pain and pleasure. I absolutely love being on the receiving end of it and always end up pushing my backside out towards it wanting more and more. I love the intense feelings that it delivers and I was really surprised at how gently it can be used or it can be swung hard for some delicious pain play."

sub'r'
The Ariadne Hurt Me Cat-o-nine Tails from @MEO_TEAM provides delicous sensations during impact play and it looks amazing too.
Click to Tweet
Key Features
Key features:
Quality two tome leather construction
Narrow handle, ideal for smaller hands
Nice weight
Laced handle provides good grip
Ideal for more advanced play or for beginners
Final Thoughts
This is an impact play toy that I have really enjoyed getting to know. Both sub'r' and I love it. It is incredible the range of sensations that it can deliver from gentle caresses to stinging blows that take your breath away.
It generates some lovely marks that you can wear with pride after a session with it. This is a BDSM implement that we will continue to use as it is just so versatile and that for me is its finest quality.
It is a toy that is ideal for anyone no matter their level of experience, and it will leave you wanting more.
I was sent the HurtMe: Cat-o'-Nine-Tails Ariadne From Meo.de and I would like to thank them for giving me the opportunity to review it for them.
Joanne's rating
Where Can I Get One From?

Grab one of these fantastic Ariadne Cat-o-nine Tails from Meo.de for just 99,00 € (£87.15 at todays exchange rate). While you're there be sure to check out their other impact play toys as they have a huge collection that all look amazing.
Check them out and don't forget to tell them that Joanne says "Hi".
---
---
Disclaimer - I was sent the HurtMe: Cat-o'-Nine-Tails Ariadne to review free of charge and this has in no way affected the outcome of this review. This post contains affiliate links and if you purchase something when you follow one of these links I may receive a small commission at no cost to you. For more information check out my disclosure page.