Follow Deviant Designs
Before I talk about his latest creation, check out his work on his site, social media channels and of course on PornHub for some kinky examples of his creations working:
I love seeing kinky minds at work, and the way Deviant Designs blends kink, BDSM and tech together using commonly available components and some high-tech savvy are impressive. He produces some amazing creations that are often things you would never even think of, and they all deliver kink in fun ways that excite and titillate at the same time.
I have been following his work and projects for a long time. Most of them are way out of my league in terms of doing something similar, as he is, after all, an evil genius. But every once in a while I see one of his projects, and I think "Yes, I may be able to do something like that". That is what happened recently when he showed off his Gas Mask Cunt Sniffer (NSFW Video).

Clips from the Deviant Designs Porn Hub video about the Cunt Sniffer Box
I loved it, the combination of the humiliation of smelling your sex as you get more and more aroused coupled with the restraint aspects of it all and breath play too is a heady combination.
So I decided to have a go at designing something similar to use on myself and of course the lovely sub'r'. As well as acting as a clamping sniffer box, I wanted to take the concept a stage further and add e-stim into the equation. After all, adding some delightful or tortuous e-stim sensations in with the effects of having your labia spread wide and clamped would have me very wet in no time.
So, I am going to get hold of two hoses, so that I can have the option of adding a box between the cunt sniffer box and my gas mask, as well as to make the hose longer too.
I may also design a smell box to sit between the two hoses, but that will be a project for a later date.
I am about halfway through my own design, and here it is so far.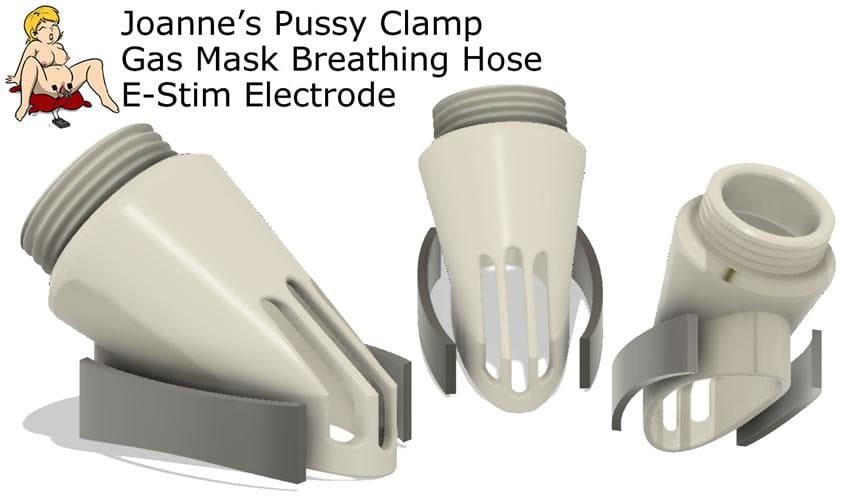 My design for an E-stim Cunt Sniffer Box which is about half done now
The design is coming along nicely but it's such hard work. I have no formal training or qualifications in designing things using 3D CAD modelling software. My limited skills are completely self taught with the aid of some fantastic Youtube videos. So while a design like this may take a professional a couple of hours to work out. So far this one has taken me two days and will likely take as much time again to finish off the hard parts which are the clamping mechanism and turning it into a bipolar e-stim electrode.
The finished design will hopefully feature:
A contoured base to fit the female form
Rounded edges for comfort
Three slots for air to be drawn through over the exposed pussy
40mm thread. I will turn this into a female thread instead of the male shown in this pic
Two conductive rubber electrodes fitted to the clamp arms.
I will keep tweaking things and of course, will let everyone know when I am ready to print one out to use it.
If you find this kinky project interesting then check out some of the other fantastic creations from Deviant Designs, his work is incredible and an inspiration to me. So check out his sites and show him some love, tell him Joanne sent you.
UPDATE 2nd April 2020
I have now finished the design and I am quite proud of myself. The labia clamps were a pain in the ass to design but they feature easy to remove 6mm Conductive Rubber strips. This makes cleaning or exhange of them a very easy matter. So without further ado, here is the finished design. I just need to print one out and then see how it performs.

My finished design for an E-stim Cunt Sniffer Box
It looks like @_DeviantDesigns has inspired Joanne again to design another exceedingly kinky creation.
Click to Tweet