Quick Links:
How Does It Work?
It basically functions as a penis enlarger that you can use while stimming. The penis is inserted into the cylinder through a seal. Air is then pumped out of the cylinder forming a vacuum which causes blood to be drawn into the penis, increasing both its length and girth.
It features an e-stim sound electrode and you can adjust the depth of the sound when the vacuum isn't present. You can guide the sound into your eurethra when you are hard, or you can insert it when soft. Soft is best though as this way, as your cock swells, the sound will be forced down your urethra.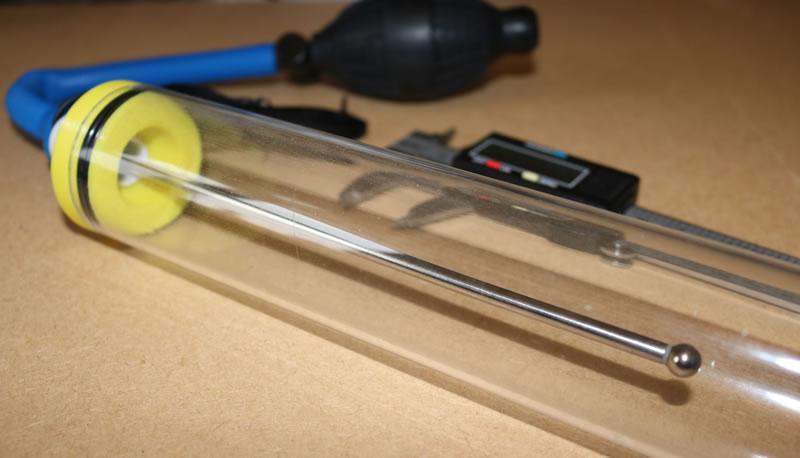 I had a lot of fun making this electrode and it is very intense
You get the pleasure of feeling your cock harder than ever before coupled with the joy of sounding. Plus as it is an electrode in your cock, you can also add a third dimension to the play in the form of e-stim sensations.
You have the option of using either a bipolar sound or a monopole one. The main difference being a bipolar sound allows you to stim a precise portion of your penis. While a monopole sound will require an external electrode to form the circuit, maybe a butt plug, cock loop or a single pad style electrode.
Key Features
Key features:
Vacuum pump acts as a penis enlarger
Allows the use of a monopole or bipolar e-stim sound
Adjustable depth of sounding
Easy to build and strip down for cleaning
I would recommend it to:
Advanced e-stim players
Any stimmers who enjoy sounding
Any stimmers looking to try penis enlargement
Any stimmers with basic DIY skills
I wouldn't recommend it to:
Anyone new to e-stim
Anyone who isn't into e-stim sounding
Hygiene and Safety
Before I go on, I want to talk about hygiene and safety as if you get a deep urethral infection, it can be hard to treat. I, therefore, recommend that you don't do deep sounding but concentrating near the tip of your cock.
Firstly here comes my cop-out. Understand the risks of sounding and of e-stim before trying this type of electrode! It isn't really for beginners, if you follow my build notes, you do so at your own risk.
This design has a removable cap on the cylinder, and this makes it much easier to clean than some commercially available vacuum sound electrodes. You can also entirely remove the electrode to give it a deep clean.
You should clean the electrode thoroughly before every use and use an 80%-90% alcohol bath to sterilise it.
Only use sterile lube when sounding. As soon as you open a bottle of lube, it is no longer sterile, so get hold of some of the small sterile lube sachets and use only those when sounding.
Wash thoroughly before sounding as you don't want to drag germs into your urethra as you insert the electrode. Using an alcohol wipe around the entrance to your urethra is advised.
Remember cleanliness is next to godliness when sounding is concerned.
Check your sound thoroughly before use for damage or any scratches as the urethra can be damaged easily with sharp objects.
Vacuum pumping also carries risks, never apply too much of a vacuum to your penis and release the vacuum regularly. You can use a silicone cock ring to help keep your cock hard after you release the vacuum but put it on before you start.
Caution - Never attempt to unlock the clamped sound to adjust its depth in your penis with a vacuum in place. This is important as it could cause the sound to penetrate deeper than you want under the vacuum. So, always release the vacuum before adjusting the sound.
Parts List
OK, so if you are still keen on the idea of sounding and pumping, then read on.
To do this project, you are going to need a few bits and bobs. All of which can be sourced through e-bay or amazon. The only exception is the cap for the cylinder, but this is where I step in.
I have designed a cap using Fusion 360 that you can download and get printed somewhere like Shapeways if you do not own a 3D printer. Or, I can print one out for you.
You can do without the printed cap if you modify an off the shelf penis enlarger. The problem with these is that they seem to all have the pump attachment in the centre of the cylinder. This makes it challenging to mount the electrode in the centre, which complicates things. That is why I opted to use an acrylic tube and a 3D printed cap as that gave me the most flexibility.
For a vacuum sounding electrode, you need these essential components.
- A clear cylinder for your cock to go into - £9.99 from eBay
- A seal for the bottom end to prevent air from getting in - eBay (used the ones in the kit below)
- A vacuum pump to remove the air from the cylinder - £8.99 from eBay
- A sounding electrode (this can be monopole or bipolar) - £10.44 from eBay
- A means of sealing the electrode in the hole in the cylinder to prevent air from getting in, I used a cable gland - £1.99 from eBay
- A method of attaching the hose from the pump to the cap - £2.09 from eBay
- Two silicone 'O'-ring seals for the 3D printed lid to seal it in the cylinder - £3.56 (for 10) from eBay
- 3D printed cap for the cylinder. You can, of course, make one out of anything really but I wanted a neat solution - Me
Total Cost: £37.06 (plus the cap I printed) which isn't bad. Obviously if you get sounds from places like E-Stim Systems or Electrastim it will cost more (but would be better quality).
Note: For items 2 & 3, I found it cheaper to buy a cheap penis enlarger from eBay and cannibalise the seal and the pump.
---
The Build Process Steps
Step 1 - Buy And Collate All The Bits
Get all the bits together before you start building your vacuum electrode.
Having all of the bits laid out in front of you will help you to understand how it goes together. The cylinder cap can be one of my 3D printed designs or just a flat sheet of plastic or perspex. You can drill the hole for the cable gland and a hose coupling.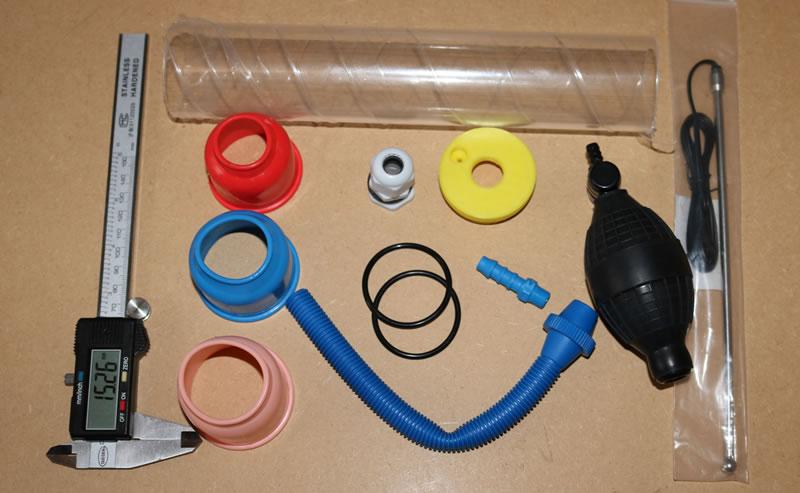 You don't need much to create one of these e-stim electrodes
Step 2 - Trial Fit The Cap
Before rushing and assembling everything, first, check that your cap fits your cylinder. Manufacturing tolerances means the cylinder you get may be slightly different from the cap size. In which case, you may need to sand the cap to make it fit smoothly.
Trial fit the two seals in the cap and install the cap with the seals to the cylinder. You should see a nice tight seal line (shown in the red circle in the image below). If everything is right, then seal your cap with some paint, nail varnish or anything else that you can use to close any tiny pores in the plastic. You only really need to do the upper edge and sides but in practice sealing all surfaces is best. I spray painted mine.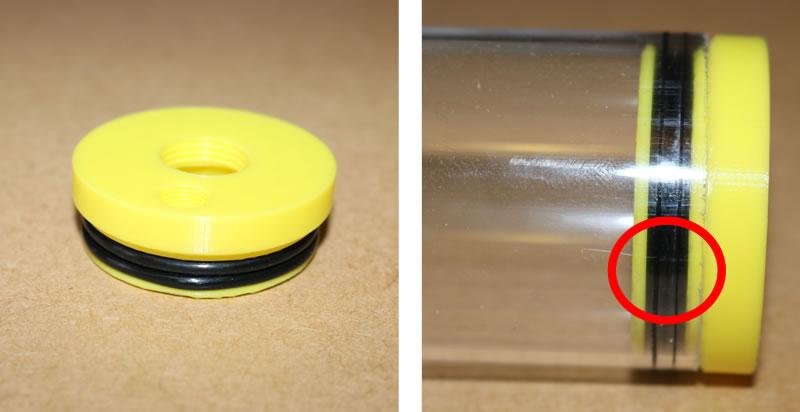 Fit the O-rings then trial fit to ensure you get a good seal
Step 3 - Install The Cable Gland And Hose Fitting
Once the lid is sealed, then fit the cable gland to it and tighten it down against its seal. You can then trial fit your sound electrode to make sure it fits, and you can lock it in place. I used some silicone sealant on the threads of the cable gland to ensure an airtight seal. The cable gland comes with its own rubber seal but it makes sense to take extra steps to ensure a good seal.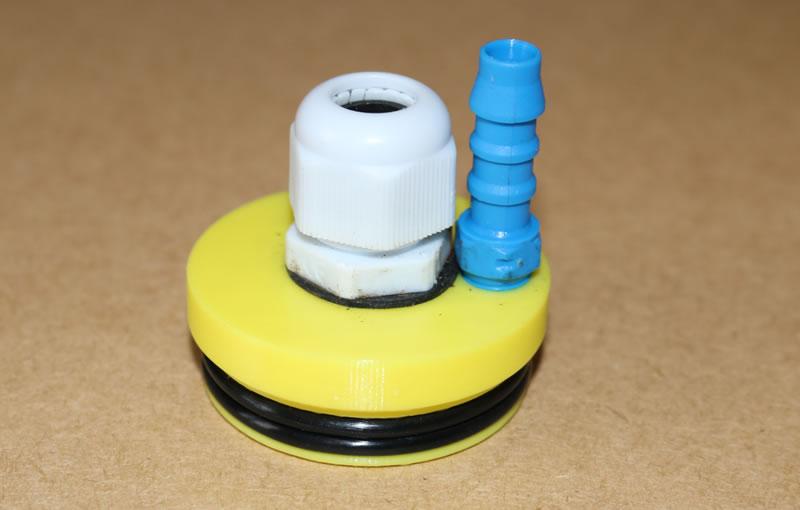 Fit the cable gland and hose fitting using some sealant on the threads
In my inital prototypes I had a hose fitting incorporated into the cap but when 3D printed it had a tendency to be a weak point and so instead I created a hole with an internal thread to accept a nylon fitting, these are really cheap and much stronger.
They look close together and they are but they still work perfectly. This acrylic tube only has an internal diameter of 46mm, a larger cylinder will have more room on the cap.

Test fit your sounding electrodes in the cable gland to make sure they seal properly, I am using two bipolar ones
Step 4 - Fit The Penis Seal To The Cylinder
Fit your seal to the base of the cylinder and try it for size. If it is too tight, you may need to trim it a bit. Don't have it too tight as when your penis swells with the vacuum you still want the blood to flow correctly.
You may find that warming the seal in hot water makes it easier to fit over the cylinder. Most seals are very soft and stretchy though.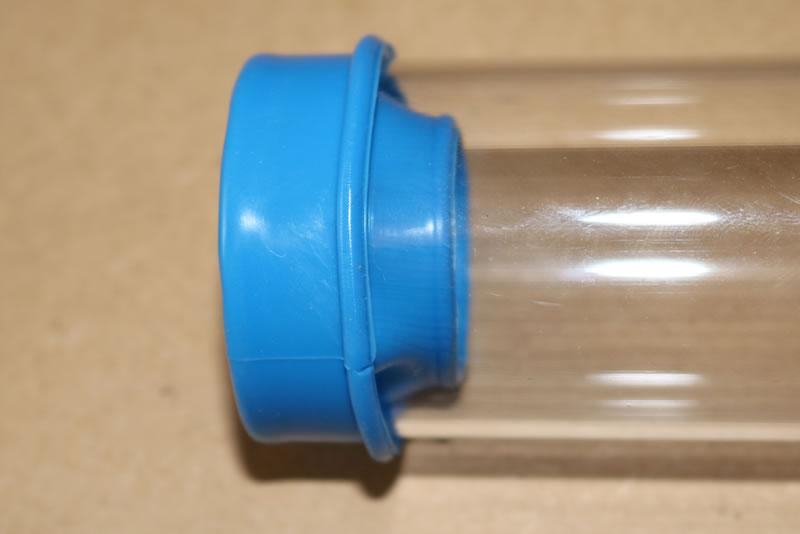 Fit the penis seal to the cylinder, the cheap pump I bought from eBay came with three different sized ones so select the best fit
Step 5 - Fit The Cap To The Cylinder
Now you have your seal fitted you can refit the cap to the cylinder. Ensuring that both of the 'O'-ring seals don't get snagged as you fit the cap to the cylinder. You may find some water-based lube helps to install the cap in place.
It doesn't need locking in place though, as once you get a vacuum, the atmospheric pressure will hold it tightly in place.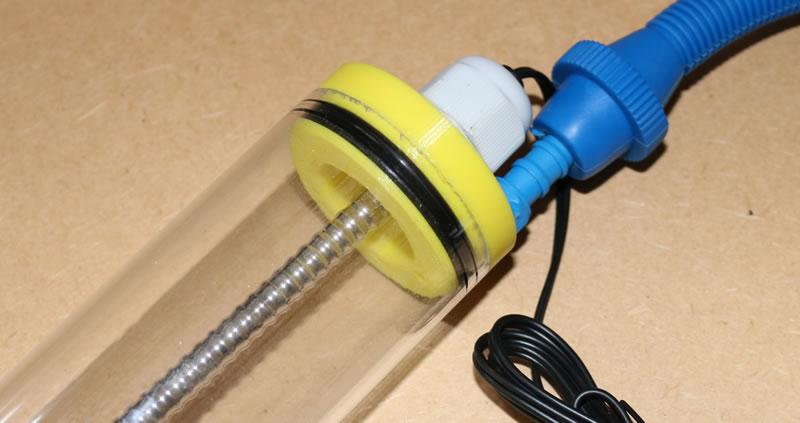 Fit the cap to the cylinder and you are virtually finished
Step 6 - Fit The Vacuum Pump
Fit the hose from the vacuum pump to the adaptor fitted to the cap. Make sure it is securely installed and then test that you can create a vacuum. If it isn't a good seal, you can use some more silicone sealant to get it to seal correctly.
Check for a good vacuum before sticking your happy chap inside. Just wipe some lube around the base of the seal and place the cylinder on a smooth surface. Operate the pump, and the cylinder should stick in place as the vacuum is formed.
Tiny leaks are not a problem as in use; you can use the pump again. Once you are happy, then release the vacuum and remove the electrode from its holder.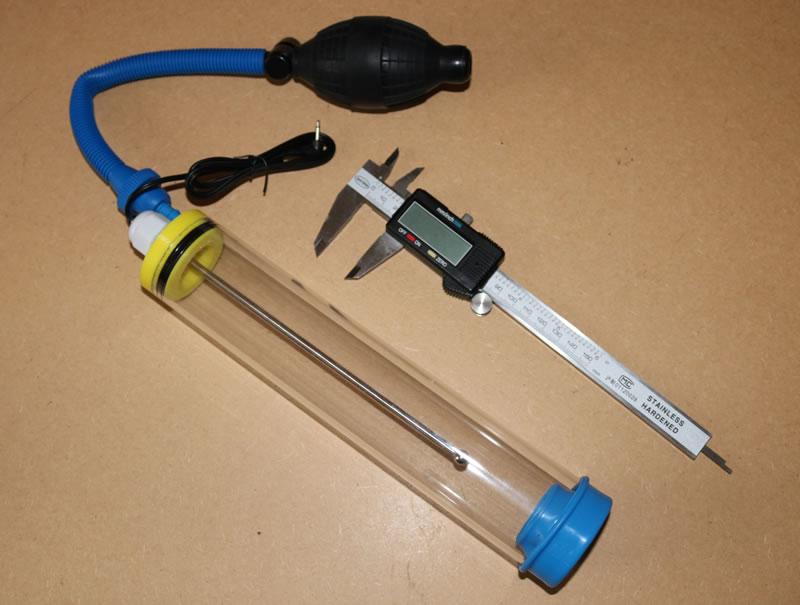 Once you fit the pump you can test it and then get ready to pump and stim
Step 7 - Go For It
Remember to clean the electrode thoroughly as well as your happy chap too.
Fit the electrode into its holder and adjust it to where you want it to be. Attach the wire/wires and if need be, attach a second electrode to your body if you are using a monopole sounding electrode.
Apply some sterile lube to your cock and the end of the electrode.
Slowly insert your penis into your new contraption and get the tip of the electrode just inside your urethra.
Now before even thinking about stimming, slowly start pumping. Do it slowly over time and watch your cock go harder and harder. As it does so, you will see and feel the electrode pushing deeper into your penis as your penis swells and grows in size.
Remember, you can remove the vacuum and adjust the height of the electrode if you need to, but take things slow and steady.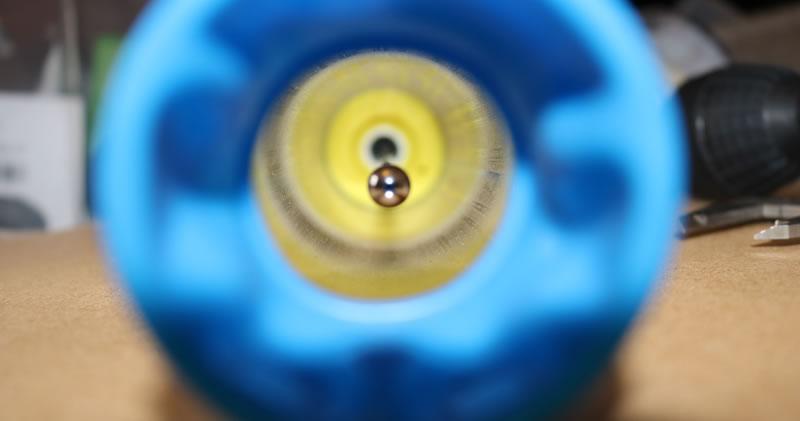 Remember to remove the vacuum when making adjustments to the sounding electrode
Caution - Don't adjust the length of the electrode with a vacuum in place. As that can cause it to move down further into your penis. Always release the vacuum before adjusting it.
Step 8 - Start Stimming
Once you are hard, you can switch on your e-stim control box and very slowly turn up the power. Go slow, especially on your first session. Take breaks from the vacuum often, once hard you don't need it anyway unless your cock starts to soften in which case you can pump again.
The sensations that you will get can be very strong, so be sure to select a gentle setting for your first vacuum sounding session. You can get more adventurous when you are confident in your new creation.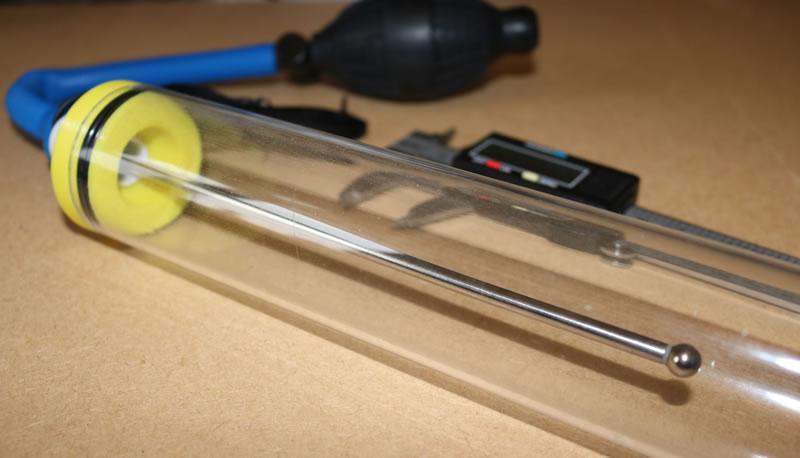 I had a lot of fun making this electrode and it is very intense
Care must be taken to clean electro sounds correctly, so check out my E-Stim Urethral Sounding Safety Guide for advice on cleaning and sounding safety in general.
Check out Joanne's step by step guide for making a DIY Penis Vacuum Sounding Electrode for some very kinky e-stim fun.
Click to Tweet
Conclusion
This electrode project combines the pleasures of sounding and vacuum pumping to create an electrode that can deliver some exquisite sensations.
This is the basic model, with very simple features, next I plan on making a version with automatic suction and a cyclinder with measuring guides.
In total, I built this for just £37.06 and I have some spare bits left over for another project.
---
I would love to hear any feedback from anyone who has made one (pictures are a bonus).
If you liked this article and project, then please come back soon for more kinky e-stim DIY projects. If you found it useful, then please consider buying me a coffee.
Disclosure
Disclaimer - This post contains affiliate links and if you purchase something when you follow one of these links I may receive a small commission at no cost to you. For more information check out my disclosure page.