I didn't have to wait long, and my new harness arrived quickly and very well packaged under plain cover. I was more than happy with the delivery service and timeline.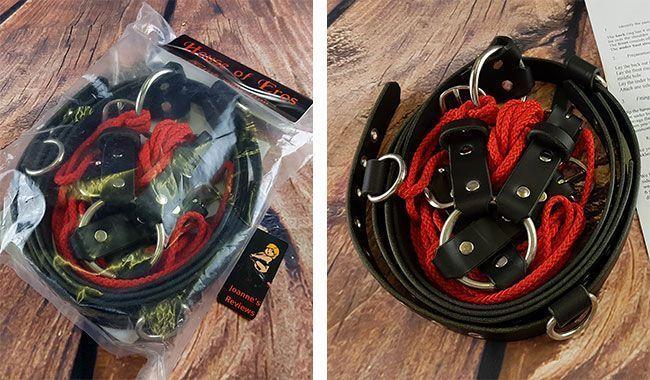 This harness arrives all folded up in a plastic pouch
Now onto the goods themselves. Upon opening the box, I found the Harness secured inside a plastic pouch with a cardboard header. I quickly took it all out of the bag and laid it out in front of me.
My first thoughts were "bloody hell, how does this go together"? But the instructions included are clear, and I soon had all the different parts identified, and I worked out how it all went together.
I quickly fitted the leather straps to the rear four-point metal ring and its four buckles. I fitted the harness over my mannequin to take some quick pics, and I was surprised at how thick the leather is. This is a serious harness, and the leather smells and feels divine.

While it looks difficult to put together it certainly isn't
The harness consists of three main assemblies, and these are the waist strap that as its name suggests goes under your boobs but over your waistline. It features three metal 'D' rings that are used for the rope harness and these sit either side of your breasts, and the centre one is aligned with your cleavage.
The four-way metal ring and buckles go at the back of the harness, and the two straps of the waist strap are attached to it. The third section is a large ring which sits between your cleavage, and this has two leather straps that go over your shoulders and connect to the other two buckles at the rear of the harness.
This just leaves you the rope to thread between the front ring and the three 'D' rings on the waist band, and this is where my skills are definitely lacking, and so I apologise of the pics on the mannequin. It was only when Stunt Cock fitted the harness to sub'r' that I got to admire the harness in all of its glory as he is so much better at ropework than I am.

I know my ropework is crap but you get the idea, this is a harness you can customise yourself
This harness comes in three sizes, small, medium and large. This one is the large, and we could have definitely got away with a medium as it is huge. It is also available in two colour choices. Black leather with black rope or this option which is the black leather and red rope. This harness will pretty much fit anyone, and that is great. The leather is really thick, and when you are wearing it, you definitely know it's there against your skin.
The metal fittings are stainless steel and of excellent quality. The buckles are fantastic, and there is a leather loop near each buckle to control the lay of the strap to keep everything looking neat and tidy.
The two metal rings are large, and they form a focal point for both the design of the ropework and your eyes, that is if you can tear your eyes away from the breasts highlighted by the ropework.
I love the combination of leather, metal and rope. It's a combination that works on so many levels and both looks and feels fantastic. The beauty of this harness is its infinite range of designs and sizes that you can make with it. Indeed it is just up to your imagination as to what you do with the ropework, and I now want to use two colours of rope to create a thing of beauty indeed.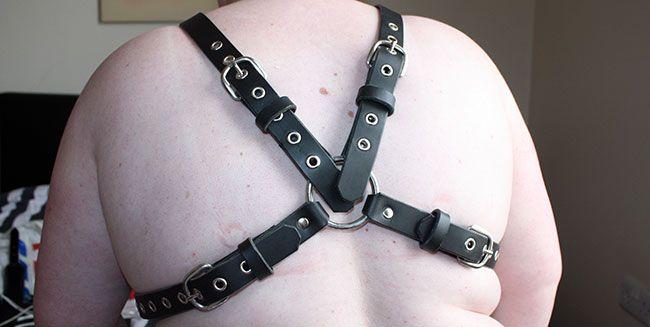 The leather on this harness is thick and excellent quality, the metal fittings are also first class
It works best as a breast binding harness with rope completely surrounding the breasts, and you can then tighten it up to apply the required pressure around the breasts.
We had been using it as a standard harness though when these ropes were tied as sub'r' had tender breasts that day, probably from a previous kinky encounter with Stunt Cock. So these pictures show it bound like a rope harness and not for breast binding.
From a submissives perspective actually fitting this harness and doing the ropework is probably one of the sexiest things that I have experienced.
The feeling of the leather straps being tightened against your skin followed by the rope sliding against it as you are bound into the harness never fails to get my juices flowing.
It was the same with sub'r' when fitting it to her, you could see her excitement build and listen to her breathing change as the rope harness was tied. She got hornier and hornier as Stunt Cock did his work on her and you can always pretty much guarantee to get her very wet when playing with leather and ropes.
Finally, when Stunt Cock had finished, we stepped back to admire his work and as I am sure you will agree this is a harness that looks amazing. Its very nature means that it is something that will keep evolving over time and when we let sub'r' look in a mirror the smile that crept across her face was infectious. She looked amazing, and she was so horny, needless to say, Stunt Cock took advantage of that, and it was the start of a very long and hot BDSM session where she ended up very satisfied.

The House Of Eros Leather And Rope Breast Binder is a harness that you can make your own and it feels great
Check out the amazing Leather and Rope breast binding harness from House of Eros at @ForbiddenPlsurs.
Click to Tweet
Key Features
Key features:
Three sizes and two colour options available
Quality thick leather used on the harnesses
Quality stainless steel fittings
Nice rope included for breast binding
Final Thoughts
I love this harness, the three size and two colour options mean that you can createa something to fit anyone's style. The quality is superb, and I was really impressed with the thickness of the leather.
This is a harness that you can personalise to your own style depending on how you want to play, and it is very sensual having rope pulled across your breasts and nipples as it is fitted to you.
The leather harness also makes for a superb love handle when having sex doggy style and you can indeed hold on and thrust as hard as you like with your partner in this harness. It's something that I know sub'r' will be wearing at every opportuntiy, and she has even worn it in a swingers club where she turned lots of heads while putting her best assets forward.
I have no problem in giving this harness a strong recommendation and the service I received from Forbidden Pleasure was second to none.
I bought the House Of Eros Leather And Rope Breast Binder to review it for Forbiddem Pleasures.
Joanne's rating
Where Can I Get One From?
Grab one of these fantastic House Of Eros Leather And Rope Breast Binder Harnesses from Forbidded Pleasures for just £62.00 as it's on sale at the moment with the normal price being £76.50, so grab a bargain while you can.
Check them out and don't forget to tell them that Joanne says "Hi".
Disclosure
This review does not contain affiliate links, for more information about affiliate links check out my disclosure page.