These snap hooks do not come with a certified safe working load and so they are not technically rated for suspension. They are however ideal for use with things like hog ties, if you need to add a bit of extra length to a restraint.
They are also good for attaching wrist or ankle cuffs to anything with a loop on it. I have enjoyed using them to secure my wrist cuffs to a motorbunny ride on sex machine (review coming soon). Lets just say that they have passed the squirting test with no signs of rusting, which is hardly surprising as they are made out of Stainless Steel by Rimba.
I can attest that they are also ideal for attaching an anal hook to your wrist restraints (it's a long story and I may tell it one day).
The finish on them is very good with no sharp edges at all with the smooth action makes them very easy to fit even when just using one hand.
I find the sound of a snap hook being clicked into place a huge turn on if I am blindfolded and these do not disappoint. They are solid pieces of kit and I have no doubt that one could hold my weight but you shouldn't use them to support yourself.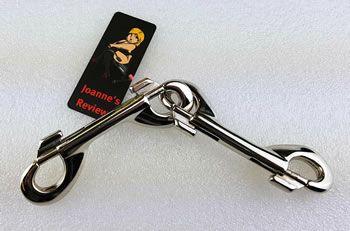 I am quite inventive and actually use them for lifting very heavy carrier bags. Kinky shopping - there's never a dull moment around me. You can clip each carrier bags handle into each side of the clip and when you lift them the bags dont dig into your fingers if they are heavy. I must look a right sight in my local ASDA carpark.
What I am trying to say is that their use isn't just confined to the bedroon or dungeon. They are very usefull and no-one would know that you like to get your kink on if they see them.
They do what they are designed to do and they do it well. This is probably my shortest ever review as there really isn't that much more to say about two chunks of metal. Suffice to say that I like them and use them a lot.
Joanne enjoys using her double snap hooks from House or Eros in ASDA - kinky girl.
Click to Tweet
Key Features
Key features:
Solid metal construction
Double snap hooks
Not suitable for suspension play
Simple and very effective
Easy to operate one handed
Final Thoughts
I really like these snap hooks and I use them all of the time, not just whilst being restrained and punished by my Dom. They are easy to use and very reliable and I am still finding new uses for them and no doubt I will continue to do so. Even my vanilla friend commented that they were a good idea and when asked by her where I had bought them from I had to tell her my hubby bought them. If you are looking at adding to your restraints equipment and want extra flexibility then these are a great item to add to your kinky collection.
I purchased this set of two House Of Eros Double Snap Hooks in order to review them.
Joanne's rating
Where Can I Get One From?

Grab a set of these double snap hooks from House of Eros for only £11.99 for the pair.
Check them out and don't forget to tell them that Joanne says "Hi".
Disclaimer - I purchased the House Of Eros Double Snap Hooks to review and this obviously has in no way affected the outcome of this review. This post contains affiliate links and if you purchase something when you follow one of these links I may receive a small commission at no cost to you. For more information check out my disclosure page.