Delivery & Packaging
As always, this product arrived from Hot Octopuss in London inside very plain packaging which carried no indication on the outside as to what lay within.
It's important to be able to trust a company when you are having something sensitive delivered, and I can assure you that Hot Octopuss take customer discretion very seriously.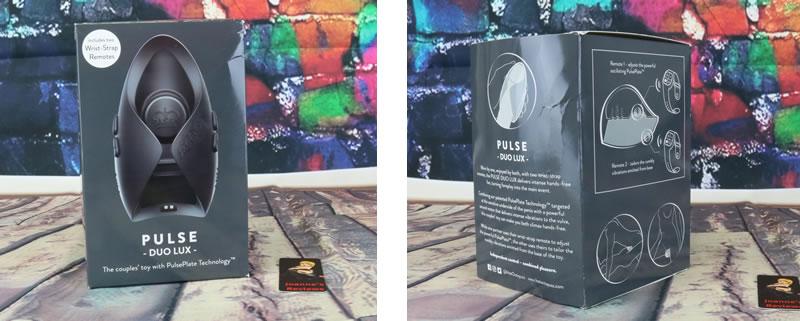 I love the packaging designs used on Hot Octopuss products, they look so good
I love the packaging of Hot Octopuss toys, the box itself carries a wealth of information that would allow anyone looking at it in a brick and mortar store to make an informed decision as to whether or not it was the toy for them.
Inside the box, you will find the Pulse Duo Lux, a handy branded silky drawstring bag, a set of instructions and two wrist-mounted remote controls. All fantastic quality as you would expect from an industry leader like Hot Octopuss.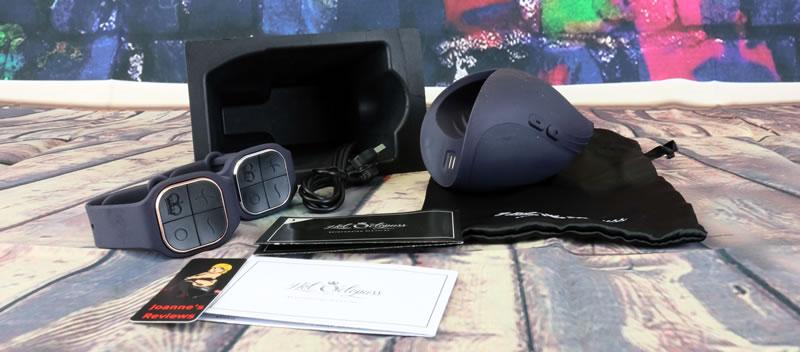 Everything arrives well packaged and I love the draw string storage bag it is exceptional quality
Materials and design
The Pulse Duo Lux is the latest generation of the very popular Pulse line of guybrators from Hot Octopuss. In fact, the Pulse is the original guybrator. We enjoyed reviewing the Pulse III Duo and love the idea of remote controls for this new iteration.
You get two remote wristwatch style controls in his, and hers colours, these being silver and rose gold trims. The watch straps are made from silicone and use a simple pin to lock them in place. They are both comfortable and a godsend when it comes to operating the Pulse Duo Lux when playing together as a couple.
On each control, there are four buttons, and they are powered by a CR2032 battery (included) which is easy to access when it comes time to change it.
These four buttons are very tactile and large. The icons are raised, which means for anyone with eyesight issues, or when simply playing in the dark, you can easily work out which is which.
The top two buttons "+" and "-" control the eight power levels. The crown button operates a boost mode giving you extra power when needed. The fourth button is an "O" and this cycles through the patterns as well as turning the toy on and off again. These controls are the same on each remote.


The wrist mounted remote controls are functional and very well designed making them easy to use
The Pulse Duo Lux itself is a large toy with flexible wings that wrap around a penis; the right one carries the Hot Octopus logo. It sort of looks egg-shaped with the top half open. In this opening, there is the pulse plate which carries the Hot octopuss logo. This pulse plate is what makes these toys so good for guys, and when I say good, I mean really gooooooood.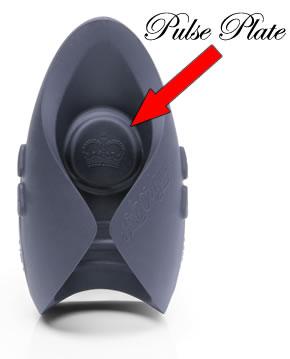 You can use it hands-free if the girth of the penis allows the wings to grip it if not then holding it in place is effortless, and that also allows for small changes in position to be made easily.
It doesn't vibrate; it pulsates up and down delivering deep rumbly sensations to the area around the frenulum. However, this action of the pulse plate is quite noisy compared to something that just vibrates, such as the JETT.
The Duo has four buttons, two on either side of the main body. These light up blue when in use and they look great in a dark room. The right-hand side has the power up and down buttons that allow you to cycle through the eight levels. The two buttons on the left are the boost button and the power/pattern buttons.
The body of the Duo is covered in medical grade 100% body-safe silicone. This means it is non-porous and both latex and phthalate-free.
It is incredibly easy to clean as it's waterproof, so just use warm water and soap or an anti-bacterial sex toy cleaner. One point to note, though is the remote controls are not waterproof, so take care when cleaning them and don't take them into the shower.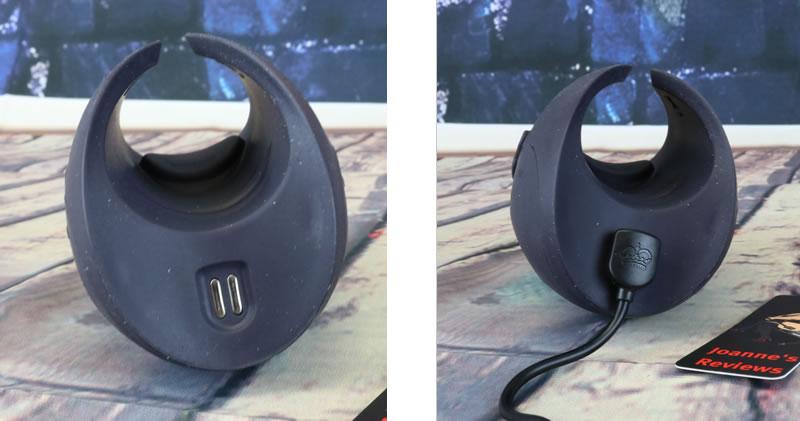 The magnetic charging system on the Pulse Duo Lux is one of the best I have come across
The base of the toy has two metal strips that the USB magnetic charging lead snap to. Now often this type of connections are weak, and they are always dropping off, but I am pleased to say this one is amazing. It has a very strong magnet that holds it in place well.
During charging, a red light on the charging cable lights up, and this light turns green when it's fully charged. This is an excellent feature. A three-hour charge will give you around an hour of playtime and believe me, that is more than enough time with this toy.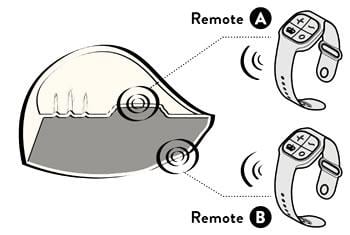 The main difference between the Pulse Duo Lux and the Pulse Duo Solo is that fact that the Duo also has a vibrating motor on the underside designed to stimulate the clitoral area of a partner. In use, it can be used by two penis owners though so don't just consider this a toy to a male/female couple.
When playing as a couple, the Pulse Duo is placed around the penis and then pushed up against your partner. Suggested positions are missionary and also having your partner ride and grind against the vibrating surface.
Playing with it this way makes the remote wrist controllers essential as the buttons on the Pulse Duo Lux are hard to reach. The wrist controllers allow either partner to finely tune their own experience. For added fun, why not swap controls and tease your partner as you play. We often do that, and it is so much fun edging each other.
Performance
The Pulse Duo Lux builds on the incredible reputation of this line of sex toys; in essence, it's easier to use while still being just as effective as its predecessors.
The first test of it was with Stunt Cock taking matters into his own hands, so to speak while I looked on. He placed his cock in it and switched it on, a smile immediately appeared on his face as the pulse plate reverberated against his banjo string. He commented after cranking up the power that ist seemed more powerful than the Pulse Duo we had previously reviewed. He was correct; the Pulse Duo Lux can reach speeds of 4,450rpm as opposed to 3,950rpm on the old model. That is a huge increase in power, and it feels great in use.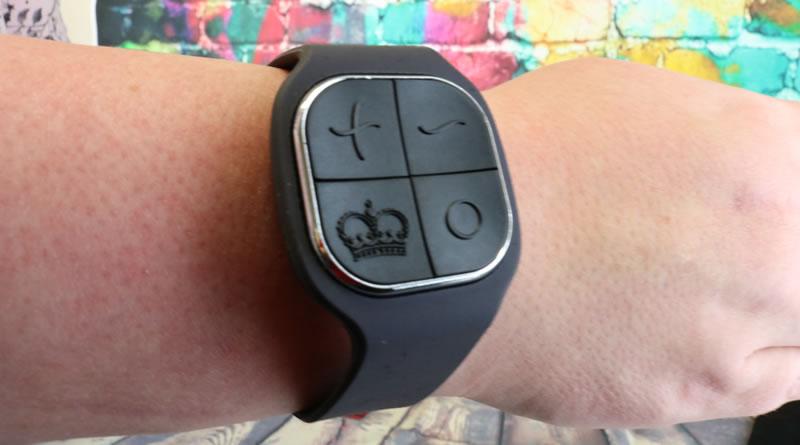 The wrist mounted controls are simple to use
The wrist-mounted controls are not needed for solo play as let's face it your hand will be down there anyway holding it where you want it. To use a remote, you would have to remove your hand to do so. But, that said they come into their own when playing together as a couple.
I watched as Stunt Cock got harder and harder as the pulse plate worked its charm on his erect penis. After about five minutes, I was delighted by the sight of him, ejaculating all over his belly and chest while panting. He loved it and after a short break so he could recover it was on with some couples play.
For this, we opted for me on my back with the Pulse Duo Lux placed against my clit between my labia. Stunt Cock then mounted me and slid his cock into the toy. We swapped remotes, and he got to tease me while I did the same for him.
I must admit I tried it on my own and the vibrations were quite buzzy and not the sort of thing I usually enjoy, but when used together, it was completely different. I think it was having him between my legs, and his body pressing it more firmly against me as we both teased each other.
The Pulse Duo Lux felt fantastic, and as we experimented with patterns and power levels, I was soon being edged by Stunt Cock (the tease). So in reply to this I hit the boost button sending the pulse plate into overdrive, he did the same, and I soon felt him tense as warm cum shot across my belly.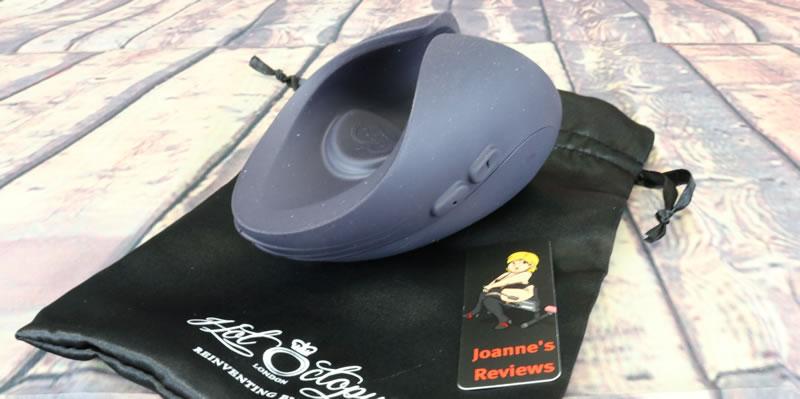 The Pulse Duo Lux looks amazing and also performs very well indeed
This, in turn, got me off as the vibrations buzzed through my clit. We both collapsed satisfied, and we started laughing as it had been so much fun teasing each other.
The next time it was used was with Stunt Cock sat down with the Pulse Duo Lux wrapped around his erection and sub'r' straddling him grinding herself against the top of the toy. I must say that was quite a sight and they were both enjoying themselves. So, being a tease, I took both remotes off them, and I got to edge them both. That is one of the beauties of this design, more than two people can play together, and it is quite a power trip being able to tease two people at the same time.
The results were the same, with Stunt Cock cumming copiously and sub'r' enjoying her orgasm too.
The Pulse Duo Lux is a sex toy with more than meets the eyes. The remote functionality adds an element to couples play and also very enjoyable group play too. They make the toy so easy to control, and having the ability to hand over control to someone else makes this a great toy to experiment with sub/Dom power-play dynamics.
I don't think we are going to tire of using the Pulse Duo Lux in our play sessions any time soon, and that is what sets a great sex toy apart from just a good one. Is it something you will use again and again, for us, the answer is a definite yes.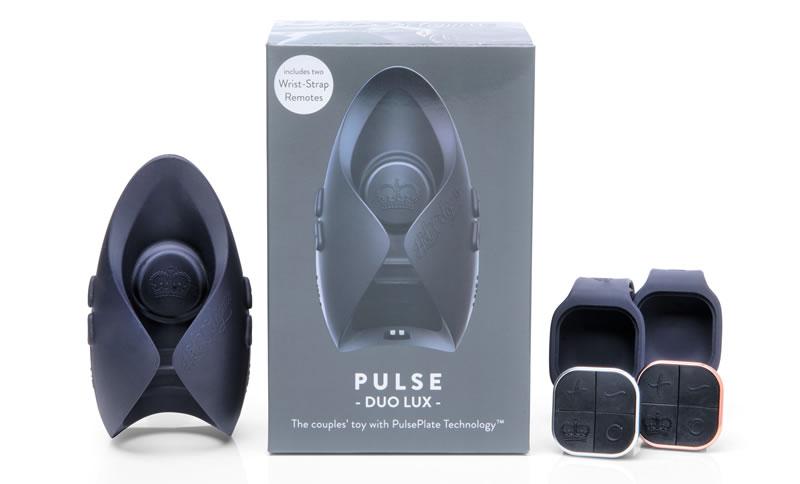 The Pulse Duo Lux is another excellent example of excellent design and engineering
The Pulse Duo Lux delivers couples play with style and panache. Check out Joanne's review of it and see why she thinks @HotOctopuss have another winner on their hands.
Click to Tweet
Key Features
Key features:
Two wrist-mounted remote controls
Powerful pulse plate technology
Waterproof (wrist mounted controllers are not waterproof though)
Magnetis USB charging cable
Solo or Duo use
Boost button goes straight to max power
Hands free use if you have the girth
I would recommend it to:
Anyone looking for a couples sex toy
Penis owners who enjoy intense sensations
I wouldn't recommend it to:
Final Thoughts
Once again, Hot Octopuss has come up with another winner. Being able to use a sex toy with a partner is a game-changer, and the performance of the Pulse Duo Lux is fantastic.
It is a toy that needs time to get the most out of it. For the partner, the position is key, and riding the person with his penis in it is a lot of fun allows you to grind and get the positioning just right.
The remote controls make it so easy to use, and it is a lot of fun to swap controls to tease and edge your partner. Indeed a third person can take this dynamic to a new level of kink and pleasure.
We have had a lot of fun with the Pulse Duo Lux, and it is a fun toy to use together with someone you love or just someone you enjoy playing with.
I can't wait to see what Hot Octopuss come up with next. I have no hesitation in giving the Pulse Duo Lux a strong recommendation.
I was sent the Pulse Duo Lux by Hot Octopuss and I would like to thank them for giving me the opportunity to review it for them.
Joanne's rating
Where Can I Get One From?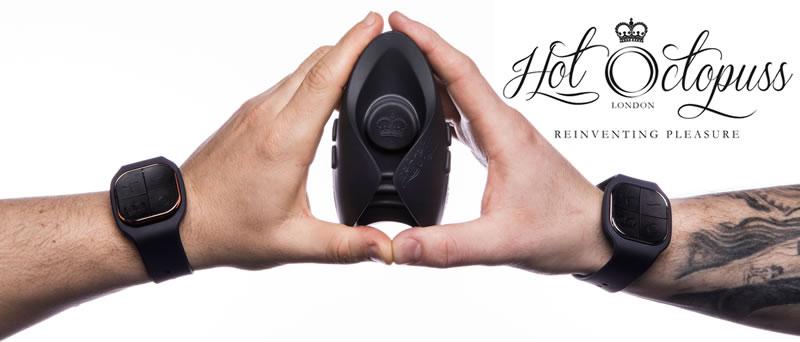 Grab one of these fantastic couples sex toys direct from Hot Octopuss where you can buy an Pulse Duo Lux for £169.
Check them out and don't forget to tell them that Joanne says "Hi".
---

If you enjoyed reading this review then check out my other reviews of Hot Octopuss products:
G-Spot Vibrators
Gender Neutral Vibrators
Couples Vibrators
Penis Play
---
Disclosure
Disclaimer - I was sent the Pulse Duo Lux to review free of charge and this has in no way affected the outcome of this review. This post contains affiliate links and if you purchase something when you follow one of these links I may receive a small commission at no cost to you. For more information check out my disclosure page.