Delivery & Packaging
My package arrived swiftly and discreetly, which is excellent. The packaging and label were very discreet and showed no indication as to the contents. Just because I know what is inside the box does not mean everyone else should.
Once I had carefully opened the package, I had a good look at the box, which shows a good amount of information to inform you about the KURVE vibrator. This was vital back in the old days when you could go into physical shops to browse items. Sorry I just could not resist adding that.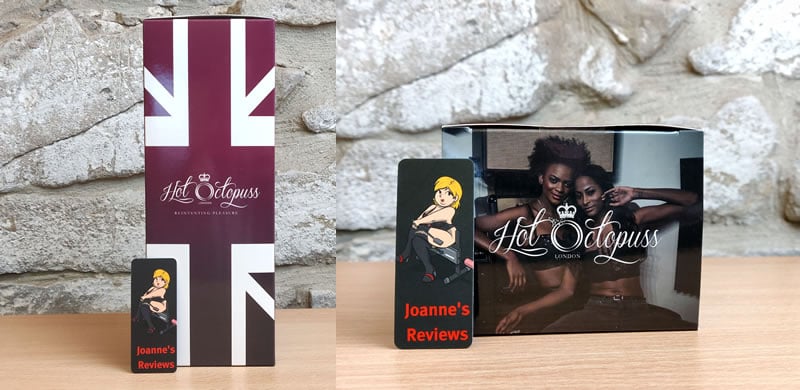 I love Hot Octopuss product packaging, it looks fantastic.
I, for one, am looking forward to seeing items in person before purchasing them once again. Don't get me wrong, I enjoy internet shopping, but some things are just not the same.
The box is well designed, with clear images and text, giving you all the essential information for an informed decision.
Materials and design
The box is securely sealed, so you know if someone has removed it from the pack after leaving the manufacturing plant.
Inside the box, you will find the KURVE G-Spot vibrator and its USB charging cable. A small instruction booklet plus an information booklet with details on materials used, measurements etc. Let me not forget the lovely silky feel black branded storage pouch, which is a nice touch.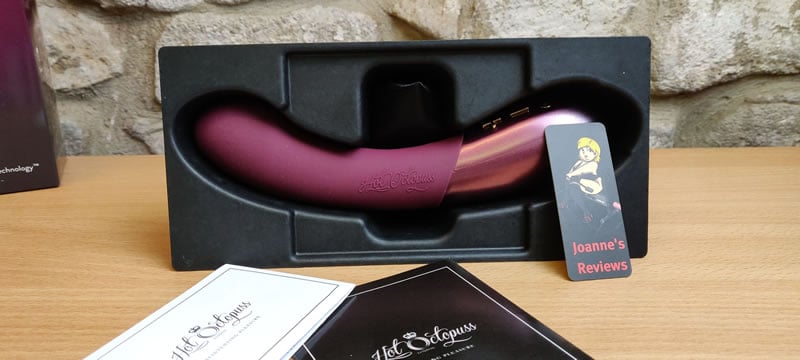 The Kurve arrives securely nestled in its packaging.
The KURVE insertable length is coated in a good quality silicone, with the bottom section being hard ABS plastic. The silicone is a lovely deep purple/burgundy colour and features the Hot Octopus branding.
I prefer silicone insertable toys as they are body-safe, non-porous, phthalate, latex and rubber free. I like to know what I am intentionally putting in my body is safe as well as fun.
The plastic is a shade lighter than the silicone at the join. Gradually getting darker near the base with a metallic look and finished off with silver coloured buttons giving a real quality finish. The whole look and feel make it seem more expensive than it is.
Hot Octopus have chosen the correct name for this vibrator as the curve gives you an easy way to stroke it against your G-Spot. Featuring a slightly more bulbous head that has a soft tip for comfortable use.

The Kurve is the perfect name for this vibe, the shape of it works perfectly with my anatomy.
The buttons are easy to find in use and stand out in height nicely. One side controls one motor, and the other controls the second motor.
Hot Octopus has used two independent motors like some other manufacturers, but they have taken it a step further and made them two different types of motor. This gives you a Treble and a Bass motor. The Treble gives you the quick tingly type vibrations, whilst the Bass produces long deep rumbly vibrations. The best of both worlds in one vibrator, in my opinion. The Kurve also gives you a selection of five patterns to choose from.
The sides are marked with a T and a B protruding near the + button to show you which is which. The controls are easy to operate and differentiated using + and - symbols as their shapes. They are large enough to not only be easily found but to use with your thumb. Each button clicks audibly when depressed, but you may not hear it above any moaning sounds you may be making. There are also two round buttons under the - button; the left one turns off the power and has a protruding centre. The round button on the right has a depressed centre and controls the pattern choice for both motors.

The controls on the Kurve not only look good but they perform flawlessly.
The motors are both whisper-quiet on the lower settings. Although they are slightly louder in the higher settings, they are not as loud as my electric toothbrush though. So your reactions are more likely to be heard before the motors.
The charging pin slides into a small socket in the back with a led light just above it. The socket is kept watertight with a silicone sleeve.
The led is helpful as it glows red when charging, but it changes to a green light when the battery is full.
The fact that the Kurve is waterproof makes it very easy to clean when you have finished playing for now. It also means you can use it in the bath or shower for some very pleasurable "me time".
Performance
Finally, I can tell you about how well it performs and what I think about how it actually feels in the field, so to speak, lol.
Kurve arrived with a partial charge, which meant it took about 1 hour to complete the charging. A totally flat battery will take you around 2 hours to charge.
After first washing in warm soapy water, then rinsing with clean water. I pulled out my favourite Sliquid H2O water-based lube, and I was ready to play. I always use water-based lubes with silicone toys.

The Kurve has sleek lines and the bulbous tip is perfect for g-spot stimulation.
To switch on either motor, simply press and hold the + button for a few seconds. With each motor giving you five separate speed settings, there is a lot to enjoy.
On the lower settings, the motors are whisper quiet. As you turn up the power, they do become more pronounced. To be honest, I would be shocked if they did not. But even with both motors on high, with a closed-door between you and others in the household, they should not be able to hear it buzzing. If you are worried, just have some background noise on.
Both motors are powerful enough to curl my toes in play. I really enjoyed the fact that I can enjoy both a deep throbbing motor and a light buzzy one. Add to that the fact that you can control the speed of each motor individually. And I am in a state of toe-curling bliss. The patterns control both motors, so they work in tandem with each other.
The shape is perfect for easily hitting my G-Spot while still being able to access the buttons. I love the soft part of the head as I rub it in place, but it also feels great against my internal walls and against my clit.
I find the buttons so easy to find and operate in play. The size and shape help drastically with this. The pattern button has a depressed centre, and the power off button has a pronounced centre; this fact meant that I did not mix them up in play.
The motors go from a light tingle or rumble to a much more intense speed at the highest setting. I found it easy to find the pattern that worked best for me. It was also fun and extremely enjoyable cycling through the various options to work out my favourite.
The battery lasts really well, and I had more than enough power for my play session. I enjoyed about four sessions of roughly 30 minutes long on a single charge. Of course, this will depend on the length of your sessions and the power settings used.
I really enjoyed playing around with the speed of each motor. They certainly helped me hit that perfect ending each and every time.
As Kurve from Hot Octopuss is fully waterproof, it is effortless to clean until next time. Once it is fully dry, simply store it safely inside the storage bag supplied.
Conclusion
If you want a silicone vibrator that gives you a decent amount of control over two motors speed. Has two different motor types and looks great, then I do not think you need to look any further.
It works excellently for G-spot play but also feels great against the clit, and my vaginal walls. Do not forget as it is waterproof, you can also enjoy playing in the bath or shower.
The Kurve is effortless to operate and hold, feels great with a good selection of options to enjoy. Add to that the 1-year warranty, and you are in good hands.

The Kurve is a fantastic g-spot vibrator and one I can highly recommend.
Check out Joanne's review of the KURVE g-spot vibe from @HotOctopuss, the Treble and Bass vibes worked really well for her.
Click to Tweet
Key Features
Key features:
Coated in body-safe materials - Silicone and ABS.
Two different types of motors.
Individual speed control of each motor.
Single pattern control for both motors.
Five patterns to choose from.
USB Rechargeable.
I would recommend it to:
Anyone who enjoys G-spot play.
Anyone who wants a powerful vibrator.
Anyone who loves both Treble and Bass motors.
I wouldn't recommend it to:
Anyone who does not enjoy Treble (light tingly) type vibrations.
Anyone who does not enjoy G-spot play.
Final Thoughts
I usually prefer Bass type motors (deep rumbly). I found that the less intense sensations of the Treble motor work better on my G-spot. Plus, the feel of the Bass motor working further down the shaft works exceptionally well.
So I finally know what my Stunt Cock was raving about when we reviewed the JETT. Being able to tune the Treble and Bass motors make it so easy to tailor it to your play style. They work very effectively together, and this is a toy that I will not get tired of playing with any time soon.
This would be a really great choice for your toy box.
I was sent the KURVE by Hot Octopuss and I would like to thank them for giving me the opportunity to review it for them.
Joanne's rating
Where Can I Get One From?
Grab one of these fantastic g-spot vibrators direct from Hot Octopuss for £99, it may sound like a lot but who can put a price on pleasure?
Check them out and don't forget to tell them that Joanne says "Hi".
---
If you enjoyed reading this review then check out my other reviews of Hot Octopuss products:
G-Spot Vibrators
Gender Neutral Vibrators
Couples Vibrators
Penis Play
---
Disclosure
Disclaimer - I was sent the Hot Octopuss KURVE to review free of charge and this has in no way affected the outcome of this review. This post contains affiliate links and if you purchase something when you follow one of these links I may receive a small commission at no cost to you. For more information check out my disclosure page.