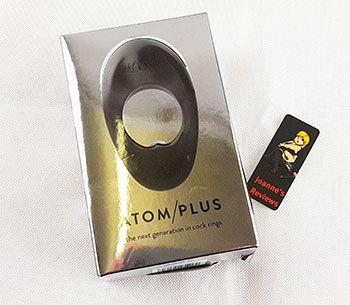 The Atom Plus is the couples version of the well-received Atom Cock Ring. The Atom has just one vibrating motor and goes around just the penis the Atom Plus features two motors and also envelopes the testicles too.
The Atom Plus comes in the usual metallic shiny packaging boxes that Hot Octopuss have made synonymous with their brand. The box looks simply gorgeous, and it whets your appetite for what is held inside, the silver and black looks amazing. You know that with packaging as stunning as this there is going to be something very special held within.
I could hardly contain my excitement when I opened the box and took out its contents. You get the Atom Plus held securely in a black cardboard holder together with a branded drawstring storage bag, charging cable and a set of multi-language instructions.
I love sex toys that come with storage bags as they are a great way to keep the sex toy (especially silicone ones) free from dust and lint between uses.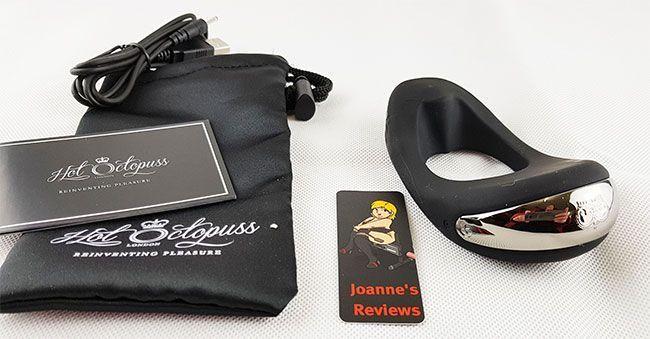 The Atom Plus comes with a nice storage bag and charging cable
As soon as I laid eyes on the Atom Plus a smile crept over my face, my first impression was "WOW, it's huge!". It was a lot bigger than I was expecting but that opened up all sorts of kinky thoughts and expectations in my mind, and I couldn't wait to try it out.
It took all of my strength of character not to play with it there and then but I placed it on charge, after all, I didn't want it dying on me halfway through my introduction to it. Hot Octopuss recommend changing it for two hours before use, and so I did precisely that, not a minute more as let's just say I had the hots and really needed to experience it. The included USB charging cable just plugs in through a tiny hole identified by a circle just under the plus button on top of the cock ring.
A full charge will give you around 40 minutes play time, and that is more than enough time to get off whether you are playing alone or with a partner.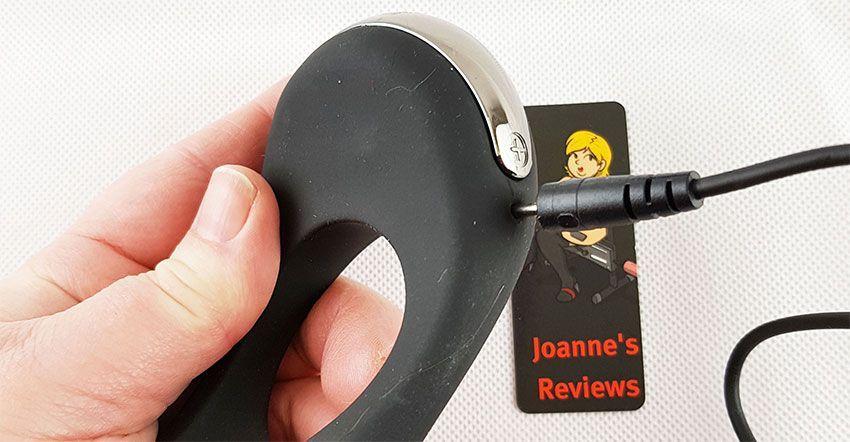 The Atom Plus is easy to charge with the included USB charging cable
Before I get onto the juicy bits about how good it is, I think I should talk about the materials and functions of this very clever cock ring.
The Atom Plus is made out of black silicone and silver ABS, both of these materials are non-porous and hypo-allergenic. They are body safe sex toy materials, and this makes it a sex toy that I am happy to recommend on those grounds.
It features two very strong motors, one designed and positioned to deliver strong clitoral stimulations in a partner and one for intense perineum pleasure. Both motors provide deep rumbly vibrations exactly where they are most needed.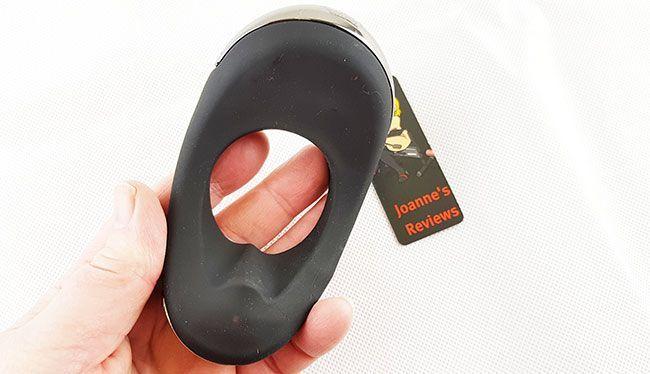 The Atom Plus looks like it has a small hole but it is surprisingly stretchy
The controls are straightforward to use, but the location of the on/off button which also acts as a means to cycle through the five vibration patterns is on the section that sits under your balls. This makes it a little bit tricky to operate at first but once you get the hang of it the raised button is easy to find.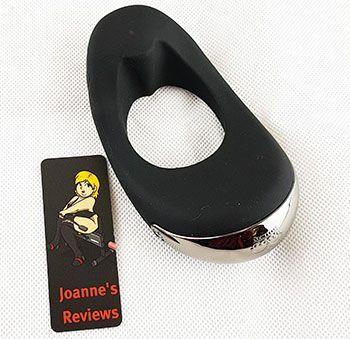 The five vibration patterns are very pleasing; my favourite is the third one which I have named 'Casper' as it sort of goes "woooOOOOoooooOOOOooooo". This steady vibration that raises and then lowers feels fantastic. Stunt cock, on the other hand, likes the stuccato rhythm patterns that are also very pleasing.
As well as featuring five patterns of vibration the top segment carries a plus and minus button with one on each side. These are used to select from the five available power settings. This combination of patterns and power settings gives you 25 different settings to play with and enjoy.
The Atom Plus is also waterproof which gives you an excuse to spend a little extra bit of 'me time' in the shower. Stunt Cock has showered with it and came out refreshed and with a wry grin on his face - naughty boy.
Performance
Right, that's all the usual review bits out of the way, so how does it perform?
I almost jumped stunt cock when he came in from work. I had one of those 'I need a hard fuck' faces on, and he knew that he was going to be enjoying himself. When he saw the Atom Plus in my hand, he knew what it was as I had told him that we would be reviewing it but it seems he had the same thought as me. He blurted out "How am I going to get all of my junk through that", pointing at the hole in the centre of the ring.
I just grinned and placed four fingers through it, two from each hand, and then I pulled my hands apart to demonstrate the fact that it does have more stretch than you would imagine. Hot Octopuss has patented a method of wiring the two halves of the cock ring together while still allowing a considerable amount of stretch.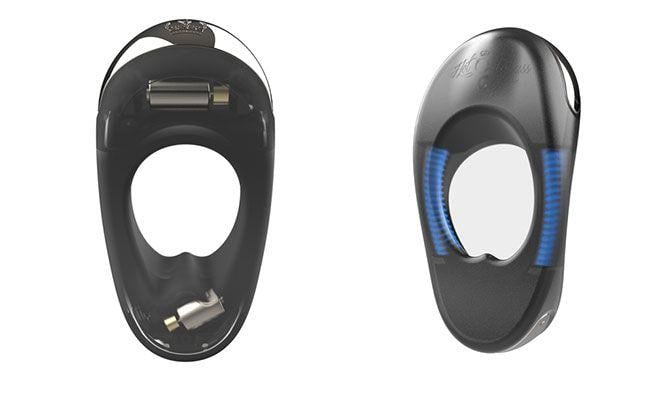 The Atom Plus has some very clever internal components
Giggling we ended up undressing in a hurry in the front room, and it was here that it all initially went wrong. I tried to fit the ring to him by pushing his balls through it first before trying to get his cock through too. Unfortunately, he was rock hard by now, and it proved an impossible task for me. It seems that it is much easier to fit with a flaccid penis.
I then did something everyone else would do in this situation, I just shackled his wrists and ankles together and then left him to calm down while I put the kettle on. You should have heard him complaining LOL.
So, it was onto round two when he had lost his erection, and this time it was much more straightforward, albeit it was still a race against time as having me manipulate his 'junk' through it was quickly causing a return of his stiffie.
In short order I had it fitted to him, and by then he was sporting a very hard erection.
Having used it numerous times now we have found that it is easier to fit sideways instead of it its final up and down position, the added width, when orientated this way, makes it much more comfortable for pushing the testicles through. Once, these are in turn it the right way up before pulling it over the penis while pushing it through.
He was very much up for what was to come next. I switched it on, and he jumped. I love the way his cock twitched and bounced as he did so. There is something mesmerising about a hard cock and balls squeezed through a cock ring that I find very compelling. The way the silicone and shiny ABS plastic border his cock and balls looks fantastic.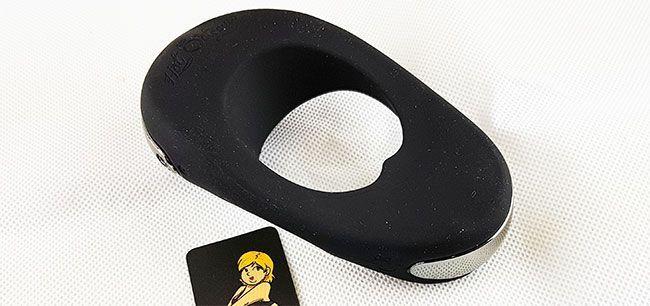 The Atom Plus is fun to use on your own or with a partner
Stunt cock commented about how good it felt with both motors having a very good effect on him, but I needed to feel it too and loved it when he penetrated me in the missionary position.
Thrusting was fun, but I found that when he pulled back and the Atom Plus was no longer in contact with me it was a little frustrating. We eventually settled with him doing short strokes and grinding his hips sideways, and this did it for me.
I came quickly, and I came hard, this set him off and while we didn't experience a simultaneous orgasm the first time, both of us were left breathless and blown away by the experience.
It seems that for us at least, thrusting while nice is better with very short strokes coupled with me moving my hips to increase the grinding sensation on my clitoris. In fact, with him stationary and filling me, I can come from grinding against him and that feels great.
The vibrations from the two large motors are exactly what Hot Octopus said they would be; they deliver deep rumbly vibrations that feel great against the clitoris, cock and perineum.
We have now got the hang of reading each other and efficiently communicating so we can time our orgasms to happen simultaneously and that is honestly mind-blowing. The orgasms I have are hard and feeling full of cock at the same time just adds to the enjoyment. The little-raised contact area is fantastic for getting between your labia and focussing the vibrations against your clitoris.
Used with a partner the results can be earthmoving, leaving you both satisfied and in a post-orgasmic glow.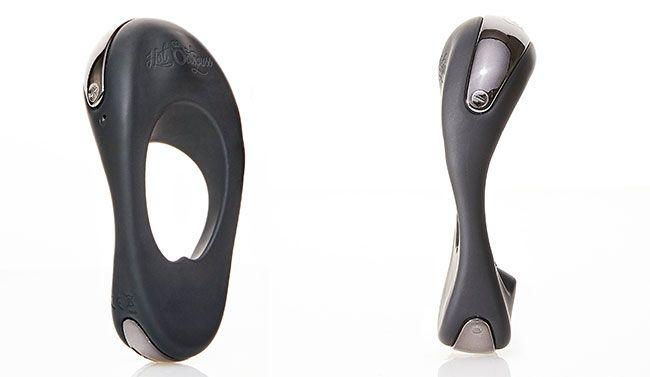 The Atom Plus was so much fun to get to know and it is a cracker
However, this is not just a couples sex toy. The Atom Plus is a damn fine cock ring for some good old fashioned monkey spanking. Stunt Cock seems to be addicted to putting it on when he fancies a 'ham-shank' and has even tried it with his Pocket Pulse, and he loves it.
Without a doubt, this is the best cock ring that we have ever tried, and both of us love it. This is a sex toy that is going in the bedside drawer for both of us to enjoy for a long time to come.
Check out the @HotOctopuss Atom Plus vibrating cock ring for some amazing couples play as well as for use on your own.
Click to Tweet
Key Features
Key features:
Body safe materials - Silicone and ABS
Two powerful motors delivering strong rumbly vibrations
Five vibration patterns
Five power levels
USB Rechargeable, 2 hours charge for 40 minutes of play
Waterproof
Storage bag included
Final Thoughts
When I heard I would be lucky enough to review one of the newest creations from Hot Octopuss, I had very high expectations as they produce some groundbreaking designs and products.
I wasn't to be disappointed; the Atom Plus is a superhero of a cock ring, it packs a punch, is easy to use and offers fantastic stimulation possibilities when used with a partner.
It's also a fantastic cock ring to wear for some self-pleasure with its motors delivering deep rumbly vibrations that do hit the spot.
I have no reservations in giving the Hot Octopuss Atom Plus a solid recommendation.
I was sent the Atom Plus by Hot Octopuss and I would like to thank them for giving me the opportunity to review it for them.
Joanne's rating
Where Can I Get One From?

Grab one of these incredible vibrating cock rings from Hot Octopuss for just £89 or you can get the Atom for just £69, but I recommend getting the Atom Plus version which just costs £20 more than the basic model but you get that extra motor which feels just so good.
Check them out and don't forget to tell them that Joanne & Stunt Cock say "Hi".
---

If you enjoyed reading this review then check out my other reviews of Hot Octopuss products:
G-Spot Vibrators
Gender Neutral Vibrators
Couples Vibrators
Penis Play
---
Disclosure
Disclaimer - I was sent the Atom Plus to review free of charge and this has in no way affected the outcome of this review. This post contains affiliate links and if you purchase something when you follow one of these links I may receive a small commission at no cost to you. For more information check out my disclosure page.