Delivery & Packaging
The AMO arrived here very quickly, securely packaged in a plain cardboard box that carried no indication of the pleasures that lay within. It's good to know Hot Octopuss take customer discretion very seriously.
I can't get enough of the award-winning packaging on Hot Octopuss products; I love the shiny metallic look of their product boxes.

There is something about the packaging of Hot Octopuss toys that always blows me away
The AMO comes in a relatively small box coated in a shiny purple finish that looks great, the box also sports a Union Flag as well as relevant product information. Hot Octopuss packaging really does stand out if you are visiting a brick and mortar sex toy store.
Inside the box, you will find the AMO nestled in a recycled cardboard packing piece that keeps it safe and sound on its journey to you. You also get a USB charging cable, some instructions and warranty/guarantee information. You will be delighted to know that you get a one year warranty with any Hot Optopuss product for your peace of mind.

The AMO looks fantastic and it comes with everything you need to get going
Design and materials
Once again, the fantastic people over at Hot Octopuss have come up with a delightful design for this bullet vibe.
Gone is the shape that coined the name "bullet vibe". The AMO is covered in curves, edges and flat planes that together create a sex toy that looks like no other, except for maybe the DiGiT from Hot Octopuss.
Material: ABS/Silicone
Weight: 43g
Dimensions: 95x22x13mm
Charging: 2-3 hours
Batteries: Lithium battery
Running time: up to 40 minutesThe basic shape is very similar to the DiGiT, but the tip is more pronounced for direct clitoral stimulation.
The AMO is made out of ABS and Silicone, two fantastic materials for sex toys as both are non-porous and both Latex and Phthalate free.
The silky black silicone that coats the business end of the AMO is delightful, with just a slight hint of drag as you run a fingertip down it. The tip is flexible to allow you to hold it firmly against yourself without discomfort.
There are three buttons on the AMO. The two on the left side of it control the power, acting as up and down buttons. They allow you to move through the six power levels quickly.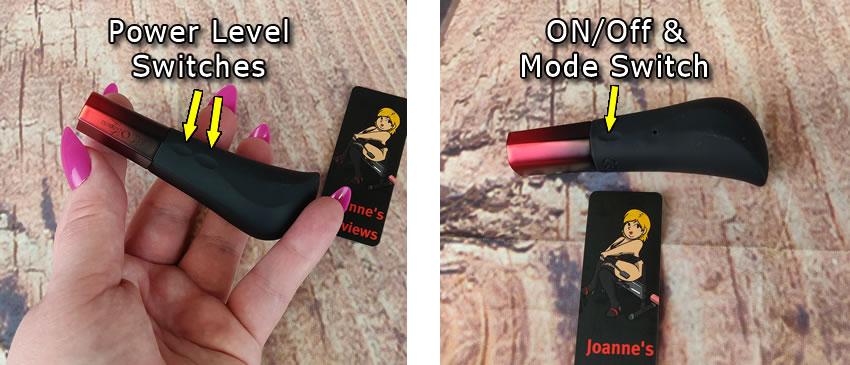 The AMO has three control buttons that are very easy to use
The power and mode cycle switch is on the right side of the vibe. Hold the button in for two seconds and the AMO springs into life, hold the button down again for two seconds to switch it off again. When switched on this button allows you to cycle through the five different modes of operation.
Just in front of the power button is a small hole for the USB charging leads plug. The power button flashes red as the toy is charging, and then a steady green, once fully charged. A full charge takes around two to three hours, and that equates to roughly thirty to forty minutes of playtime, which isn't bad for a toy of this size and power.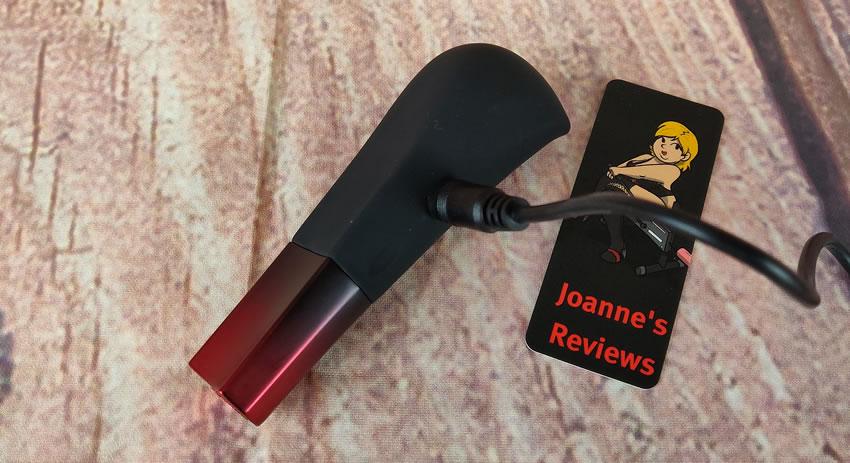 The charging hole on the AMO is easy to find and use
The business end of the vibe is coated in silicone while the back end is ABS and it is coloured in a beautiful metallic red that fades to black where it meets the silicone, and this looks fantastic.
The base carries the Hot Octopuss logo, and one thing that struck me was how light the AMO is, it weighs in at only 43g. This is a toy that is perfect if you have dexterity issues or struggle holding heavy objects.
The shape of the AMO makes it easy to hold between your thumb and middle finger with your index finger resting on top of it. In this configuration, your index finger can vary the pressure on your clitoris or nipple or even a cock. Yes the AMO is a gender-neutral sex toy, and it feels incredible pressed against a penis owners frenulum (that's a top tip right there). Everyone can enjoy vibrators; they aren't just for vagina owners.
In use the AMO is surprisingly quiet; but it gets louder, the higher the power setting you have it on as you would expect. You can't hear it through a bedroom door if you have the TV or radio on though which is good news.

The logo on the base of the AMO is lovely and very tactile
But enough about what it looks like, you want to know does it do the job or not, so read on.
Performance
The AMO is waterproof, and so I decided that the first time I was going to try, it was in the bath so after giving it a full charge it was time to put it to the test.
Switching it on I tested it out by just dipping the tip into the bath. The way the water splashed about the vibrating tip told me that I was going to enjoy myself and so I put it to work.
I found it very easy to hold even with wet fingers as the silicone has some drag to it. The vibrations are excellent and rumbly, which is something that appeals to me, and I enjoyed trying it out in different positions. Firstly with the tip just touching my clit, then with the flat portion on it and then the sides. All felt fantastic, and it wasn't long before my eyes were closed and I was really enjoying myself.
The shape of the soft tips makes it very easy to get the vibrations just where you want them and once warmed up I increased the power step by step, still on the first setting (constant vibrations). I enjoyed teasing myself with it and reached orgasm in around ten minutes which is pretty good for a bullet vibe and me.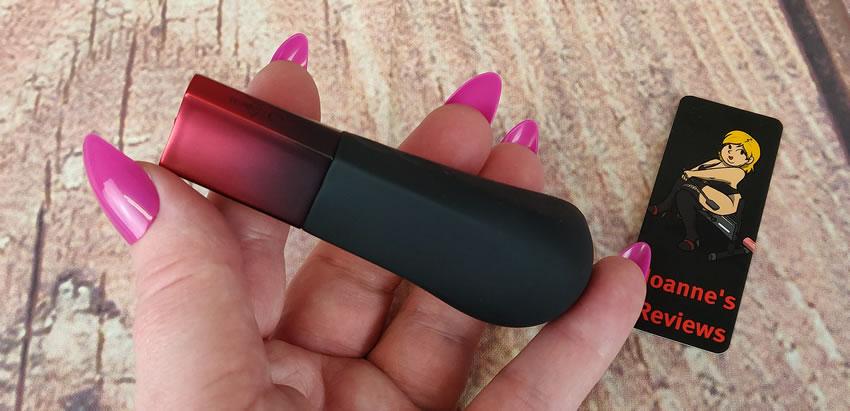 The AMO is small, light and lots of fun to use
During later sessions, I played with the other modes and found them all to my liking, the third mode was my favourite, and it is an oscillating pattern. The image in the instructions doesn't seem to correspond to the settings though. But that doesn't matter as they all feel great.
The higher power settings are amazing, and it is fun to slowly work your way up to them and then to send yourself over the edge into an orgasm that for me, has me gasping for breath afterwards.
I have had some very nice orgasms from the AMO, even stopping while setting up my new office to enjoy a quickie with it.
The AMO from @HotOctopuss is a pint sized powerhouse of clitoral pleasure, check out Joanne's review of it'. Click to Tweet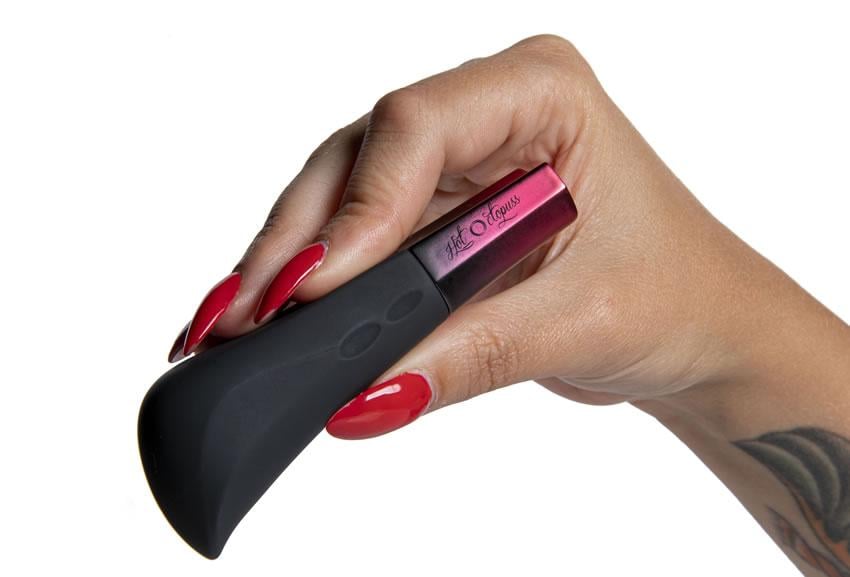 I found the AMO to be really easy to hold and use
Key Features
Key features:
Bullet vibrator
Can be used left or right handed
Rechargeable
Rumbly vibrations
Five patterns and six power levels
Body-safe materials
Waterproof
I would recommend it to:
Anyone looking for a light but powerful vibrator
Anyone looking for an easy way to hold a vibrator
Anyone who enjoys pin-point precisions
Anyone who likes rumbly vibrations
I wouldn't recommend it to:
Anyone looking for an insertable vibrator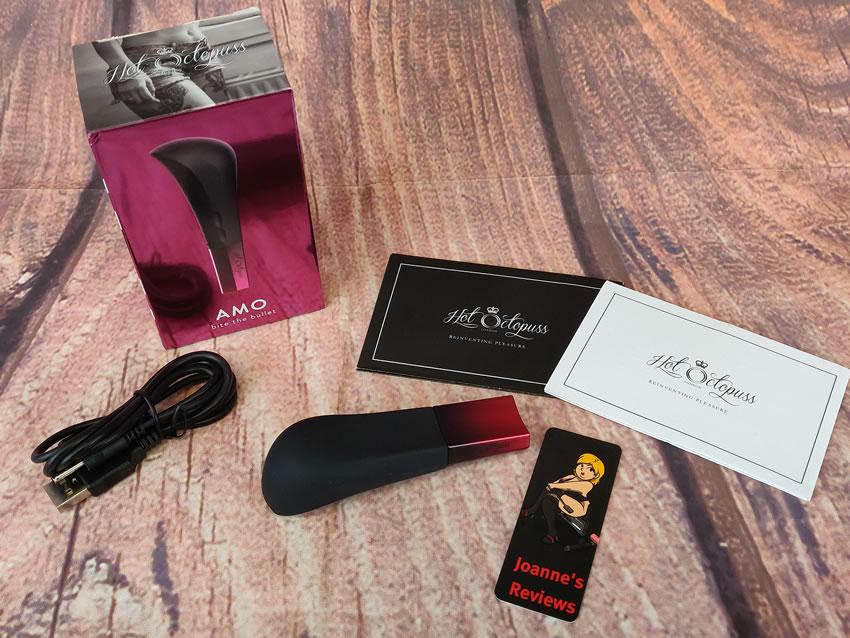 If you are looking for a powerful bullet vibe then check out the AMO from Hot Octopuss
Final Thoughts
Once again, Hot Octopuss has come up with another winner. Like the DiGiT, I love this tiny little powerhouse. It packs a punch exactly where you need it, and the shape of it makes it easy to get the vibrations exactly where you want them./p>
With decent battery life, you can enjoy a long slow wank with the AMO, teasing yourself before ramping up the power to push you over the edge when you are ready to do so.
I can't find anything I don't like really, and I have looked long and hard at it. It is rumbly, powerful, discreet and above all, lots of fun. If you are looking for a small vibe, then definitely give the AMO some serious consideration.
I have no hesitation in giving it a strong recommendation to anyone who likes small rumbly vibes.
I was sent the AMO by Hot Octopuss and I would like to thank them for giving me the opportunity to review it for them.
Joanne's rating
Where Can I Get One From?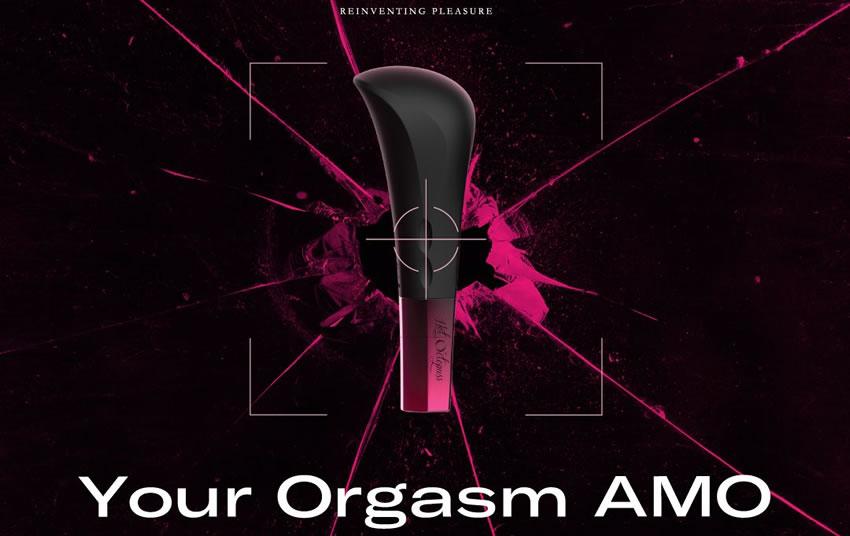 Grab one of these fantasti little bullet vibes direct from Hot Octopuss where you can buy an AMO for £49.
Check them out and don't forget to tell them that Joanne says "Hi".
---
If you enjoyed reading this review then check out my other reviews of Hot Octopuss products:
G-Spot Vibrators
Gender Neutral Vibrators
Couples Vibrators
Penis Play
---
Disclosure
Disclaimer - I was sent the AMO to review free of charge and this has in no way affected the outcome of this review. This post contains affiliate links and if you purchase something when you follow one of these links I may receive a small commission at no cost to you. For more information check out my disclosure page.