Delivery
As with everything that has ever arrived here from Honour.co.uk this dress was packaged very discreetly. I am amazed that my postman has no idea how kinky I am.
I have no doubt though that by now with the number of packages I receive he probably has his suspicions.
Honour goes out of their way to use plain packaging, and so my postie is going to have to keep guessing as to what I keep getting delivered.
Materials and design
This maids dress is a micro dress which covers everything, but definitely entices curiosity as to what isn't entirely on show. The bottom of the dress is a full hipster skirt, and it is trimmed with white lace to give it a soft and sexy look.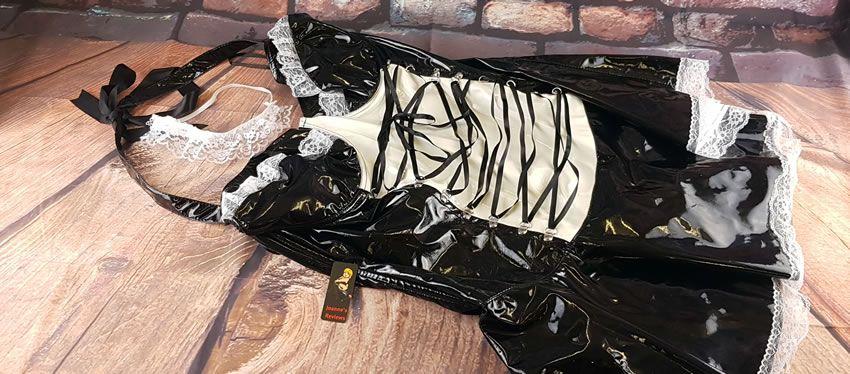 This dress looks amazing and the materials are very good indeed
This is an ideal dress to wear a frilly underskirt with to kick the sides out a bit, but it looks fabulous anyway without one.
The dress itself is made out of black PVC with a white pinnypanel on the front. The underwired bra cups and hemline are trimmed with white lace, and this gives this dress a stunning and sexy look.
The halter neck design is excellent as you can adjust the neck straps to suit your body shape making it comfortable for most bust sizes. You just tie the halter neck straps in a bow behind your neck once you are happy with the fit.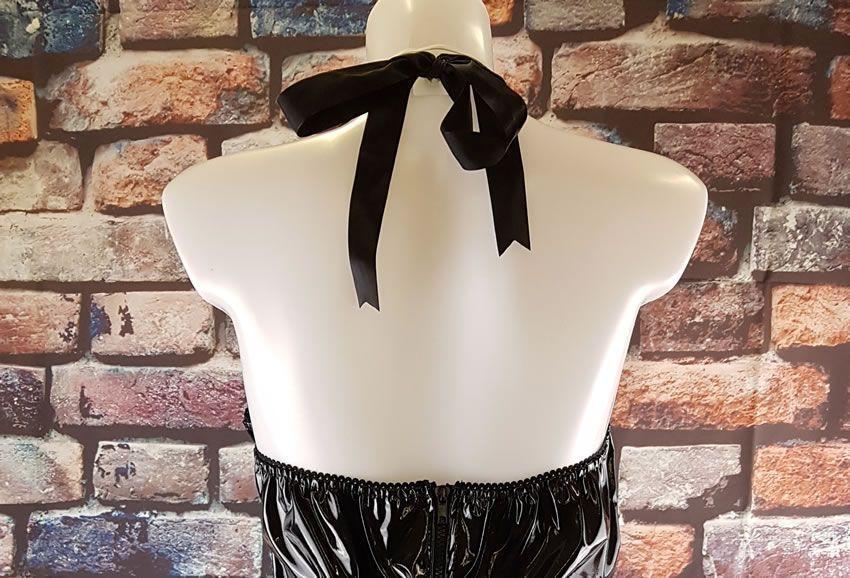 The satin neck straps look and feel lovely. Tying them in a bow allows you to adjust your cleavage
The top of the dress is finished with an elasticated trim to ensure a neat fit and look.
The white front panel has riveted metal rings either side and a satin tie running through it. This satin tie is not just decorative though as you can tighten it to adjust the fit of the maids dress.
Available in sizes 8 to 26, it is fantastic to see a kink site like Honour catering for people of larger build. Everyone has the right to be able to dress as sexy as they like and this outfit is definitely sexy.
The way that the lace trims on the bra cups highlight the curves of your breasts is fantastic. They form a focal feature, and your eyes are drawn towards the breast area of this dress.
The lace trim on the bra cups looks lovely and draws the eyes into your cleavage
The inner lining is comfortable on your skin, and it doesn't stick to you, the bra cups are cloth lined for comfort.
The stitching is very neat, and I couldn't find any floors in it at all. This really is a quality outfit that will see many years of use if you look after it.
This maids dress has a back zip for ease of entry, and it is very sturdy. I hate dresses with feeble zips that you know will fail at some point. The black zip on this dress is like something you would expect to find on an item of punk clothing. It is bulletproof and made to last.
The outfit comes with an elasticated maids lace headband that is easy to put on. It compliments the design of the dress, but it is very small.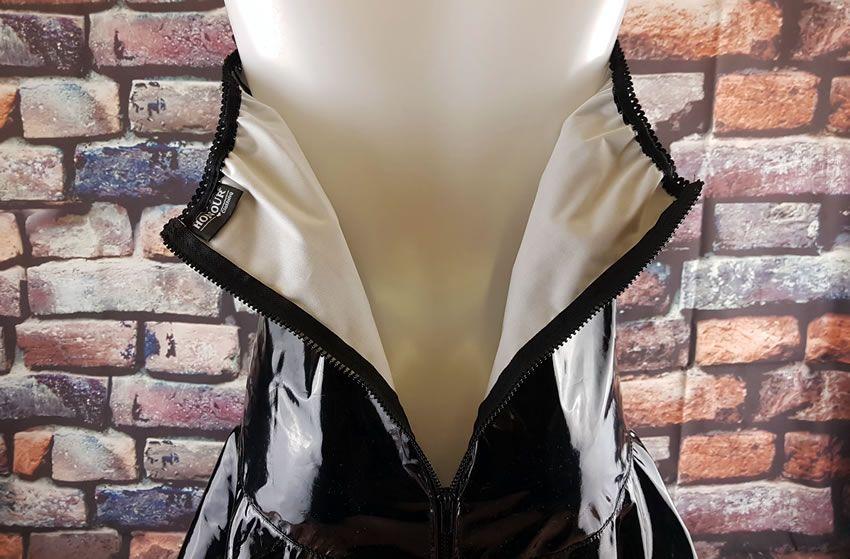 The black zipper is sturdy and made to last
Care advice
This dress has hanging loops, and when not being worn you should hang it to prevent fold lines and creases. It is easy to wipe the PVC panels clean with a damp cloth, and it buffs up to a good shine very easily.
Like all PVC outfits don't store it hanging next to others in your wardrobe, or put it into one of those plastic sleeves to prevent it from resting against other PVC products.
Look and fit
We opted for a size 20 as sub'r' usually takes a 16-18 in club wear but her breasts are very full and firm, so we wanted to make sure she could get them all in.
The dress fits like a glove, the PVC is surprisingly stretchy and this gives the dress a figure-hugging form and going up a size was a good choice as her breasts fit perfectly in the bra cups giving her a very nice cleavage. The bra cups on this dress are a lovely design and very decorative, they certainly form a focal feature to this outfit.
The satin ribbon on the front panel can be used to adjust the fit slightly. The halter neck straps feel lovely and tie easily behind the neck.
This really is a lovely dress and when worn it looks so sexy
This outfit has been worn in a swingers club on several occasions now and sub'r' certainly turned heads when she was strutting her stuff while wearing a pair of patent leather go-go boots.
She often gets asked where the dress came from and she loves saying Honour.co.uk as their reputation for kinky attire is second to none.
Here are her thoughts on this sexy outfit:
I love this PVC maids outfit, when I put it on it just makes me feel so sexy and submissive. I wish to serve and the looks I get in it really turn me on. It is fun to wear and of course, bending over with straight legs and no panties on is always fun. This is a dress designed to induce a smile and a boner in anyone looking at you wearing it. I love it as it makes me feel so sexy and as it is from Honour, I know it will last for a very long time due to its quality materials.

sub'r'
I must admit that she does look incredibly sexy in this PVC Maids Dress and it does turn heads. I like the way it clings to her figure, but it doesn't restrict her movement in any way.
As it is a short dress, it is easy to flick the back of the dress up to gain access to her bottom for spanking play, something that she relishes with glee. She also likes to tease others while wearing it, giving the occasional flash of what lies beneath it.
When sub'r' wears this dress she becomes very submissive but also very confident, sexy and playful, I love the effect that it has on her.
I think I may have to make her wear this outfit more often as she looks so cute in it. Like butter wouldn't melt in her mouth, but I know better.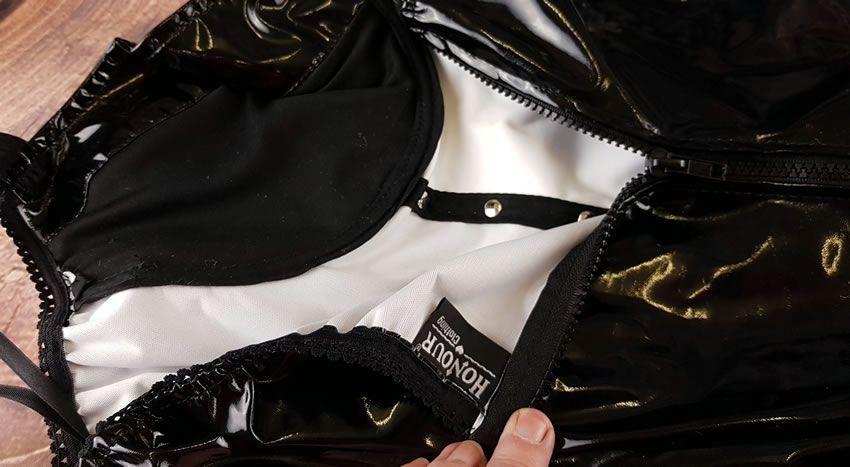 The quality of this dress is evident in the materials and neatness of stitching
It turns her into sexy little minx who just wants to serve and please while wearing it.
It is a comfortable dress to wear for extended periods, and it's a design that really succeeds in its aim, to turn both you and anyone looking at you on when you are wearing it.
The Honour PVC Maid To Serve Dress & Cap is another fantastic piece of kinky attire from the legendary @HonourClothing and it is so sexy and alluring making it so easy to tease while wearing it.
Click to Tweet
Key Features
Key features:
Stretchy and shiny PVC material
Sizes from 8-26 available
Halterneck design with micro skirt
Underwired bra cups
Sturdy zip and frilly lace trimmings
Excellent quality
I would recommend it to:
Anyone who loves to dress up in kinky attire
Anyone looking to explore some roleplay fun
Any submissive looking to please their dominant
Anyone looking to turn heads in clubs
I wouldn't recommend it to:
Anyone who doesn't like short dresses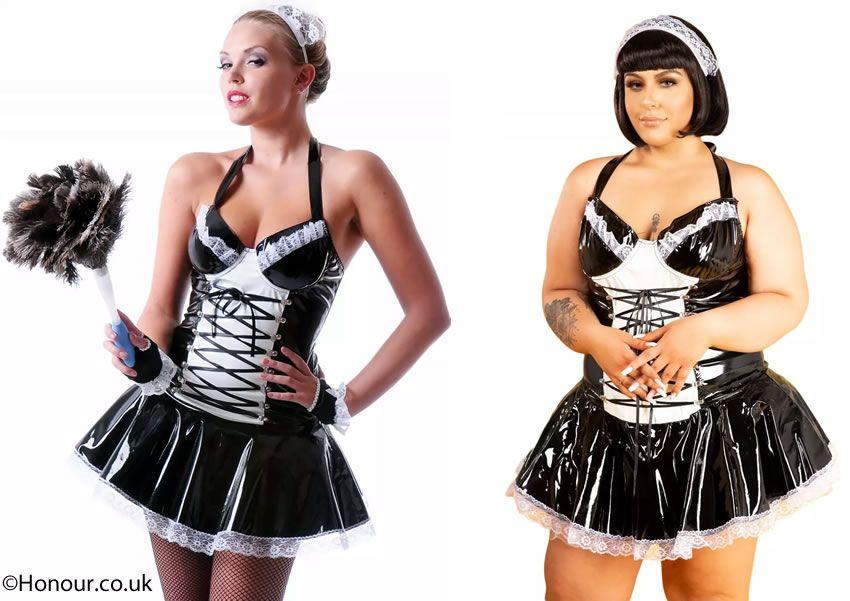 This image from the Honour product page shows the differce in fit between the smaller and plus sizes
Final Thoughts
This is the second maids outfit that I have had the pleasure of seeing sub'r' wear, and she looks fantastic in it. I love the design, and the bra cups draw your eyes in becoming the focal point of this outfit.
The halter neck straps make it easy to create a very nice cleavage, and the materials and craftsmanship throughout the dress are first class.
I am not surprised by this though as Honour has a reputation for exceptional items of kinky clothing and this one is no exception. It is well designed and manufactured so it will give its wearer pleasure for a long time to come.
I have no hesitation in giving this PVC Maids Dress a strong recommendation, as I did for the PVC Discipline Dress that we reviewed for them.
I was sent these PVC Maid To Serve Dress & Cap by Honour.co.uk and I would like to thank them for giving me the opportunity to review it for them.
Joanne's rating
Where Can I Get One From?

You can grab one of these sexy outfits directly from honour.co.uk by using the link below.
Grab one of these fantastic PVC Maid To Serve Dress & Cap outfits direct from Honour.co.uk, at the time of publishing this review it is available on sale for only £43.99 which is a bargain as it usually retails for £54.99.
Check them out and don't forget to tell them that Joanne says "Hi".
Disclosure
Disclaimer - I was sent the PVC Maid To Serve Dress & Cap to review free of charge and this has in no way affected the outcome of this review. This post contains affiliate links and if you purchase something when you follow one of these links I may receive a small commission at no cost to you. For more information check out my disclosure page.