Delivery
I always comment about how products arrive as the packaging for me is the first thing that I review. I look for discretion, and the type of packaging used when companies send me products to review.
I am delighted to say that the package I received from Honour was very plain on the outside, with no branding at all and this is important for people living in shared accommodation. So if you live at home with your parents or in student digs, you can order from Honour safe in the knowledge that they value your privacy.
About Honour
Before jumping into the meat of this review, I just wanted to take a moment to give everyone some background on Honour quickly. They started the business by opening their first store in Waterloo, London in 1988 selling primarily lingerie.
They quickly realised that having a more fetish range of products was what was required and this caused them to rapidly expand opening another store in Watford which is where their mail order operation is based.
They have closely worked with Skintwo, and they are renowned globally for their BDSM and fetish products.
With this impeccable pedigree, you can understand that I had high expectations for these three products.
Allergy Warning: These products are made out of Latex Rubber, so if you have an allergy to Latex it would probably be best to give them a wide berth. The only side effect I usually experience around rubber is quickly developing a slightly damp patch between my legs.
HNRX ES Bondage Rubber Wrist Cuffs
I love the dark packaging that these products arrive in. A simple cardboard box holds the HNRX ES Bondage Rubber Wrist Cuffs, and I loved the smell of rubber when I first opened the box to retrieve them.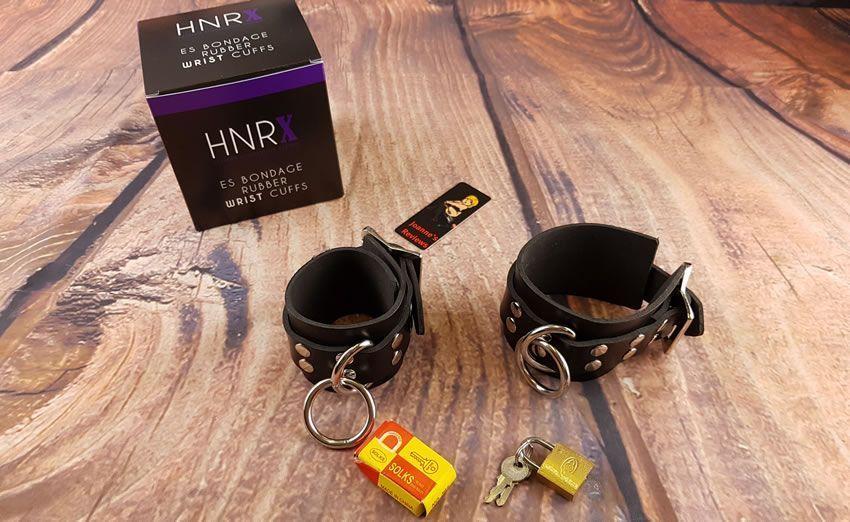 These rubber cuffs come in beautifull packaging and include two brass padlocks
When I removed them from the box, I was delighted to see that they are lockable and you do in fact get two brass padlocks included (each has two keys). I love lockable restraints, there is something about being locked into a set of cuffs that really gets me going and I am not alone in that regard, sub'r' gets very aroused when wearing lockable restraints.
The rubber is nice and stiff, and it has been neatly cut. The cuffs consist of an inner flat piece of rubber to which the outer strip of rubber is double riveted. This gives a very durable bond between the two and the outer stip of rubber carries the locking mechanism and secures a stainless steel 'O' ring in place.
One thing in particular that I love about these cuffs is the fact that you get a second stainless steel 'O' ring fitted through the first and this makes it much easier to attach multiple attachments with ease.

The inside face of these cuffs has smooth rivets so that there is no skin irritation
The double rivets are very smooth on the inside where they come into contact with your skin.
There are six slots in the cuffs strap to allow for individual fit, and the locking mechanism is fantastic quality, once locked and a padlock is fitted you will not be getting out of them without the keyholders consent.
They are designed to fits wrists from 4.7"/12cm - 8.7"/22cm circumference.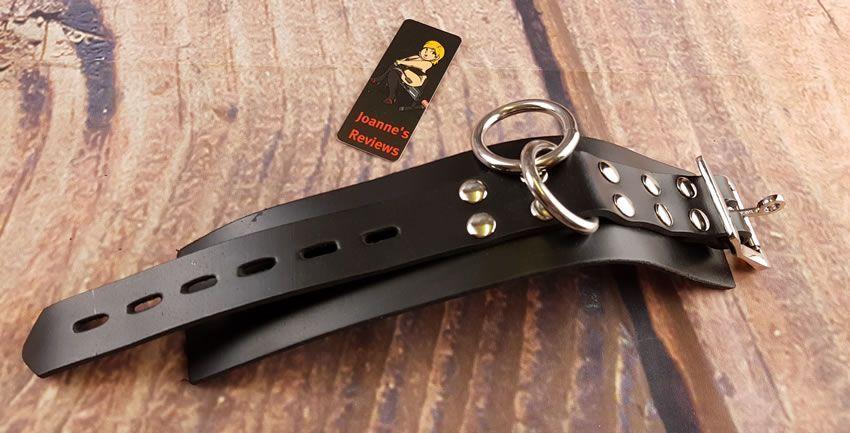 These cuffs are very well made from the best materials and it shows when you are wearing them
I love the weight and feel of these cuffs. I have never worn rubber cuffs before, but I just love these. Whereas most of my leather restraints feel soft and supple against my skin, these ones are harsher, and that is not a bad thing.
These cuffs are great for some serious hardcore BDSM fun, and the quality of them is fantastic.
I also love the fact that there is a complete set of restraints available in the HNRX range including ankle cuffs, thigh cuffs (I can see those being a lot of fun) and a collar which brings me on to the next part of this review.

The rivets are very well fitted, leaving no sharp edges at all
The HNRX ES Bondage Rubber Wrist Cuffs are available from honour.co.uk for just £29.99 which is fantastic value for a set of cuffs like these.
HNRX ES Bondage Rubber Collar with 4 D-Rings
Just like the wrist cuffs, the HNRX ES Bondage Rubber Collar with 4 D-Rings arrives in a dark looking cardboard box that looks great, inside you will find the collar inside a plastic pouch.
Again, the smell of this rubber is fantastic and it gets me very turned on. The design of the collar is pretty much the same as on the wrist cuffs as you would imagine as they are from the same range.


The rubber collar with four D rings is simple yet refined at the same time
The big difference though is that the collar isn't lockable which is a shame as I would have loved to have been able to be locked into it.
This collar feels great when you put it on, it is quite restrictive and stiff, but that adds to the appeal of it for me. It features four 'O' rings that are secured with double rivets on either side of them.
These four 'O' rings give you exceptional flexibility when playing wearing it. You could, for instance, attach a spreader bar behind the neck to lock your wrists apart. You could attach an anal hook to the back of your collar. You can even use the stainless steel 'O' rings to just immobilise your wrists by clipping your wrist restraints to your collar. The choices are endless.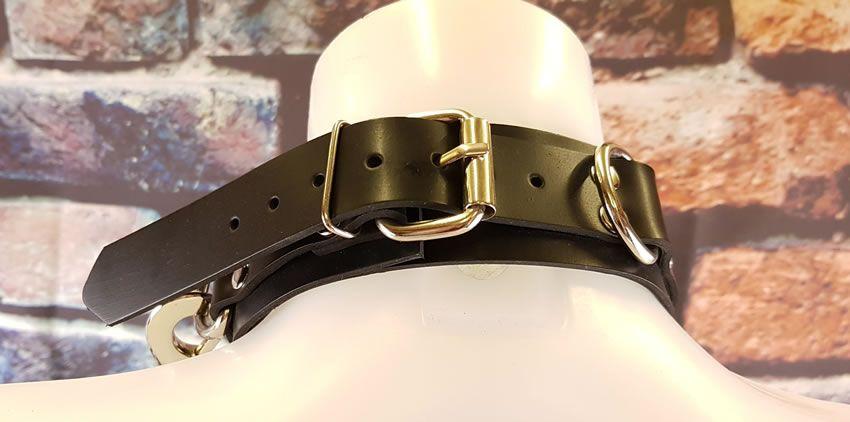 The locking mechanism is simple yet robust with lots of adjustability
We even used the 'O' rings as attachment points for some rope bondage, and that worked out well with several harnesses.
I have a few collars with multiple attachment points, and funnily enough, they seem to be my favourites. They are just so handy, and their flexibility allows you or your partner to really get creative.
You get seven holes in the strap so that it can be adjusted to fit anyone and it is designed to fit neck sizes of between 13.2"/33.5cm - 16.5"/42cm circumference.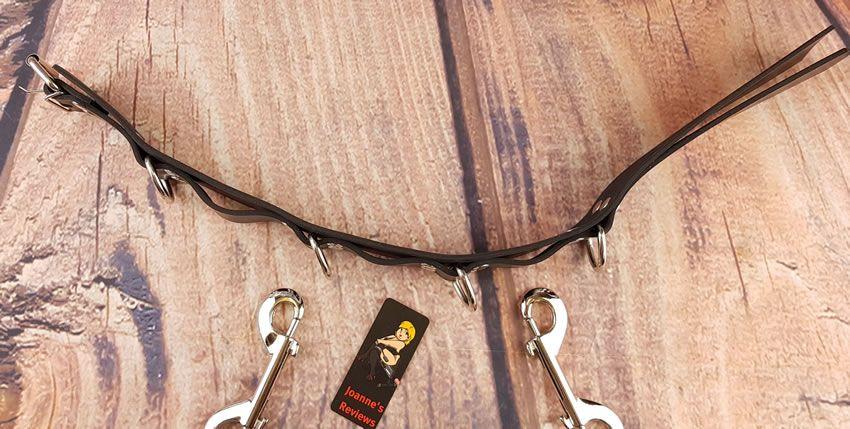 The rubber is thin but that belies its stiffness and rigidity
I love the rigidity of the rubber, it almost feels like a posture collar when worn tightly around your neck. This toughness is a bit turn on for me, and I love the way the rubber feels on my skin when worn. After a good session it leaves a lovely mark on my neck once removed, I love the ghost marks that BDSM collars leave on your skin.
The HNRX ES Bondage Rubber Collar with 4 D-Rings is available from honour.co.uk for just £29.99 which is great value for money.
HNRX ES Double Trigger Hook
I was also sent a pair of HNRX ES Double Trigger Hooks by the team at Honour, and they are just so useful. Put simply, a Trigger Hook is a double-ended catch that works similarly to the catch you will find at the end of a dogs leash. You pull back the trigger with your thumb to open the lock, and this allows for quick one-handed operation.

The packaging of the Trigger Hooks matches the rest of the HNRX range of products, I like the dark look to it
The Trigger Hook packaging matches in with the rest of the HNRX range of products, and as soon as I opened the box and took one out, I knew that they would be so much fun to use. They are sold separately but having two works really well.
We often lose focus on how much we rely on small catches hooks, carabiners and other little pieces of equipment when enjoying BDSM play scenes but without things like Trigger Hooks, things would be quite dull really. Small clips like these are the foundations that a good session is built upon.
The two catches move smoothly, and while I always apply a little oil to Trigger Hooks, these ones arrived operating smoothly and responsively. Some cheap ones can jam up as the tolerances between components are terrible, but these ones are great.


These Trigger Hooks work flawlessly and allow for quick restraint of a submissive and rapid position changes
I love using them in conjunction with restraints to secure sub'r' in all manner of positions while enjoying a scene with her. A favourite of mine with this set of equipment is to lock her wrists to her collar before playing with her or binding her tightly with rope.
The quick release nature of them makes rapid position changes simple, and they are also handy for securing sub'r' to a cross or spanking bench for some corporal punishment. Stunt Cock swears by them and actually uses them instead of his usual carabiner hooks as he likes the look and performance of them.
Made out of stainless steel they reflect light well and are sturdy and smooth operating, I honestly can't find any negative points about them. They are such a simple design but as is often the case with simple designs they work so well.

Trigger Hooks make is easy to restrain a submissive quickly and they are ideal for self bondage
The HNRX ES Double Trigger Hook is available from honour.co.uk for just £4.50 which is good value for money, and I suggest getting two of them.
The new HNRX range of BDSM products brought out by @HonourClothing to celebrate their 30th anniversary are amazing, the rubber smells fantastic and they perform very well indeed.
Click to Tweet
Key Features
Key features:
Sturdy professional quality construction
Thick rubber and stainless steel construstion
Excellent play options with the four ring collar
Fast efficient operation with the trigger hooks
Beautifully riveted construction
Padlocks included with the wrist cuffs
I would recommend it to:
Anyone who enjoys BDSM restraints
Anyone looking for a new set of restraints
Anyone looking for something other than leather
I wouldn't recommend it to:
Anyone who has a latex allergy
Anyone who has wrists or a collar size outside those mentioned as these restraints will not stretch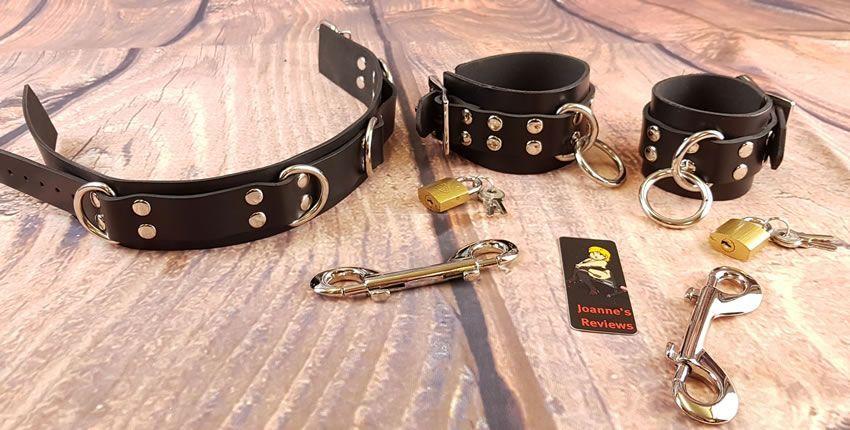 These products are fantastic quality and they are something that I will continue to use even after publishing this review
Final Thoughts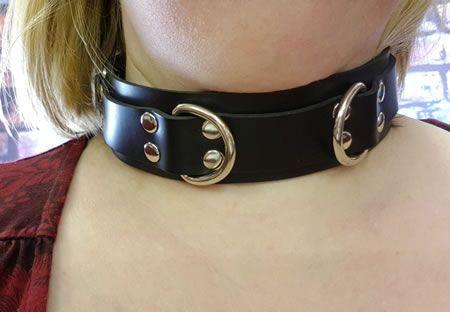 Honour didn't disappoint with their new range of BDSM restraints, the rubber used in their restraints is fantastic and gives an entirely different feeling to my leather restraints and collars.
Wearing both the collar and cuffs makes you feel on top of the world, the way that they snugly sit against your skin feels so, and the smell of them is divine. In use they are hard wearing, putting up with some severe abuse.
I haven't used them for suspension but they are very strong, and they have had heavy loads on them without any problems at all.
If you are looking for something different, then check out the HNRX range at honour.co.uk to see some fantastic products at very reasonable prices.
I have no hesitation is giving all of these products a strong recommendation, the rest of the HNRX range of products looks amazing too.
I was sent these HNRX BDSM Products by Honour.co.uk and I would like to thank them for giving me the opportunity to review it for them.
Joanne's rating
Where Can I Get One From?

You can grab all of the products that I have reviewed directly from honour.co.uk by using the links below.
While there, check out their fantastic range of BDSM and kink related products as they are world leaders.
HNRX ES Bondage Rubber Wrist Cuffs - £29.99
HNRX ES Bondage Rubber Collar with 4 D-Rings - £29.99
HNRX ES Double Trigger Hook - £4.50
Check out the rest of this range and much more at:
Check them out and don't forget to tell them that Joanne says "Hi".
Disclaimer - I was sent these HNRX BDSM products to review free of charge and this has in no way affected the outcome of this review. This post contains affiliate links and if you purchase something when you follow one of these links I may receive a small commission at no cost to you. For more information check out my disclosure page.