The HNRX range of restraints was launched to celebrate their 30th birthday, and it is a fantastic range of excellent quality equipment.
I was sent a lovely pair of rubber ankle restraints and a pair of their new padlocks to review.
Delivery
Anyone who regularly reads my reviews will know that I always start off describing the delivery experience. It's important that customers receive products that are well packaged in discreet packaging to preserve their discretion when ordering online.
I am delighted to confirm that everything I have reviewed from Honour has been well packaged in a discreet box that carries no indication as to the contents within.
So if you live in shared accommodation or at home with your parents you can rest assured the people you live with will have no idea how kinky you really are when shopping with Honour. They respect your privacy and are very discreet.
About Honour
These cuffs have excellent pedigree. Honour started trading in Waterloo, London in 1988 selling primarily lingerie. They realised very quickly that providing a more fetish range of products was required and this allowed them to expand quickly.
As they expanded they opening another store in Watford which is where their mail order operation is based.
In the past, they have closely worked with Skintwo, and they are renowned globally for their BDSM and fetish products.
So as you can imagine I am delighted to be reviewing products for them and I love the quality of the things that they have sent together with the smooth customer experience that they provide.
Allergy Warning: These products are made out of Latex Rubber, so if you have an allergy to Latex it would probably be best to give them a wide berth. I am lucky though, as the only side effect I usually experience around rubber is quickly becoming very damp between my legs when I smell it. There is something about that smell that really turns me on.
HNRX ES Bondage Rubber Ankle Cuffs
These cuffs arrive in a dark cardboard box with subtle branding. It's a simple form of packaging, and it holds the two cuffs. I relished the rubber smell when I first opened the box - cue damp panties. The padlocks came in their own branded box and in it you get two padlocks and keys.

The packaging is cheap and cheerful and I like the branding on it
These are lockable ankle restraints which is why you get the two padlocks. I don't know about you, but for me having lockable restraints really ups the excitement levels when I am playing. I love being locked into things, unable to get myself out of bondage.
I am not alone in this as sub'r' also gets very aroused when locked into bondage with lockable restraints.
Each of the two padlocks comes with two keys.
The cuffs consist of a main flat portion which rests against your skin. A second strip of rubber that carries the fixings is double riveted to the inner piece. The double rivets look fantastic and give the otherwise plain cuffs some detail.

These cuffs look basic but they perfrom their role perfectly and are well made
This method of attaching the two together is very robust and makes for a striking set of cuffs.
The outer strip of rubber carries the locking mechanism which is of good quality and is made out of stainless steel. The other end of this strip is punched to allow the locking arm to slide though it before a padlock is used to fix them in place.
A stainless steel 'D' ring is also secured to the cuffs, and a stainless steel 'O' ring is attached to the 'D'ring. This enables the cuffs to be secured to each other or anything else that you desire.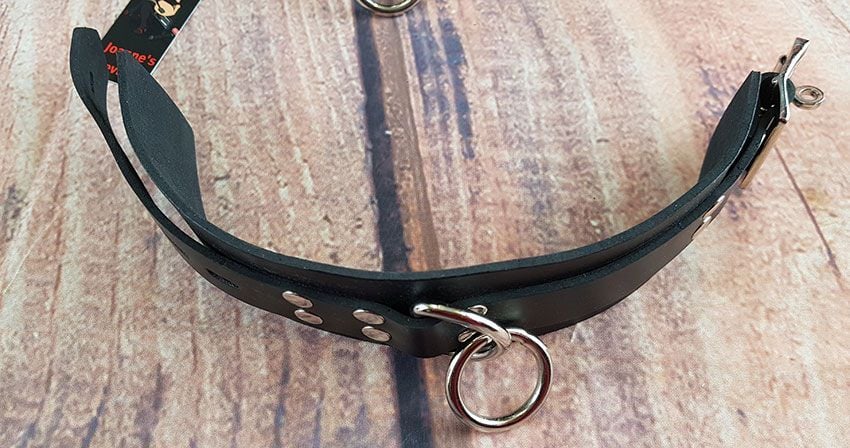 The combination of 'D' ring and an 'O' ring makes it easy to attach things to these cuffs
The rubber used on these cuffs is nice, stiff and it is neatly cut. The double rivets are very smooth on the inside where they come into contact with your skin so no need to worry about chaffing.
The securing strap has six holes cut in it which allows you to find a suitable fit. The high-quality locking mechanism is easy to use and fantastic quality. Once you snap the padlock shut, there is no way that someone is going to escape from them if fitted correctly. You will definitely need the keyholders consent if you want to remove them.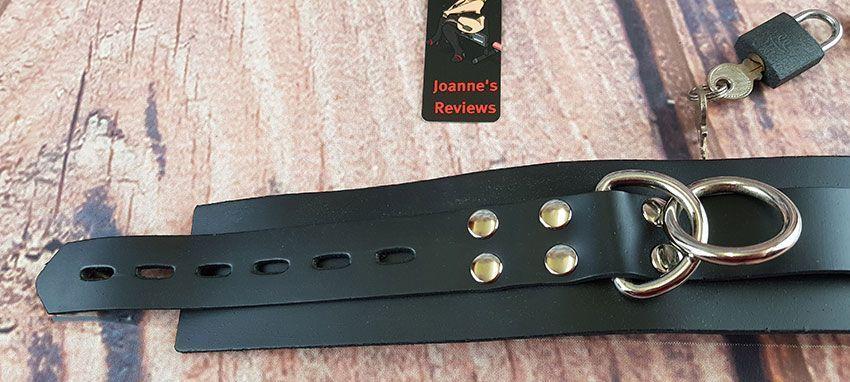 There are six holes cut in the strap for the locking mechanism
They are designed to fits ankles from 7.7"/19.5cm -11.4"/29cm circumference.
These cuffs have a nice feel to them, most leather cuffs feel soft and supple while these ones are stiff and feel great against my skin. With this set of restraints, you get something much harsher than a leather set, and that is not a bad thing.
Padlocks
Honour has changed the design of the padlocks since I reviewed their HNRX Wrist Cuffs. These ones have a grey textured finish that compliments the cuffs very well indeed.
They are easy to snap shut, and the keys open them smoothly. I always put a drop of oil into my padlocks (it is something I have always done) but with these ones they are so smooth to operate it probably isn't needed.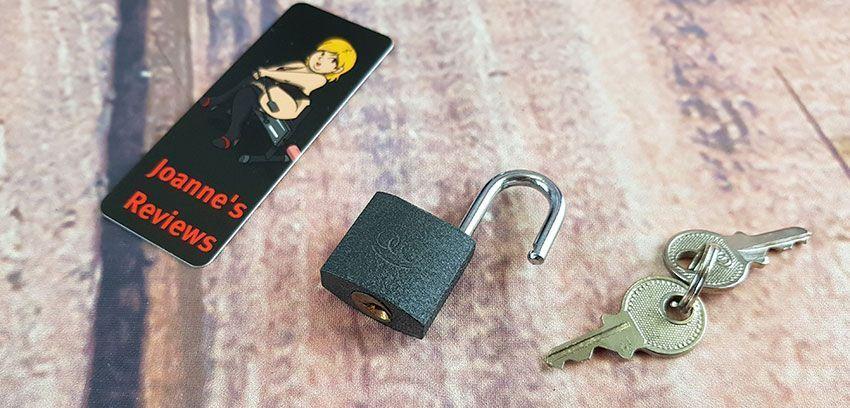 The padlocks are easy to use and they add a new level of predicament to your play sessions
The padlocks are included with these cuffs but they are also available seperately. Grab the padlocks on their own for just £4.99 for a pack of two.
Performance
These cuffs are fantastic for some serious hardcore BDSM fun, and the quality of them is excellent.
If you are considering buying these, then I strongly suggest getting the whole set as with the wrist cuffs and collar the effect when they are worn is excellent. I love making sub'r' wear them when playing, especially when she is given kajira tasks to perform.
Cuffs by their very nature need to fit correctly and are used for restraint so they need to be strong. Just wearing them though can send you into a submissive state and wearing them is a statement in itself. This range of cuffs is great, you have absolutely zero chances of escape when wearing one after the padlocks snap in place and that alon can be highly arousing.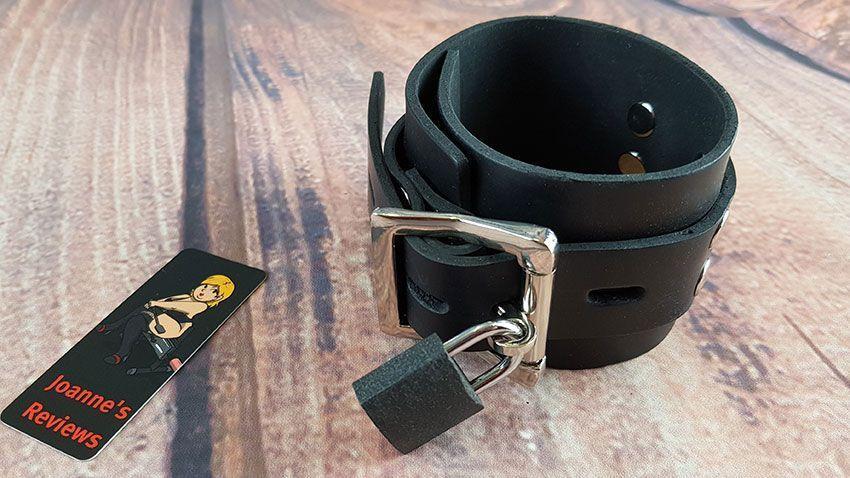 There padlocks add an extra kinky aspect to any play session
I love the fact that there is a complete set of restraints available in the HNRX range including ankle cuffs, collar, and even thigh cuffs (I can see those being a lot of fun).
The HNRX ES Bondage Rubber Ankle Cuffs are available from honour.co.uk for just £29.99 which is fantastic value for a set of cuffs like these.
There are ankle cuffs and then there are the HNRX ES Bondage Rubber Ankle Cuffs from @HonourClothing, the rubber and the fact that they lock had Joanne squirming in them.
Click to Tweet
Key Features
Key features:
Sturdy professional quality construction
Thick rubber and stainless steel construstion
Beautifully riveted construction
Lockable and padlocks are included
I would recommend it to:
Anyone who enjoys BDSM restraints
Anyone looking for a new set of restraints
Anyone looking for something other than leather
Anyone looking for lockable restraints
I wouldn't recommend it to:
Anyone who has a latex allergy
Anyone who has an ankle size outside those mentioned as these restraints definitely will not stretch
Final Thoughts
Honour has come up with the goods in their HNRX range of BDSM restraints. The rubber is excellent quality and an unusual material which with the quality of these cuffs means that you will get many years of use out of them.
They have an entirely different feel to my leather restraints and collars which is something I like, they are harsher which for some forms of play is a bonus. Whilst being harsher, they are not uncomfortable to wear per se, it is just that they are less flexible than leather restraints.
Wearing both the collar and full set of locked cuffs makes you feel on top of the world, the way that they snugly sit against your skin feels amazing, and their smell is divine.
If you are looking for something different, then check out the HNRX range at honour.co.uk to see some fantastic products at very reasonable prices.
I was sent these HNRX ES Bondage Rubber Ankle Cuffs & Padlocks by Honour and I would like to thank them for giving me the opportunity to review them.
Joanne's rating
Where Can I Get One From?

You can grab a set of these Ankle Cuffs directly from honour.co.uk by using the link below.
You can grab a set of these fantastic Ankle Cuffs directly from honour.co.uk for just £29.99. While there, check out their excellent range of BDSM and kink related products as they are world leaders.
Grab the padlocks on their own for just £4.99 for a pack of two.
Check them out and don't forget to tell them that Joanne says "Hi".
Disclosure
Disclaimer - I was sent the Honour HNRX ES Bondage Rubber Ankle Cuffs & Padlocks to review free of charge and this has in no way affected the outcome of this review. This post contains affiliate links and if you purchase something when you follow one of these links I may receive a small commission at no cost to you. For more information check out my disclosure page.