Delivery and Packaging
A courier delivered this fucking machine in a plain cardboard box that carried no indication as to the kinky nature of its contents, which is good to know.
I was blown away when I opened up the box to find the fucking machine very securely packaged inside its own HiSmith branded canvas carry bag.
One thing often overlooked by people when looking for and buying a sex machine is how they are going to store it or move it around. It's fantastic that HiSmith has taken this problem on board and come up with their own solution, and a lovely one it is too.


I love the packaging of this fucking machine, it's so functional and is perfect for taking your machine to meets or on play dates.
The machine nestles inside rigid laser cut packing formers in layers. This holds everything securely in place while also protecting it on its journey to you and elsewhere. It's so nice not to have to throw packaging out, and that is definitely good for the environment. Well done HiSmith for a superb idea that I'm sure is going to be very well received.
You also get an elasticated dust sheet to cover your machine when not in use if you don't want to strip it down to store it in its storage bag. So you have two options there for storage and both are brilliant.


All of the parts are held securely in place in the cut out foam layers and the dust cover is a nice touch.
Inside the packaging, you get the machine itself, a silicone dildo, a quick start guide, an Allen key and instructions.
The instructions are easy to follow even though the standard of English in them is at times somewhat questionable. I am available to proofread instructions if any companies want them checking before printing.
Following the instructions, you can have the machine assembled in under ten minutes with ease.


All of the parts are quick and easy to assemble if you follow the instructions.
Design
I have already mentioned the storage and carry bag, which is a superb solution to what you do with a fucking machine between sessions. It's also ideal if you travel with your machine to clubs or friends houses.
This is what I call a standard fucking machine, and by that I don't mean its performance. I am talking about the style of machine.
It features two adjustable legs, an adjustable thrust length, quick release attachment, together with a motor and gearbox. A link arm translates rotational movement of a rotating arm into linear movement of the thrust rod. How it all works together is a work of art.
So, let me start with the legs. Often cheap sex machines have hollow legs, and while that is good for the company, making them as it means lower material and shipping costs, it is terrible news for the customer.
Fucking machines by their very nature tend to be unstable with large dildos or at high speeds. This is all due to the mass of the dildo being continually accelerated and decelerated. One thing that minimises this instability is weight, and that is where solid legs come in so handy.


Solid legs and sturdy clamps lead to a stable machine.
This machine has solid legs, and they are nice and robust, providing lots of stability in use. They are also laser engraved with the HiSmith logo, and that's a very nice touch.
You use the included Allen key to assemble the legs after removing their protective film as shown in the instructions.
These legs are then slid into two mounting clamps on the main machine body. Again excellent quality metal components are used here, some companies use plastic clamping blocks. These ones are metal, and you can adjust the clamping force to suit your needs. I found them excellent at holding the machine exactly where I wanted it.
Using the two clamps and combinations of leg height adjustments you can use this machine is a large number of positions, even while standing. That is good for you as it increases your play options.
The rotating arm attached to the motors gearbox has a thumbwheel that can be unlocked to allow you to alter the thrust length from 1.2-6 inches (3-15 cm). This means you can tailor the thrusts to your personal liking.


The moving parts are good sturdy parts that are easy to adjust. The blue grease shows you exactly where you need to grease when servicing your machine.
The sliding block that the link arm goes to has another thumbwheel. This one is used to secure the thrust rod in place. The linear guide rods are coated in a lovely blue grease to reduce frictions. The instructions recommend re-applying grease every three months, which is good advice as this will reduce wear and tear over time.
An external power supply is used, which is similar to the type you get with laptop computers. This plugs into a "cable box" on the side of the machine. I was sent a power cable with a US style plug but I had a spare cable, if you order from the UK site you get a UK power lead and if you order from the European HiSmith store you will get a lead with a two prong plug.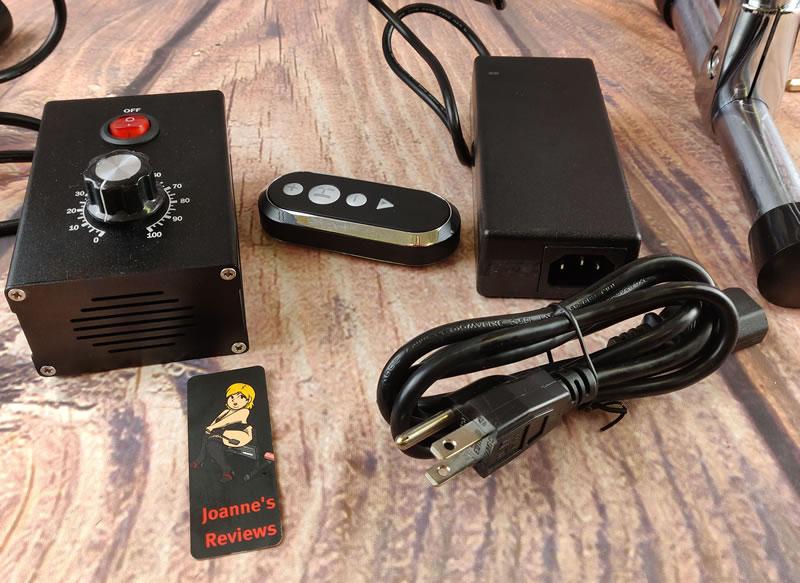 The power supply is easy to connect and the two control options are fantastic.
Controls
The remote control plugs into the other side of this box. This control has a red on/off switch and a rotating speed knob. Make sure the power switch is off, and the speed is set to zero before you plug in the power.
This machine also comes with a very stylish remote control. This allows you to control it from up to 10 metres away, and that is great if you are giving someone else the controls. I love using the remote as when using the machine I don't have to hold a bulky control box with a dangling cable.
To use remote, simply switch on the wired controller then use the buttons on the remote. The remote gives extra option when pressing the triangular button, where it runs a program from stop to slowly speeding up to a mid-speed, then slowing down to stop again. This is fantastic for teasing or prolonging an orgasm. The H button in the centre stops the machine no matter the speed it is moving at the time. The up and down buttons work seamlessly.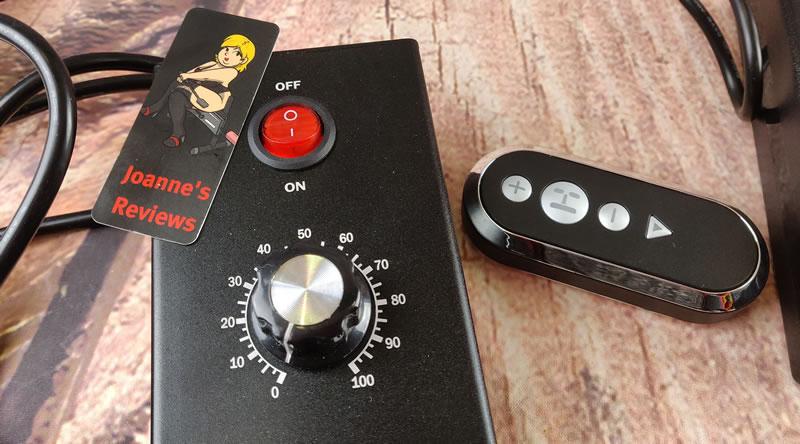 The controls are really easy to use and the program function makes a nice change from just constant speed fucking.
The business end of the machine
The end of the thrust rod carries a KlicLok quick release adaptor. This system is based on the quick-air adaptors, but this adaptor features an octagonal opening and corresponding plug in the dildo. This prevents the dildo from twisting in use so it will stay in the orientation you install it. HiSmith produces a full range of adaptors and even sets for the KlicLok adaptor machines. I recently reviewed the set for women and the set for lovers, and they are full of useful accessories.
The suction cup dildo that comes with it is a nice size with some very lovely feeling veins. It is made out of silicone which is fantastic, and my go-to material for insertable sex toys. It is phthalate and latex-free and so easy to clean, wash in warm soapy water or use an anti-bacterial sex toy cleaner.


The included silicone dildo has some lovely textured veins on it and a well defined glans.
The suction cup base has the KlicLok attachment mechanism screwed into its centre, allowing for a quick mounting and release from the machine. If you want to use the suction cup on the dildo, you need to unscrew and remove the metal KlicLok attachment from it. This adaptor can be screwed into a Vac-u-lock adaptor to allow you to use Vac-u-lock dildos with this machine. They are sold seperately. HiSmith sells a vast range of other dildos and accessories for this machine that are worth checking out.
Performance
This fucking machine has really given me a run for my money. It has fantastic performance and enough power to handle the larger dildos I enjoy the most.
I made the most use out of the Vac-u-lock dildo I received in one of the attachment sets as I have a lot of Vac-u-lock dildos and that is an attachment I can highly recommend. I have enjoyed this fucking machine in lots of different positions as it is so easy to set up various angles using the adjustable legs, here are some of the ones suggested by HiSmith.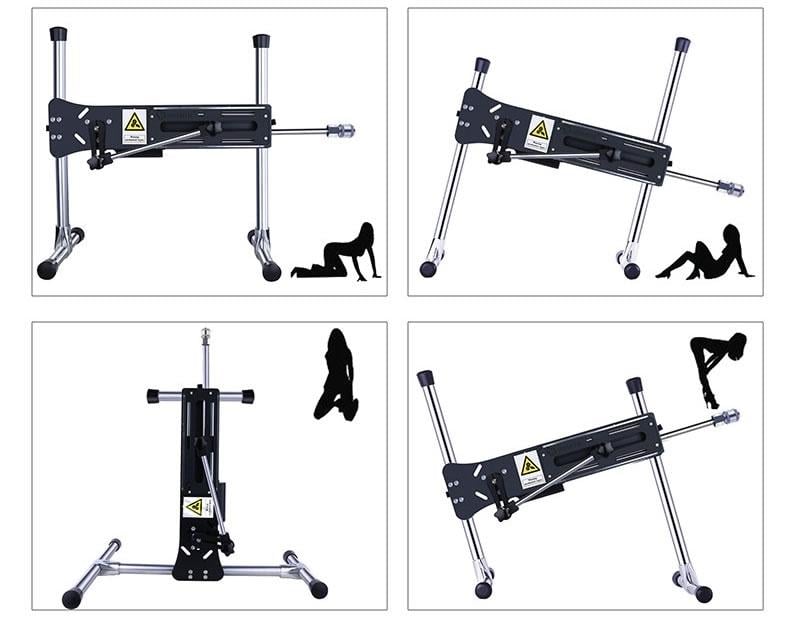 It is easy to set this machine up to use in lots of different positions. Image Copyright HiSmith.
With the supplied dildo this machine can really move. The specifications state it will handle up to 240 thrusts a minute which is four a second. While I haven't actually timed it I can attest to this thing is capable of some serious thrusting fun. You will need lots of lube to enjoy it at these speeds. The motor can get warm after a prolonged session and the manual recommends only using it for half an hour before letting it cool. Half an hour on a fucking machine is a lifetime, I found this one got warm but not too hot.
On longer stroke lengths or with larger dildos you will not get it moving as fast as on a short stroke length. That is purely down to physics. Having everything to do with mass and acceleration and not poor design. All fucking machines slow down with hefty dildos or long thrust lengths, and that is not a bad thing.
On high speeds, it does have a tendency to rock on its legs a little even with its heavy legs with heavier dildos. You get that with every fucking machine though, and it is something just to bear in mind. I place my foot on the legs to keep it stable with big toys, or you can put something on them. I made a short video of it in action showing you the speed increases when using the remote. As you can see, it handles the attached dildo with ease, and it is stable with this one too.
I am delighted to confirm that this machine really does deliver the hard pounding you would imagine a machine being capable of providing.
I was very pleasantly surprised with just how quiet it is, it gets louder as you increase the speed of the machine, but I do have louder vibrators (yes, I am a power queen).
It is probably the quietest fucking machine I own, and so it's very suitable if you need discretion where you play.
The included dildo is very nice, I like the fact that you can also use it as a suction cup dildo in the shower or elsewhere too. I am a big fan of sex toys with lots of options for their use.


The combination of easy to use controls and a very nice dildo means you can have a lot of fun straight out of the box.
I have enjoyed this fucking machine both anally and vaginally, and it's totally capable of pleasuring you in either orifice. Fucking machines just don't tire, they will go on and on leaving you to tap out when you eventually can't take it any more. That is one of the things I love about fucking machines.
HiSmith provides a one year warranty on this machine and spare parts are available on their website.
Looking for a reliable fucking machine with great features? Well check out this one from HiSmith that Joanne has reviewed, she loves it.
Click to Tweet
Key Features
Key features:
Solid sturdy construction
Controlled by a corded controller or by remote control
Quick release KlicLok adaptor and includes silicone suction cup dildo
Up to 240 thrusts a minute
Storage and carry bag included
1 year warranty
Solid, sturdy adjustable legs allow multiple ways to use it
Adjustable thrust length
Elescticated dust sheet iuncluded
I would recommend it to:
Anyone looking for a strudy fucking machine
Anyone looking for a remote control fucking machine
Anyone looking for a fucking machine with a KlicLock quick release adaptor
Anyone looking for a fucking machine with solid legs to make it sturdier
Anyone looking for a quiet fucking machine
I wouldn't recommend it to:
Anyone who doesn't like the idea of sex with a machine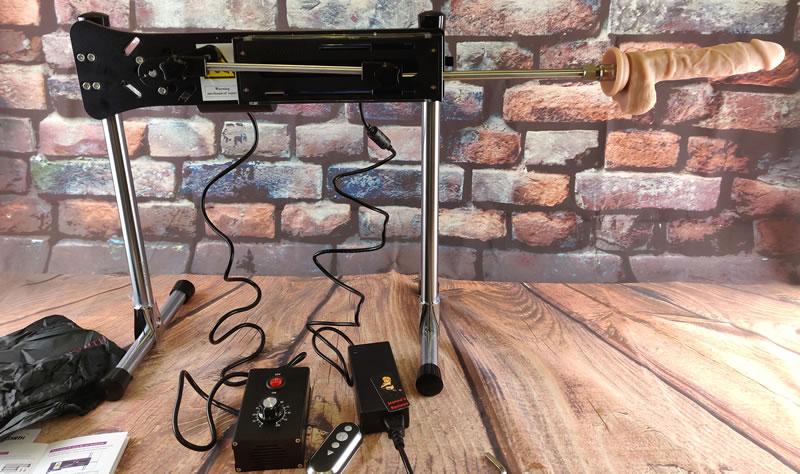 This is a fun and extremely functional fucking machine that I can highly recommend.
---
After reviewing the HiSmith Pro Traveler KlicLok Sex Machine, they have graciously given me a discount code to share with everyone here.
You can get 10% off that Sex Machine as well as its attachment kits, and that is fantastic.
But it gets better, they have justed extended the offer to give you 10% off and a FREE Spring Adaptor as mentioned in my reviews with your order. This is fantastic news and more reason to shop at Hismith.vo.uk
Just use this discount code during checkout - Joanne
Valid Products:
Check out their range of sex machines and attachments as it is fantastic. Don't forget to tell them that Joanne says "Hi".
---
Final Thoughts
All in all, I am delighted with the performance and features of this machine. I can understand why they call it their premium line. It's features far outway those on many of the comparably priced machines making it a fantastic choice for anyone looking for a good quality fucking machine.
It delivers where it matters with plenty of power and speed that will have you clawing at the sheets. The range of attachments available through HiSmith mean you can almost use any sex toy on it.
I think I now have a new favourite fucking machine, thank you HiSmith.
I was sent this Fucking Machine by HiSmith and I would like to thank them for giving me the opportunity to review it for them.
Joanne's rating
Where Can I Get One From?

Grab one of these extremely efficient Fucking Machines over at HiSmith.co.uk where you can grab one for £ 439.99 and wait for it to arrive and rock your world.
Check them out and don't forget to tell them that Joanne says "Hi".
Disclosure
This review does not contain affiliate links, for more information about affiliate links check out my disclosure page.