About Hismith
Based in Holland, HiSmith has been producing some great sex and fucking machines for years now, and I have seen their range of products expand year upon year.
Since their arrival in the market, they have grown and now make an extensive range of sex machines and accessories as well. The dildo supplied with this machine is silicone, and it is nice to see a manufacturer taking body-safe materials seriously, and that is something I love about HiSmith.
Check out their website to see the full range of machines and accessories on offer. I love their KlicLok system as it allows rapid attachment changes. It is more versatile than the vac-u-lock system used by other manufacturers.
So let me tell you about this fucking machine and how it arrived.
Delivery and packaging
After confirming my details with HiSmith, I didn't have to wait long for the package to arrive. It was sent by courier and arrived in a very plain cardboard box. This box carried no indication as to what was inside, which is good to know.
Imagine my surprise when upon opening the box, I was not met with just the Pro Traveler Fucking Machine. I also received two accessory packs to review as well - woohoo! I will talk about them later in a separate review as they deserve that.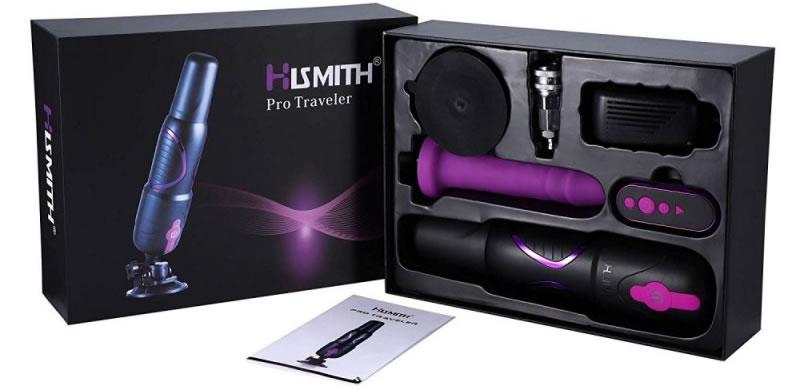 The Pro Traveler comes well packaged in a sturdy stylish box
The two accessory packs are fantastic, it means that you can basically fit anything to their fucking machine, and that's a massive advantage over their competitors.
The style of the HiSmith packaging is fantastic, with dark looks and very well made boxes. A plastic former hold everything securely, I can't fault it at all.
Inside the box, you will find the Pro Traveler fucking machine, its suction cup base, a KlicLok to Quick Air adaptor, the power supply, the remote control and a set of instructions.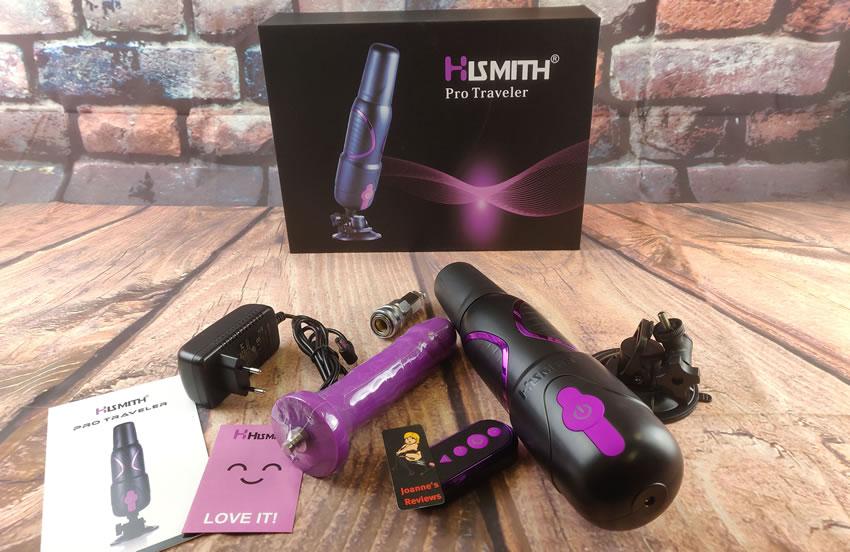 The Pro Traveler has everything you need to enjoy some machine sex, but don't forget the lube
Design and materials
9 different patterns
3 different speeds
Dimensions: 41x23.5x23.5cm
24W Extremely powerful motor
5 cm thrust depth
12V/2A Output Voltage
Equipped with Kliclok connection
Comes with a remote control
Equipped with sturdy and powerful suction cup This is a tidy little fucking machine, with the emphasis on little. I am impressed with how Hismith have managed to pack in so much performance into such a small form.
The Pro Traveler Sex Machine is made out of ABS and silicone, which is fantastic as both are body-safe and so easy to clean. The black and purple colour scheme look fantastic.
The working end of the machine is covered by a cap to keep it clean and prevent snagging in your luggage if traveling with it. This clips on and off easily to reveal the KlicLok System.
The base of the machine has a screw hole which is where the suction cup base is attached. This machine comes with a very powerful and easy to use suction cup base, which will securely hold the weight of the device to any smooth surface. I had no problems with this one but HiSmith has just informed me that they now have an even better one which will ship with machines which is fantastic. I love it when companies continually improve their products.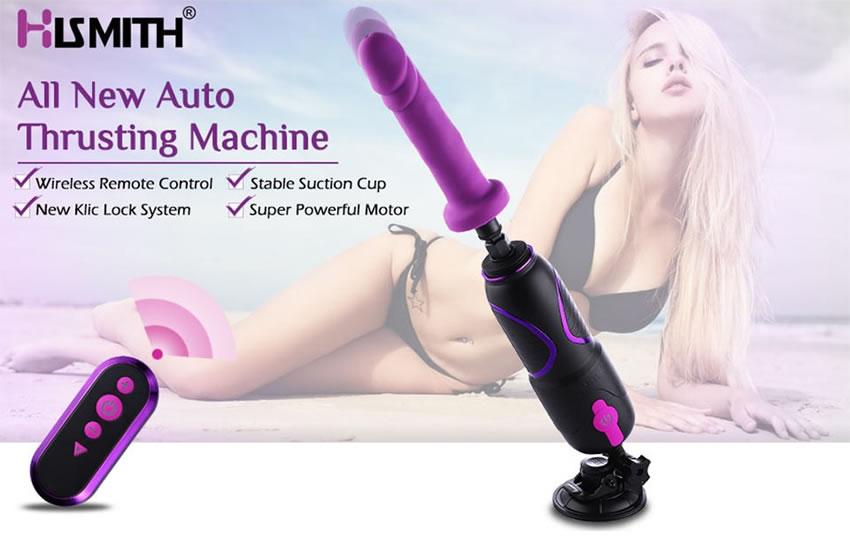 While the Pro Traveler is compact, it is more than capable for delivering a good fucking
The machine has a big silicone power switch on the top and a socket on the bottom for the power cable. Both are well placed and the power button is very tactile.
The attachment mechanism is utterly brilliant. HiSmith has developed a hexagonal KlicLok system which takes the functionality of their Quick Air attachment and prevents the dildo from rotating.
You also get an adaptor to fit the KlicLok socket to enable you to use the Hismith range of Quick Air attachments. I love just how easy this system is to use.
Both the Quick Air and KlicLok system are pretty bullet proof and they allow for a huge range of attachments to be used with this machine. The best bit though is the fact that dildos can be swapped out in mere seconds which keeps your play sessions from coming off the boil.


The KlicLok systems makes rapid dildo changes so easy, just pull down on the collet and the dildo pops off
I am delighted to say that the Pro Traveler comes with a fantastic silicone dildo. Silicone is my go-to material for insertable sex toys as it is non-porous as well as being both latex and phthalate-free. This lovely purple dildo comes with a KlicLok adaptor in the base, and the glans carries some beautiful details for both g-spot or p-spot stimulation. Well done HiSmith, for supplying a body-safe dildo.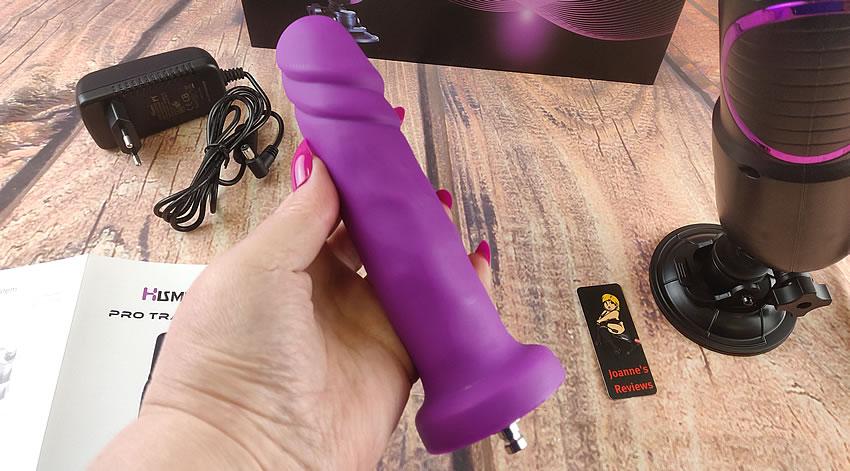 The Pro Traveler comes with a fantastic silicone dildo
Performance
Firstly, remember what I said at the beginning of this review, this is a small fucking machine designed to be used as a travelling companion as well as a hardcore fucking machine. It has a stroke length of just 5cm/2", but while that doesn't sound much, it's more than enough to provide some excellent stimulation, and it has got me off numerous times now.
On the subject of dildos, this is a travel machine and that means it is small and compact. That small form comes with a trade off on power so it just can't handle huge ass splitting dildos or Fleshlights, but I wouldn't expect to to be able to. The one it is supplied with is perfect but if you want to enjoy bigger dildos I would suggest going for one of the HiSmith premium fucking machines where power is no problem.
It spent five days at Eurodisney helping sub'r' to get over hard days of walking and enjoying herself. I can attest that it is perfect for anyone considering taking a fucking machine on holiday. I mean, why wouldn't you want to take a fucking machine with you? This small but very functional machine makes is so easy to take with you. In use it is relatively quiet compared to some of its larger cousins and that makes it discreet as well.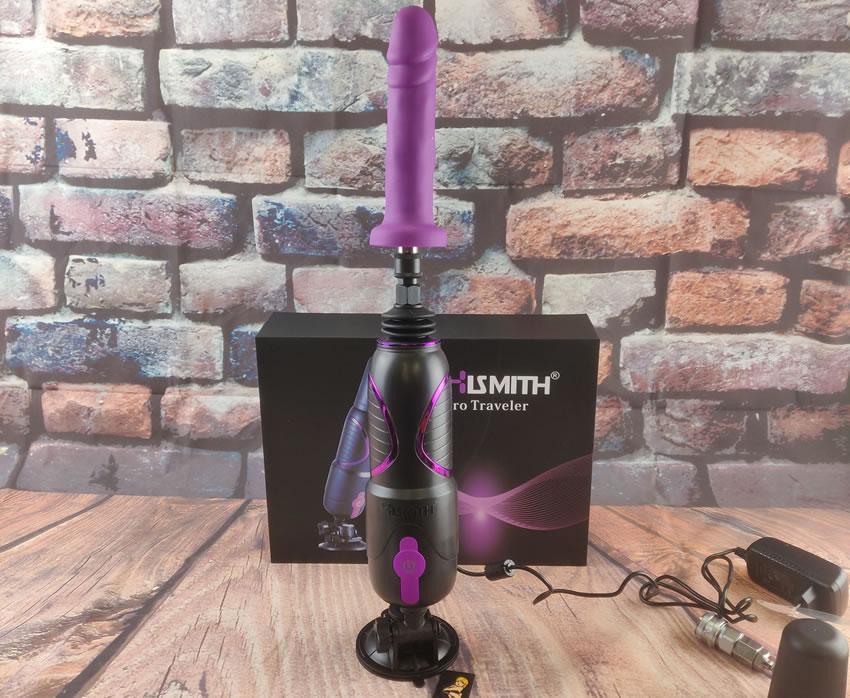 The Pro Traveler is held securely by its excellent suction cup base
The suction cup base is brilliant, stick the machine to the bath, a tiles wall, the floor or any other smooth surface so you can use it. The suction cup base can be adjusted through 120 degrees and once locked in place it doesn't move or slip.
The suction cup holds the machine securely, and it is easy to set it at an angle to line up with your waiting orifice. Then plug in the power cable, and you are ready to go. One point to note is that the machine I was sent has a European plug on the power adaptor. If you order from the European HiSmith website you will get a power adaptor with a EU style plug. But, buy one from the UK site and you will get an adaptor that will work with our three pin sockets, so they have both bases covered.
Switching it on is easy, press the large button on the Pro Traveler, and then you press the power button on the remote to start it moving.
Controlling it with the remote is simplicity itself, and it is so much better than a wired controller. Stunt Cock could control the machine from the comfort of a chair while sub'r' was restrained and "pleasured" by the machine.

The Pro Traveler is controlled using a remote control that is easy to use and very functional
We were all surprised by just how much fun this small fucking machine can be.
You get to enjoy three different speeds and nine different fucking patterns, which are fantastic. It is so lovely to use a fucking machine that isn't monotonous like most can be.
Having the ability to cycle through twelve different modes of operation while it is on and still inside you is fantastic as it never gets boring.
Some of the patterns feel incredible, and the design of the body-safe silicone dildo really means your hole experiences some divine sensations.
I love the way the coronal ridges on the dildo stimulate my g-spot, and the sensations of them against my vaginal walls gets me so wet and drives me wild.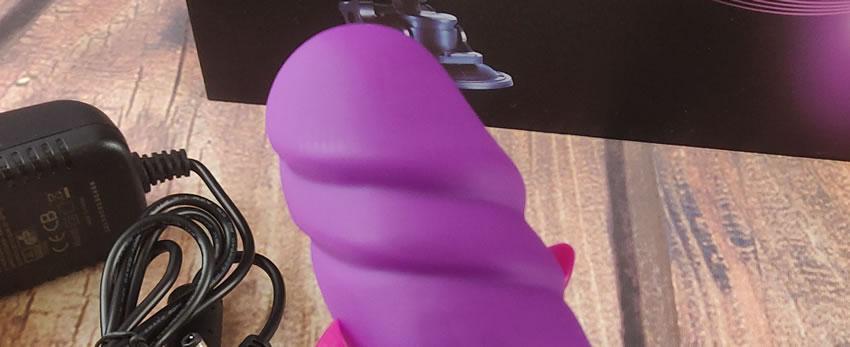 The dildo that comes with the Pro Traveler has delightful textures
The remote is fantastic, and it makes the Pro Traveler so easy to use. Just get the dildo inside you and play with the settings as you enjoy a good hard fucking.
The Pro Traveler has lots of power with the included dildo, and once fitted in place all that power is put to good use fucking your waiting hole with any dildo you attach to it.
We found it fun to use in the doggy position the most, with it fixed firmly to either the floor or the wall. Being able to adjust the angle of the machine quickly makes lining it up with your holes an easy task. Once locked in place, you can get the dildo inside you and enjoy the power and patterns that this machine delivers.
Both of us have really enjoyed the orgasms that we have experienced at the end of this stunning little dildo mounted to the Pro Traveler.
Both Joanne and sub'r' were impressed by the performance of the HiSmith Pro Traveler Sex Machine, especially while at EuroDisney.
Click to Tweet


The suction cup base holds the Pro Traveler securely to any flat smooth surface
Key Features
Key features:
Small and lightweight making it perfect for use when traveling
Body-safe silicone dildo included
Uses KlicLok attachment system and includes an adaptor for Quick Air attachments
Three Speeds
Nine Patterns
Strong suction cup base
Remote controlled (battery included)
Short 2"/5cm stroke length but the patterns make it feel amazing
I would recommend it to:
Anyone new to fucking or sex machines
Anyone looking for a fucking machine with a remote controller rather than a cabled one
Anyone looking for a sex machine that comes with a body-safe dildo
Anyone looking for a small and light machine to use while traveling
I wouldn't recommend it to:
Anyone looking to drive huge dildos anally
Anyone looking for a long stroke length
Final Thoughts
Both sub'r' and I love this little machine, it is small, functional and the KlicLok system makes toy swaps so fast and simple. The enclosed adaptor for the premium Quick Air attachments/dildos from HiSmith is fantastic too.
I have to admit that this fucking machine totally surpassed my expectations, and it makes a fantastic entry-level fucking machine or one for someone with traveling plans.
The small size, coupled with its lightweight constructions means you can take it anywhere to enjoy some hardcore machine sex wherever you go.
If you are looking for a company that strives to produce the best machines, then check out the range available at HiSmith. This one is perfect for anyone new to machine sex or for someone looking for a great little travelling companion.
It ticks all the boxes, powerful, easy to use, body-safe attachments, and it is so much fun to use. I have no hesitation in giving it a strong recommendation.
I was sent the Pro Traveler Fucking Machine by HiSmith and I would like to thank them for giving me the opportunity to review it for them.
Joanne's rating
---
After reviewing the HiSmith Pro Traveler KlicLok Sex Machine, they have graciously given me a discount code to share with everyone here.
You can get 10% off that Sex Machine as well as its attachment kits, and that is fantastic.
But it gets better, they have justed extended the offer to give you 10% off and a FREE Spring Adaptor as mentioned in my reviews with your order. This is fantastic news and more reason to shop at Hismith.vo.uk
Just use this discount code during checkout - Joanne
Valid Products:
Check out their range of sex machines and attachments as it is fantastic. Don't forget to tell them that Joanne says "Hi".
---
Where Can I Get One From?
Check out the amazing range of sex and fucking machines over at HiSmith. They carry a huge selection of very capable sex machines.
You can of course grab yourself one of these cracking little fucking machines, the Pro Traveler for £199 (usually £249.99) which is a bargain.
Check them out and don't forget to tell them that Joanne says "Hi".
Disclosure
This review does not contain affiliate links, for more information about affiliate links check out my disclosure page.