Delivery and packaging
When I received this expansion set together with the Pro Traveller Fucking Machine and the second expansion set, all of them arrived under very plain cover.
Delivery was via a courier, and the outer box had no indication as to what lay within. That is perfect as I often have packages left with my neighbour if I am out and I would prefer them not to know just how much I enjoy a good old machine rodgering.
As with the Expansion Kit For Women, the branding looks fantastic. The hard box makes it easy to store the attachments away, and they are held securely inside a sturdy plastic former.
The lid is a perfect fit on the box and makes opening it fun, it's almost airtight so you may have to jiggle it a bit to get the lid off.
Inside you get the following attachments:
1 x Black Vac-U-Lock
1 x Suction Cup Adapter
1 x 30cm Extension Rod
1 x Spring Connector
1 x G-spot Clamp
1 x Male Masturbator Bandage

The well designed box holds everything securely
HiSmith have produced three kits, each tailored to a set of genitals, so it is easy to identify the one that you require. Each kit has a set of common attachments with genital specific attachments being added to alter the sets to increase their functionality. So in essence you should only ever need one set depending on your particular needs.
Why do you need extra attachments?
Fucking and sex machines are amazing, but you will want to fit as many of your favourite sex toys to it when you get one. Just using the one included with the machine can get old very quickly.
Attachment kits allow you to use a variety of sex toys to keep things fresh. Fitting your favourite sex toy to a fucking machine can allow you to enjoy it in a whole new way, and that is great.
One of the great things about sex machines is that they are relentless. So being able to lay back and enjoy your favourite toys for extended play sessions is one of the things I love about using them.
Anyway, if you buy a nice fucking machine, why wouldn't you want to use your favourite toys with it?
All of the attachments in this kit use the KlicLok System which is a proprietary system used on HiSmith machines.
The KlicLok system features a plug with an octagonal profile that goes into a quick air style quick-release mechanism.
The beauty of this system is that unlike standard Quick Air systems, the KlicLok system prevents any rotation within the coupling. This keeps dildos in the orientation that you decided upon when you attached them, so no more dildos that turn as you use them.
It also means you can swap out attachments in seconds with ease.
I love this system, and with this kit, I can basically attach anything to a HiSmith fucking machine that uses the KlicLok system. I will now discuss each of the attachments in turn.
Black Vac-U-Lock Adaptor
This adaptor is one of the best ones in the set. It allows you to fit Vac-u-lock compatible dildos to the end of your fucking machines thrust rod.
There is a massive variety of vac-u-lock compatible dildos available, so it allows you to use lots of fabulous designs.
The Vac-u-lock system allows quick dildo changes, the adaptor is pushed into the base of these dildo displacing air and forming a vacuum that holds the dildo in place.
With so many body-safe silicone vac-u-lock compatible dildos available on the market, this is going to be a handy adaptor indeed.
Suction Cup Adapter
This is an adaptor with one use in mind, and that is mounting suction cup base dildos. This adaptor has a male KlicLok adaptor screwed to a flat plate with a raised edge.
The stainless steel plate allows you to stick your suction cup dildo to it before attaching the adaptor to your fucking machine.
To remove your dildo, break the seal with a fingertip, and it will drop off. This means you can use this plate for quick swaps of suction cup dildos which is fantastic.
I have lots of suction cup dildos, and it is nice to be able to use them on a fucking machine.
G-spot Clamp
This is a very versatile adaptor that allows you to fit pretty much anything else to your fucking machine. Think rabbit vibes, g-spot vibes or any other insertable really.
It caters for the toys without a vac-u-lock hole or suction cup base. I really enjoyed fitting a rabbit vibe to my fucking machine. The sensation of the ears momentarily being in contact with my clitoris was fantastic and a huge tease as it fucked me.
This is a well thought out and easy to use adjustable clamp.
This adaptor is made out of stainless steel and high strength ABS. The jaw faces have a non-slip material on them to aid grip. You unwind the clamp to make it accept your toy before clamping it in place.
30cm Extension Rod
This rod comes into its own when you need some distance between you and the fucking machine, and it's a handy addition to this set. It makes your machine more comfortable to use as you are positioned further away from the working parts.
This one measure in at 30cm and in my opinion is a must for short machines like the Traveller Pro. Just fit it to your machine and then install another attachment to the end to increase your play possibilities.
Spring Connector
I really like this adaptor, it is so simple. It can be fitted between your machines thrust rod and whatever you have thrusting away inside you. It makes the thrust rod flexible, it also cushions it to an extent. It is perfect for the squirmers out there who can't stay still when getting pounded.
It also has the added bonus of making it easy to line up the thrust rod with your holes. Allowing you to move slightly in use makes getting fucked by a machine much more comfortable too.
Male Masturbator Bandage
The adaptor allows you to strap any masturbator sleeve or fleshlight style toy to the end of your fucking machine.
It features a long velcro strap that wraps around the plastic mount. The mount itself has a spiral-shaped holding arm that you can stretch open before allowing it to close around your toy.
You then just tightly wrap the velcro around the outside to secure your toy onto the attachment. You then fit it to the end of your fucking machines thrust rod to enable the masturbator to stroke your penis when you insert it and switch the machine on.
This is an excellent adaptor if you enjoy fleshlight style toys and being able to enjoy the stroking action hands-free is a bonus of course.
If you own a HiSmith fucking machine that accepts the KlicLok attachment system then check out this amazing adaptor set.
Click to Tweet
Key Features
Key features:
Six attachments using the KlicLok system
Good quality attachments
Four attachments for fitting a variety of sex toys
Two attachment designed to increase range and feel of the thrusting
I would recommend it to:
Anyone with a fucking machine that accepts KlicLok attachments
Anyone looking to use lots of different style of attachments
Anyone who needs some more length to their thrust rod
Anyone looking to mount a male masturbator to their fucking machine
I wouldn't recommend it to:
Anyone without a fucking machine that accepts KlicLok attachments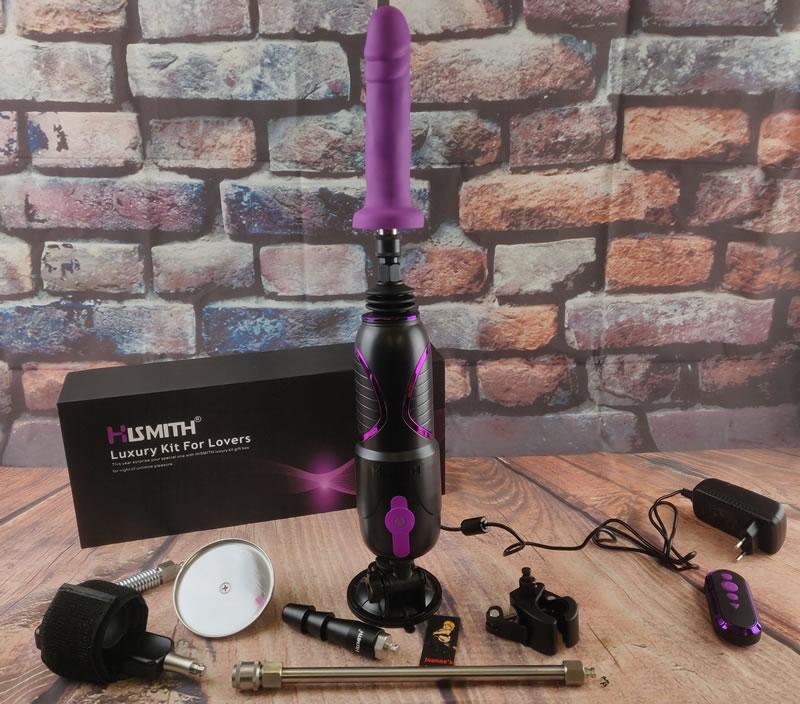 These attachments greatly improve the functionality of any fucking machine that accepts KlicLok attachments like the Pro Traveler (sold seperately)
Final Thoughts
This is another fantastic attachment set, a lot of thought has gone into the selection of the adaptors. With it, you can pretty much mount anything to your machine.
The box they come in is fantastic, and as a set, it's pretty much perfect for increasing your play possibilities with any machine that accepts KlicLok attachments.
Like the other sets, HiSmith created this one after analysing their sales of attachments over a long period of time to select the most popular accessories. Buying them in this set saves you a lot of money over buying them independently.
I was sent this fucking machine attachment set by Hismith and I would like to thank them for giving me the opportunity to review it for them.
Joanne's rating
---
After reviewing the HiSmith Pro Traveler KlicLok Sex Machine, they have graciously given me a discount code to share with everyone here.
You can get 10% off that Sex Machine as well as its attachment kits, and that is fantastic.
But it gets better, they have justed extended the offer to give you 10% off and a FREE Spring Adaptor as mentioned in my reviews with your order. This is fantastic news and more reason to shop at Hismith.vo.uk
Just use this discount code during checkout - Joanne
Valid Products:
Check out their range of sex machines and attachments as it is fantastic. Don't forget to tell them that Joanne says "Hi".
---
Where Can I Get One From?
Check out the amazing range of sex and fucking machines over at HiSmith. They carry a huge selection of very capable sex machines as well as kits like this one.
Grab one of these fantastic kits over at HiSmith for £188.
Check them out and don't forget to tell them that Joanne says "Hi".
Disclosure
This review does not contain affiliate links, for more information about affiliate links check out my disclosure page.