Lodbrock
Let me tell you a little bit about Lodbrock, they are a German company manufacturing a fantastic range of bespoke BDSM products in a stunning classical design.
Formed by three friends Frank, a successful entrepreneur, Torben, a master craftsman and Paul who is an award-winning media specialist all agreed that the market needed a shakeup.
They realised that with so many overpriced and substandard products available in the marketplace there was an opportunity to bring quality products to the masses. They set about designing and manufacturing the very best dungeon equipment.
Their first collection the Schlossmeister Collection looks fantastic, with something for everyone. I was blown away by the Goo Plate. This classic collection relies heavily on Germanic history, and it has a rustic look that really hits home with me. I love it. If the Goo Plate whets your appetite, then the Pillory Set will really flick your switch.
Delivery
The Pillory Set arrived incredibly quickly all the way from Germany by courier. The Pillory Set is secured inside a cardboard box with foam padding and bubble wrap.
When I cut the re-enforced packaging tape to open the box, it was in pristine condition, and I could feel my heart racing as I removed it from its packaging.
If I had to sum up the delivery and packaging, I would just have to say 'perfect'.
The Pillory Set
I could feel my excitement building as I flicked each of the two locking catches open on the beautifully handcrafted cedar display box. Like the Goo Plate, this piece of equipment comes with its own storage case.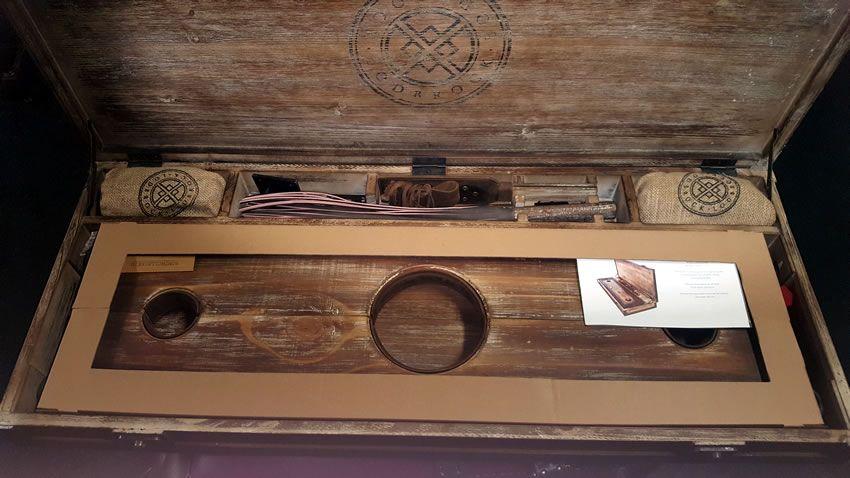 The case is amazing for storing the equipment that nestles within it nicely
As far as I am concerned, you can't get better than Lodbrock dungeon equipment, and I took a sharp intake of breath when I lifted the lid on its sturdy hinges. I took my time to admire the contents nestled within.
This is more than just a pillory, this is a set that allows you to fulfil your wildest fantasies. It isn't just a restraint system as you also get some toys to play with as well.
Everything is laid out in front of you, and a lot of thought has gone into the design of the case. The instruction booklet is clear and multilanguage, and you will find some of those silica gel sachets in there to keep any moisture out.
This kit contains:
The Pillory which takes up most of the space within the box.
A leather blindfold with leather straps.
A handcrafted leather flogger.
A handcrafted leather paddle, one side is smooth, and the other has metal rivets.
Two ceiling mounts.
Two sets of chains and shackles, each in its own hessian storage bag.
One pip-pin that is used to lock the pillory shut.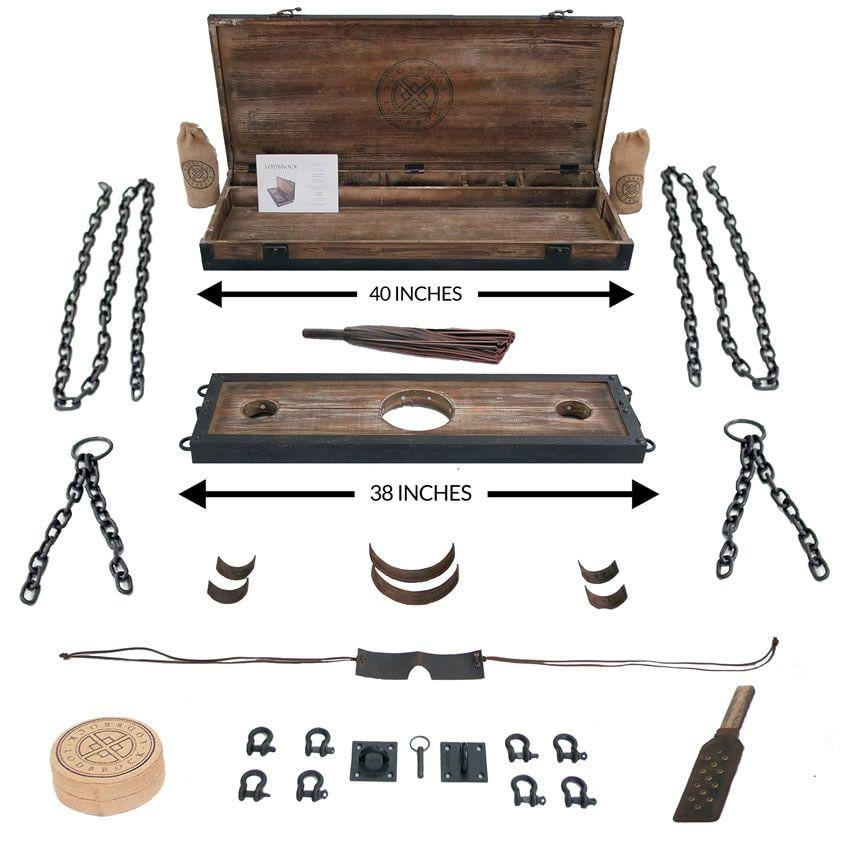 This is a well thought out piece of BDSM kit with lots of items included
Pillory
This is the meat and veg of this amazing BDSM kit. Manufactured out of aged sturdy pine and with a black metallic border to give it stiffness and an old school look.
It features four 'D' rings, two on each side that can be used with the included chain set to suspend the pillory at any height.
It is fantastic, and its looks conjure up all sort of kinky thoughts in my mind. The finish is excellent, but it is only after you have played with it that you truly appreciate it for what it is. This is a thing of beauty that has the performance to match. It is the perfect instrument to restrain a submissive while you do what you want.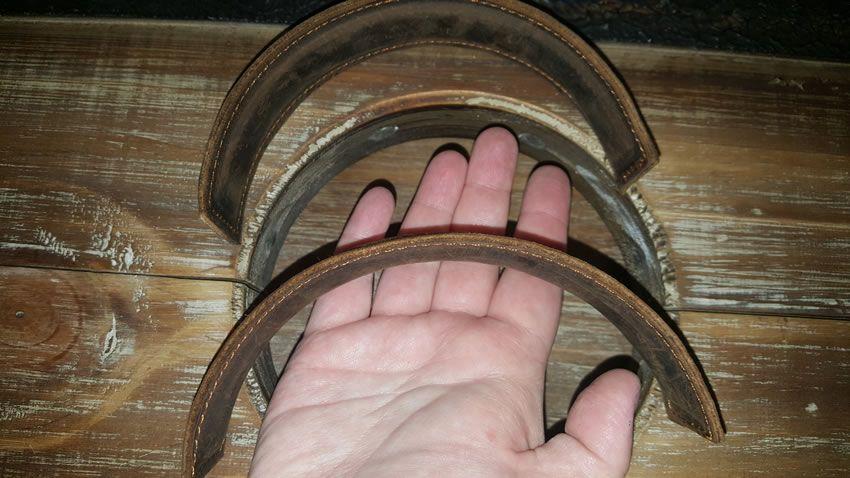 The leather hole liners are held in place with magnets
The neck and wrist holes have magnetic fittings that allow the leather liners to be quickly removed if you prefer a rougher style of play. These inserts are soft and smell delightful. Like everything that Lodbrock does, the Pillory Set has had a lot of thought put into it.
The locking latch at the opposite end to the very sturdy hinge is easy to use, and the pip-pin is a superb solution to locking it.
The hammered finish to the metalwork looks fantastic, and that is a word you will see used often in this review.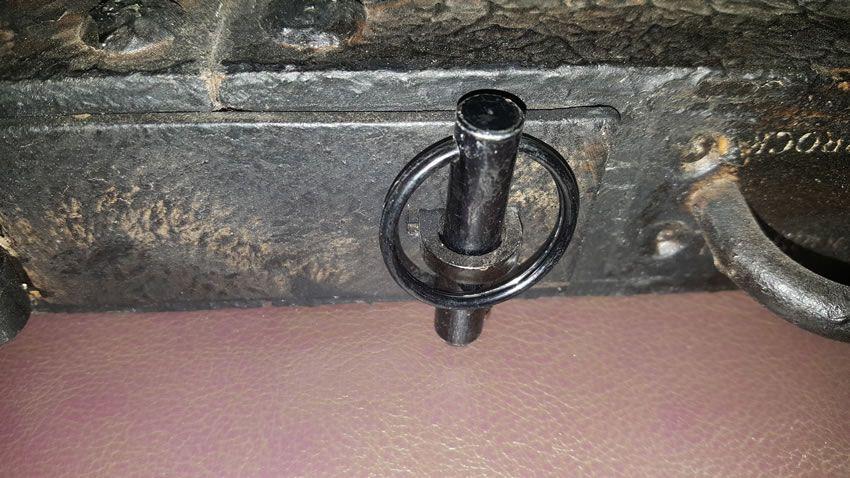 The latches are very sturdy and totaly on design
The Pillory can be used with the chain set to secure a submissive in any position, or you can use it without the chains to fix and sub in the doggy position for instance.
Chains & Shackles
Included in this kit are two sets of suspension chains and shackles. All of which carry the Lodbrock branding and they are made especially for them. The matt black finish compliments the look of the pillory and using them you can secure the pillory in any position that you want. The chains measure 1.8m giving you lots of flexibility.
They even include two ceiling mounting plates so that you can turn any room into a play dungeon.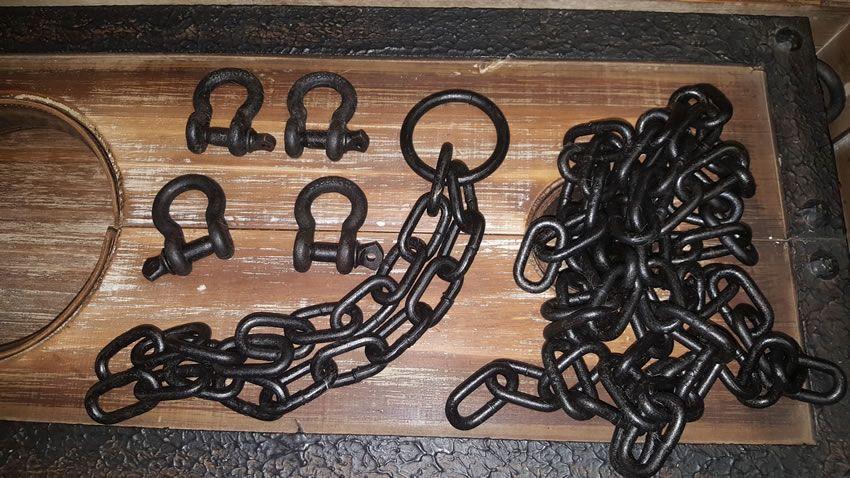 This image shows one of the chain kits with its branded shackles
They are excellent quality, and I love the branded hessian sacks that each set comes in. These sacks keep the chains neatly stored in the storage box, and they are a nice touch.
Leather Blindfold
I was immediately taken by the leather blindfold, its smell is divine, as I love the smell of leather, it always has me aroused when I take a deep breath.
The blindfold is branded and is a straightforward design, but it works exceptionally well. The inner face is soft while the outer face is smooth leather.
The included leather straps are fantastic and make fitting and removal an easy task. I love the fact that the laces are leather, it is a nice touch, and it is the little touches that really set Lodbrock aside from the rest of the competition.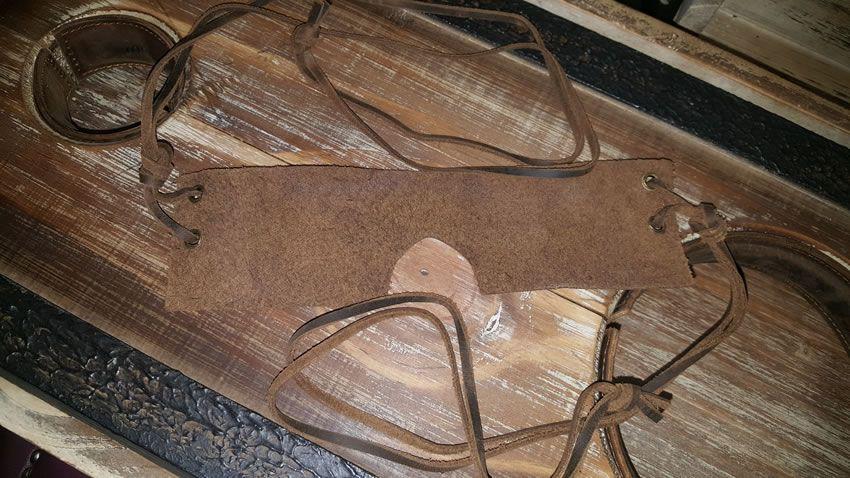 The blindfold is simple yet elegant in its design
Leather Flogger
The flogger is a work of art with its logo proudly displayed on the end of the aged wooden handle. The double rows of leather fronds are stiff and feel incredible against your skin.
The sensations that it delivers are easy to control, and I would say it provides strong thuddy sensations that feel delightful. I really enjoyed feeling it against my behind and using it on sub'r' too.
It is a fantastic addition to this set being well balanced and easy to swing in use.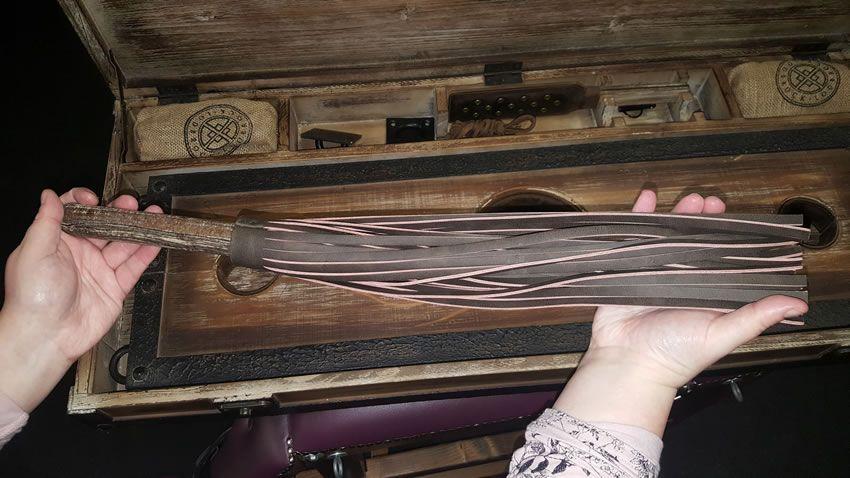 The leather flogger is a delight to swing and use, it feels great against your skin
The Paddle
The paddle is my favourite out of the two included impact play toys. It has a beautiful wooden handle re-enforced by a metal plate.
The paddle faces are padded and covered by hand-stitched leather. One side is smooth and the other features rows of delicious metal rivets. I thought I wouldn't like that face, but in reality, it delivers incredible sensations that blew me away.
The paddle is well balanced and really easy to swing. The sounds it makes when it strikes flesh is music to my ears, and just that sound gets my juices flowing.
Being paddled with it was an incredible experience, especially when locked into the Pillory.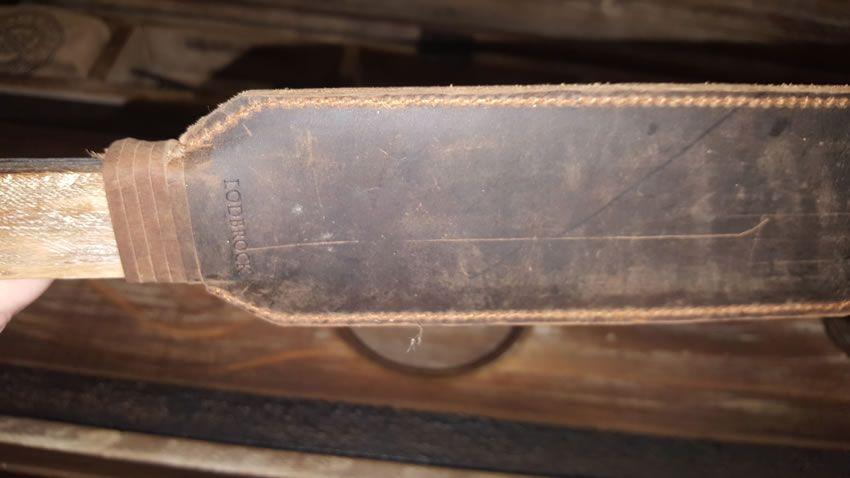 The double sided paddle is very effectvive and makes a dleightful sound when it lands
Performance
As this is such a special piece of equipment, I had to book TP Dungeon for our first play session with it just to do it justice. But, it would be equally at home in a bedroom or living room though, I just like dungeons.
Watching my Stunt Cock set up the chains and the pillory got myself and sub'r' very wet and ready for some BDSM play.
I couldn't resist taking some pics of sub'r' in the pillory, and she loved being restrained this way. The smell of leather and the cold metal coupled with the warmth of the wood really gets her going.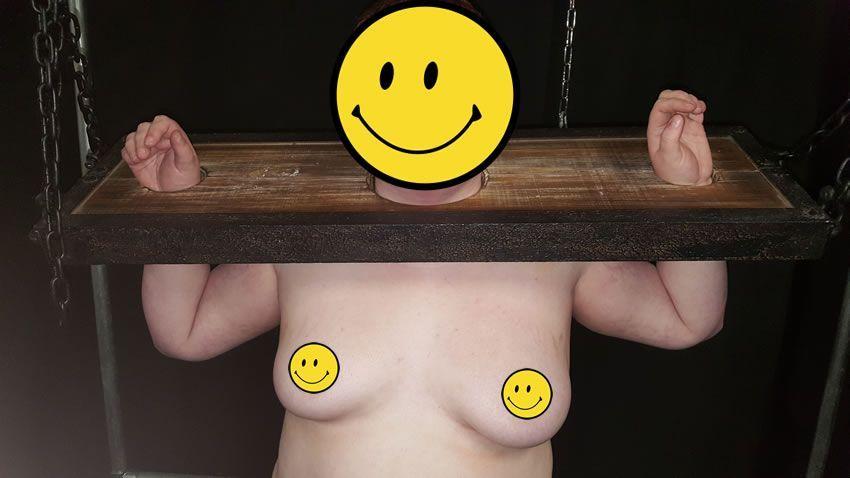 he Pillory Set locks you in place perfectly, you can struggle but you won't get away
When you are fitted with the pillory, you have no chance of escaping no matter how hard you struggle. As your hands are firmly immobilised, it makes you feel very vulnerable.
With the blindfold fitted your senses are focused on what is being done to you, and I came really hard while being paddled. When sub'r' was restrained she took a good session with the flogger followed by the paddle and her orgasm was huge. She just stood there trembling as her orgasm subsided.
We also used the pillory on a raised platform which is a lot of fun with your head and wrists pinned to the platform and your bum up in the air. Impact play and sex in this position is fantastic and so much fun, there is something so kinky about being restrained in this manner.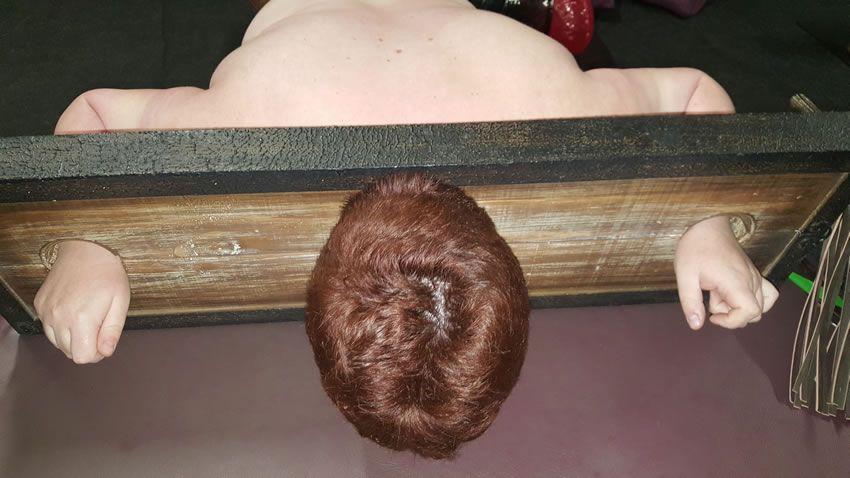 The Pillory Set is so much fun to explore and use
The Pillory Set is so versatile and fun to use. All of the Lodbrock range of toys are designed to work in conjunction with others from the range. You can quickly build up a very versatile and functional dungeon environment with their kits.
The Pillory Set from @Lodbrock_world excited both her imagination and her senses. Check it out to see why Joanne thinks it is just so good.
Click to Tweet
Key Features
Key features:
Exceptional quality construction
Impact toys and a blindfold included
Quality metal chains, shackles and anchor points included
Chains and shackles securely held in branded hessian bags
Removable leather liners, secured magnetically to the pillory
Luxurious storage case included
Final Thoughts
Lodbrock has surpassed themselves again with this Pillory Set and as I release this review they have a 50% off sale which is incredible so now is the time to grab one of these fantastic sets.
You not only get an incredible piece of dungeon equipment but you also get all the fittings to be able to use it in so many ways. The blindfold, paddle and flogger are the icing on the cake.
I am enamoured with Lodbrock equipment, it is quite simply the best, and if you are looking for rustic looking handcrafted BDSM equipment, then they are the people to turn to.
Lodbrock equipment is well made, functional and has a look and feel that gets this reviewer and her submissive in the right frame of mind for some serious BDSM fun and games.
Check out the rest of their incredible collection of BDSM equipment.
I was sent this incredibly Pillory Set by Lodbrock and I would like to thank them for giving me the opportunity to review it for them. It has received the highest marks of anything I have reviewed thus far as it is amazing.
Joanne's rating
Where Can I Get One From?
Grab one of these amazing pieces of BDSM equipment from the Lodbrock website for the special price of €249.00 (£223.961) as it is on special offer at the moment, usual price is €599.00 (£538.77). Check out the rest of the Schlossmeister Collection, I was blown away by the designs and I am sure that you will be too.
Check out the Pillory Set, it is to die for.
Check them out and don't forget to tell them that Joanne says "Hi".
Competition
Lodbrock has sent me an extra one of each of the impact play toys. The leather paddle and flogger to give away to two lucky readers.
So if you fancy getting your hands on these fantastic handmade BDSM implements just enter the two competitions shown below.
Disclosure
This review does not contain affiliate links, for more information about affiliate links check out my disclosure page.