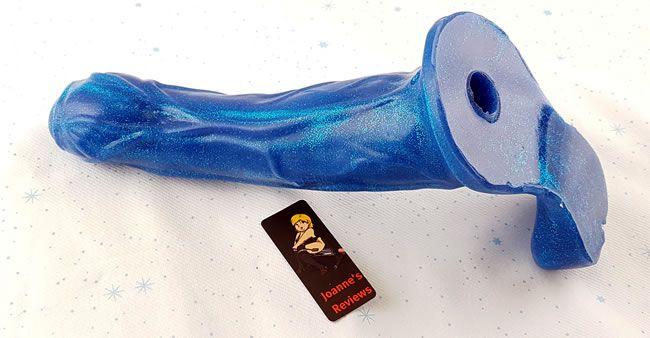 The large Hercules from Godemiche is quite something to behold
I love the new Godemiche packaging for their sex toys. Each now comes in a stylish looking plastic sealed pouch with a window on the front so you can see the toy inside. This is ideal for brick and mortar sex shops but in my haste to get my hands on the Hercules I removed it from the packaging before taking pics of it - Naughty Joanne. The new style of packaging gets a huge thumbs up from me; it compliments the brand's image well.
The large Hercules is a huge dildo, I am reviewing the large but it also comes in Medium and small which means everyone can enjoy a Hercules not just size queens like myself.
The blue with glitter colour scheme from the Effulgence Range looks fabulous with this dildo; it's one of those toys where once you pick it up you end up rolling it around in your hands looking at it from different angles. I love the colour, and you can get some other incredible colour options on the Godemiche website - http://www.g-silicone.com, I adore the Galaxy range as well.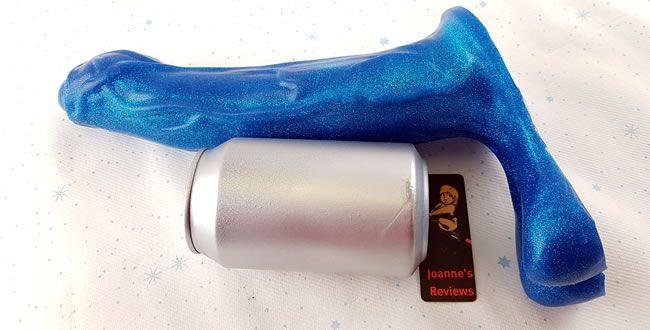 The veins give it lots of texture and the testicles are a fun feature too
Small:
Usable length 6"/15.2cm
Head circ. 4.4"/11cm
Shaft base circ. 5"/12.7cm
Medium:
Usable length 7.5"/19.05cm
Head circ. 5.1"/12.9cm
Shaft base circ. 5.9"/14.9cm
Large:
Usable length 9"/22.8cm
Head circ. 6"/15.5cm
Shaft base circ. 7"/17.7cmThe Hercules as its name suggests is a dominating dildo in every way. Its proportions of the large are let's just say eye-opening. The large measures in at 9"/22.8cm of usable length and every inch of it feels great. It is also available in Medium and Small which means that this is a dildo that everyone can enjoy.
I love the detailed and very textured veins on the shaft, they look and feel incredible. They give me the texture that I crave but is so often lacking in other dildos. I am a bit of a texture queen as well as a size queen (I know, I know, but I like what I like) and I like to feel texture when thrusting with a dildo, especially if it's mounted on a fucking machine. The vein textures on the Hercules feels exquisite as it rubs against my g-spot in use quickly bringing me to powerful orgasms.
A feature I love about this dildo is the fact that it is uncircumcised. This is the first dildo that I have owned that has an apparent foreskin, it's half withdrawn, and this makes the head fascinating to look at. It's wonderful to see a dildo with a foreskin, and this doesn't detract from the well-defined head of the dildo that almost pops inside you as you insert it.
The head of this dildo tilts upwards, and this gives added g-spot stimulation as it is drawn back and forth over that oh so precious spot internally. I can say that for loves of g-spot stimulation, the Hercules is also a tremendous g-spot dildo.
It also has other endearing qualities and these dangle below the dildo. It features a huge pair of testicles that swing back and forth in use, and this is another fantastic feature. If I am using this dildo on a fucking machine in the doggy position then feeling the balls slapping against me as the fucking machine does its job is fantastic. Again no other dildo I have has such freely pendulous nuts, and I don't know why others don't have this feature. Yes, when you first hold the dildo, it is funny to be able to swing the balls back and forth, but once you use it, you will be hooked on the feeling of those testicles banging into you.
The Hercules is available in a multitude of colours and three sizes. The standard Hercules doesn't have a Vac-u-lock hole in the base but Godemiche are very accommodating and so if you want one for mounting on a Vac-u-lock based fucking machine or even a strap-on harness then just get in touch with Adam or Monika. The Hercules was designed with strap-ons in mind though and the different sizes from small to large fit 'O'-rings in these sizes, 1"/2.5cm, 1.5"/3.8cm and 2.5"/6.3cm in diameter. I can imagine that the Hercules fitted to a strap-on harness would be quite a sight and would both intimidate and excite any submissive.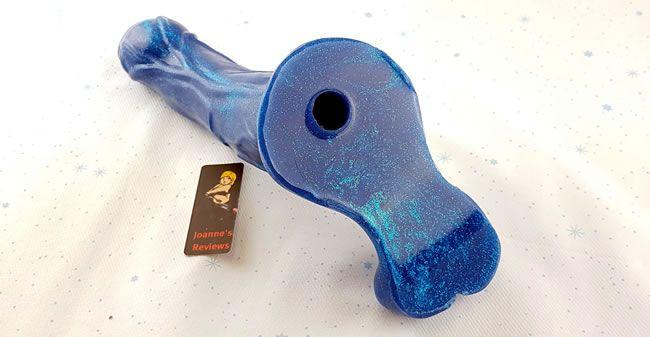 The vac-u-lock hole is an optional feature but one that is very useful for fucking machine or strap-on play
Godemiche dildos are made out of body-safe Platinum cure Silicone, this is my preferred sex toy material as it is non-porous, as well as being latex and phthalate free as well. They even give a lifetime guarantee on their Silicone. The blend of silicone is soft to the touch and a little draggy when drawn across the skin, but that is common with most silicone sex toys, it is also a dust and lint magnet which again is normal and nothing that a quick rinse before use can't take care of.
I would recommend using a good quality water based lube with this dildo but if you want to try using a silicone based lube then try a small amount on the base to check for any reaction. I have used SPUNK Hybrid lube very successfully on it with no problems at all.
The Hercules is a fun dildo to use by hand or to place on the floor and either squat over or take from the rear doggy style. Thrusting with it by hand is enjoyable, and the balls make a perfect handhold when doing so. It is when you mount it on a fucking machine though that it comes into its own.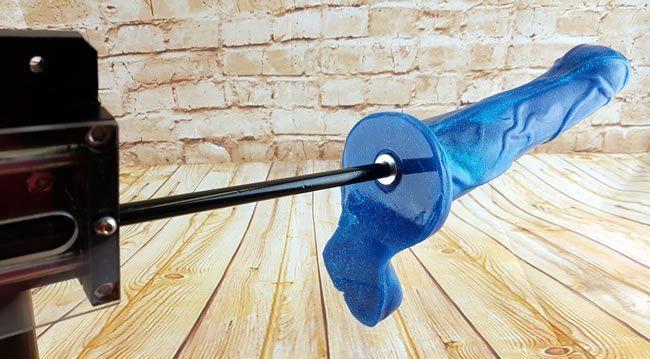 Droop isn't an issue with the Hercules on a Fucking Machine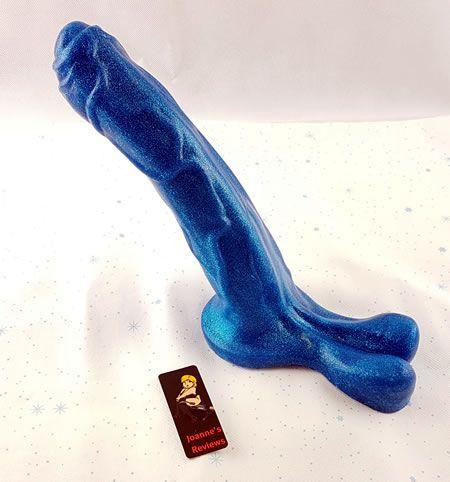 Most large dildos that I have enjoyed have a lot of droop on a fucking machine mainly because of their length and weight, but the silicone used on the Hercules has only minimal droop. The Vac-u-lock hole is positioned at an angle to help to prevent droop as well, and this makes for a very visually appealing dildo once mounted. It stands loud and proud daring you to try it out.
The silicone has some give when you squeeze it, but it's firm enough to allow you to enjoy all that lovely vein texture. It is flexible though so lining it up with a machine is very easy and it is forgiving in this respect.
I have to warm up with a smaller dildo before taking on the large Hercules but when I do it is toe-curlingly good. Long slow strokes allow you to savour the texture and the feeling of the head stroking your g-spot while faster short strokes make your mind go blanks and have you clutching at the sheets.
I particularly enjoy the way that the balls slap against me when using it on a fucking machine, the rhythmic slapping feels very natural and helps me to quick almost primaeval orgasms that leave me breathless but wanting more.
The Hercules from @GSilicone is a body-safe silicone dildo available in three sizes and it packs a mighty punch.
Click to Tweet
Key Features
Key features:
Made from Platinum cure body-safe Silicone
Latex and Phthalate free
Stunning texture and details
Amazing colour options on the Godemiche website
Three sizes to choose from
Free swinging testicles
Strap-on compatible
Vac-u-lock hole available as an option
Final Thoughts
The Hercules is a fantastic dildo, the large appeals to me and the texture and colours available are mind-blowing. I love the fact that it is available in two other sizes so that everyone can enjoy this quirky but thoroughly enjoyable dildo. It is especially suitable for fucking machine or strap-on use where its minimal droop exaggerates its size.
I can highly recommend the Hercules for anyone looking for a body-safe dildo that has lots of texture, and it's available in some stunning colour options. Well done Godemiche for another superb creation, I look forward to seeing what you come up with next. With prices from £38 to £95, there is something for everybody's budget.
I was sent the Hercules Dildo by Ian at fmachinefun.co.uk to review for Adam at G-silicone.com and I would like to thank them both for giving me the opportunity to review it for them.
For a second opinion on the Hercules, check out this review from Scandarella.
Joanne's rating
Where Can I Get One From?
Grab one of these amazing creation from Godemiche and check out the rest of their wares on their site. You will be amazed at the incredible colour combinations that they do. They create Dildo art and I love their work. Check out the Hercules Galaxy Collection for some dildos that will take your breath away.
Check them out and don't forget to tell them that Joanne says "Hi".
Disclosure/h3
This review does not contain affiliate links, for more information about affiliate links check out my disclosure page.