Packaging
I really need to devote some time to the fantastic packaging on all Gvibe sex toys. I just love their branding, the cardboard tubes are excellent and do a great job of protecting a toy in transit.
The Union Flag on the top is a nice touch, as is the image of the toy on one side and a sexy orchid on the other. The fantastic packaging sets the tone for what lays within. You know that if a company invests so much time and effort on the box, you can be pretty sure that the toy inside will have had even more attention to detail.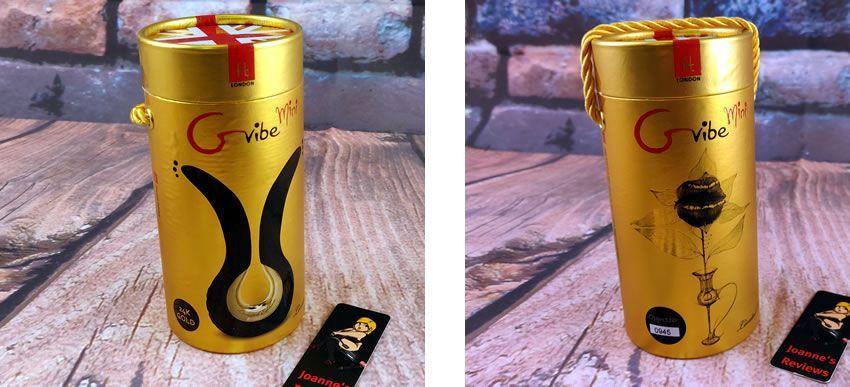 I adore the packaging of Gvibe products and this one has a lovely metallic gold finish
Unlike the usual white colouration for the packaging, this limited editions vibrator (only 1000 made) comes in a gold storage tube that has been given the usual Gvibe treatment. The box looks fantastic, so well done Gvibe on yet again exceeding our expectations.
So what is inside, I hear you ask? Well, once you break the seal and lift off the lid you are met with a set of round instructions and use suggestions. This is fabulous but may be hard for anyone with eyesight issues to read.

You get, the Gvibe Mini, instructions, a charging cable and a storage bag
The artwork on the use suggestions is both erotic and deliciously naughty at the same time, the sketches look fantastic. I can confirm that sub'r' has done them all - naughty girl.
You then come to the Gvibe Mini Gold suspended in two foam packing pieces. It comes in a plastic pouch which is nice as that keeps it clean. When you remove it you then find the USB magnetic charging cable and woohoo, a gold storage bag for your gold vibrator. This bag looks lovely with its Gvibe branding, and it is the icing on the cake as it were.
Design and Materials
The Gvibe Mini Gold is the same performance wise as the standard Gvibe Mini, but it is gold plated with 24kt gold and carries branding stating as such.
The black silicone is a delicious blend that is slightly draggy, and that makes it feel fantastic in use. The two splayed arms allow this vibrator to fill you, stretching you open without stretching the entrance to your vagina. It feels delightful when inserted, but there are so many other ways to play with it too.
Silicone is my go-to sex toy material as it is non-porous and free from latex and phthalates. This makes it both hypo-allergenic and body-safe. I recommend using a good quality water-based lube such as Sliquid H2O or Secret Play Natural, as water-based lubes are perfect for silicone sex toys.
As this is a waterproof vibrator, cleaning is straightforward. Just wash it in warm soapy water or use a good quality anti-bacterial sex toy cleaner on it.
Just like its big brother, the Gvibe, it features two outwardly splayed arms, and each has a vibrator motor at the tip. These motors deliver powerful vibrations just where you need them perfectly and I was surprised at how powerful they are given their small form.
These arms splay open inside you, giving you a delightfully full feeling without being a challenge to insert, unlike larger sex toys.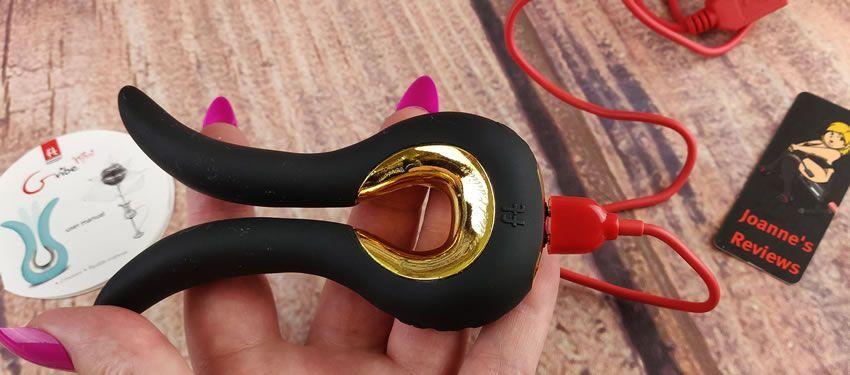 Charging is quick and simple and a full charge gives up to 4 hours of play time
Charging is effortless using the included magnetic charging cable that snaps onto two metal studs on the base of the vibe. As with all rechargeable sex toys give it a full charge before use as this will extend the battery life. Mine took just over an hour and a half to be fully charged, and that gives a formidable four hours of playtime, which is fantastic. The only criticism I have about the charging system is that the magnets are pretty weak. So you need to check they are still connected and the toy is still charging when you place it on a firm surface to charge. That said though the charging cable supplied is nice and long so I found it easy to find somewhere to leave it charging safely.
The supplied toy bag was a bit of a letdown though, it looks fantastic, but it is a little on the tight side when trying to get the Gmini inside. The splayed arms make it difficult, a larger bag would have been better received.
The Gmini is very light, which is excellent news for anyone with wrist or dexterity issues. It makes holding it in place even for long periods comfortable and enjoyable.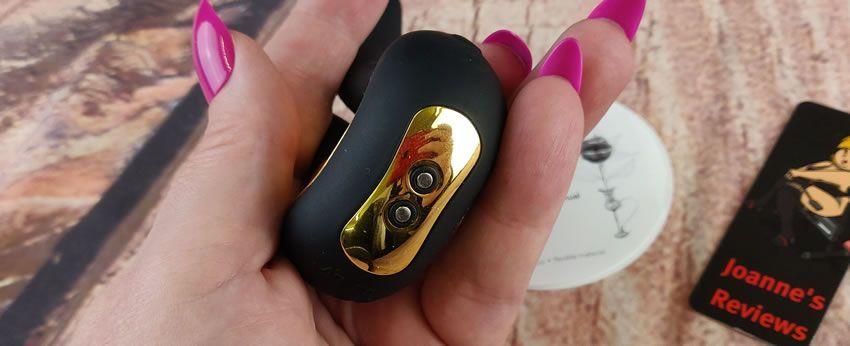 The charging studs are easy to find on the base of the vibrator
Noise is not an issue with this vibrator, it is one of the quietest that I have used. Even on the highest power settings, it is very discreet, which is excellent news if you are in shared accommodation or living at home. It is a little noisier in the bath but that is probably due to the smaller room and no soft furnishings to absorb noise.
It has a travel lock, and its small light form makes it an ideal travel companion. This one already has international status, and it will be going abroad again soon. The travel lock means it won't start vibrating at an inopportune moment, causing embarrassment.
Oh, did I mention that this vibrator is a limited edition, one of only 1000 made so if you fancy owning a little piece of masturbatory luxury? You will have to hurry, as I am sure they will sell out very quickly.

The three buttons are very tactile, as well as easy to find and use while playing
The controls are simple and easy to find and use in play. There are plus and minus buttons for controlling the intensity, and the centre button changes the vibration patterns. It has six vibration modes, all of which are very good indeed.
Performance
The Gmini Gold is not only a fantastic looking vibrator, something that "Gold Member" from Austin Powers would no doubt love, it also performs very well, indeed.
---
The included instructions give some great examples of how to use it, and I have tried them all, and some resulted in squirting orgasms for me. I love the sheer flexibility of this design. It is perfect for any gender, and the flexible arms make internal play amazing as you get the most intense feeling of being full. The position of the vibrating motors at the tips of these arms means you can control precisely where you get the most effect from them.

I absolutely adore the suggested uses sketches in the instructions
I delight in the way I can position the Gmini directly against my G-spot, and this gets me off really quickly. Double penetration by it is also fantastic with each vibrating motors pleasuring different areas of your anatomy.
One of my favourite ways to play with it though is to wrap the arms around my clitoris. This is incredibly intense and often results in fast hard orgasms. I also enjoy just using one tip to circle and tease my clitoris before sliding it deep inside me when I am ready to cum.
But this isn't just a sex toy for vaginal and anal play. It feels fantastic when used on a penis (I have been told by Stunt Cock) and using it to tease him is so much fun. It is also lots of fun for nipple play where you can use a tip, or if you have larger nipples, you can clamp them between the arms for some fantastic sensations.
We have even used it during penis in vagina sex. Placing it between us for some extra stimulation and that feels very intense and makes things so much more fun.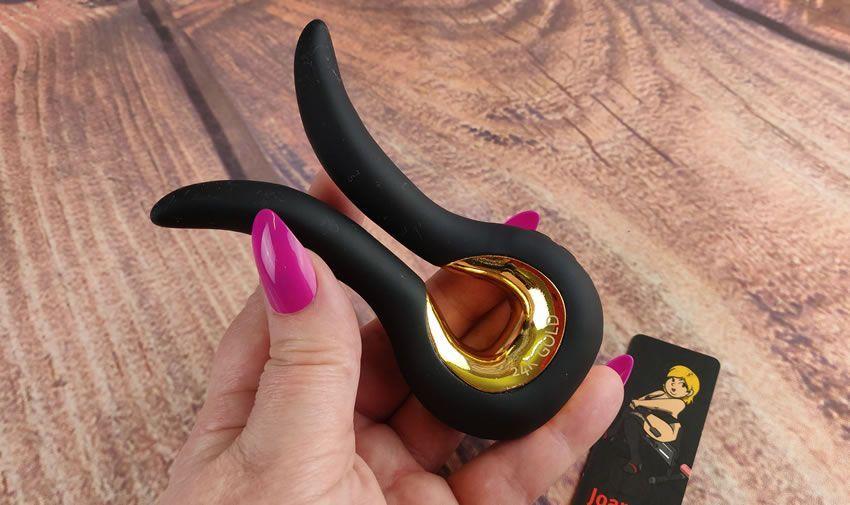 The 24kt Gvibe Gold Mini is a stunning looking vibrator with so many uses
The Gmini Gold elicits all sorts of fantastic sensations, and I love playing with it both on my own and with a partner. It looks absolutely fabulous, and it is a sex toy that I will be giving a lot of care and attention. After all, it isn't often that you get to play with a gold plated sex toy, is it?
You can, of course, have the same sort of pleasure in abundance by merely opting for the regular Gmini which is available online for a fraction of the price of this one. You get the same performance, it's better for your bank balance, but you don't get the bragging rights of having a 24kt gold vibrator of course.
Fancy getting decadent and experiencing a luxury orgasm? Check out the 24kt Gmini Gold vibrator from @_FT_London.
Click to Tweet
Key Features
Key features:
Limited edition 24kt gold plated vibrator
Silicone arms
Two virbating motors one at the tip of each arm
Six pattern and power settings
Rechargeable using a magnetic charging lead
Storage bag included
Very quiet in use
3-year warranty
I would recommend it to:
Anyone looking to experience a luxury sex toy
Anyone who wants a small vibrator for traveling
Anyone who wants a very quiet vibrator for discreet fun
Anyone who likes quirky shaped vibrators
Anyone who enjoys anal and vaginal pleasure concurrently
I wouldn't recommend it to:
Anyone on a budget - opt for thre standard Gmini vibe instead
Anyone who only likes larger sex toys
Final Thoughts
The Gmini Gold 24kt Vibrator is a fantastic symbiosis of incredible looks coupled with excellent performance. The split leg design is fantastic, and it allows for some play that you just can't do with a regular vibe.
Use it both vaginally and anally for a fantastic treat or use the tips of the legs for pinpoint clitoral stimulation. Remembering of course that it is also great for cock play too.
I love the Gvibe Gmini, it is small, lightweight and quiet but it packs a punch where it needs to. This is a lovely vibrator that will provide hours and hours of pleasure. You even get a three-year warranty with it which is phenomenal.
We have no qualms at all in giving it a huge thumbs up and a strong recommendation. Check out this gold limited edition Gmini and also the regular Gmini on the Gvibe website.
We were given the 24kt Gmini Gold by Gvibe and I would like to thank them for giving us the opportunity to review it for them.
Joanne's rating
Where Can I Get One From?
Grab one of these stunningly extravagant vibrators direct from Gvibe for £194.90 and experience the fun for yourself.
Or, if you are on a budget then check out the reasonably priced Gmini Vibrator from Gvibe which costs just £62.90.
Check them out and don't forget to tell them that Joanne says "Hi".
Disclosure
This review does not contain affiliate links, for more information about affiliate links check out my disclosure page.