Delivery
Everything that has ever arrived here from Gvibe has been exceptionally well packaged and in very discreet packaging. My postie still has no idea how many sex toys I have had inside me, and I would like to keep it that way.
Packaging
Gvibe is the king of sultry product packaging design. Their products always arrive in the most stylish of boxes that look incredible.
Like the Gplug and Gplug Twist, the Gring comes in a beautiful cardboard tube with a one to one scale picture of the Gring on the front of it and on the back of the box is a lovely orchid. On top of the box is a loud and proud Union Flag as they are a UK company after all and based in London.

Gvibe are simply the best when it some to packaging design, it's lovely
Opening the box, you can appreciate the thought that has gone into it. The G-ring is held inside very securely in high-density white foam, and you know that no matter how many knocks and bangs it has taken on its journey to you it has been well protected.
So, what do you get with the Gring? Well, obviously you get the Gring vibe together with a long magnetic USB charging cable, a drawstring storage bag that is big enough for the Gring and the charging cable and a set of instructions.

I love it when sex toys come with a storage bag so well done Gvibe
The instructions are clear and easy to understand, and I love the fact that they are round to fit neatly into the retail packaging.
The Gring is available in two colours Ocean Blue (this one) and Neon Rose. The packaging is a different colour depending on which model you buy.
You get a three-year warranty on this vibe, and that is absolutely fantastic. It shows that Gvibe is very confident about their quality control and the reliability of their products.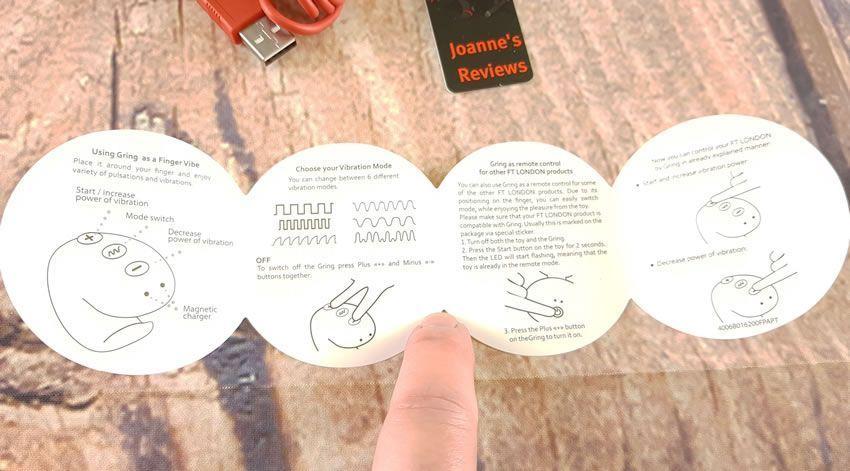 The instructions for the Gvibe are clear and concise
Charging
The first thing that you should always do with a rechargeable sex toy is to give it a full charge. I know the temptation is just to lay back, switch it on and just see how quickly you can get yourself off with it but trust me charging it first is better for the battery.
Charging the Gring is very simple, just let the magnetic head of the charging cable just snap onto the two metal studs on the base of the Gring. Then just plug the other end of the cable into a suitable power source.
While charging the lights on the Gring flash and then stay on steady once fully charged. A full charge takes in the region of 1.5 hours, but the initial charge may take longer. You can't use it while it is charging and if the battery goes too low, it will shut down to protect the battery.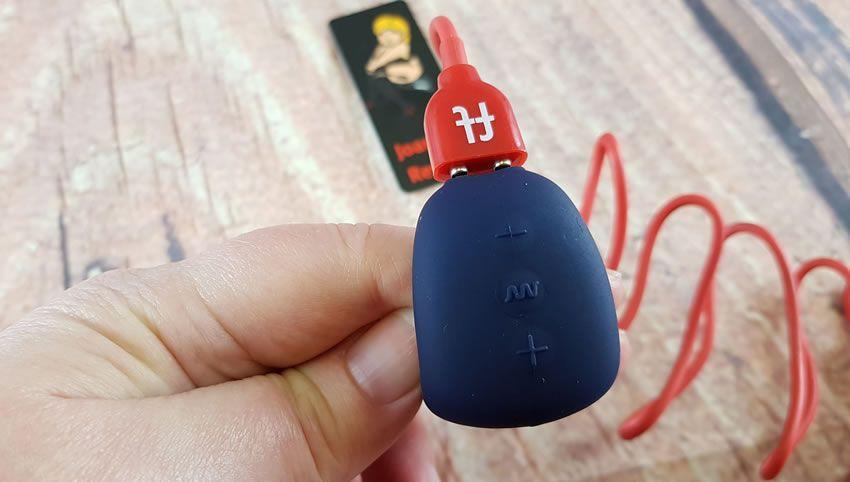 The charging cable securely attaches to the Gring during charging with magnets
A full charge will give you about 40 minutes of play time at full power, but on lower settings, it will run for considerably longer.
Design & Function
The Gring is a small finger vibe that is easy to control and coated in a nice soft blend of 100% body-safe silicone making it non-porous as well as being latex and phthalate free.
It wraps around your finger where it is held tightly in place by its curved tail. Being 100% waterproof, it can be used in the bath or shower for some relaxing yet kinky "me time".
The three buttons "+", "-" and "m" are all raised to that they are easy to use and they are tactile producing a nice click when pressed.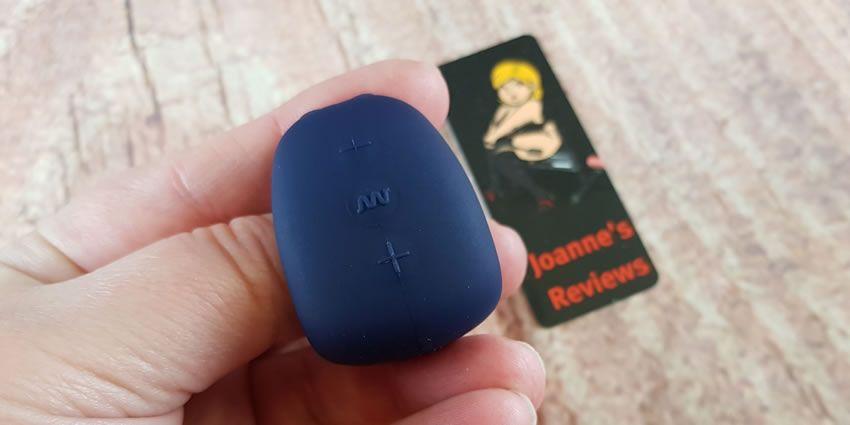 The buttons on the Gring are easy to use and very tactile
Dimensions: 7.2 x 7.2 x 7.2 cm.
Weight: 0.0899 kg.The Gring features a travel lock, and it is easy to use, just press the "+" for two seconds to activate it, this stops the Gring accidentally coming to life in its pouch when travelling.
The "+" and "-" buttons are easy to understand, each increases or decreases the power output and the "m" button cycles through the six patterns of vibration. It is very quiet and so is ideal for anyone in a busy household.
The Gring can also be used as a remote control for the Gplug and Gplug Twist, and they automatically pair when switched on so setting them up is easy.
Performance
I started off just playing with the Gring on its own, and its power surprised me. On its highest settings, it is too strong for direct clitoral stimulation for me. Due to its petite size, this really did surprise me.
It is capable of delivering everything from delicate vibrations to thumping vibes that penetrate deeply. You can use it in two ways, first put it on the end of a finger and run it over the area that you want to pleasure. Enjoying the feeling of the silicone gliding over you.
Or place it higher up on a finger and feel the vibrations through your fingertip, this is great for reducing the sensations if they are too strong for you.

The profile of the Gring makes it easy to fit to a finger where it stays in place well
I found running it over my clitoris and nipples utterly delightful, and it soon had me very aroused. I have orgasmed from just using the G-ring, but it is when you combine it with the Gplug or Gplug Twist that it really starts to get incredibly kinky.
Using it as a remote control for a vibrating butt plug is fantastic as you can change the sensations inside your butt while enjoying those sensations on your clitoris and that is mindblowing.
It is so easy to use as a remote control, and they work really well together. Each sex toy is great on its own but combine them, and you are in for a real treat.
But this isn't a sex toy just for women to enjoy. Guys, place it on your finger and rest it against your frenulum (banjo string) as you masturbate for some incredible sensations. Couple it with one of the vibrating butt plugs as well and it will take your five knuckle shuffle to the next level.
I love sex toys that aren't gendered, and the Gring and Gplug are the perfect examples of sex toys that are wholly suited to everyone no matter what shape your "tackle" is.
If you are looking for something different or you fancy controlling your Gplug or Gplug Twist remotely then definitely grab yourself one of these powerhouses of a vibe.
Pros
Quiet operation, safe-body silicone, magnetic charging cable, can be used as a remote.
Cons
Relatively short battery life.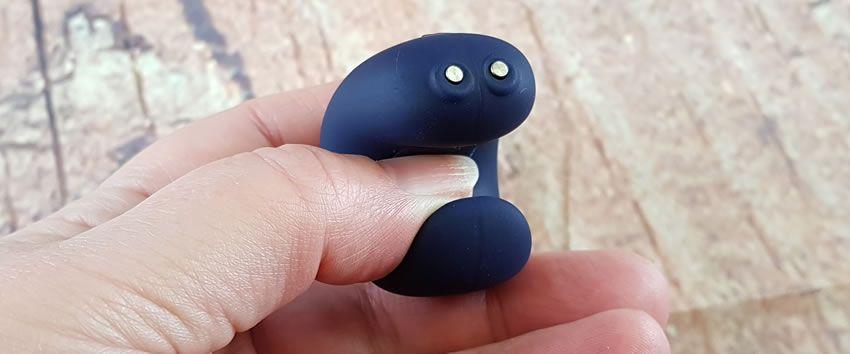 The Gring is easy to charge and use, the studs on the base don't get in the way when using it
Looking for a vibrator with a twist? Check out the Gring from @_FT_London, you can even use it as a remote for their vibrating butt plugs.
Click to Tweet
Key Features
Key features:
Coated in 100% body-safe silicone
USB rechargeable
Six vibration patterns
Simple controls
Can be used as a remote for the Gplug series of toys
Final Thoughts
The Gring surprised me with its power and its quiet operation. It is great as a finger vibe, but it really comes into its own when you couple it up with a Gplug or Gplug Twist. It makes controlling these vibrating butt plugs oh so easy.
This is the first finger vibe that I have reviewed, and I have to admit I didn't think it would be powerful enough for me, but I was wrong.
It is a little powerhouse, and while the battery doesn't last too long, that has to be expected with a sex toy as small as this one.
It is discreet, capable and a fantastic addition to anyone's sex toy box. I have no problem in giving it a strong recommendation to anyone no matter what their gender.
I was sent the Gring by Gvibe and I would like to thank them for giving me the opportunity to review it for them.
Joanne's rating
Where Can I Get One From?
Grab one of these fantastic vibrating finger vibrators, the Gring from Gvibe for just 45.90€ (£39.91) and let the fun begin. Couple it with one of the Gvibe vibrating butt plugs for some amazing fun.
Check them out and don't forget to tell them that Joanne says "Hi".
Disclosure
This review does not contain affiliate links, for more information about affiliate links check out my disclosure page.