Delivery and Packaging
The Gplug Twist arrived very quickly in very plain packaging, so my postie still has no idea how much I enjoy pushing things into my bum.
It also arrived with a surprise addition of a Gring Finger Vibrator for me to review. Now, this will be getting its own review, but one fantastic feature of it is that you can use it as a remote control for the vibrating functions of the Gplug Twist. So even more kinky play options have ensued.
I am in absolute awe of the packaging used on the Gvibe range of products, it's eye wateringly beautiful and very functional too. Packaging always sets the first impression of a toy, and so far everything looked amazing, and I couldn't wait to open the packaging up to see what was inside.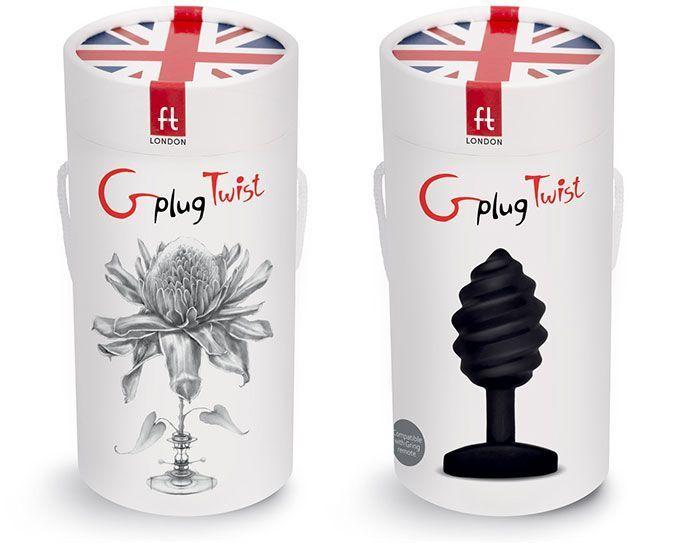 The packaging of the Gplug Twist is divine and I love the orchid motiff and Union Flag
The Gplug Twist arrives in a very stunning cardboard tube with beautiful branding. One side features a scale picture of the Gplug Twist, and the other carries the image of a stunning orchid. The top of the packaging is adorned with a Union Flag which is a nice touch from this UK firm.
All Gvibe products come with a one year warranty, and you can read more about it here.
Opening up the packaging, you will find the following nestled within:
The Gvibe Gplug Twist Vibrating Butt Plug.
A Magnetic USB charging lead.
A branded drawstring storage pouch which is very cute.
A set of instructions.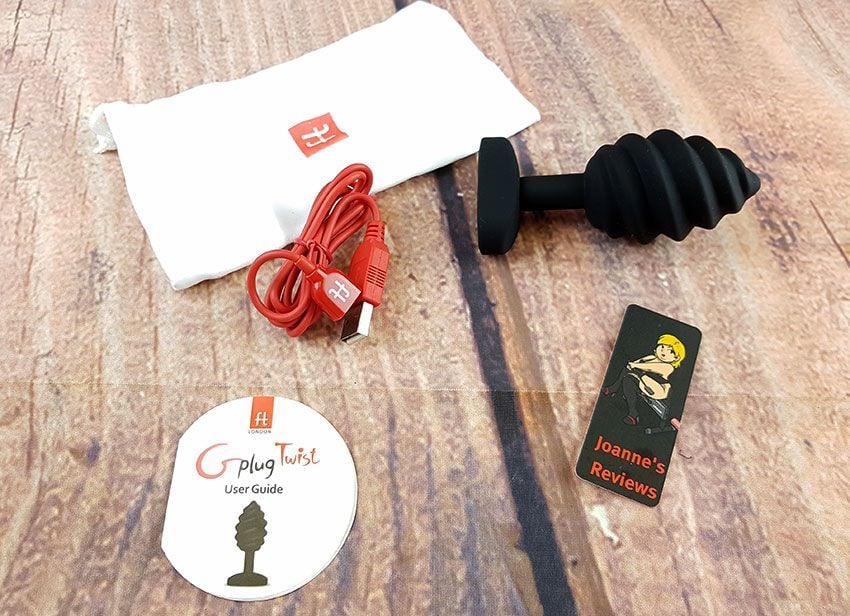 The Gplug Twist comes with a storage bag, instructions and a magnetic charging cable
Design and Materials
The Gplug Twist is a modest size, measuring in at just 1.54"/3.9cm in diameter at its widest point. The tip is nicely tapered to aid insertion, and the twisting nature of its texture feels delightful when inserted. It has a natural tendency to want to be screwed into your bum, and that feels good too. To increase the sensations just hold it firm and insert it without twisting though.
Use a good quality lube, hybrid lubes are excellent, and I prefer a good hybrid lube for butt plugs as it lasts so much longer and makes removal as easy as insertion. Check out my reviews of Sliquid Silk and Secret Play Oceanic Hybrid.
The instructions are elementary as this sex toy is so easy to use, however the small print made it hard to read. So I downloaded the pdf version.
The silicone used in the coating of the Gplug Twist is a very nice blend, it is soft without being too soft if that makes sense. Being silicone, which is also my go-to choice for sex toy material it is non-porous while also being phthalate and latex free making it hypo-allergenic.
Inspecting the silicone, I did notice a very faint flash line where the two halves of the mould joined together, but this doesn't affect the feel or performance of it in any way at all. This blend of silicone feels great but like a lot of silicone sex toys it's a bit of a dust magnet which is why the inclusion of a storage bag is so nice.

The Gplug Twist is a bit of a lint and dust magnet, but just look at that texture
Other nice features include the addition of a travel lock, so you needn't worry about the Gplug Twist coming to life and causing some embarrassing questions at the airport if taking it on holiday. It is straightforward to use.
The included generously proportioned magnetic charging cable makes charging a straightforward process. Just allow it to snap onto the two metal studs on the base of the Gplug Twist and then connect the other end to a USB power source.
Charging takes around 1.5 hours, and a light comes on to show you when it is complete. A single charge will give you approximately 40 minutes of play on the highest setting and up to four hours on lower settings which is really quite good.
When the battery is running low, the Gplug Twist beeps and only lets you use the two lowest settings to prolong your play time. This is a great feature, and so far it's the only sex toy I have ever used that has this feature.

The Gplug Twist has two studs for the magnetic charging cable to attach to and one control button
The Gplug Twist is fully waterproof, and so it's lots of fun to use and enjoy in the bath or shower. There is something so very nice about masturbating while immersed in a hot bath or under a shower and of course clean up is easy too.
Cleaning is effortless, just use warm soapy water and pay particular attention to the twisting surface. I then always use an anti-bacterial sex toy cleaner before ensuring that it is completely dry before placing it in its storage bag. This bag keeps it dust and lint free until I next feel the urge for some delightful bum fun.
Performance
The Gplug Twist has six different vibration modes, and these can be operated through the single button on the base. You can also use the Gring Finger Vibe which acts as a remote for it.


The six different vibration patterns all feel good, my favourite is the last one though
After applying some lube insertion was really easy, and I really enjoyed the feeling of the twisting flutes as it slipped in. This texture feels amazing.
I had no problem enjoying some amazing orgasms while wearing the Gplug Twist. The vibrations that it delivers feel delightful. I find that with vibrating butt plugs if the vibrations are too strong, then I tend to go numb, but the vibrations of the Gplug Twist are great.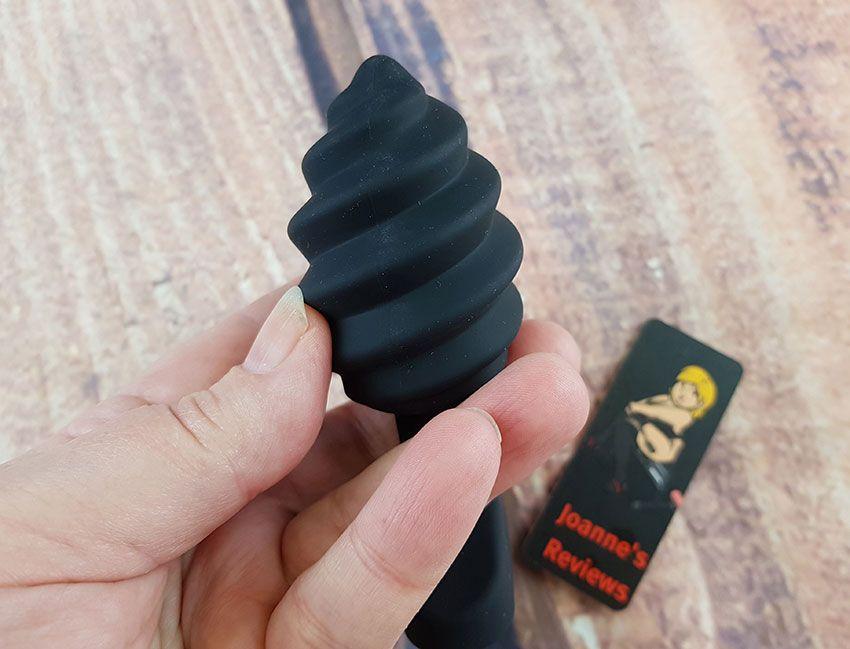 The Gplug Twist has a very enjoyable spiral texture and a wide base for safety
Extended periods of wear are comfortable and feeling the plug inside me always gets me constantly horny and ready for some fun.
Well, that's what I thought of it, sub'r' was actually the first to enjoy it, so here are her thoughts:
Sub'r' gets Plugged
I really enjoyed the feeling of the Gplug Twist being screwed into my butt. This is a feeling that I have never felt before and it instantly got me very horny and wet. I was made to wear it all day and was teased with the vibrations at various intervals to get me even hornier.
It's very quiet when inside you and I had a very cheeky orgasm sat opposite Stunt Cock in a McDonalds. It was sort of like a very subdued "Harry met Sally orgasm" as I had to bite my lip to keep quiet. I loved that as it was just so naughty.
It was very comfortable, and I wore it for almost 48 hours (with breaks for the loo). It is very light, and I had no problem holding it in when walking around which was good as I never wear panties and dropping it in ASDA would have had me dying with shame.
After my extended period of wearing it, removal was comfortable and easy, and it's now my favourite butt plug.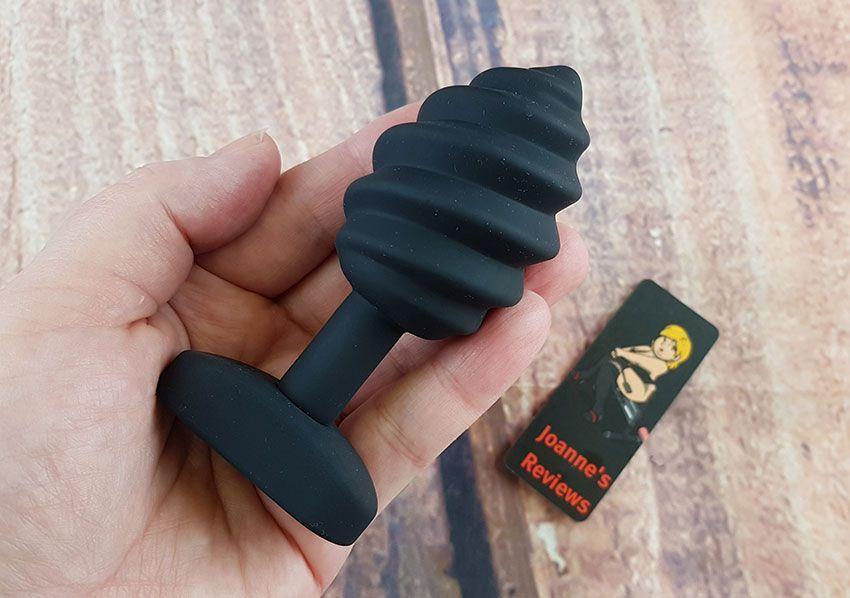 sub'r' enjoyed wearing the Gplug Twist for extended periods of time and found it comfortable
Having sex or playing with a dildo with the Gplug Twist in feels incredible and Stunt Cock commented on how much tighter it made my pussy feel as he fucked it. A butt plug is a great way to increase your own feeling of being filled as well as tightening everything for your partner.
I enjoy just fingering myself with it in, and it is the first butt plug that I have actually squirted with while masturbating. Using it on its own is fun but having a partner controlling it remotely is even better. Having no control over the settings is incredibly horny, and I love being teased this way.
I love the Gplug Twist, its design is stunning, and its performance matches it.
I can highly recommend it for first-time users because of its ease of use, comfort and great texture but also as it's easy to clean.

The Gplug Twist is nicely tapered for easy insertion and the spiral texture feels amazing
Get screwed in the ass with the Gplug Twist from @_FT_London. A butt plug designed with delightful texture.
Click to Tweet
Key Features
Key features:
100% body-safe silicone
6 vibration patterns
Waterproof
Can be controlled remotely
Delightful twisting texture
Final Thoughts
Both sub'r' and I enjoy a little bum fun, and it is nice to come across a butt plug with some interesting texture as well as great features.
We have both enjoyed the Gplug Twist and the vibrating sensations that it delivers exquisitely compliment the textures and feeling of the smooth silicone it's made out of.
Use it with the Gring Finger Vibe for some very kinky fun where you or your partner can control the vibrating patterns while going about your daily business. That is such deliciously kinky fun, and we love that feature.
If you are looking for a different butt plug, something that breaks the mould and provides hours of pleasure then check out the Gplug Twist. Go on give you back doors a good seeing to and get screwed back there.
I was sent these Gplug Twist by FT London and I would like to thank them for giving me the opportunity to review it for them.
Joanne's rating
Where Can I Get One From?
Grab one of these fantastic vibrating butt plugs, the Gplug Twist from Gvibe for just 74.90€ (£65.68) and screw your back passage full of intensely enjoyable vibrating silicone bum fun.
Check them out and don't forget to tell them that Joanne says "Hi".
Disclosure
This review does not contain affiliate links, for more information about affiliate links check out my disclosure page.