Simply Elegant Glass Tentacle Dildo Review
A Stunning Fantasy Glass Dildo
I love glass sex toys and I also have a thing for fantasy or unusual dildos. So after reviewing the Icicles No 24 Tentacle Dildo I was delighted when I had the opportunity to review a handmade glass dildo from Simply Elegant Glass an etsy retailer who produce some incredible creations. They are real artisans and their creations are works of art.
I really can't describe adequately the feeling of those suckers when they are drawn over my clit, it has my toes curling and me gasping for breath very quickly and it has delivered some cracking orgasms.

Joanne
Simply Elegant Glass are based in Colorado Springs in the USA in what I can only imagine must be heaven for glass dildo enthusiasts. You only need to look their their range of incredible creations to realise that what they produce is really rather special. Follow them on Twitter for pictures and even the occasional video of them creating their kinky art.

As you can imagine the first thing I want to talk about is how this dildo looks and I think you will agree with me that it can only be described as 'Stunning'. It really is a work of art, from the gently curved tail to the black suckers adorning its underside and the glistening sparkling inner surface of the dildo. It demands that second glance as your eyes struggle to take in its beauty. There is so much to love about this dildo I am struggling with where to begin.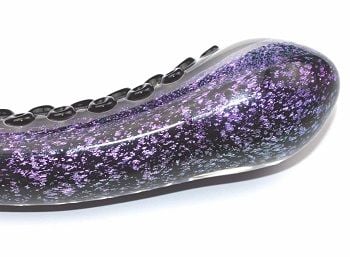 This dildo looks like a galaxy trapped inside a glass tentacle, how Simply Elegant Glass create this effect is a mystery to me but it looks incredible. If you rotate the toy around you can see an outer clear layer of glass over the amazing myriad of colours trapped within this dildo. It's made up of purple and green bursts of glittery colour that really create a deep pattern of incredible beauty. One side of the dildo has rows of black suckers which provide delightful sensations when using it.
The curved tail makes a very handy handle when you are playing and I love the way that the colours gently fade along the tentacle until it is almost clear glass at the end of the tail.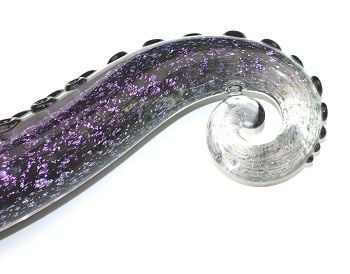 Glass is a great material for a sex toy as it's non-porous and so very easy to clean, simply clean with warm soapy water before using an antibacterial sex toy cleaner. The surface is ultra smooth and so a little lube goes a long, long way. When cleaning this dildo you will need to take extra care so that you get all the vag-goo out from around the suckers though.
Another reason why glass is a great material for sex toys is that it is really very easy to enjoy some temperature play with it. Simply place your dildo in the fridge prior to use or place in a sink full of warm water to experience some kinky temperature play and it can feel like a different toy when doing this.
In use this is a a lot of fun, however it didn't work for me in exactly the way I thought it would. As it has a nice bulbous tip with a gentle curve to it coated in textured suckers I thought it would feel amazing on my G-spot but unfortunately I was a little disappointed in that regards. It feels great when thrusting and the suckers do feel nice against my vaginal walls it but it didn't give me the extra buzz that I thought I would get due to a lack of g-spot stimulation. This really surprosed me - a lot in fact. I am a bit of a texture queen and this dildo definitely ticks that box.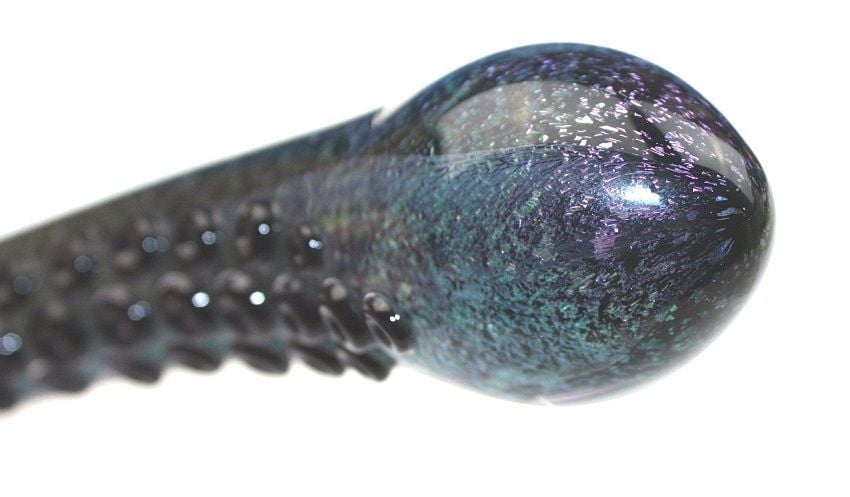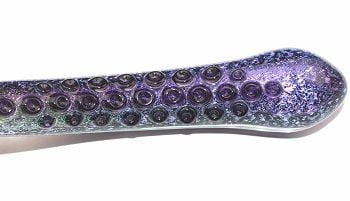 That said though I can easily orgasm using it because of those suckers, oh the suckers, they feel incredible against my clit. If you angle the dildo slightly as you push the dildo in and out each tiny sucker is drawn over your clitoris. This sensation is very, very nice and it's that which makes this toy a heck of a lot of fun to use. I was surprised that this wouldn't be a dildo that I wold class as a good G-spot dildo but it's infact an amazing clitoral stimulating dildo. It's a great design and truly a thing of beauty.
I really can't adequately describe the feeling of those tiny black suckers when they are drawn over my clit, it has my toes curling and me gasping for breath very quickly and it has delivered some cracking orgasms whilst I have been getting to know it.
It is the suckers that makes this dildo rock.
There are glass dildos and then there is this amazing tentacle dildo from @ElegantGlass.
Click to Tweet
Key Features
Key features:
Hand made by artisans in the US
Tempered glass
Custom design with amazing colours and internal patterns
Lots of texture from the suckers - Mmmmm suckers
Fantasy dildo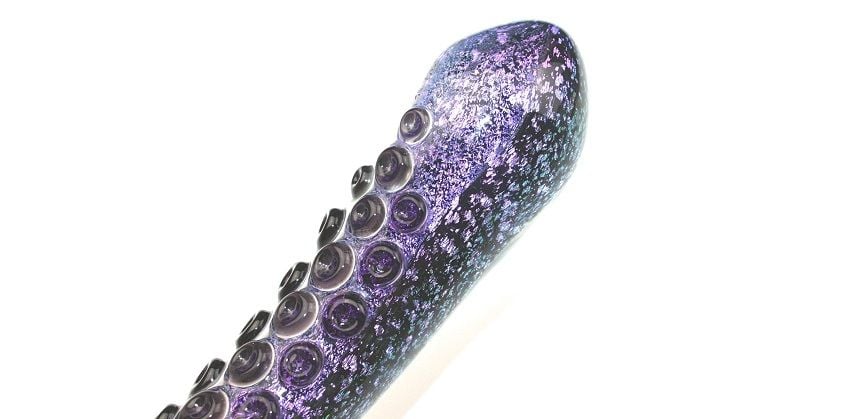 Final Thoughts
I bought this dildo as once I saw it I just fell in love with it. The lovely Brunette Reviews has also reviewed it so make sure that you check out her review of it as well. It's really a very nice clitty stimulating dildo and those suckers just feel incredible. It is one that I can grab when I need to cum and cum quickly, angling it so that it rubs my clit as I use it's definitely the way to get the most out of it. Simply Elegant Glass have done an amazing job and it really is a work of art. The pictures that I have taken don't do it justice, it's just so pretty. It's a shame to put it away after cleaning as it deserves a place front and center on my mantelpiece. That would make an interesting conversation when the inlaws come round LOL.
Joanne's rating
9Overall10Design8Features8Functionality10Ease of use9Price
Where Can I Get One From?

Grab an amazing work of art for yourself from the artisans at Simply Elegant Glass. Their range are one offs and all are hand made in exquisite colours and designs. I really can't recommend their wares enough as they will simply take your breath away.
Check them out and don't forget to tell them that Joanne says "Hi".
Disclosure
This review does not contain affiliate links, for more information about affiliate links check out my disclosure page.
---
---
You May Find These Articles Interesting